WEEK 6 REVIEW: Round-up of Saturday's league and cup football action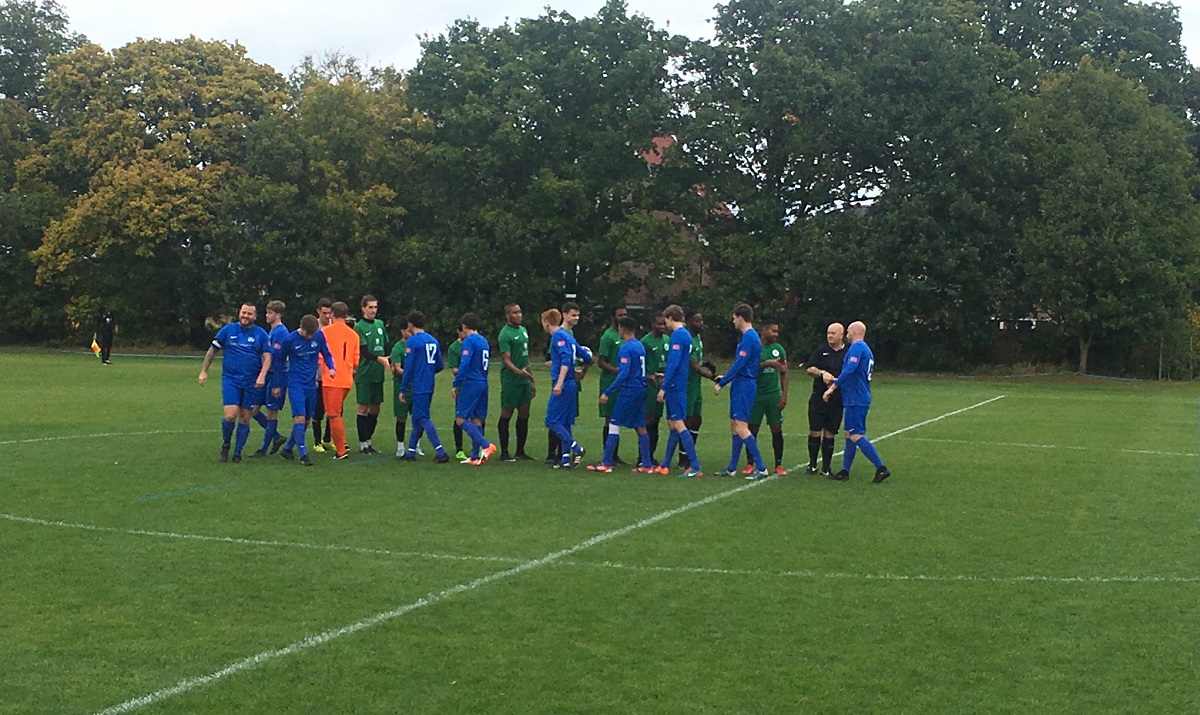 For our latest news and updates, please enter your email address
FENTON CUP
The first of the Fenton Cup's second round ties got underway at the weekend as FC Baresi became the first side through to round three, coming through a tight match at home to Glendale in Walthamstow. Baresi extended their unbeaten record this season with a 3-2 win as Delano Lloyd's hat-trick done the damage for his side, rendering Dales strikes from Khari Pobi and Marius Oprea as consolation only.
In one of the remaining first round clashes, Division Two's Newham United Reserves overcame a tricky looking tie at home to a flying Royal Forest side from Division Four. United came through the tie and booked a place in round two against West Essex Reserves, edging the game by the odd goal in a 2-1 victory.
PREMIER DIVISION
Jolof Sports have returned to the top of the table in the Premier Division after a titanic tussle with second placed United London over the weekend. Jolof goals from Hervan Volney, Amadou Diaw and Jesus Burgos proved decisive on the day to end United's perfect record so far and return to the top of the pile in a 3-0 win.
Docklands Albion Under 21s are slowly closing the gap on the leading sides as they completed a third league victory of the season from their third match, the only remaining team to have won every match in this division. Their latest win came at the expense of London APSA, beating the east London side 2-1 through goals from George Veness and Olajuwon Ogunwamide.
Another side who remain unbeaten with two wins and two draws from their opening fixtures are Colebrook Royals who travelled to Leyton County Ground on Saturday to take on fifth placed Leyton Falcons. And it was the Chigwell based visitors who maintained their unbeaten record as they ran out 6-2 winners of the day to leap above their opponents in the table. Timothy Langer scored a hat-trick, Chris Stowe a double and George Brislen-Hall a single to account for their goal tally.
West Essex Reserves secured their first Premier Division win following promotion as they took on local rivals, Blue Marlin, in Barkingside. Adam Norris done the majority of the damage as he scored twice for his side with Izunna Ogedi-Uzokwe, a familiar name in Essex Alliance League scoring terms, completing the scoring in a 3-1 win for West.
And rounding off the Premier Division action, Old Esthameians early season recovery is well on track once again. Having slipped to defeat in both opening matches, they have responded with consecutive wins, this week beating Lopes Tavares London in a ten goal thriller in Newbury Park. Neil Robinson and Danny Morgan both scored twice with Jack Morgan and Greg Cohen also seeing efforts find the back of the net to complete a 6-4 win for E's.
DIVISION ONE
In Division One, new side to the league, Docklands Albion, have made a flying start to their debut season in Saturday football as they recorded a fourth league win from four matches on Saturday away at Colebrook Royals Reserves. Substitutes Kris Brown and Haseeb Kashmiri both came on to net braces with Rweal Choudhury, Ronaldo Merchan and Ashley Allen goals discharging a resounding 7-0 victory.
Three sides are locked on seven points behind the leaders with Singh Sabha Barking presently at the head of the pack despite being held to a high-scoring draw at the weekend. Wapping were the opponents as the sides shared ten goals and the points as the match ended 5-5. Billy Gray, Mohammed Hussain, Subeer Derkia, Abdulwahid Zerkouki and Fuad Ibraham were the Wapping goal scorers.
At the opposite end of the scale in goal-scoring terms, third faced fourth as the Reserves of both Ryan and Sporting Hackney met in Chingford. Defences came out on top of this clash with the sides completing a rare 0-0 draw, taking home a point each.
Continuing a theme of high-scoring matches in this division over the weekend, there were eight goals in the mid-table clash between Cowley Community and Three Colts with the sides having to settle for a point each as the match ended up at 4-4. Julian Bryant, Matthew Daley, John Pride and Jason Fox were the scorers for Colts with Gabriel Onireti (2), Charles Docherty and Kyle Cargill netting in reply for Cowley.
Winning their first league match of the new season on Saturday were Forest Green who were visited by Ferns Seniors in Leyton with both sides previously winless going into the clash. A tight match was settled by the odd goal in five with Sam Hilmi and Sean Howe goals for Ferns proving not quite enough as Green ran out 3-2 winners.
Completing the Division One action were East Ham Inter who took on Melbourne Sports at their Seven Kings home with both sides struggling to gain any momentum to date. There was no shortage of goal scoring action here either as John Shubert scored twice for the Mels and Jordan Green once. But five goals for Inter confirmed a 5-3 win for the hosts on the day as they pick up a first league win.
DIVISION TWO
There were also plenty of goals in Division Two where the biggest winners of the day were ACD United. They continued their unbeaten start to the season with a big 7-3 win against United London Reserves in Romford as they moved up to third place in the table. Harry Payne proved to be just as his name suggests netting two goals with further strikes arriving through the boots of Mike Dunn, Shaun Allen, Scott Perkins, Michael Wade and Connor Lambert.
In the other big clash at the top end of the table, Rainham Working Mens Club raced into a 3-0 lead over Chingford Athletic Reserves with Shaun Cook, Connor Kain and Tony Maynard getting on the scoresheet. However, top of the table Chingford did not give up and clawed their way back magnificently to earn a 3-3 draw as Tayo Olasanoye, James Lee-Legan and Michael Boahene all scored to take home a point.
In an exciting clash in Romford, Flyers made it three wins from their opening four league matches since promotion as they beat rivals Lionside by the odd goal in seven. Jamie Cullen, Michael Livesey and Martyn Rifat were the Lionside scorers however strikes from Jack Swaby, Sean Watson, Daniel Ezeorji and Robert Ashdown edged the match in a 4-3 scoreline for Flyers as they move fourth in the table.
St Francis scored their first goals and points of the new season as they played host to Forest Green Reserves at Wanstead Flats. Joshua Kibuuka scored for Green but a John Stevens double for the Saints were enough for them to record a 2-1 win and move up to ninth in the table as a result.
Lymore Gardens remain seventh in the table after they picked up a third league win on Saturday, beating Inter Plaistow at home to keep in touch with the sides in the upper echelons of the division. Both Bradley Williams and Warren Isoka scored twice to render goals from Gianni Anderson and Joshua Hall as consolation for Inter who remain winless so far.
DIVISION THREE
Three sides are locked together at the summit of Division Three with Old Esthameians Reserves taking over the leadership on goal difference following their victory on Saturday against Gatcliffe. Strikes from Jack Smerdon, Shaun Vickers and Thomas Boomsma separated the sides on the day as Old E's cruised to a 3-0 triumph.
Chigwell have climbed to level points at the top but third on goal difference as they put eight goals past Frenford A to make it three wins from four league matches. Harry Burgess was the hero with a hat-trick with Modestas Dainauskas' brace and a Mark Howe confirming a resounding victory. Adam Andrade was the Frenford scorer with their consolation goal.
Also scoring eight goals were New Star Soccer who travelled to Wanstead Flats to face Custom House Community and came away big 8-0 winners. Gavin Wynter scored a hat-trick for New Star with Jonathan Serna's brace also doing damage. Pa Lettejallow, Nathan Bailey and Harley Hicks also saw strikes bulge the net as New Star got their first points of the season.
In the division's remaining match, Redbridge Development got back to winning ways, recording a second league win in three matches with a comfortable 4-1 home win against Chingford Harriers. Daniel Denton grabbed the Harriers goal but it wasn't enough as Redbridge showed their title credentials to secure victory.
DIVISION FOUR
Haver Town Reserves continue to lead Division Four but were made to work hard for their victory on Saturday as they faced a high-flying Debden Park side in Debden. There was just goal between the sides as debutant Michael Brown scored the only goal of the game for Haver to run out 1-0 winners and maintain top spot.
Making ground on the top sides were Avondale Rangers who were 3-1 winners on Saturday in their match against Brentwood United Reserves. Strikes from each of Graham Learner, Joseph Powell and Steven Pace were decisive on the day as they took home the points and move up to third in the table.
Wanstead Warriors confirmed their first point of the new season as they shared six goals with Dagenham United Reserves in Hainault in an entertaining fixture. Jeffrey Nketia continued his scoring streak for Dagenham with two goals for this side adding to a Lee Green goal. But home side goals from Connor Goom, George Murcott and Myikeal Newman saw Warriors share the spoils in a 3-3 draw.
Newham Royals will be happy with their weekend's business as they moved up to sixth in the table following a closely fought 2-1 win over Brook City. Home goals from each of Charles Howard and Danny Gill accounted for the Royals' goals to book their first win of the season, with Matthew Pemberton scoring City's goal.