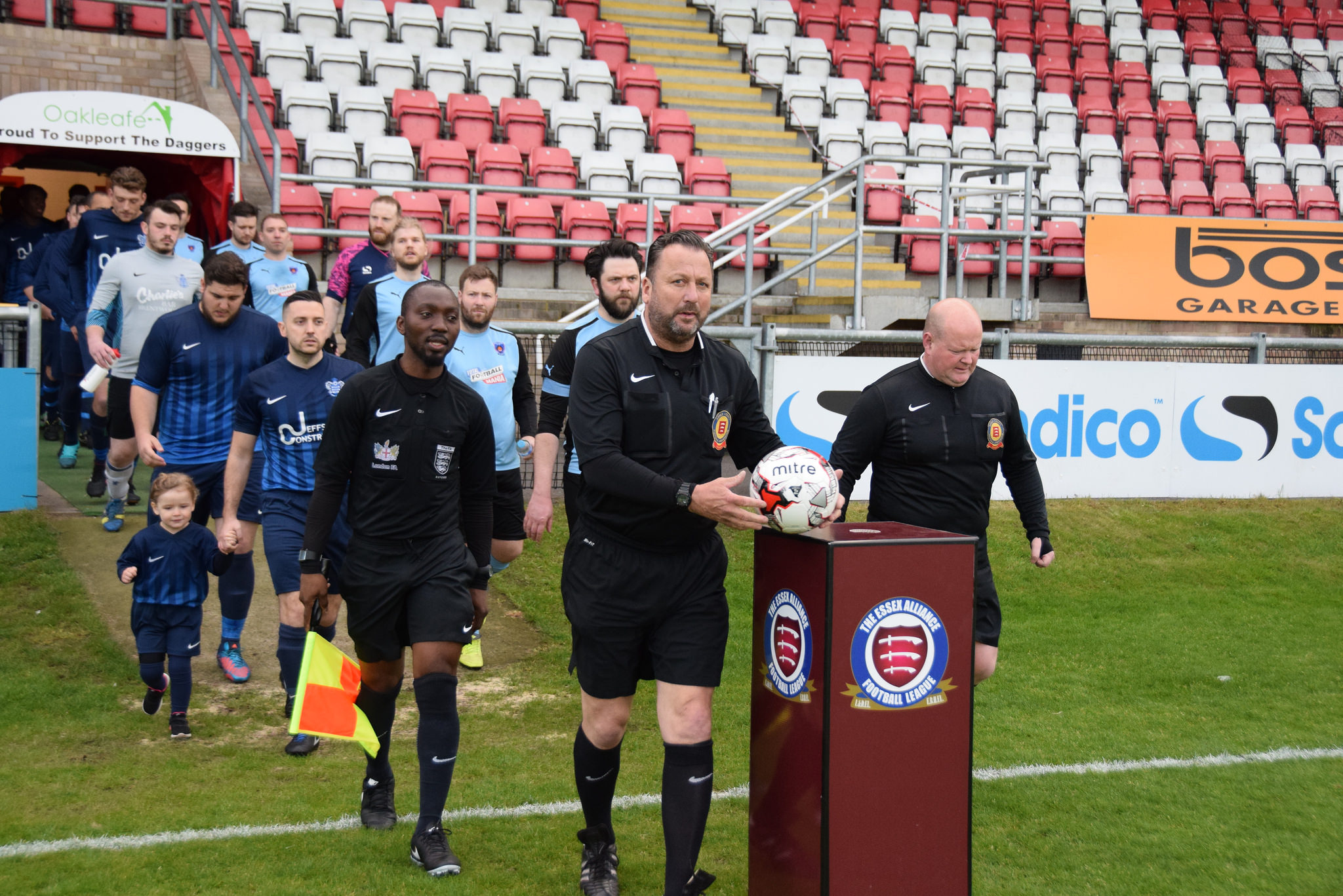 Looking to join our referees panel?
We are an open-age male Saturday afternoon football league with fixtures taking place within the boroughs/authorities of Havering, Barking & Dagenham, Redbridge, Newham, Brentwood, Thurrock, Harlow, Waltham Forest and Epping Forest.
In the Senior Division, appointed referees receive a match fee of £40.00 with assistants receiving £25.00. In all other divisions, match fees are £35.00 for referees and £20.00 for assistants.
| Referee name | Telephone 1 | Telephone 2 |
| --- | --- | --- |
| Acott, Jason Level 7 | 07843 966696 | |
| Adahmah, Rasmus Level 7 | 07734 802619 | |
| Adeeko, Emmanuel Level 7P | 07401 664492 | |
| Adeoye, John Level 6P | 07737 217636 | |
| Airey, Richard Level 5P | 07900 237718 | |
| Akande, Samuel Level 7 | 07951 499862 | |
| Akinyode, Ola Level 7 | 07951 490494 | |
| Akinyode, Tommy Level 7 | 07711 957404 | |
| Alapafujah, Lanray Level 5 | 07375 108564 | |
| Ali, Foysol Level 7 | 07947 402468 | |
| Allaoui, James Level 7P | 07950 746462 | |
| Almeida, Rui Level 7 | 07889 791096 | |
| Amoes, Moises Level 7 | 07852 369201 | |
| Anambra-Charlesworth, Charles Level 7 | 07534 915804 | |
| Anyanwu, Cajetan Level 5 | 07809 475219 | |
| Appleby, Stiofam Level 7 | 07944 133801 | |
| Asmal, Sazid Level 7 | 07527 970997 | |
| Bailey, Gavin Level 4 | 07500 333464 | |
| Ballard, Scott Level 7 | 07539 355828 | |
| Barker, George Level 5P | 07768 111816 | |
| Barrett, Neil Level 6P | 07837 264187 | |
| Bell, Martin Level 7 | 07931 801815 | |
| Bello, Idris Level 7 | 07404 876967 | |
| Beyaz, Koral Level 7P | 07871 761276 | |
| Blunt, Craig Level 7P | 07508 504689 | |
| Broom, Liam Level 7 | 07493 810843 | |
| Buckle, Nathan Level 5 | 07951 780893 | |
| Burns, Luke Level 6P | 07415 526542 | 07930 159890 |
| Bursey, Paul Level 5 | 07540 698790 | |
| Campbell, Royan Level 5P | 07955 281480 | |
| Carew, Joseph Level 7 | 07956 943388 | |
| Carroll, Patrick Level 6 | 07930 955434 | |
| Caunt, John Level 6 | 07415 315729 | |
| Chapman, Ray Level 7 | 07877 630091 | |
| Charles, Terry Level 7 | 07877 945828 | |
| Clark, Oliver Level 7 | 07940 210677 | |
| Cleeve, Chris Level 5 | 07939 290425 | |
| Conaghan, John Level 7 | 07803 116729 | |
| Connolly, Dylan Level 7 | 07572 262584 | |
| Conway, Grant Level 5P | 07758 643925 | |
| Crossley, Andrew Level 4 | 07789 777999 | |
| Crowe, James Level 6 | 07973 119986 | 0208 532 1489 |
| Darling, John Level 7 | 07460 619889 | |
| Dawson, Liam Level 6 | 07402 500343 | |
| Dbouk, Hassan Level 7 | 07867 974795 | |
| Deeble, Archie Level 7 | 07305 762833 | |
| Dhillon, Harinder Level 5 | 07534 498148 | |
| Diamond, Ashley Level 7 | 07545 133918 | |
| Dickson, Joe Level 7 | 07823 921024 | |
| Dixon-Walker, Jordan Level 5P | 07740 648531 | |
| Dorling, Calum Level 4 | 07943 818573 | |
| Dushku, Bekim Level 7 | 07850 416698 | |
| Emmanuel , Sasha Level 7 | 07900 918110 | |
| Evans, Josh Level 5P | 07783 969042 | |
| Everett, Keith Level 6 | 07847 451931 | 0208 554 4178 |
| Everitt, Cliff Level 5 | 07756 798217 | |
| Fawumni, Adekunle Level 5 | 07846 478080 | |
| Forbes, Albert Level 5 | 07813 016930 | |
| Francis, Rymell Level 6P | 07985 563739 | |
| Girdleston, Chris Level 5 | 07720 623225 | |
| Goddard, Mark Level 5 | 07758 914748 | |
| Goldbart, Sam Level 7 | 07736 333614 | |
| Goodman, James Level 4 | 07580 007119 | |
| Grocock, John Level 7P | 07946 732502 | |
| Guest, Emma Level 5 | 07949 170854 | |
| Hale, Jason Level 7 | 07791 724842 | |
| Hall, Jerahl Level 7P | 07508 415132 | |
| Hall, John Level 7 | 07392 647279 | |
| Hankin, Mark Level 5 | 07765 592250 | |
| Haqq, Muhammad | 07564 644723 | |
| Harrison, Xander Level 5 | 07391 636073 | |
| Hellyer, Gary Level 7 | 07807 373398 | |
| Henry, Simon Level 7 | 07445 311719 | |
| Herbert, Chris Level 7 | 07722 321757 | |
| Hess, Alex Level 7 | 07961 870750 | |
| Higgins, Sam Level 7 | 07808 543069 | Work - 01708 475285 ext. 275 |
| Hinckson, Jake Level 7 | 07940 716062 | |
| Howell, Adam Level 5P | 079043 87830 | |
| Howell, James Level 7 | | |
| Hussain, Muzackir Level 7 | 07460 159360 | |
| Iddenden-Smith, Michael Level 4 | 07384 465965 | |
| Ionescu, Gabriel Level 6P | 07503 383164 | |
| Jackman, Kenneth Level 7 | 07817 122595 | |
| Jays, Louis Level 7 | 07932 252204 | |
| Joseph , Simeon Level 5 | 07804 794929 | |
| Justham, Edward Level 7 | 07983 111527 | |
| Juwara, Ebou Level 5 | 07703 190718 | |
| Kemp, Paul Level 6 | 07771 941021 | |
| King, Spencer Level 7 | 07545 149344 | |
| King, Tony Level 4 | 07809 622117 | |
| Kinghorn, Nicholas Level 7 | 07565 892883 | |
| Kuloglu, Aylin Level 7 | 07828 296075 | |
| Larkey, Nick Level 6 | 07901 978766 | |
| Lawrence, Emmanuel Level 7 | 07860 928812 | |
| Locke, Mike Level 5 | 07708 882495 | |
| Maclean, Anthony Level 7 | 07863 707571 | |
| Mattheou, Jeff Level 7 | 07932 953279 | |
| McKenzie, Emile Level 5 | 07956 532050 | |
| Meta, Klodian Level 7 | 07497 200882 | |
| Miah, Javed Level 7 | 07707 532275 | |
| Miah, Kolil Level 7 | 07958 503501 | |
| Miller, Norman Level 7 | 07956 334494 | |
| Morley, Reece Level 5 | 07903 052418 | |
| Mukachana, Nyasha Level 5P | 07718 491097 | |
| Nazif, Kadir Level 5 | 07828 089600 | |
| Nela, Argest Level 7 | 07882 082103 | |
| Nitu, Mihai Level 7 | 07493 589284 | |
| Norris, Daniel Level 5P | 07712 242268 | |
| Olaosebikan, Nino Level 6 | 07852 592189 | |
| Olola, Adewale Level 6P | 07846 147269 | |
| Patel, Imran Level 7 | 07958 120932 | |
| Paul, Scott Level 5 | 07494 756798 | |
| Plumb, James Level 7 | 07785 183547 | |
| Pond, Malcolm Level 5 | 07813 019252 | |
| Preston, Kevin Level | 07753 119241 | |
| Price, Albie Level 7 | 07720 252288 | |
| Punter, Tim Level 7 | 07854 238140 | |
| Rabbles, Francis Level 5P | 07949 895406 | |
| Rammell, Chris Level 7 | 07506 611481 | |
| Ramzan, Amaan Level 7 | 07928 075873 | |
| Randall, Leon Level 6P | 07852 986390 | |
| Rawat, Zaahid Level 7 | 07478 701092 | |
| Redington, Norman Level 7 | 07535 558434 | 020 8595 5614 |
| Richardson, Aiden Level 7 | 07955 775415 | |
| Ripton, Daniel Level 5P | 07974 073289 | |
| River, Cree Level 6P | 07948 055752 | |
| Rivett, Dave Level 5 | 07984 107539 | 020 8491 3486 |
| Roberts, Charlie Level 4 | 07512 703993 | |
| Roberts, Paul Level 7 | 07973 187008 | |
| Robertson, Kyle Level 7 | 07846 811408 | |
| Rowan, Daniel Level 7 | 07930 987790 | |
| Rowling, Matthew Level 5P | 07983 205756 | |
| Sach, Joe Level 6 | 07507 785007 | |
| Sangowawa, Tolu Level 4 | 07860 247866 | |
| Simpson, John Level 7 | 07752 200250 | |
| Smart, Stanley Level 7 | 07932 237070 | |
| Spencer, Tyriq Level 7 | 07432 201332 | |
| Steele, Henry Level 6P | 07842 735350 | |
| Steward, Alan Level 4 | 07999 943370 | |
| Taher, Abu Level 7 | 07852 342475 | |
| Taiwo, Michael Level 7 | 07516 755881 | |
| Taylor, Brian Level 4 | 07985 249016 | |
| Thomas, Andre Level | 07951 111606 | |
| Tiscenka, Vadimas Level 5 | 07366 573421 | 07874 363962 |
| Tsekov, Mark Level 7P | 07718 615888 | |
| Turan, Aki Level 6P | 07985 956369 | |
| Vermaat , Nick Level 4 | 07835 736465 | |
| Vernica, Adrian Level 5 | 07388 632199 | |
| Wahid, Abdul Level 5 | 07725 946136 | |
| Walker, Oliver Level 5 | 07954 563093 | |
| Watson, Robert Level 6P | 07593 074696 | |
| Wiggigton, Sam Level 4 | 07809 190872 | |
| Wood, Jamie Level 5 | 07449 799984 | |
| Woolf, Yaron Level 5 | 07956 860490 | |
| Worpole, Steve Level 6 | 07719 818192 | 020 8594 5640 |
| Yahiaoui, Ahcene Level 5 | 07841 867624 | |
| Yildirim, Ali Huseyin Level 6P | 07842 751025 | |