Referee contact information is only available to logged in users. Please return to this page after logging in.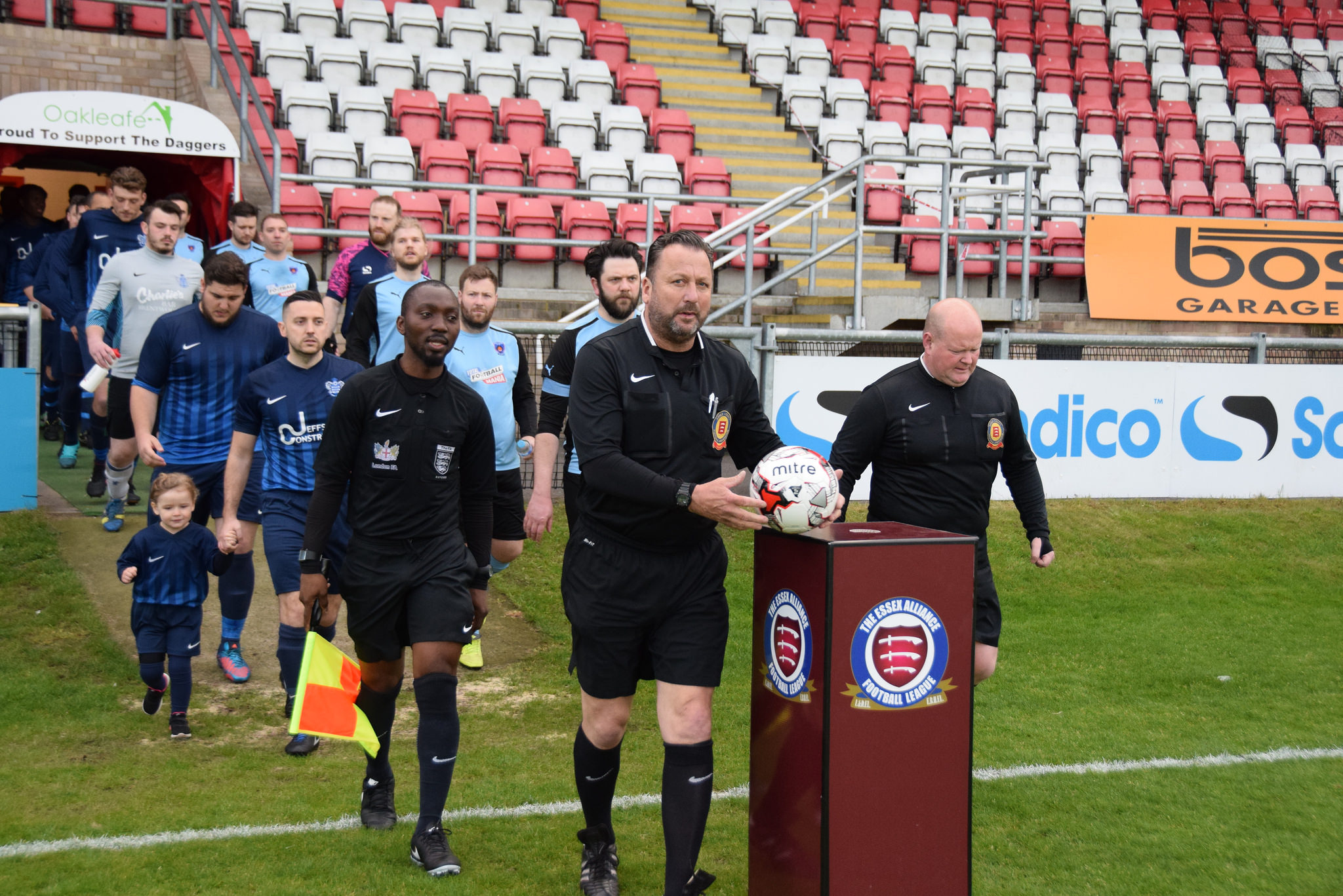 Looking to join our referees panel?
We are an open-age male Saturday afternoon football league with fixtures taking place within the boroughs/authorities of Havering, Barking & Dagenham, Redbridge, Newham, Brentwood, Thurrock, Harlow, Waltham Forest and Epping Forest.
In the Senior Division, appointed referees receive a match fee of £50.00 with assistants receiving £35.00. In all other divisions, match fees are £45.00.
Referee name
Adahmah, Rasmus Level 6P
Adeeko, Emmanuel Level 7
Adeoye, John Level 5
Adeyemi, Adekola Level 4
Ahmed, Nazmul Level 7
Airey, Richard Level 4
Akande, Samuel Level 6P
Akinyode, Tommy Level 7
Alapafujah, Lanray Level 5
Aleksakhina, Natalia Level 5
Ali, Foysol Level 7P
Allaoui, James Level 5P
Almeida, Rui Level 6P
Amoes, Moises Level 7P
Antwi, Leeford Level 4
Asmal, Sazid Level 7
Attoe, Liam Level 7
Bailes, James Level 7P
Bailey, Gavin Level 4
Bailey, Jamie Level 7
Ballard, Scott Level 7
Barker, George Level 4
Baron, Jack Level 7P
Bent, Charmaine Level 7P
Benzerrouk, Eder Level 7
Beyaz, Koral Level 7
Bilanovszkij, Nazar Level 7P
Billong, Patrick Level 7P
Broom, Liam Level 7P
Brown, Charlie Level 7P
Brown, Howard Level 5
Buckle, Nathan Level 4
Burns, Luke Level 6P
Bursey, Paul Level 5
Campbell, Royan Level 4
Carbangal, Ariel Level 7
Carroll, Patrick Level 6
Caunt, John Level 5
Chapman, Ray Level 6P
Charles, Terry Level 7
Cheal, Alfie Level 7P
Clark, Oliver Level 7
Cohen, Yaniv Level 7
Conaghan, John Level 7
Connolly, Dylan Level 7
Conway, Grant Level 4
Coombs, Aseea Level 7
Crossley, Andrew Level 4
Crowe, James Level 6
Darling, John Level 7
Dawson, Liam Level 6P
Dhillon, Harinder Level 5
Diamond, Ashley Level 6P
Dice, David Level 6P
Dickson, Joe Level 7
Dixon-Walker, Jordan Level 4
Dodson, Alexander Level 7P
Dushku, Bekim Level 7
Ellis, Mark Level 6P
Emanuels, Sasha Level 6
Evans, Josh Level 4
Everett, Keith Level 6
Everitt, Cliff Level 5
Eyre, Archie Level 7P
Fleming, Tommy Level 7P
Forbes, Albert Level 5
Fotiou, William Level 6
Girdleston, Chris Level 5
Goddard, Mark Level 5
Goldbart, Sam Level 7
Goodman, James Level 4
Grocock, John Level 6P
Guest, Emma Level 5
Hale, Jason Level 7
Hales, Stephen Level 7
Hall, Jerahl Level 7P
Hankin, Mark Level 5
Haqq, Muhammad Level 7
Hardstaff, Elora Level 4
Harrison, Xander Level 5
Hellyer, Gary Level 7
Herbert, Chris Level 7
Hess, Alex Level 7
Hinckson, Jake Level 7
Howell, Adam Level 5
Howell, James Level 7
Hussain, Muzackir Level 7
Iddenden-Smith, Michael Level 4
Iheanyiogu, Francesco Level 7
Ikram, Zakariya Level 7P
Ionescu, Gabriel Level 6P
Islam, Mohammed Sahedul Level 7P
Jackman, Kenneth Level 7
Jays, Louis Level 7
Jicu, Daniel Level 6
Judd, Liam Level 7P
Juganaru, Ciprian Level 7P
Justham, Edward Level 7
Juwara, Ebou Level 5
Karayaka, Bedri Level 6P
Kelly, Thomas Level 7
Kemp, Paul Level 6
King, Spencer Level 6P
King, Tony Level 4
Kinghorn, Nicky Level 6P
Kugara, Gift Level 6P
Kuloglu, Aylin Level 7
Lane, Daniel Level 7P
Lawrence, Emmanuel Level 7P
Leeks, David Level 5
Lloyd , Ailastar Level 6P
Locke, Mike Level 5
Lounici, Adam Level 7P
Lusardi, George Level 7P
Maclean, Anthony Level 7
Manning, Timothy Level 5
Margiotta, Steve Level 7
McAuley, Dean Level 7P
McGibbon, Ronnie Level 6P
McKenzie, Emile Level 5
Meta, Klodian Level 7
Miah, Javed Level 7P
Miah, Kolil Level 7
Miller, Norman Level 6P
Morley, Reece Level 5
Mullett, Alex Level 5
Nazif, Kadir Level 4
Nela, Argest Level 7
Nitu, Mihai Level 6P
Norris, Daniel Level 5
Olaosebikan, Nino Level 6P
Olola, Adewale Level 5
Osunde, Osahon Level 7
Owen, Andrew Level 4
Patel, Imran Level 7
Paul, Ryan Level 7
Pledger , Ben Level 7
Plumb, James Level 7
Pond, Malcolm Level 5
Posteinicu, Laurentiu Level 7P
Preston, Kevin Level
Prior, Mungo Level 7P
Pullen, Craig Level 5
Punter, Tim Level 6P
Rabbles, Francis Level 5
Rammell, Chris Level 6P
Ramzan, Amaan Level 6P
Randall, Leon Level 5
Rawat, Zaahid Level 7P
Redington, Norman Level 7
River, Cree Level 6P
Rivett, Dave Level 5
Roberts, Charlie Level 3
Roberts, Paul Level 6P
Rowan, Daniel Level 7
Rowling, Matthew Level 4
Sangowawa, Tolu Level 4
Sattar, Yeasin Level 6P
Scaraggi, Davide Level 5P
Scott, Dylan Level 7
Simpson, Frankie Level 7
Spencer, Tyriq Level 6P
Steele, Henry Level 4
Stevens, Andy Level 5
Steward, Alan Level 4
Taher, Abu Level 6P
Taiwo, Michael Level 7
Tatam, Luke Level 7P
Taylor, Brian Level 4
Taylor, Paul Level 7
Thorogood, Luke Level 7P
Touileb, Abdelwahid Level 6P
Troubridge, Neil Level 5
Tsekov, Mark Level 5P
Turan, Aki Level 6P
Unwin, Reece Level 6P
Uylett, Dwayne Level 4
Vernica, Adrian Level 5
Wahid, Abdul Level 5
Watson, Robert Level 5
Wheaton, Andrew Level 4
Wigington, Sam Level 4
Wood, Craig Level 4
Wood, Jamie Level 5
Woolf, Yaron Level 5
Worpole, Steve Level 6
Yahiaoui, Ahcene Level 5
Yahiaoui, Mustapha Level 7
Yildirim, Ali Huseyin Level 6P
Young, Maxwell Level 7