WEEK 6 REVIEW: Round-up of Saturday's league and county cup action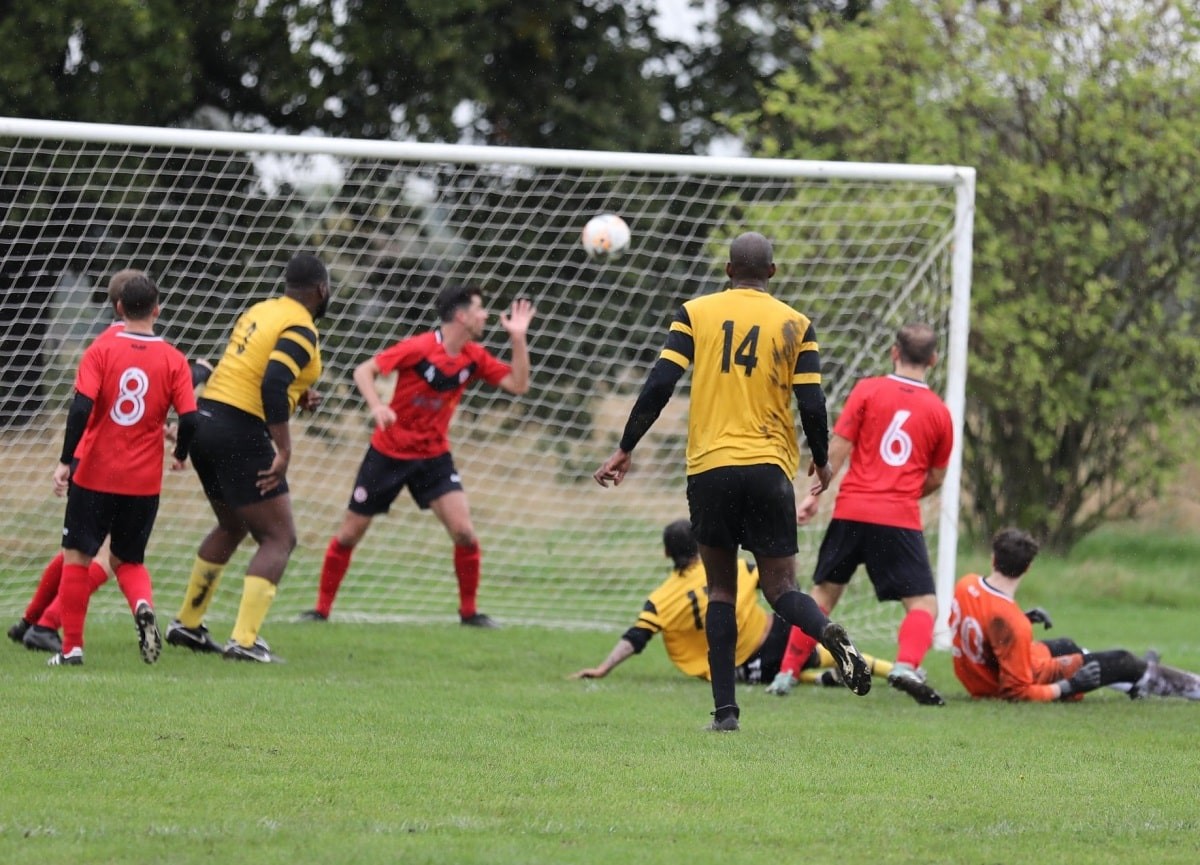 For our latest news and updates, please enter your email address
SENIOR DIVISION
Chigwell took advantage of others around them being out of action over the weekend to take top spot in the Senior Division in just their first season at this level. They made a trip to a soggy Newbury Park to face Blue Marlin but that seemed to "wet" their appetite with Ross Chimes scoring twice and one each from Mark Howe, Lindsey Marsh and Joseph Aldridge completing a comprehensive 5-1 victory.
That outcome was also assisted by a win for West Essex Reserves who faced up to previously second placed FC Petrocub in Hainault. Ghenadie Moisei, Catalin Molan and Valentin Siciov goals had given the visitors a lead but two West goals from Abiola Balogun and strikes from James Brice and Connor Brathwaite turned it around in a 4-3 win for West Essex.
Lymore Gardens made it two wins from their opening four games on Saturday as they took on FC Baresi in the Waltham Forest derby match in Chingford. With both sides having mixed starts, they were keen to earn the points and make their ascent up the table. But Lymore ended the day as the happier of the teams, winning 2-0 through goals from Marcel Destouche and Devonte Forsythe-Young to move up to sixth in the standings.
DIVISION ONE
There remains a one-point gap between the top two sides in Division One where Tower United made it thirteen points from a possible fifteen, running out comfortable winners in a local derby game at Sporting Hackney Development. Tower were 5-0 victors on the day to stay a point clear.
The side keeping up the chase on Tower United are All Real who made it four wins out of five for themselves with a tough fought away victory at third placed Eastside over the weekend. Michael Dager struck for Side but his effort was mere consolation as Joel Basima and Charles Brown goals handed a 2-1 win to All Real and the three points.
Moving up to fifth place in the table, Chingford United made it two wins from their opening four of the season when they hosted All Prospects at Salisbury Hall. Mihail Vlad and Ruslan Belicescu grabbed the all important goals for United to kick-start their season, their opponents dropping to seventh in the process.
It's been a much-improved last couple of weeks for Tower Hamlets Reserves who, having secured a first win of the season last weekend, had a real humdinger with previously unbeaten London Park City on Saturday in Seven Kings. A narrow 3-2 win was secured through goals from Ronaldo Kapica, Carone Scott and Tiago Santos to hand Tower victory.
DIVISION TWO
There were two real surprise results in Division Two where leaders, Old Esthameians, slipped to a home defeat in Newbury Park in their clash with Puma Kings. Arfan Ahmed, Louis Pernice and Jordan Mills-Smith were the Kings' scorers, earning their side a 3-1 win, opening their points account for the season.
Another side who recorded an important win were Royal Forest who were also in Newbury Park to face one of the early leaders, Unitey, who themselves had experienced mixed fortunes in recent weeks. Another tight game was edged in favour of the visitors, Forest taking home the points in a 2-1 victory, moving them within a point of Unitey in the standings with a game in hand.
DIVISION THREE
The result of the day in Division Three came at Wanstead Flats where St Francis earned themselves a memorable win, defeating unbeaten leaders Chadwell Heath Spartans in a 3-1 result. Daniel Tesfay scored twice and Prince Diantomba once for the Saints to overcome a Aaron Hunwicks strike and take the points.
Moving up to third in the table, Newham Wanderers complete a trio of clubs sitting on nine points in the division with near identical records. The east London side made the journey down to Castle Green to face debutants FC Galaxy where goals from Lukas Ziausys and Nuno Dentampol were just enough to win 2-1, overcoming Mihai Mareniuc's effort for the hosts.
DIVISION FOUR
There are new leaders in Division Four now as Woodford East made their ascent to top spot with a thumping win against Chingford Harriers in Debden. Braces from Billy Barr and Jay Stavri were added to by further efforts from John Gilley, Kai Law, William Letchford, Ben Smith and James Collier, earning East a 9-0 win in the process.
Also making a surge up the league table, Lymore Gardens Reserves positive start to the season saw them record a second win in three league games so far when they faced Together United in a local derby at Peter May. Lymore were 4-0 victors on the day, moving up to fourth place in the table.
Level on points with Lymore are Newham Royals as the Chadwell Heath based outfit took on Prospect Protégé in a mid-table derby at Warren School. Royals edged a tight contest by the goal, securing a 2-1 scoreline to see them up to fifth place, moving ahead of Prospect in the process who drop to seventh.
ESSEX JUNIOR CUP
There were mixed fortunes in the Essex Junior Cup competition for our sides where Chingford Athletic A made the hat for the third round as they hosted Writtle in Waltham Abbey. Athletic were 2-1 victors on the day to book a tough looking trip to Bowers & Pitsea Under 23s in the next round.
There was a real humdinger in the clash at Newbury Park between Toby Reserves and Rapid Chingford where the two sides combined to score ten goals between them. Rapid were leading 3-2 at the break but Toby responded well, winning 6-4 at the end of an exhilarating tie.
And another incredibly close game was witnessed at Harold Hill where London Cranes made the trip up the A12 from east London to take on the Mid Essex League top flight side. Ultimately Cranes saw their campaign come to end being on the wrong side of a seven goal thriller, losing 4-3.
ESSEX JUNIOR TROPHY
In the Essex Junior Trophy, CSM London were emphatic winners in their home tie against Glendale on Saturday, showing their three-division superiority in a thumping 9-0 win. That result sees CSM take a trip to the seaside in round three with a game in Southend against Earls Hall United.
Also carrying themselves to a big victory, Frenford A are in the hat for the third round after they returned home from Mid Essex League based Emerson United Reserves on the back of a 7-0 win. They now face another side from that league with a trip to countryside to face Silver End United Reserves.
A seven-goal winning margin was also recorded by Cowley Community who, despite indifferent form in the league, demolished unbeaten Rainham Working Mens Club on Saturday in a 9-2 victory. The reward for that win is a home tie in the next round against Old Chelmsfordians A.
One of the shocks of the day came in Leyton where Division Two's Melbourne Sports overcame a division deficit in beating Division One's Forest Green in an all-EAL clash. The Mels were big 7-2 victors and now face up to Notley in the third round of the competition next month.
There was a win by a five-goal margin also in the second round tie between Ilford Development and Flyers as the two sides met to battle for a place in the next round. Flyers continued a positive start to their season, sending Ilford to a 5-0 defeat, with the visitors securing a short third round trip to Harold Hill Reserves.
Another of the day's all-EAL match-ups came in Beckton where Custom House United were the hosts to a rampant Sungate Reserves side, the latter having made a great start to life in the third tier. In wet and windy conditions, Gate were 7-3 winners and face another Division Three side in round three with a trip to Flyers Development.
Also through to the next round safely, Upshire Forest put in a second strong performance against Mid Essex League opposition with a 6-3 home win against Shenfield Association A as those sides met at Town Mead. It's another home tie for Forest in round three where they take on Writtle A.
Ending their respective runs in the competition this year, Avondale Rangers went down to a narrow 2-1 defeat in their clash away at Brentwood Athletic Reserves, a similar fate suffered by Brentwood United Reserves who went down 5-1 at home against Hertford League based Nazeing.
Photo credit: Chadwell Heath Spartans FC / Neil Hunwicks