WEEK 21 REVIEW: Round-up of all the EAL league and cup action from the weekend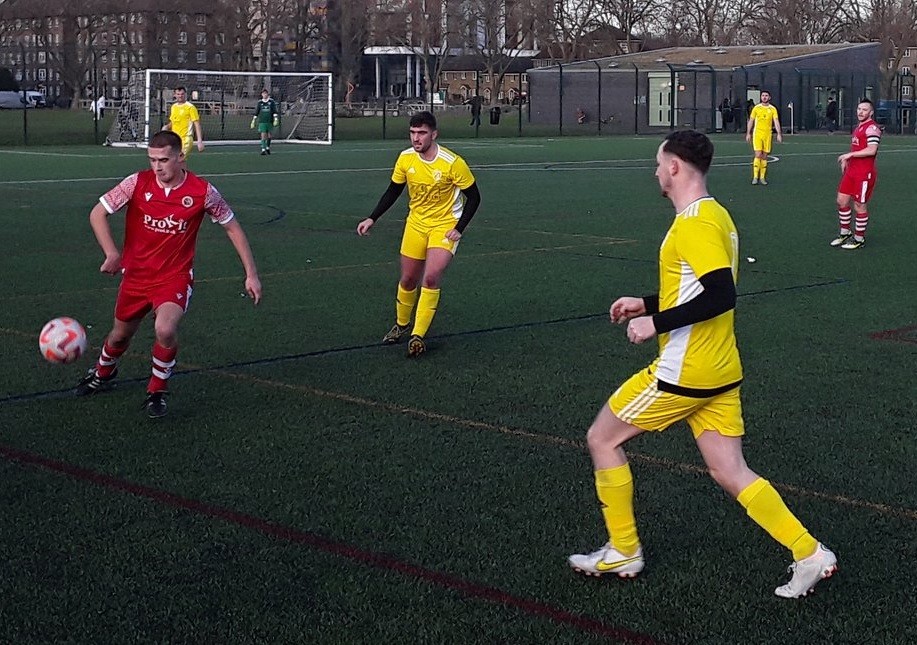 For our latest news and updates, please enter your email address
FENTON CUP
Another cold weekend hit the fixture list over the weekend but we did manage to get a solid number of games completed, including a cupset in the Fenton Cup as top flight Blue Marlin saw their involvement cut short following a defeat away at Aveley Under 23s from the Premier Division. An Aldo Vani hat-trick proved too much with Samuel Omoniyi netting off the bench in a 4-1 result.
SENIOR DIVISION CUP
It was a busy week in the Senior Division Cup with four fixtures in midweek, the first of which saw promotion chasing Brimsdown go down in the first round with a home defeat against Frenford Development at New River. Joel Opara's brace plus strikes from Louie Handley and Isimia Iguisi were just too much on the night, Cameron Ferguson netting the consolation in a 4-1 Frenford win.
On Tuesday night, there were contrasting scorelines in the two games, starting up at Coles Park where Lymore Gardens' recent good form in the league saw them hopeful against Woodford East. But it was East who took the honours on the night in a 5-2 win, Callum Maltese scoring a hat-trick and Harry Robinson twice. Tyrique Peters and Rayshun Codner struck with the Garden goals in reply.
Also on Tuesday night, over at Mayesbrook Park, it was Dagenham United as the hosts for the evening as they took on a Blue Marlin side, both looking for a bit of cup glory to inspire some league form perhaps. The two sides battled hard but neither could trouble the keepers as the game finished 0-0 before Dagenham held their nerve in the shootout to win 4-2 on spotkicks.
Moving on the Wednesday night action, another cold evening was felt up at Wodson Park where Rapid Chingford were the visitors to face league title challengers, FC Baresi. And it was the visitors who started more brightly to score early on and despite an FC Baresi leveller, battled on to win it 3-2. Andrei Cazacu scored two and Alin Cosma one with Korede Da Silva and Edson Lami on the hosts' scoresheet.
SENIOR DIVISION
A curtailed league fixture list on Saturday did still leave us with some huge games including a top of the table battle between FC Baresi and Jolof Sports at Wodson Park. An expectedly competitive game saw Yannick Kamanan find the back of the net for FC Baresi but Jolof matched that and won it late on with a penalty, confirming a vital 2-1 win.
Over in Dagenham, May & Baker EC Reserves' strong form saw them make a move into the top seven as they managed to earn all three points at home against Wednesday's cup giant-killers, Rapid Chingford. Vlad Bucur and Andrei Cazacu scored for Rapid but those weren't enough as Darius Egualeonan struck twice and Christon Daley once in a 3-2 Baker victory.
There was another big result in the day's game at Lakeside where Chadwell Heath Spartans got back to winning ways with victory in a five-goal thriller against Lymore Gardens. Elie Fanga was in good form and struck twice for the Spartans, Michael Ramsay netting the other, with Gaston Mendy and George Dwobeng's responses proving just consolation in a 3-2 Spartan win.
There was a Walthamstow derby to round off the top flight action for the week as Walthamstow Reserves were the hosts to a Crookz United side making the short trip across the Crooked Billet roundabout. And what a game it proved to be with the sides sharing all six goals in a 3-3 draw to take a point with Tarik Aciyan, Andrew Appiah and Anselmo Gomes the United scorers.
PREMIER DIVISION CUP
Three ties thawed enough to go ahead on Saturday with CSM London producing the biggest result of the competition so far with a solid home victory against Cowley Community over in Beckton. CSM were 5-0 winners as Michael Payne, Bilal Hussain, Micail Koulibaly, Emre Ozuaciksoz and Chris Anele all struck to put them through to round two.
Also into the hat for the last sixteen are Barkingside Under 23s who made the short trip across to Newbury Park to take on Leyton City in cold conditions at Fords. And the sides were well matched for ninety minutes with the game ending in a 1-1 draw, Mohamed Sheikhnor scoring the 'Side goal. And it was his side who eventually prevailed from the shootout, winning 4-3 to head on through.
Over at Castle Green in Dagenham, a real topsy-turvy game saw visitors Wanstead race into a 2-0 lead against Soul. But the hosts mounted a fightback to first level and then took a winning 5-2 lead by full-time to see them safely through into the last sixteen where they now take on London Park City in the coming weeks.
PREMIER DIVISION EAST
In league action, the East division saw leaders Underscore United make it ten from ten to keep themselves in pole position at the halfway stage of the season, coming away 5-0 winners in Seven Kings where they were taking London Park City. That takes their points tally to thirty, five points clear of the chasing pack.
One of the sides who could yet prove a thorn in the side of the leaders are the unbeaten Chingford Athletic who could move to within a couple of points with games in hand and kept their momentum with a 2-0 home success on Saturday against Wapping. Goals from Kane Patmore and Charlie Rouse proved enough to take the points, their seventh league win of the season.
There was an eight-goal thriller over in Hainault where Freetown were in action as the visitors to face a promotion chasing Fairlop Rovers side. Donald Adaakwah scored two and Nathan Regan netted the other for their side but those goals proved not quite enough, Rovers running in five of their own in an eventual 5-3 success for the hosts.
PREMIER DIVISION WEST
There was just the one game in the West division and it was a big one for leaders Priory Park Rangers who moved themselves four points clear of the rest of the sides with a 4-2 win on the road away at North East Lions at Peter May. James Codling and Rweal Azizur struck the Lions goals for the hosts but Rangers were in fine scoring form themselves to make it ten wins for the season.
DIVISION ONE CUP
In the Division One Cup, there were two ties completed with Old Esthameians making safe passage through to the quarter finals with a 5-1 away win against Kwanzas London Sport over in Beckton. The visitors made their fourteen point advantage in the league count and will now take on Renegade in the last eight.
The first round action came to a conclusion over at Mayfield Sports Centre where a local derby fixture saw Redbridge Community go to battle against Ilford Reserves for a place in the quarter finals. And it proved to be a close game with the match ending 1-1 but the Foxes held their nerve from the spot as Ilford won the shootout 4-3 to progress on.
DIVISION ONE
In league action, Something From Nothing were the side to make up the most ground on the day as the county cup quarter-finalists produced another terrific win this season, beating Eagles Football in a 7-3 win at Wanstead Flats. Derek Adenuga and Micah Innocent both struck braces, Ikromjon Kamolidoinov, Joseph Atoki and David Prenga scoring the others in a strong performance.
Not too far away, another Wanstead Flats fixture saw the league leaders, Newham Wanderers, in home action with the visit of ninth placed Renegade. Despite the obvious gap in the league standings, this wasn't on show on the pitch and Joao Mendes' effort for Newham was only enough to take a point against their opponents, the game ending in a 1-1 draw.
DIVISION TWO CUP
The first of the season's Division Two Cup ties took place over the weekend with first round action from Leyton which saw Lymore Gardens Reserves up against Redbridge Community Reserves for a place in the last eight. And it was the hosts who ended the happier of the teams as goals from Remel Green, Jordan Monk, Warren Isoka and PJ Marcus confirmed a 4-1 win.
DIVISION TWO
With the leaders' game postponed, that enabled Royal Forest to cut the gap at the top once again as they completed a seventh win of the season, defeating St Francis in a 5-3 scoreline at Roding Valley High School. A goal apiece from Martin Cannon, Josh Trainor, Frank Carver, Charlie Palline and Joe Meader were enough for Forest to take the points home.
Third placed Woodford East Reserves have pushed on in recent weeks and put themselves in promotion contention, making it seven wins for the season on Saturday with a terrific win away at Chadwell Heath Spartans. Owen McKelvey scored twice and Harry Carter one in a 4-1 success, David Johnson scoring the Spartan goal in reply.
County cup semi-finalists, Rainham Phoenix, are still also in the mix and will have games in hand over the sides above, starting their hopeful climb with a comprehensive 6-1 home victory on Saturday against Old Barkabbeyans. Cameron Shakes scored a hat-trick with Connor Kain, Sam Springall and Harvey Yellop goals completing the win for the hosts.
DIVISION THREE
In Division Three, leaders Newbury East have moved to within three victories of the league title, picking up where they left off last year with a strong 7-1 win at home against Romford Under 21s. Junior Milla's goals have been crucial and he scored four on Saturday, Muhammed Seif, Reda El Ghaibouz and Rafai Bentick also netting to take them to forty points.
There are six other sides in the mix for promotion and Melbourne Sports re-entered that race over the weekend with a stunning win against second placed Chingford Harriers, edging the game by the odd goal in five in a 3-2 scoreline. That result saw the Mels record win number six this season with positions two down to seven separated by just five points.
Another side in that cluster of clubs are Glendale who got back to the action for the first time in almost six weeks with a trip to Dagenham United Reserves. A cagey first half saw the sides level at the break but Muhammed Camara's brace around the hour got the Dales ahead before Jordan Murray-Bruce's penalty cut the deficit. But Kofi Safu's tremendous winner shortly after meant Glendale won 3-1.
Over in Buckhurst Hill, there was another improved showing from the hosts, Buckhurst Way, who took a valuable point from what looked like a tough game against an in-form Frenford A side. Adam Younis and Adam Andrade both struck for the visitors but Way also scored twice to ensure they finished level in the game at 2-2.
DIVISION FOUR CUP
The first semi-finalist of the season was confirmed in divisional competitions this weekend with Avondale Rangers moving to within ninety minutes of a cup final appearance, completing a solid home win against Newham & Havering Borough in their quarter-final tie. David Bode and Peter Moles both got on the scoresheet for Rangers with those crucial goals to send them through.
COUNTY CUP
There were two tremendous games for our sides in county cup competitions on Saturday beginning with a real BBC Essex Premier Cup humdinger from Mabley Green where Woodford East had their work cut out against an unbeaten Hutton side from the Olympian League. Two first half goals gave Hutton the lead and East looked out of the game. But a spirited fightback got them level and then they scored twice more to take the game in a 4-2 to make the semi-finals once again. Full match report available on Scott W's blog.
If that wasn't enough it was quarter-final day in the London Senior Trophy, a competition for sides at step six and seven of the pyramid, and FC Petrocub, finalists in two previous seasons in the Junior Cup, were facing up to the task of Wimbledon Casuals who had lost just once in the league this season. A very close game was edged in the dying moments, Petrocub scoring the game's only goal to win it 1-0, moving themselves just ninety minutes away from yet another county cup final.
Photo Credit: Scott W