WEEK 2 REVIEW: Round-up of Saturday's league action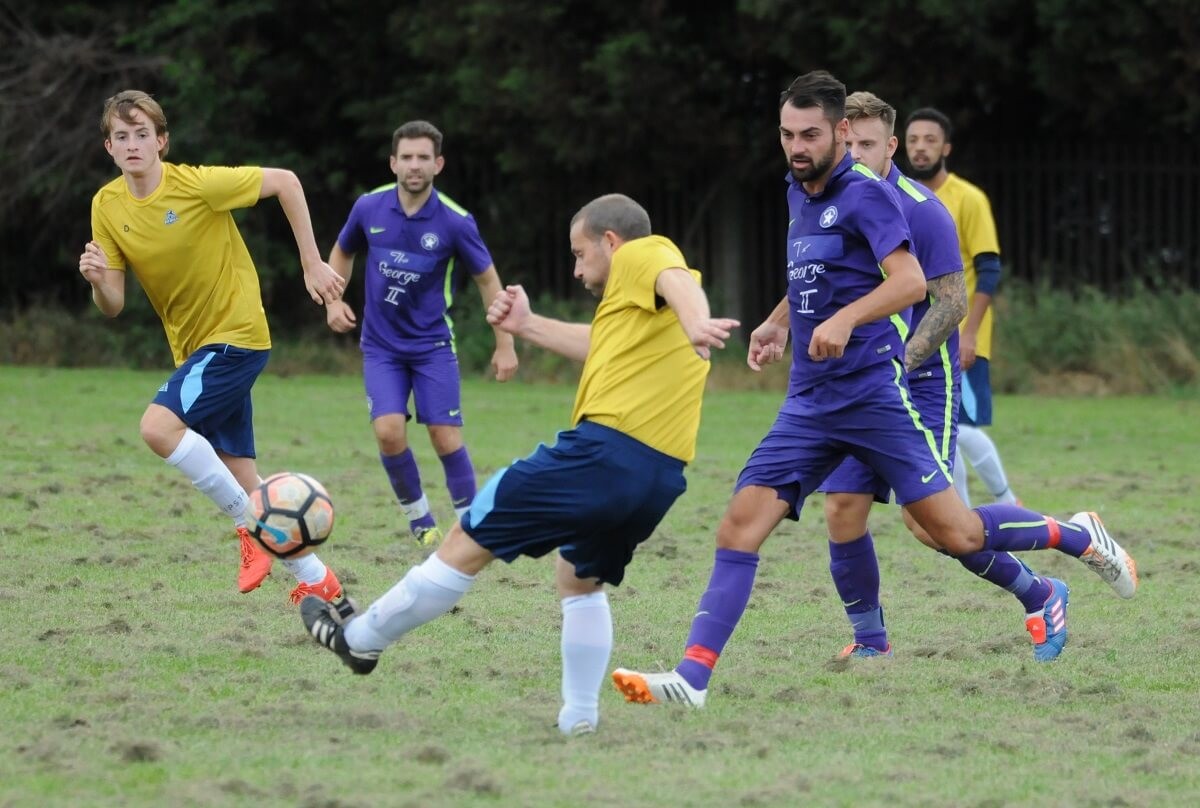 For our latest news and updates, please enter your email address
SENIOR DIVISION
West Essex Reserves are the early leaders in the top flight so far this season as they made it two wins from two with a terrific 6-1 over the reigning champions, Colebrook Royals, on Saturday afternoon. Adam Norris' hat-trick paved the way for his side with further goals arriving through Robbie Carter, Henry Allinson and Corley Ross to see their side to a big win.
Following not too far behind the coat-tails of West Essex on goal difference are ACD United who have made the leap up to this level with no issues at all as they beat a stubborn Blue Marlin side 2-1 at Westlands to extend their own 100% record. First half efforts from Shaun Allen and Ollie Williams were sufficient to take home the points once again.
In one of the games of the day, down in East Ham, former league champions Jolof Sports took on promoted Docklands Albion who were looking to bounce back from an opening day defeat. They were well on the way to doing that as they held a 2-1 lead at the break. But a Jolof brace from Papa Ndiaye and a Jesus Burgos goal saw the hosts come from behind to win it 3-2 late on.
There was a winning return to the league for Grove United who, after a year out of action, made a trip to Hackney Marshes to take on promoted East Ham Inter on Saturday. Amalraj Kakumanu scored for Inter but Grove responded with two goals of their own to edge the encounter 2-1 and earn victory.
Completing the day's action from the division was a battle of the two "London" teams as London Park City made the trip to West Ham to face London Cranes who were opening their season. In a tightly contested match, there was just a single goal to separate the teams as hosts, Cranes, took the chance that mattered to win it 1-0.
DIVISION ONE
There were plenty of goals in Division One this week as FC Baresi continued their winning streak with an emphatic 10-0 win away at Sporting Hackney Under 23s. Yet to lose a league match whilst with the league, Baresi put their opponents to the sword with a Marvin Smith hat-trick and braces from Alfie Hatch and Delano Lloyd. Darren Sarpong, Robin Anipa and Maamoon Khan completed the scoring on the day.
Another game featuring ten goals was the encounter between Rapid Chingford and Melbourne Sports at Parmiters but there was far more parity between the sides in this match-up. Constantin Banu scored twice with Danut Mihalache, Michael Birtalan and Florin Ivancia all on target for Rapid. But five goals from the Mels, including braces from Rene Moret and Ryan Lincoln plus a Marcus Dadson effort, levelled up this thriller which ended 5-5 at full time.
Chigwell are second in the league on goal difference as they recorded a second win of the season from their opening games, this time seeing off Wapping in Hackney. The promoted side made light of what was a two division difference between the sides last year as Christopher Doidge, Lindsey Marsh, Mark Howe and Brandon Young-Chambers netted the goals in a 4-2 win over their opponents.
The division's final match saw an opening victory for Forest Green who maintained the run they had towards the end of the last campaign with a 3-1 win this time out against Chingford United. Joshua Kibuuka scored twice and Krishan Singh once to cancel out a United goal from Alin Dumitrache.
DIVISION TWO
The early leaders in the third tier this season are CSM London who have made a stunning start to the campaign and saw off debutants, Upshire Forest, in an 11-1 victory on Saturday. Jack Marrion grabbed the Upshire goal but braces from Hoxley Baron, Lewis McCarthy and Keifer Cole plus singles from Kenny Cole, James Henry, Rodrique Beya, Micail Koulibaly and Bolu Olamousi completed the emphatic victory.
The newly formed Chingford Athletic Development side made a winning start to life in senior football as they beat Inter Plaistow 5-2 in West Ham. Omani Green's double and further goals from Patrick Clarke, Diego Panessar and Irfan Houssein rendered Plaistow goals from Jack Abbotts and Jason O'Hare as consolation.
There was also an opening win of the season from Rainham Working Mens Club who will look to put the second half of last season behind them as they beat Eastside, winners on the opening weekend, by a single goal. Kris Brown got the only goal of the game for Rainham in the 1-0 win to open their points account.
Cowley Community made a winning start to the new season following their drop from Division One, earning a closely fought victory away at Puma Kings. It only took a single goal to separate the teams with Cowley the beneficiaries to win 1-0 on the day.
There were a pair of 2-2 draws to complete the days action from Division Two where, firstly, FC BKT opened their account with the league with a point in a difficult away trip to Flyers. Lee Hattam and Jason Collins scored the home sides' goals but a Ryan Scott double saw the teams share the spoils on the day.
And in the other 2-2 from this division, South Marsh United's debut in the league came away at Old Esthameians in Newbury Park where a Ryan Cooke brace was levelled up through efforts from Neil Robinson and Thomas Boomsma for the E's. That saw the sides settle for a point apiece in a close match.
DIVISION THREE
Brooks City are the early league leaders in Division Three as they made light work of the step up a division to record a big win away at Custom House United at the Terence McMillan Stadium. Glenn Levy got the home side's goal for the Dockers but four goals in reply from City completed a 4-1 win for them as they go top by two points.
Tower Hamlet Reserves made a stunning start to life in the Essex Alliance League as they rattled thirteen goals past the very unlucky Forest Green Reserves. Tommy Whelan scored twice for Green and Josh Kasongo once but their own goal was peppered with efforts at the other end as Hamlets secured the points in great fashion.
Moving second in the table are Royal Forest as another of the promoted sides continue to impress following their elevation to this level. They picked up a 4-1 win away at New Star Soccer on Saturday, overcoming a Dwaine Hitchman goal with four of their own to complete a big win.
Haver Town Reserves are third in the table making it a promoted side one, two, three at the very top but they didn't have things all their own way at St Francis at the weekend. Lahin Jaiteh and Cezar Kipaila got themselves on the scoresheet with Saints' two goals but Haver pulled through to win it 3-2 with efforts from Courtney Waller and Lee Harris.
Flyers Reserves made a winning start to their third spell with the league as they saw off a Frenford A side who had won their opening match of the season last time out. Louie Webster scored for the hosts but three goals for Flyers saw them open up their league account with a 3-1 win.
DIVISION FOUR
In Division Four, it's been a great start to the season for Debden Park who sit top of the table by three points following a second win in two games on Saturday. The visitors this weekend were Brentwood United Reserves and a Daniel Rule brace was just enough to claim all three points in the 2-1 win on the day.
Old Barkabbeyans Reserves' return to the league was a successful one as they battled to an entertaining 5-3 win at home to Loughton Lions. Lions goals from Jamie Wood, Will Osmond and Tommy Edwards were cancelled out by Barks goals from Kayode Kehinde, Younis Faraz, Jerome Morris, Daniel Margiotta and Brandon Johnson.
Soul Youth bounced back from their opening day reverse to win 5-3 at home to last season's cup finalists, Avondale Rangers. Goal scoring doubles for Hamza Adnan and Mahfujur Ramman plus a Najul Kamal effort completed the win that sees them move up to third place in the table after two games. Chris Harper scored twice in reply and Neil Turner once but it wasn't quite enough.
Another side who responded well to an opening day defeat were Chigwell Mens Club who took on a Dagenham United Reserves side who were winners last weekend. Billy Barr proved to be the difference between the sides as he scored all three goals in a 3-0 victory for the newly formed side, taking them up to fifth place in the process.
Completing the day's action was a "Warren" derby as co-tenants Sungate Reserves and Newham Royals met in both sides' opening matches of the season in Chadwell Heath. In a tight contest settled by the odd goal, Sungate goals from Aaron White and Sammy Mohamed proved the difference between the teams as the hosts ran out 2-1 victors to open their points account.