WEEK 2 REVIEW: Round-up of Saturday's league action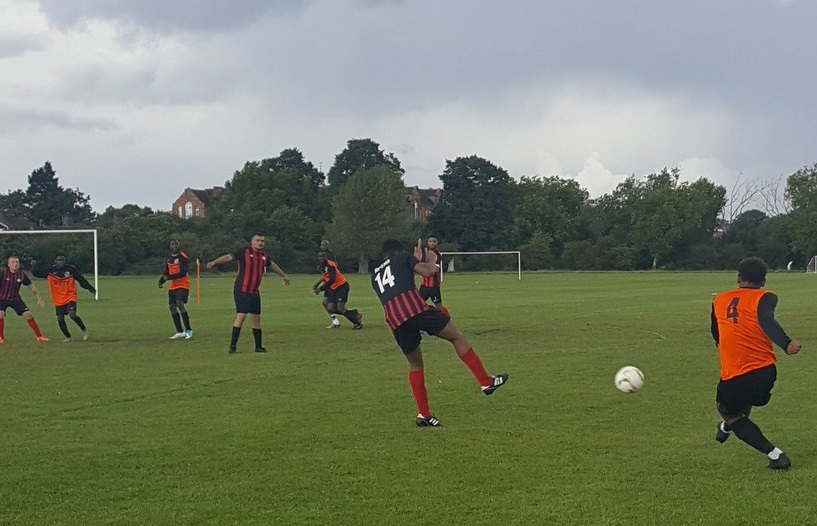 For our latest news and updates, please enter your email address
Saturday saw the second weekend of football fixtures as a record number of league matches took place on a day of contrasting autumnal weather.
PREMIER DIVISION
The defending champions of the league, Jolof Sports, have taken title to start the defence of their crown as they cruised to a comfortable second win of the season, beating Blue Marlin 4-0, to continue a good start to the year. Tahin Landry scored twice for the hosts with Toheeb Olayede and Hervan Volney goals sealing the win to confirm their perfect start.
United London are second in the table after they shared a very rare but entertaining goalless draw against newly promoted Colebrook Royals in their maiden Premier Division clash with the defences very much on top at the Grange.
Leyton Falcons were impressive 4-0 victors as they hosted last season's runners-up, Old Esthameians, in their first home match of the season. They bounced back from their opening day reverse to record victory through a brace from Jerrome Matthews and goals from Will Ukpe and Nathan Scarborough.
Another side who were victorious were Docklands Albion Under 21s who made their debut in the league with a hard fought 5-2 win against London Cranes in West Ham. A goal apiece for each of George Veness, Joshua Edwards, Aaron Burgess, Wyan Reid and Tyrone Seager cancelled out home goals from Bruno Boris and Mugwanya Namatiti to carry Albion to their first league victory.
In the division's remaining match, newly promoted West Essex Reserves saw their first top flight campaign start with a trip to West Ham where they faced Lopes Tavares London. The sides took a share of the spoils with a goal apiece in a 1-1 final scoreline.
DIVISION ONE
Docklands Albion made it two wins for the club on the day and reconfirmed their place at the top of the Division One table with a closely fought 2-1 win on the road at Forest Green. Tashan Benjamin was the hero of the day with both goals for his side, rendering Marcel Destouche's strike as just consolation for Green.
Singh Sabha Barking opened their Division One season with an emphatic opening win as they moved straight into second place in the table. They hosted East Ham Inter at Newbury Park and cruised to a 7-1 win to get their season underway in style.
Another side who managed to find the back of the net on seven occasions were promoted Ryan Reserves who bounced back from a disappointing opening day result to beat Ferns Seniors 7-3 in Chingford. Sean Howe scored twice for his Ferns side with Andrew Cruickshank's goal rounding off their tally.
There was a five goal thriller at Wanstead Flats as Cowley Community hosted Sporting Hackney Reserves in each sides' first matches of the year. Kyle Cargill scored twice for Cowley but Hackney goals from Dave Murphy, Keith Prouse-Ball and Jonas Kotb edged the game by the odd goal for the visitors.
Rounding off the Division One action, there was another goal-filled clash as Three Colts looked to bounce back from an opening day reverse against the newly promoted Wapping making their debut at this level. Nicky Blackwell's brace and a Tom Jakob goal were enough in the end to see Colts over the line in a 5-3 win.
DIVISION TWO
Rainham Working Mens Club were big winners in Division Two at the weekend as they put thirteen goals past Inter Plaistow without reply to make it two wins from two games and topping the table. Bobby Dinnen scored four goals for his side with braces from each of Dillon Anderson, Danny Stenning and Connor Kain plus single goals from Antony Holmes and Billy Maynard to round things off.
Another side who made it two wins from two matches were Chingford Athletic Reserves who 5-1 winners at home to Forest Green Reserves in Waltham Abbey through goals from Umar Ali (2), Zaikhan Kazley, James Lee-Legan and Billy Harding. They move up to second place in the table on goal difference.
There was an entertaining game in Newham where promoted Custom House started their Division Two campaign with the visit of league debutants, Lionside. A very close game saw it edged by the odd goal by the Dockers in a 4-3 result. Richard O'Reilly, Martyn Rifat and Danny Cressey were the men on target with the Lionside goals.
Flyers responded well to their opening day defeat at the hands of Newham United Reserves with a comfortable 4-0 win at home to St Francis. Lee Hattam, Robert Ashdown, Jack Barry and Jack Swaby were each on target as they confirmed the win against the Saints.
ACD United made a winning start to their first EAL season with a maiden win in their first competitive match with the league. Michael Wade was on target with two goals for the debutants with Connor Lambert scoring a third to complete a 3-0 win against Newham United Reserves.
The sixth and final game in the division saw United London's reserve side come up trumps in their second league match as they cruised to a 5-2 win over cup winners, Lymore Gardens, in Romford. Ali Abdalla was the hero with a hat-trick with Jeffrey Ashong and Corley Ross also netting. Shaquille Jordan and Alex Osbourne were the Lymore scorers who will keen to bounce back quickly.
DIVISION THREE
The biggest winners of the day in Division Three were Glendale who recorded a resounding 13-0 victory over Custom House Community at Wanstead Flats. Leon Sterling netted a hat-trick for his side alongside doubles from Johann Grant and Khari Pobi plus singles from Scott Bradfield, Marius Oprea, Ben Watts, Mouhamed Gueye, Nyasha Mukuchana and Emmanuel Ampaabeng to complete the victory.
Kitroom are the league's leaders after the opening matches as they recorded a second win in as many games, this time a 5-2 win against debutants New Star Soccer. Justin Cummins and Denis Karmaj both scored twice for leaders to go with a Kamal Zaiter strike, cancelling out New Star goals from Dwaine Hitchman and Samson Ogunwole.
FC Baresi made a winning start to life in the league with a hard fought victory at Chingford Harriers on Saturday. Daniel Denton netted for Harriers but saw Baresi goals from Davion Bascoe and Delano Lloyd confirm a 2-1 win for the visitors.
In a battle of two new sides to the league, London Caledonian Roses travelled to Frenford A at the weekend with both sides looking for first wins of the campaign. In the end, there was just a single goal to separate the sides as James Smith scored for London to confirm the 1-0 win.
Chigwell bounced back well from last week's opening day reverse to record their maiden league win this weekend against Old Esthameians Reserves. Lee Vickers scored for the hosts but Chigwell goals for Jack Lye, Harry Burgess and Oluwatayo Felstead secured the points.
In the division's final game, Redbridge Development opened their league account with victory in their first match of the season, beating fellow debutants Gatcliffe 5-1 in Chadwell Heath. Shane Ritchie was the scorer for Gatcliffe in consolation.
DIVISION FOUR
Royal Forest are the early season leaders in Division Four as they completed a second win in as many games, this time a closely fought contest against Brentwood United Reserves. Charlie Barrett scored twice for his Brentwood side but his goals proved not quite enough as Forest ran out 3-2 winners on the day.
Haver Town Reserves made a winning start to life in the league as they beat Newham Royals in their maiden contest. Ronnie Coules scored twice with Ditmar Doci also netting to secure a 3-2 win over Royals in Beckton.
The final game of the day saw Avondale Rangers recover well from their opening day defeat to see off Wanstead Warriors at Avondale Drive. Debutant Will Osmond scored twice for Rangers to lead them to victory with Adam Friend scoring the third in a 3-0 win.