WEEK 19 REVIEW: Round-up of Saturday's league and cup action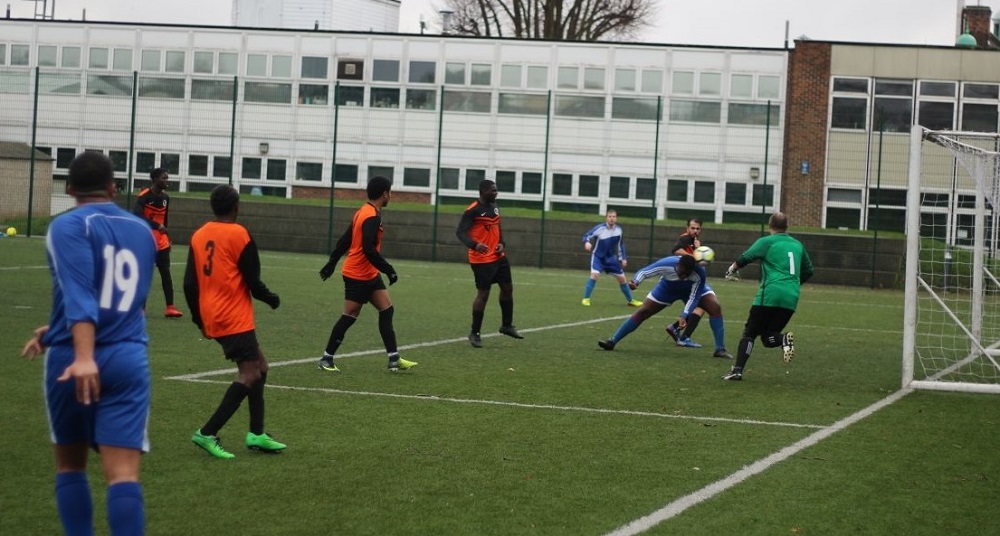 For our latest news and updates, please enter your email address
DIVISION TWO CUP
On a weekend that kit washers all over will be wondering why they ever volunteered their services, the weather took it's toll as a number of game were washed out while others ensured freezing, mud bath conditions.
In the Division Two Cup competition, an opening round match-up saw title chasing ACD United travel to Leyton to face Forest Green Reserves with a quarter-final place the reward for the winners. Josh Kasongo and Marcel Destouche both netted for Green but a Michael Wade double for ACD and further goals from Robert Clark, Scott Perkins and Sam Payne saw the Chadwell Heath based side through to the last eight.
DIVISION THREE CUP
In the Division Three Cup competition, the opening round clash in that cup saw New Star Soccer play host to Glendale in Seven Kings in damp and dreary conditions. A first half strike from Samson Ogunwole proved to be the only difference between the sides as New Star withstood a second half storm in both footballing and weather terms to seal their place in the quarter-finals.
DIVISION FOUR CUP
In the last of the day's surviving cup ties, in the Division Four Cup Group A, Brook City opened their account in the competition with a 9-1 victory at home to Wanstead Warriors. Danny Rising scoring a hat-trick for his side with a Harry Donnelly brace and singles from Matthew Pemberton, William Mills-Wade, Henry Gray and Owen Lewis providing the balance.
PREMIER DIVISION
Back in domestic action, there was a huge result affecting the top end of the table with Leyton Falcons returning to league action with a trip to Jolof Sports in West Ham. A seven goal thrilled ensued between the sides with Falcons shocking the champions by the odd goal as they sent them to a 4-3 defeat. Jay Garcia scored a brace on debut for them with Will Ukpe and Henry Williams goals securing the victory.
In the day's other action from this division, Lopes Tavares London have climbed up to third place in the table, backing up their victory last time out with another this weekend as they saw off the efforts of Blue Marlin. The hosts ran out comfortable 7-3 winners to continue their ascent towards the upper echelons of the table.
DIVISION ONE
In Division One, four matches survived the elements with further movement the top end of the table. East Ham Inter have moved up to second in the table as they made the short trip to Hainault to face struggling Ferns Seniors. Amalraj Kakumanu inflicted damage with a hat-trick with further efforts arriving through Harinder Sanghera, Harjeet Heer and Humberto Ndandu to confirm a 7-0 win.
In a congested table down to eighth place, every point is crucial as proved by Ryan Reserves who moved up four places on Saturday following their win away at Sporting Hackney Reserves. The Chingford-based outfit were 3-1 winners to make it six wins from their twelve matches so far this season following promotion.
Singh Sabha Barking were also on the move as they travelled to Three Colts with both sides well placed to provide stiff competition for the promotion places. And it was the visitors who made light work of their journey and the conditions, running out eventual 5-2 winners over the Colts to position themselves sixth place in the table.
In the division's remaining match-up, Cowley Community took on Wapping with the former needing to put in some big performances in the coming weeks to avoid the dreaded drop. This result will have certainly helped that situation as they won by the odd the goal in seven in a thrilling match, running out 4-3 victors in Hackney.
DIVISION TWO
There are new leaders in Division Two this week as Rainham Working Mens Club's games in hand finally proved fruitful as they went top of the pile. They responded well to defeat last time out, aided by a great performance against another of the division's promotion chasing sides, Flyers. Brandon Khan did the majority of the damage with a four goal haul to his name with Ryan Gallagher and Connor Kain efforts completing a 7-0 win.
Also winning big were Chingford Athletic Reserves who played host to Newham United Reserves at Town Mead knowing that a win was crucial to maintain their own charge. Luke Primett's hat-trick set them along the way, accompanied onto the scoresheet by efforts from Ralph McBaiden, Billy Harding and Alexander Abela as they confirmed a 6-1 home win.
DIVISION THREE
The battle of the top two took place this weekend as league leaders, Chigwell, hopped over the hedge to face Hainault Rec-based Kitroom in their top of the table clash. In a well matched contest, the sides shared three goals with Chigwell crucially scoring two of those three to extend their lead at the top. Mark Makeri grabbed the Kitroom goal but it proved not quite enough in the eventual 2-1 defeat.
The biggest winners of the day in Division Three were Redbridge Development who's up and down campaign thus far took them to Custom House Community this weekend. They made no mistake in despatching their opponents with Michael Clayman's hat-trick, two from Jamil Shariffu and singles from Patrick Clarke, Jonathan Sanchez and James Healy carried them to an emphatic 8-0 win.
There was also a big win in the clash between Gatcliffe and Chingford Harriers at muddy Westlands with Harriers knowing that victory would continue to see them battle for those promotion places. And it was the Harriers who dealt with the conditions better on the day as they scored five without reply. Peter Shawyer was again on target with a brace as Luke Edmead, Edwin Jabbari and Gerard O'Hara efforts completed the 5-0 win.
DIVISION FOUR
Haver Town Reserves are on the cusp of securing the inaugural Division Four league title this season as they made it eleven wins from twelve matches with a victory on Saturday at home to Dagenham United Reserves in Chadwell Heath. That 7-3 win along with other results around them means they need just two points from their remaining four matches to be crowned champions. Michael Brown scored twice with Ritchie Weeks, Bobby White, Zak Robinson, Nathan Registe and Ditmir Doci also scoring to cancel out a brace from Jeffrey Nketia and a Craig Rivers effort for United.
Second placed Royal Forest almost done the unthinkable on Saturday as they took on Debden Park at home in Hainault. Park cruised into a four goal lead before Forest slowly inched their way back into the contest with them eventually grabbing an equaliser to level at 4-4 and take home an unlikely share of the spoils from this entertaining and topsy-turvy encounter.
In the division's remaining match, there was a 1-1 draw between Avondale Rangers and Brentwood United Reserves who each had to settle for a point apiece in their clash at Loughton. Matthew Englezou scored the Rangers' goal but Brentwood hit back with a goal of their own to level things up.