LEAGUE CUP: Round up of all the action from Week 2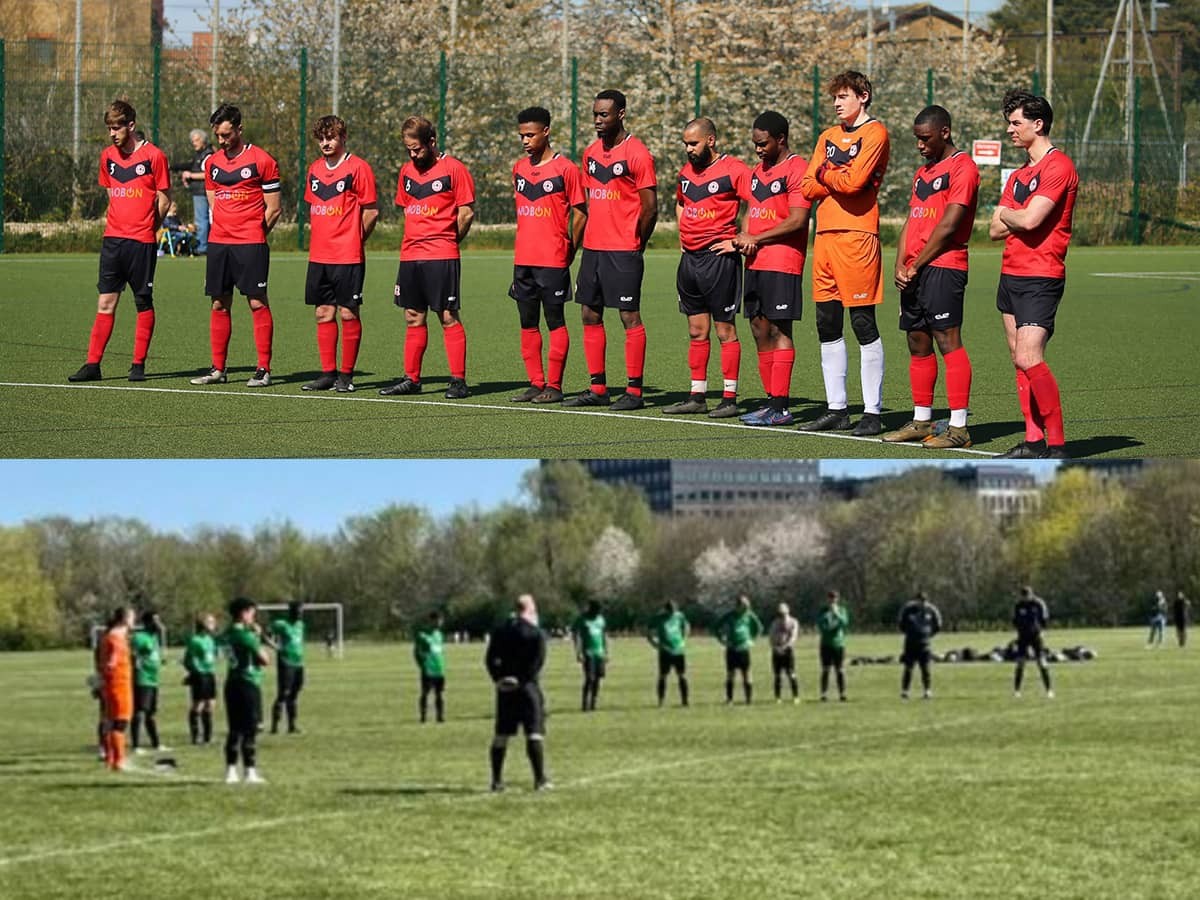 For our latest news and updates, please enter your email address
The second round of cup action took place over the weekend as the action continued with a glut of goals. Football also paid its respects to HRH Prince Philip as all football ceased at 3pm for the national minute's silence.
Group A
The Group A action actually continued a few days earlier as some midweek action at the Harlow Arena saw West Essex Reserves come away with a point, equalising mid-way through the second half to earn a 2-2 draw against DTFC. DTFC were in good form in the first half and led 2-1 at the break but the West fightback handed both a point in the group.
The weekend's cup action saw West Essex undo some of their midweek efforts as they slipped to a defeat against group leaders, FC Petrocub. Nicolai Gutu, Vasilica-Cristinel Ilie, Ghenadi Moisei and Valentin Siciov all netted in a comfortable 5-1 win for the visitors who are setting the pace at the very top.
Group B
There were two remarkable games in Group B with a mirror image of the results as we start the round-up with a 3-3 draw between Chadwell Heath Spartans and Woodford East. Another goal filled contest saw Billy Barr score twice for East and Jay Stavri once but Rashid Matabaro, Rob Hodgson and Aaron Hunwicks all scored for the Spartans to level an incredible game by full time.
The theme of six goal thrillers extended down to Beckton where CSM London were the hosts to take on Tower United, both sides looking for their first wins of the group. The game proved very tight with Chris Anele and Noah Adejokun both netting for CSM though efforts from Abdinasir Hashi and Abdullah Jama saw this one to a 3-3 scoreline too.
Group C
It couldn't be much tighter in Group C of the competition where Frenford A presently lead the way on goal difference alone, aided by their first win of the competition on Saturday. They were 4-1 victors against Belfry as Jordan McLaughlin, Gouly Djikalou, Damilola Olaiya and Isima Iguisi all netted to help their side to the win.
Just a couple of goals behind the leaders are Francis Luke who themselves earned a first win with a narrow 2-1 home win against Kwanzas London Sport in Hackney. Tito Sijuwade and Jose Da Silva both found the net for Luke to ignite their chances of cup glory in their first season.
North East Lions reside just behind the two leading sides by a point and that was on the back of a fine opening win, bouncing back from an opening defeat to win 4-1 away at London Park City in Seven Kings. Lorenc Hoxha and Andriano Lawson braces were the difference to help the Lions tame their City opponents.
Group D
Group D is set up quite nicely with three clubs all sitting on maximum points in a group currently headed by Unitey. The leaders were 2-0 winners on Saturday against Barkingside A in Chigwell as Eddy Litambolo and Brandon Fulton goals paved the way to a second successive win in the competition.
Sitting just two goals behind the leaders, Cowley Community continued their push for silverware but had to do things the hard way, coming through a five goal thriller at home against Royal Forest. Chris Wright certainly knows where the goal is and his hat-trick proved pivotal in securing the points for the hosts.
Completing the trio of competition leaders, Dagenham United's form continued with another hard fought win, this time a 3-2 victory away at Chingford Athletic A in Waltham Abbey. Eric Kelly got on the Athletic scoresheet but two Azariah George-Lawal goals and an Ola Ogunjobi effort sent United to an important win.
Group E
Two sides are setting the pace in Group E as Fairlop Rovers lead the way by goals scored, aided by a big win on Saturday against Old Barkabbeyans Reserves. Daniel Margiotta and Robbie Osborne were both scorers for Old Barks but a Harry Oliver hat-trick, two goals from Dylan Bruns and a Brandon Dillon effort completed a 6-2 win for Rovers.
Trailing the leaders by two goals are Loughton Lions who continued their efforts with a big 5-0 home win against Glendale in Debden. Lions led 2-0 at the break against their depleted opponents and scored three more in the second period, Jay Lutman scoring two with one apiece from Charlie Thomas, George Bird and Will Osmond.
Melbourne Sports got themselves back in contention, bouncing back from an opening defeat to secure a hard fought 2-1 win in Newbury Park against Old Esthameians. That win saw the Mels move up to third and will be keen to continue their momentum to maintain pressure on the leading sides.
Group F
Two sides remain tightly locked in Group F, a similar situation to their respective league campaigns as Royal Forest Reserves took a point in their clash against Custom House United in Beckton. Carl Day and Tim Mason both scored for the Dockers but Royal goals from Will Asenso and Dodou Lette meant that the game ended well poised at 2-2.
Emerson United Reserves bounced back well from their defeat in the opening round of fixtures to move fourth on the back of a comfortable home win against Chingford Harriers. Goals from Harry Wilkins, Joe Reece and Joshua Gibbins proved enough on the day to close the gap to a point in a really tight group.
Lymore Gardens Reserves are also part of that cluster of clubs in the group well within range of a silverware push and they picked up a solid win with a 3-1 victory at home against Eastern Avenue at Parmiters. Paul Roberts, Eugene Goumou and Bradley Fuller all grabbed a goal for their side to open their account in the competition.
Group G
Together United are top of Group G and rattling the goals in with seventeen so far in two fixtures. They were 12-1 winners on Saturday as they put Brentwood United Reserves to the sword. Stanley Kweya scored four, Fifi Banin and Remel Green netted hat-tricks while Rocky Bush and Gibson Lsichei completed the scoring.
Newham Royals now sit three points off the pace as they moved third in the group on the back of win in a five-goal thriller over the weekend against Dagenham United Reserves. Dan Lane and Tyler Leon both scored for Dagenham but two strikes from Andre Peters and a Ronald Asante effort for the Royals saw their side win it 3-2.
London Junior Cup
There was an all-EAL clash in the second round of the London Junior Cup on Saturday as FC Baresi and Rapid Chingford met in a local derby for a place in the next round. The sides combined to produce an eight goal contest, FC Baresi the beneficiaries in the end as they ran out 5-3 winners to set up a trip to Chelsea Rovers.
St Francis were also involved in their own tie as they returned to competitive action against Eltham Town. The Saints were involved in a five goal thriller but they were on the wrong side of the result in the end as they went down to a narrow 3-2 defeat to exit the competition.
Photo credit: Chadwell Heath Spartans FC / Royal Forest FC