WEEK 14 REVIEW: Round-up of all the league and cup action from Remembrance Weekend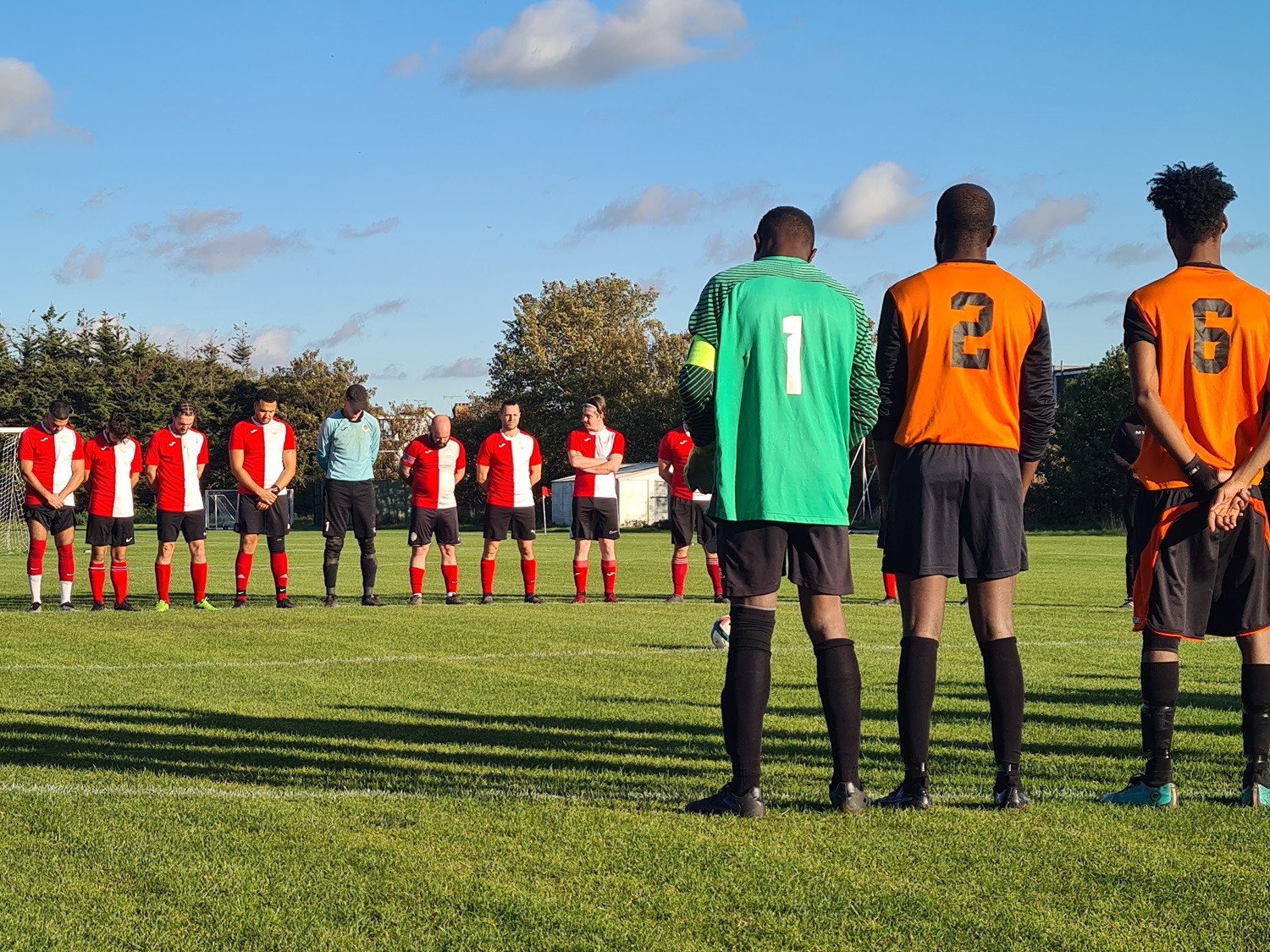 For our latest news and updates, please enter your email address
FENTON CUP
The Fenton Cup second round almost reached a conclusion on Saturday with a number of ties completed, including a big win for Waltham Abbey A who saw off the threat of Division One's Old Esthameians to put the Premier Division side through 6-1. Alfie Bruno bagged a brace with Tony Bosher, Liam Adams, Harry Lea and Cassidy Igwe scoring the others.
After a meeting of the sides in the league last weekend, Fairlop Rovers and Newbury Athletic renewed rivalries in the Fenton Cup with a different outcome to this game at full-time. This time it was Newbury who walked away winners as Junior Milla, Muhammed Camara and Malcolm Ennin all found the back of the net, rendering Harry Rouse and Dylan Scutt goals as consolation in a 3-2 result.
Also through into the third round are Division One's title chasing Royal Lions who overcame an in-form Woodford East Reserves side in Hainault, the hosts running out 3-1 winners to book their place in the next round. Drey Johnson scored twice and Randy Adele once for Lions with Bobby Ballard netting the Peacocks goal in reply on his debut.
Over in east London, second tier Newham Wanderers overcame any possible slip-up with a strong home win against Division One's Chingford Athletic Reserves, beating the visitors 4-1 on the day. A goal apiece from Evaristo Mendes, Joao Cruz, Mamdaliu Balde and Michael Asabre were more than enough for Wanderers to move on through.
One of the front runners for honours in Premier Division West, Snaresbrook, carried their league form into the cup competitions with a strong performance against their co-tenants, Barkingside Under 21s. Harry Prince continued his scoring form with a hat-trick performance with Alex Gordon, Ali Rajim and Nana Boachie goals completing a 6-1 victory.
Also through into the hat for the last sixteen are Premier Division West side Wapping who were facing East division opponents on Saturday with the visit of Something From Nothing in an east London derby match. Emre Ozuaciksoz scored twice and Kudus Olowe struck the other for the hosts to put Wapping into the hat for the next round.
Another Premier Division side also safely through are Redbridge Community who put aside their league travails with a visit to Division One's Freetown on Saturday, both sides eager to use the competition as a springboard for some renewed momentum. But it was Redbridge who took the spoils, winning 9-1 despite a Francis Appiah goal for the hosts.
FENTON TROPHY
In the Fenton Trophy competition, it was an all-Division Three tie in the second round as Collier Row Wheels and Buckhurst Way went toe-to-toe once again, this time in the cup. Another close game was settled by the odd goal with Wheels making it two 1-0 wins on the spin, securing a place in the quarter-finals as a result.
SENIOR DIVISION CUP
The Senior Division Cup got underway on Wednesday evening with Chadwell Heath Spartans making the short trip to Ilford to take on Frenford Development at The Drive. Billy Gipp scored for the Spartans but Kishawn James put in a hat-trick performance, Reon Murray-Whyte netting the other to put Frenford through into the quarter-finals of the competition, winning 4-1
SENIOR DIVISION
With others around them in county action on Saturday, that presented an opportunity for the leaders, FC Baresi, to push further clear of the chasing pack and they dully obliged, beating Priory Park Rangers in a 5-2 scoreline to move six points clear. Noyan Tajbakhsh scored two, Erol Hassan, Edson Lami and Murat Karagul scoring the others to hand their side all three points.
Another side to benefit from others being out of action were Haringey Borough Under 23s who made one of their longest trips across to Noak Hill to face Kit Out London, the game proving to be a tight affair settled by an odd goal. Amalraj Kakumanu grabbed the Kit Out goal but two strikes from Borough proved to be enough for the visitors to walk away 2-1 winners.
Over at Wadham Lodge, eleventh placed Sporting Hackney were in home action with the visit of ninth placed Bakers693, both sides keep to earn points to move away from any difficulties. The Parrots scored twice in the game but it proved not quite enough as Bakers scored three to walk away 3-2 victors.
PREMIER DIVISION EAST
In the East division, Ongar Town took full advantage of others being out of action to move into the top two, leaping into second place on the back of a narrow 2-1 win in a hard-fought contest at Dagenham United. Shaquille Mathurin scored once again for Dagenham but Ongar goals from Matt Ayers and Butrint Lecaj ensured that it was their side who went away with three vital points.
Over at Newbury Park, hosts Leyton City were up against Unitey at the weekend, the sides both going into the game with six points to their name, albeit the visitors holding games in hand. They put one of those to good use on Saturday, defeating City in a 4-1 scoreline as Niazy Adllan, Ahmed Dousa, Muamar Osman and Matthew Pitchford goals gave them the points. Liam Kennedy scored the consolation effort.
PREMIER DIVISION WEST
In the West division, Philip United have returned to the top of the league as they overcame FC Baresi Reserves on Saturday in a 4-2 scoreline at the Marshes, moving them a point clear at the top. Joshua Adu and Ronnie Karayianni both got on the Baresi scoresheet but four United goals turned the tide, returning them top albeit from a game more than their second placed rivals.
London Cranes have moved up into fourth place in the standings as they recorded a solid home win against Wanstead, winning 3-0 at Flanders Playing Fields. A goal each from Foday Sesay, Arafat Lubega and Rashid Nsubuga proved enough for the east London side who earned their fourth league success of the campaign.
London Park City remain as one of the sides amongst the cluster sitting tightly packed in the middle of the table, earning their fourth league win in six so far this term with a 4-0 home victory against North East Lions at Seven Kings High School. Dan Sandhu, Youssef Abdesadak, Mafall Diop and Daniel Croitoru were the players finding the back of the net to secure all three points.
Also on twelve points, level with City, are Renegade who picked up a fourth win of their own at the weekend, defeating Athletic Newham A at the Marshes in a 2-1 scoreline. The sides went into the game with the hosts holding a six-point lead over their relegation threatened opponents but that was extended to nine by full-time, Renegade moving into a position of comfort in mid-table.
DIVISION ONE
In Division One's only fixture due to cup commitments, Saint City went into their fixture with Ocean Pacific trailing their opponents by a point but ended the day sitting third in the standings, scooping a 2-1 victory. Richard Seixas has been in good form in front of goal and he netted once again for City to make it four wins in five.
DIVISION TWO
The gap at the top of Division Two remains at two points as both of the sides at the top earned victories, Royal Forest walking away with the points in a 2-1 success away at Frenford A, that resulting making it seven wins from seven for the visitors with a maximum of twenty-one points secure to date.
Collier Row Reserves continued their chase and sit on nineteen points from eight games after bouncing back from last weekend's cup defeat to complete a 4-1 league win against Redbridge Community Reserves. Shane Redford scored twice on his first appearance, Aloisio Dos Santos and Harry Potts netting the others for Row.
The division's remaining game pitted third placed Old Barkabbeyans up against relegation threatened Chadwell Heath Spartans Reserves at Hainault Rec, seven points between the sides going into the game. And that was how it remained by full-time with the game ending in a goalless draw with defences reigning supreme.
DIVISION THREE
In Division Three, goals were the order of the day, beginning at Changing Lives who produced an emphatic 21-0 victory in defeating winless Beckton Sporting Club. Abdulhalim Alhadi scored seven goals for this side, Djan Asamoah scored four, Ussri Badawi a hat-trick, two each from Mohammed Dahub and Samuel Afriyie, with Samuel Amankwah, Victor Addai and Amarildo Suci goals completing the rout.
Over in Newbury Park, Broadway Athletic produced one of their performances of the season to move up to seventh place in the table, beating Romford Flyers in a 6-0 scoreline to move within two points of their opponents. Sam Matthews scored two adding to efforts from Billy Harding, Harry Miller, Dereece Oakley and Kailen Elmoumni netting the others.
Woodford Town Under 23s remain top of the standings on goal difference, ensuring themselves of their leadership with a hard-fought home win against Melbourne Sports, the game ending 4-1 to Town. Bradley Porter scored two, Aaron Campbell and Gabriel Suciu netting the other to return them to a winning run.
Moving up into third place are Old Parkonians who were up against Glendale in Barkingside, both sides locked closely in the standings going into the game. But Old Parks swapped positions with the Dales, putting three goals past them without reply in a 3-0 win with Burt Cardy, Mourad Khalfi and Jamie Cooper netting the goals for the hosts.
COUNTY CUPS
In the BBC Essex Premier Cup, it was a mixed day for our sides with Woodford East netting one of two wins for our clubs in the competition with a strong 7-0 home performance against Thurlow Nunn League side Holland Under 23s at Mayesbrook Park.
In the day's all-EAL clash at Wadham Lodge, CSM London were the visitors to take on an in-form Walthamstow Reserves outfit with nine places between the sides going into the tie. But Stow were comfortable winners in the end, 4-1 victors to move on into the third round.
Lymore Gardens got themselves into a two-goal lead at home against Hashtag United Reserves at Ive Farm on Saturday but the visitors got themselves back into the game and then took the tie overall, scoring a third to complete a comeback win, 3-2.
Over in Dagenham, Chadwell Heath Spartans were in action and up against a May & Baker A side. The game saw the sides battle to a 2-2 draw by the end of extra-time, before the shootout went in favour of the hosts, Bakers, who won that 4-2.
Also heading out on penalties were Frenford Development who faced a Redbridge derby against Manford Way at The Drive. A six-goal thriller saw the game end level at 3-3 before Manford prevailed in the shootout in a 5-4 scoreline.
Also heading out of the competition were Aveley Under 23s who made the trip down the A13 to take on a Basildon Town Reserves side at Selex. It was game in which the hosts will be happier with their performance, Town coming away 3-1 winners and into the third round.
It was a tough away day for Rapid Chingford who made their way up the A1 on Saturday to face a Brightlingsea Town side from the Essex & Suffolk Border League, one of the longer trips in the competition. It proved to be a fruitless journey for Rapid who returned home defeated 5-0.
In the Essex Junior Trophy, Dagenham United Reserves produced a cupset of sorts, coming away 2-0 winners from last season's semi-finalists in the competition, Rainham & Barking Phoenix, scoring both of the game's goals to head into round three.
The London Junior Cup second round tie between Haringey United and Wood Lane, twice postponed already, was eventually completed with Middlesex County League side Wood Lane walking away winners in a 4-1 scoreline.