PREVIEW: United London and West Essex Reserves meet in Premier Division Cup Final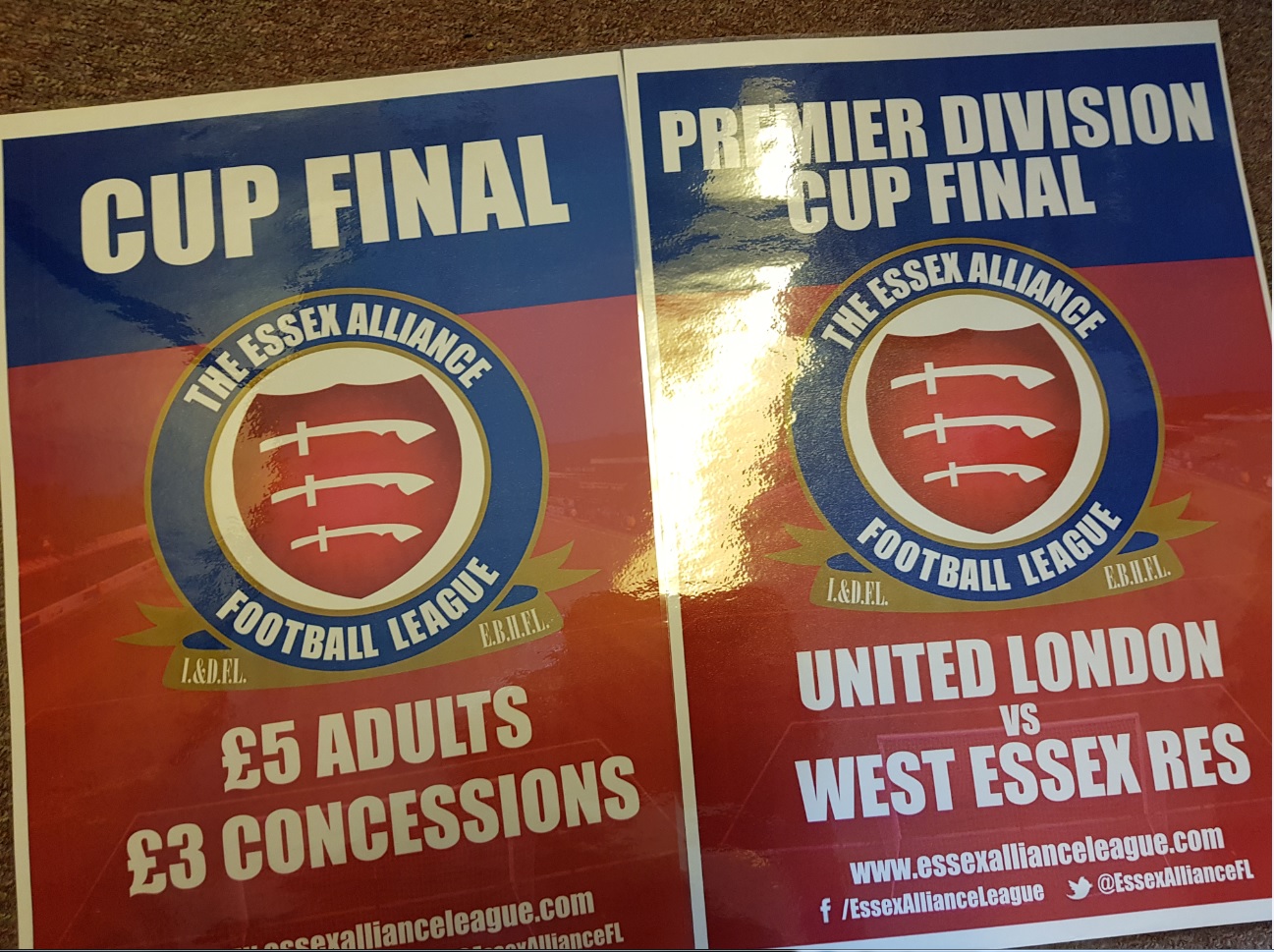 For our latest news and updates, please enter your email address
This Tuesday sees the last of this season's six Essex Alliance League cup finals take place as we head to Dagenham & Redbridge FC to witness the climax of the Premier Division Cup Final. United London and West Essex Reserves will go head-to-head as both sides look to end successful campaigns with silverware.
For United London, this seasons marks a real breakthrough for the manager-less club who have steered themselves to a second place finish in the league, missing out narrowly on the title, improving on their sixth placed finish last year. Having established a core of players this season, they have built on the stability that has provided by recording thirteen wins from their eighteen league games whilst also tightening up defensively. They also had a great run in the London Junior Cup where they were ultimately knocked out narrowly by the eventual champions, FC Hamlets, a result which perhaps is a sign of things to come in the future. They started their run to the final in this competition with a really tough quarter-final tie where they needed a penalty shootout victory to get past a tough London Cranes side after drawing 2-2 in normal time. That put them through to a huge semi-final contest against rivals Jolof Sports where both sides were eager to confirm a place at Dagenham. But a 2-0 victory for United London was obtained as strikes from Shaun Goddard and Ali Abdalla were sufficient to send them through to Victoria Road. The key men to watch for United London are their deadly duo in the front line as Harry Chalk makes his return to Dagenham following previous visits with Grove United. His 15 goal haul and the 18 goals of his strike partner, Billy Teixeira, make them a force to deal with at any level of the game. You'd perhaps say that West Essex's handling of those players make them the key men for United London on Tuesday night. Much of course does come down to the key team selections of their thousands of "managers" dotted around the globe.
For West Essex Reserves, this cup final is another watershed moment for a team who have climbed up through the ranks gradually over a number of years and have now established themselves as one of the top sides in the top flight. It's fair to say they probably entered this season with a degree of trepidation following their runners-up finish last year in Division One behind Colebrook Royals. In truth however, it has proved how strong that division was last season that both themselves and Royals have finished in the Premier Division's top three this year. With ten wins from their eighteen league matches, this has been a really solid campaign and they would dearly love to sign off with a piece of silverware. They started their run in the competition with a victory over the league champions, Colebrook Royals, where it needed a penalty shootout to separate the sides after they ended level at 1-1. Then in the quarter-finals they were on the road to take on Leyton Falcons where another tight match saw them win 2-1 to book a home semi-final against Lopes Tavares London. Not wishing to do things the easy way, a late equaliser saw them finish 2-2 meaning another penalty shootout was needed which they came through 5-4 to confirm their place at Dagenham. Their key man will be the renowned Izunna Ogedi-Uzokwe who is another player making their return to Dagenham after a previous appearance there for Cowley Community and his 15 goals for the club make him the top scorer, a small number ahead of Adam Norris' 12 goals this year.
In the two league meetings between the sides this season, United London were comfortable winners in both games with a 6-1 win back in September followed up by a 4-1 victory against West Essex in February. Based on those results and the seven point difference between the clubs in the league, you would have to make United London favourites for the cup final. Nonetheless, what this season has taught us all, is that numbers and figures count for little when it comes to a cup final as the supposed "underdog" has performed admirably in each and every final so far. United's long wait for this final however could also place some of the momentum with a West Essex side who have been playing competitively for a fair few weeks since their opponent's last match. You can bet your bottom dollar though that both sides will be fired up for this one and we can expect a terrific game of football to round off our cup finals for another season.
Congratulations to our appointed match officials on this final, a reward for the continued hard work put in by our referees across the season. The high respected Adam Storey is the man with the whistle for this last cup final and will be ably supported by the experienced Dave Rivett and Andrew Crossley from the touchlines. Harinder Dhillon completes the quartet on the evening with the fourth official duties.