WEEK 8 REVIEW: Round-up of Saturday's league and cup action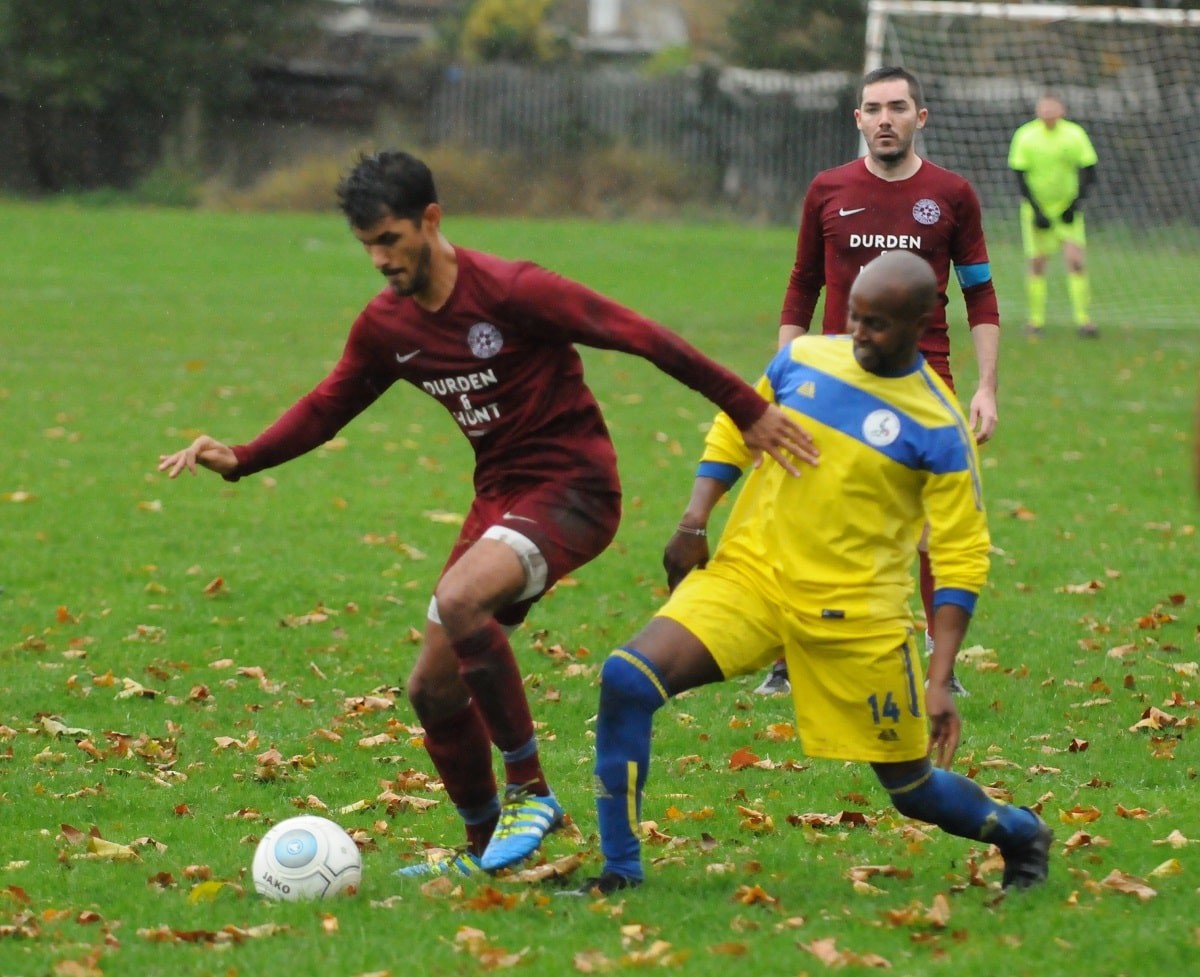 For our latest news and updates, please enter your email address
FENTON CUP
The opening Fenton Cup second round action got underway in damp and dreary conditions over the weekend with five sides securing their places in the third round of the competition which takes place on East London Radio in December.
Division Three's Ilford Development overcame Division Four's Dagenham United Reserves with Yuki Edogiawerie netting twice with one each also for Matthew Newberry, Jaylan Nichols and Kymeni Thomas in a 5-2 victory for Ilford. Tom Whelan and Samuel Atoki netted in reply for United.
There was an impressive performance by Sungate Reserves who had a difficult looking trip to face fellow Division Two promotion challengers, Rainham Working Mens Club. Nick Tormey and Steven Cairns scored for the Workies but Sungate blew them away in a ten-goal performance with Aaron White scoring four, Luke Macdonald and Thomas Drayton both scored twice, Chris Ross and Ashley Rix goals rounding off a 10-2 win for Gate.
There was a similarly interesting match in prospect between two of the league's Division Three outfits with Chadwell Heath Spartans facing a trip to Newham Wanderers at the Flats. Mussa Jamanca was the difference on the day as his two goals for Newham handed a 2-1 victory to his side, progressing his Newham side into the hat for the third round draw. Rashid Matabato grabbed the Spartans effort in consolation.
Also into the hat for the third round are Prospect Protégé who were up against last season's Division Four Cup finalists, Loughton Lions. Despite indifferent league form so far this campaign, they ran out 4-0 victors to go through with Reece Anatole-Liburd, Emmanuel Alo and Bankole Fadamiro efforts proving decisive.
Completing the day's cup football action, Unitey made it two wins in two in the competition as they followed up their first round win over Debden Park with a 2-0 victory away at St Francis on Saturday. The all important goals arrived through Glody and David Blessing to see their side safely through.
SENIOR DIVISION
FC Baresi gained some ground on the sides above them on Saturday, earning a narrow local derby win as they trekked to the other side of the Crooked Billet roundabout to take on Rapid Chingford at Parmiters. Marvin Smith grabbed the only goal of the game in a 1-0 victory for the promoted side, seeing them move within two points of second place.
CSM London moved a point further clear of the chasing pack didn't get things all t heir own way, having to settle for a share of the spoils in an entertaining 3-3 home draw against tenth-placed Blue Marlin. Plamedi Kinsela, James Henry and Keifer Cole were all on the scoresheet for CSM but George Bunce, Tyreese Robinson and Louis Nlebedum goals for Marlin levelled it up.
Putting in a sterling performance, London Cranes put the cat amongst the pigeons with a terrific home performance against league title chasing Chigwell. A goal in each half for the West Ham-based side were enough to win the game 2-0, just a second league win for the hosts while consigning Chigwell to just a second defeat.
After a few indifferent performances in recent weeks, West Essex Reserves are back to winning ways with a bang, putting in a six-goal performance in their home clash against Chingford Athletic Reserves. Their 6-0 win saw them move up to fourth place in the table and will offer some belief heading forwards.
DIVISION ONE
The big matches keep on coming in Division One with the division's top two sides meeting over the weekend, culminating in an eight-goal thriller. Abdullah Jama scored a hat-trick with Abdinasir Hashi and Abdisemed Giama scoring for leaders Tower United. Their opponents, All Real, could only must three goals in reply in an eventual 5-3 scoreline in favour of Tower.
There were a glut of goals in the contest at Salisbury Hall where Chingford United were the hosts to London Park City, both sides with hopes of pressing on towards the promotion places. Tamer-Andrei Bozgan and Roberto Lautaru both scored braces for United with Mihail Vlad and Ruslan Belicescu goals rounding off a 6-3 win for Chingford.
Tower Hamlets Reserves have finally struck some decent form after a poor start to the campaign and are up to fifth place in the standings following an excellent 2-1 home win against local rivals, Eastside. Atlant Bogdanovic and Ben Brookes were on target to overcome a Michael Dager effort for the visitors in a 2-1 win for Hamlets.
Completing the day's action in the second tier, All Prospects put in a good performance as they made the journey to Leyton to face Forest Green, coming away with all three points. The visitors were 4-1 winners on the day to move themselves up a number of places to sixth in the standings while Forest Green remain rooted for the time being.
DIVISION TWO
In Division Two, Royal Forest have moved themselves up to second place in the table as the promoted side earned a hard fought 3-2 win away at winless Cowley Community. That victory was their third of the season so far and sees them move to within just two points of the present leaders in the standings.
There will be some sighs of relief in the Melbourne Sports camp this week as, after drawing three of their opening matches, finally got their league win of the season with a great 6-2 home win against Puma Kings. Debutant Paul Ayul and Ryan Lincoln both netted braces with Jay Gorman and Rakim Hanson goals completing the win.
And another side who secured a first win of the season were Three Colts who faced a trip to Waltham Abbey on Saturday to take on Upshire Forest. Despite Forest's decent form in the cup, they will want their league form to improve soon as Jack Luck's double and strikes from Matthew Daley and Nicky Blackwell sent Colts to a 5-1, rendering Aaron Rich's goal as just a consolation.
DIVISION THREE
It's been a couple of weeks to remember for Avondale Rangers as they followed up their opening win of the season last weekend with their second this time out, taking on FC Galaxy in Dagenham. Rangers really hit their straps in front of goal with five efforts finding the net to Galaxy's two, taking them up to fifth place in the table.
Also seeing a late October surge in form, Frenford A finally picked up a first league win of the campaign as they travelled to Beckton to face fellow strugglers Custom House United. Bradley Routledge scored for the Dockers but his efforts were in vain as Jordan McLaughlin, Paul Iseghohi, Damilola Olaiya, Tiwa Osifuwa and Rakim Brown efforts saw Frenford to a 5-1 win.
DIVISION FOUR
Lymore Gardens have moved level at the top of the Division Four standings after they were impressive 6-1 winners on Saturday in Chingford to end Fairlop Rovers' unbeaten start to the season. Lymore's victory sees them move four points clear of the third placed side and level with leaders, Woodford East, just goal difference keeping them apart.
Together United had a weekend to remember as they picked up their very win of their club's short existence with a 3-1 win away at Brentwood United Reserves in Chadwell Heath. David Rincon, Carnell Marcel and Jamian Sweeny got the goals for United to see them over the line to a first three point haul.
Completing the day's action, there was a close game in Walthamstow where Chingford Harriers and Flyers B met with both sides at the wrong end of the table so far. Just three points separated the sides prior to kick off and that gap remained by full time with the sides settling for a share of the spoils in a 1-1 draw. Jake Kemp netted for the Harriers with their only goal.