WEEK 7 REVIEW: Round-up of all the league and cup action from the weekend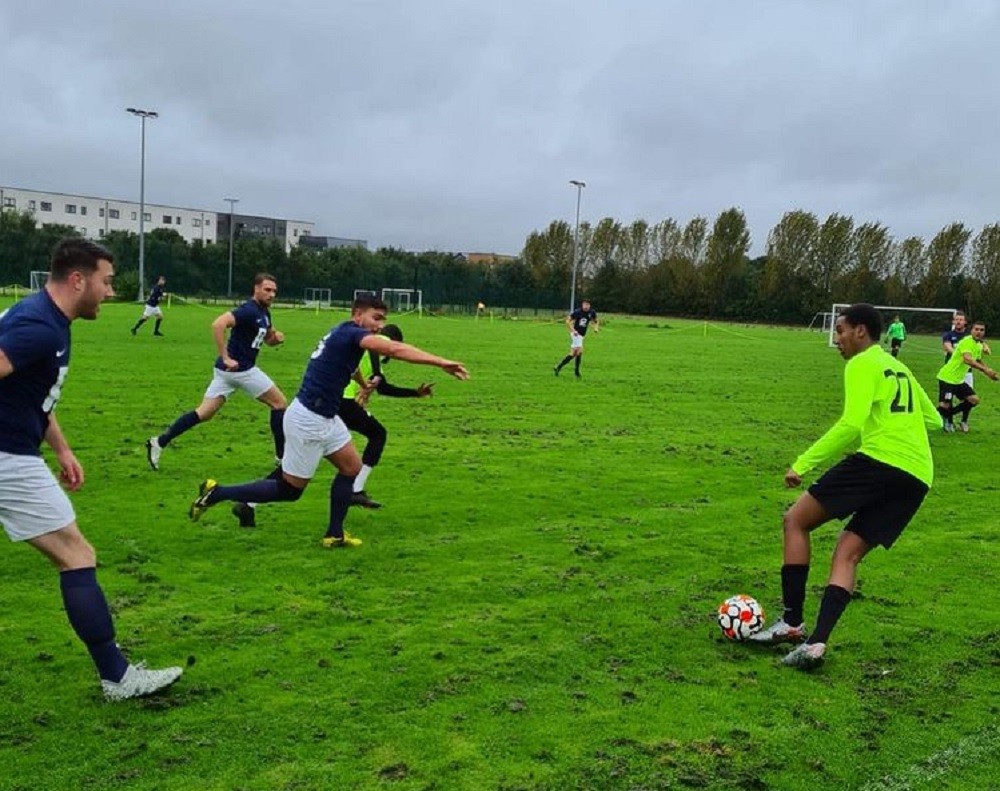 For our latest news and updates, please enter your email address
FENTON CUP
The Fenton Cup (and weather) took centre stage on Saturday with preliminary and first round action. The shock of the day came from Aveley where Division One RCXI took out Senior opposition, defeating CSM London 3-1. Omololu Onabolu, Abimbola Ojo and Daniel Williams all struck to send the hosts into Round Two of the competition.
There was a near miss for another of the Senior Division sides as Tower United edged past Division One's Wanstead to take their place in the first round. Edson Lami's brace gave Wanstead a real chance but a Tower double from Abdinaris Hashi and a Hamse Giama goal were enough to see the top flight through in a 3-2 scoreline.
Newham Wanderers put in a creditable performance against higher division opposition as the Division One side was beaten by the odd goal in three against Premier Division Oakside on Saturday. Amir Gurji got on the scoresheet for Wanderers but his efforts proved not quite enough in the end as Oakside moved safely through with a 2-1 win.
There was one shootout needed in the competition and Barkingside A were the victors in that as they ended Cowley Community's perfect start to the season as the sides finished level after ninety minutes at 2-2. Both Division One sides went into the games with perfect starts so far in the league so it was also going to be close but Side's efforts in shootout saw them through 5-4.
Premier Division side Eastside made sure they will be in the hat for the second round as they hosted Division One Francis Luke at Peter May on Saturday. Kennerly Cassius scored twice for Luke and Jose da Silva once but East were in great form in front of goal themselves and ran out eventual 7-3 winners to go through.
The same could be said for FC Petrocub as the top flight side avoided any potential slip up as they travelled to Premier Division Marcelona in Harlow. The Senior Division outfit have struck some good form in recent weeks and showed their class with a thumping 6-1 away win to make the draw for the second round.
In Preliminary Round action, Blue Marlin made it two wins for the season as they followed up a recent league victory with a solid victory as they took on Something From Nothing, a side facing up to a two division deficit. But Marlin made sure of their continuation in the competition with a 4-0 win in Hainault.
Another side through in some style were Crookz United as they made the trip to Seven Kings High School to take on fellow Premier Division side London Park City. Despite being winless in the league so far, Crookz made it two cup wins on the spin with a terrific 6-0 performance to take their slot in the first round proper.
FENTON TROPHY
There were some near misses in the new Fenton Trophy competition with Division Four side Chingford Harriers taking Division Two FHN Athletic all the way to a penalty shootout in Hainault as the sides finished level at 2-2. Darlington Ojo and Darnell Lamothe netted for Harriers with Jahsiah Weekes and Terron Fordjoe goals levelling it. FHN eventually took the honours in the shootout, winning 5-4.
Another Division Two side who also had a hard work out against Division Four opposition were Old Esthameians who, despite a terrific start in the league, had a real slog against a presently winless Flyers Under 21s side. Old E's managed to get through in the end with a 2-0 victory seeing them over the line.
There were a bucket load of goals in the game between Dagenham United Reserves and Rainham Working Mens Club where the latter almost got a bit of a shock against bottom division opposition, coming through 6-4 in the end. Cameron Shakes scored a hat-trick coming off the bench for the Workies with Sean Tormey netting two and Odo Osei-Tutu grabbing the other.
Emerson & Upminster Reserves also had a tough afternoon against lower division opponents as the Division Two side faced up to Division Three's Buckhurst Way at Bancroft Rugby Club. Emerson have had a mixed start with a win and a defeat so far but goals from Dan Lane and Joshua Gibbins saw them through in a 2-0 victory.
The biggest win of the day came from Forest Row where hosts Collier Row A were up against West Essex Under 23s and created a shock of sorts, beating West who presently sit a couple of places above them in the table. Row were in scintillating form, scoring nine without reply to continue their run in the competition for another round at least.
It's been a terrific start to the season for Royal Forest Reserves who sit with a perfect record in the league so far and were up against fellow Division Three side Harlow Inter at Chigwell School on Saturday. Trees' goals from Sereign Lette-Jallow, Saleh Latif, Richard Grove and Will Asenso proved more than enough to see their into Round Two with a 4-0 win under their belts.
The cup action was completed with Terin's first foray into the competition following their debut in the league and they were up against Lymore Gardens Reserves in Newbury Park, a side who have made a decent start themselves. Fahad Abdallah and Ali Mohammed scored for Terin but two Rob Small efforts plus goals from Kevin Monteiro and Quillan Placide gave Lymore a 4-2 win.
SENIOR DIVISION
With the league leaders out of action this weekend, the chasing pack had a chance to close the gap and Lymore Gardens were a side to benefit, moving to within three points of the leaders on the back of a 4-1 home win against Rapid Chingford. Tyriq Davies, Ryo Brown and Dylan Roberts were the Gardens goal scorers to move closer to Spartans at the top.
Woodford East missed the chance to really close the gap much themselves as they dropped to third in the table after only coming away with a point on the road against FC Baresi over in Walthamstow. Abdirahman Sabriye scored for Baresi but an East goal from Adam Tabbani ensured that the two sides finished level at 1-1 to share the spoils.
Moving up to fifth place in the standings, Kit Out London jumped up a number of places as they saw off the threat of winless Chigwell Town in Noak Hill to keep the pressure on the sides above. Rob Green scored for Town but KOL goals from Amalraj Kakumanu, Saul Morris, Marlin Ortiz, Alex Soloman and Yasin Zougui gave the hosts a comfortable looking 5-1 win.
PREMIER DIVISION
Wapping were able to make up ground in the Premier Division as they took advantage of sides around not in action or dropping points after they came away victorious at home against London Cranes in Hackney. Muhammad Mutesasira scored twice for Cranes but his endeavours proved insufficient as Wapping netted five to run out 5-2 winners on the day.
The leaders, Frenford A saw their perfect start come to a half at the top but do remain unbeaten as they were held to a point against another of the unbeaten sides in the division, Athletic Newham Under 23s. Joel Opara's goal for Frenford extended his scoring record but it wasn't quite enough to win as the sides finished 1-1 and took a point apiece.
The other game in the division came from Castle Green where Dagenham United were in fine form as they defeated All Prospects 6-0 to maintain their unbeaten start in the league, while the visitors remain still in search of their first points.
DIVISION ONE
There were two fixtures in the third tier on Saturday where Belfry moved top of the table on goal difference after they send Kwanzas London Sport spiralling to a 10-0 defeat. Home hat-tricks from Jamie Redington and Gabriel Ogunwomoju, two goals from Mujib Ayoola and strikes from Lloyd Holliday and Glenn Bransgrove accounted for the efforts that struck the back of the net.
There was a far closer contest at the Marshes where Ilford Reserves were the visitors to take on Renegade with the sides starting just a point apart. Daekwon King-Douglas struck for the hosts but Foxes goals from Mario Lipetz and Denzel Essuah-Mensah were sufficient to edge this game by the odd goal in a 2-1 scoreline.
DIVISION TWO
There were two goal filled contests in Division Two including a nine goal thriller in Debden where hosts Loughton Lions were up against rivals Fairlop Rovers, both having made differing starts so far. Fairlop's perfect record will go on for another week at least as they came out on the right side, winning 5-4 through two Ellis Simmonds strikes plus goals from Harry Oliver, Louis Goodman and Sam Beaman. Will Osmond scored two in reply with debutant Kane Wreford also striking.
Another goal-fest of a game was in action just down the road as Royal Forest were looking to build on recent results as they hosted Redbridge Community in Loughton. Charlie Palline scored a hat-trick for Forest but Redbridge braces in reply from Dean Cole and Jayke Welch plus strikes from Dylan Broadley and Abbas Osman gave the visitors a 6-3 win.
DIVISION THREE
In Division Three, FC Baresi Under 23s have made a terrific start to their first season and made it two league wins from two on Saturday by beating Flyers Under 23s 7-1 at the Walthamstow version of the Britannia. Maamoon Khan struck twice, adding to Baresi goals from Harrez Aliane, Kii Jean-Baptiste, Hamza Hafesji, Zach Aliane and Tahmin Rahman.
Glendale are up into the top half of the table as they secured a second league win of the season, returning home from Walthamstow with all three points with victory against Together United at Peter May. Valter Correia struck early on with a penalty before Wesley Kangi's two goals rounded off a solid performance.
DIVISION FOUR
It was a big weekend for Avondale Rangers who picked up their first league win of the season, securing all three points against Newham Royals. James Whitbread and Phillip Heinen both netted two goals each as Johnson Kitufueni struck the fifth off the bench to give Rangers an important 5-0 win in Loughton.
Photo Credit: FC Baresi