WEEK 6 REVIEW: Round-up of all the EAL football action from the weekend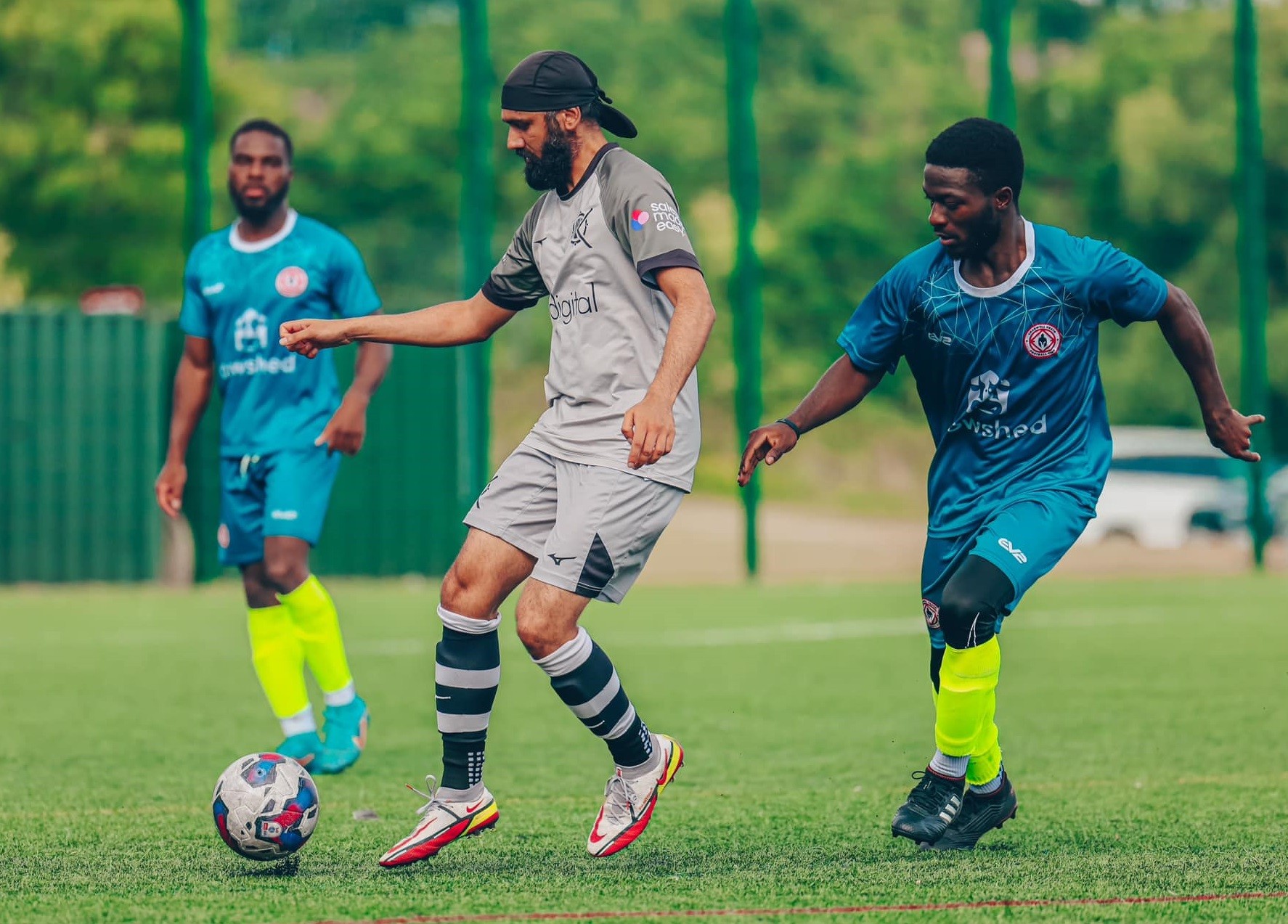 For our latest news and updates, please enter your email address
SENIOR DIVISION
There were two huge games on Friday night to begin the weekend's action, beginning at Parkside where Aveley Under 23s were keen to follow up their efforts of the previous week as they entertained an unbeaten FC Petrocub side. And with goals from Airon Paul and Aldo Vani for the young Millers, they secured a big point in a 2-2 draw.
Up at Coles Park there was a game of some magnitude also as Haringey Borough and Woodford East were the sides involved, both having had good starts to the season so far. But it was to be the visitors who took the honours on the night as Luke Dimond proved his worth, netting a hat-trick, further goals from Sajid Aziz and Timothy Monsheju completing a high-scoring 5-3 success.
FC Baresi remain clear at the top of the table by three points and they were in action on Saturday with a trip to Fairlop Oak to take on Chingford Athletic who themselves were keen to build on a more positive performance. But Murat Karagul stole the show with a Baresi hat-trick, adding to a Margin Hamilton-Omole effort to finish the game 4-0.
It was a good afternoon's work from CSM London who put their first win on the board with an excellent 5-2 win in Beckton as they defeated Walthamstow Reserves to close the gap to safety to just a couple of points. The goals were shared around with Lewis Grantham, Bilal Hussain, Tyrone Banks, Munnir Saad and Ritchie Palata strikes crucial on the day.
And another side who will be breathing a sigh of relief are promoted Priory Park Rangers who finally put points on the board to kick-start their season, a terrific away win over Frenford Reserves taking them off the bottom and to within three points of safety. Kishawn James had struck twice and Wisley Baltazar once for the hosts but Rangers struck five to win it 5-3.
Also hitting five in the division were Lymore Gardens who overcame last weekend's reverse to take maximum points, coming from behind to beat Sporting Hackney 5-2 at Wadham Lodge. A couple of Sandro Pereira goals had helped the Parrots into a lead but two Dylan Roberts goals plus one each from Nathan Desnoes, Gaston Mendy and Warren Isoka gave the points to the visitors.
Chadwell Heath Spartans were in seventh heaven at Noak Hill as they returned home with all three points from a comprehensive victory against Kit Out London. Spartans were 7-0 winners on the day as Elie Fanga's hat-trick helped them along with James Hanly, Peter Adeleye, debutant Ryan O'Connell and Ray Hunwicks all finding the back of the net.
Over at Lakeside, the division's action was rounded off by the fixture between hosts Rapid Chingford and Bakers693, both of whom have experienced inconsistent starts to their campaign so far after six weeks. But it was to be the hosts who walked away the more content of the teams as Cristian Cazucu's brace of goals edged the game in their favour, 2-1.
PREMIER DIVISION EAST
Five teams now share the lead in the East division as Fairlop Rovers moved their tally onto six points for the season with a big win, ending Ongar Town's perfect start to the season with a 1-0 winning performance in Hainault. Dylan Scutt was the game's only scorer, his effort moving the sides level in the standings.
Also moving onto six points were Newham Athletic who followed up their opening victory with another this time out. They were 3-1 winners at home to Soul with Malcolm Ennin, Junior Milla and Isioma Richard scoring the goals that took them over the line and level with their opponents who dropped their first points of the season, Igor Furtado netting in response.
There was a first win of the season for Something From Nothing who got their points account underway at the third attempt with a narrow win away at Leyton City. SFN scored the odd goal in three to win the game 2-1, moving out of the drop zone and up into eighth place in the standings as we approach the end of the opening month.
A high-scoring game rounds off the East action as Dagenham United and Redbridge Community met at Barking & Dagenham College, both sides starting the day without a point. Eight goals later and it was Dagenham who will be pleased with their work, winning 5-3 through a Tejean Lewis hat-trick and two from Shaquille Mathurin. Frankie Francis (2) and Tevin Ffrench struck with the Redbridge goals.
PREMIER DIVISION WEST
West division leaders, Philip United, have now opened up a clear lead at the top of the table, racking up a third win of the season with a thumping 9-2 home win against Wanstead. Isiaih Farinto and Sina Taghipour both got themselves on the Wanstead scoresheet but their efforts in the game were not quite enough, United running out victors.
Four sides follow the leaders on six points with Newham Wanderers one of those sides, taking their points tally to that total with the help of a strong local derby victory against Athletic Newham A. Wanderers picked up a 4-1 win with Manuel Sanuo netting two, along with one each from Joao Mendes and Lukas Ziausys.
London Park City are another who are members of the six-point club after they made it two wins in three also with a 3-0 win on the road at London Cranes, coming away 3-0 victors. A goal each from Youssef Abdesadak, Mafall Diop and Lamine Slimani proved too much for the hosts with City going home with the points.
There was an impressive result for FC Baresi Reserves who picked up their first points of the season, defeating Snaresbrook to inflict their first ever league defeat in the competition. A brace of Joshua Adu goals plus one from Huzaifah Hafesji ensured the visitors edged to game by the odd goal to win it 3-2.
Over at Hackney Marshes, North East Lions were the visitors to Renegade looking to open their points account for the new season with the hosts having won one and lost one in their opening outings. And it was Renegade who walked away with the honours on the day, winning 2-0 through goals from Anthony Ralenekov and Nawttan Sanca.
After a win in their opening match, Wapping were in home action, also at the Marshes, with the visit of Barkingside Under 21s in their second fixture. And despite Ali Aziz striking for Wapping, a young 'Side team walked away with their first points of the campaign, winning the game 5-1 to move up into the top half of the standings.
DIVISION ONE
Saint City are the leaders in Division One as they wrapped up a second league win of the campaign, edging a seven-goal thriller with Woodford East Reserves in a 4-3 scoreline. Derek Adu struck twice and one each from Dexter Morris-Clarke and Richard Seixas were enough to overcome Peacock goals from Tom Osmond (2) and Mason Deegan.
There was an impressive second outing for Royal Lions who followed up a draw in their opening performance with a barnstorming 12-0 away win at Haringey United in east London. A hat-trick of hat-tricks from Randy Adele, Kasbon Tokenge and Darren Smith-Wellington were pivotal, two goals coming from Kuene Fernandes and another from Drey Johnson.
After defeat last weekend, Lymore Gardens Under 23s got back to winning ways this weekend, producing a second league win of the season at home against the previous league leaders, Chingford Athletic Reserves. Ricky Stewart and Nathan King both got on the scoresheet for the hosts to win the game 2-0 and go level with their opponents.
It was a winning afternoon for debutants Ocean Pacific who got their first league win under their belts with an excellent victory away at Old Esthameians in Newbury Park. After a strong performance last week, E's were keen to continue that momentum but found a Pacific side in good form, winning 5-2 to make a strong first impression.
DIVISION TWO
In Division Two, Dagenham United Reserves moved level on six points at the top end of the table as they secured a second league win with a narrow win at home against Frenford A at Castle Green. Able Alexiou-McCrae scored two for the visitors but United goals from Samuel Arowolo, Brian Henry and Terry Maughan turned the game in Dagenham's favour, winning 3-2.
Over at Forest Row, Collier Row Reserves put their first win of the season on the board with a strong home result against Fairlop Rovers Reserves. Romulo Batista scored four for Row on his seasonal debut, Jake Griffin netting the other for the hosts to give them a win to add to a draw and defeat in the first three games.
There was also a first win of the season for Chadwell Heath Spartans Reserves who got their points tally moving with an away win against Chingford Harriers in Walthamstow. Darlington Ojo and debutant Merveille Siakweno scored for Harriers but two Samir Aboulainaf strikes and a Ben Ward goal for the Spartans made it 3-2 to them by full-time.
DIVISION THREE
Woodford Town Under 23s are now two points clear at the summit of Division Three as the young side extended their excellent start to the campaign with a big win away at rivals Broadway Athletic in Newbury Park. Two goals from Frankie Walker plus one each from Samuel Grey, Arman Uzzaman, Tylla Addai and Tuerrae Johnson-Nortey were more than to render Romario Maloney's double as just consolation for Athletic.
There was a second league win of the campaign for Old Parkonians who followed up their opening day win with a second here, beating Buckhurst Way in a 2-1 scoreline to move onto six points. Charlie Fiander and Jourdane DeCourcy-Nolan both scored for Parks with Jack Hobbs netting the Way consolation goal.
Romford Flyers produced a ten-goal winning performance at the weekend as they got a first league success on the board with an away win against winless Newham & Havering Borough. Rafin Alam scored four goals, Alfie Sasse a hat-trick, Harry Marsh, Bradley Clark and Adam Blake scoring the others in a 10-0 winning performance.
The Fairlop derby produced a humdinger as Melbourne Sports and Glendale eventually shared the spoils in a 4-4 draw in a game which both sides had led twice. Ali Mohammed, Amjad Amer and a late header from Wasiu Lawal were enough for Glendale to take a point from the game and remain unbeaten while also being the Mels' first point of the campaign.
Photo Credit: Kit Out London FC / Line of Fire Photography