WEEK 4 REVIEW: Round up of the weekend's league and cup action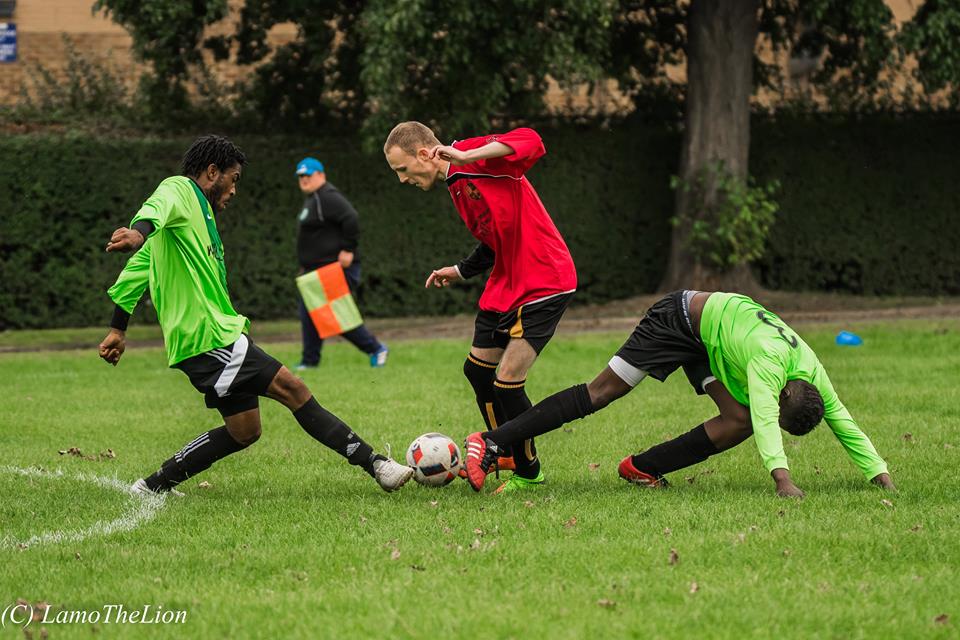 For our latest news and updates, please enter your email address
Photo credit: Lamo the Lion
FENTON CUP
The Fenton Cup first round continued on Saturday with another set of matches as the opening rounds moves towards a conclusion.
The first of two cup giant-killings saw Rainham Working Mens Club, top of Division Two, take on Premier Division giants Blue Marlin with both sides eager to book a place in the second round. And it was the lower division side who prevailed, beating Blue Marlin by the odd goal in seven to seal a 4-3 victory.
Following the theme of giant-killings, last season's Premier Division Cup winners, Old Esthameians, saw their Fenton Cup crusade ended as they were beaten 6-3 by Three Colts in Highams Park. Last season's Division One high-flyers overcame a winless Old E's side with Tom Jakob's hat-trick and goals from each of Richard Blackwell, Nicky Blackwell and Julian Bryant accounting for the Colts tally.
Division One's East Ham Inter overcame a sticky start as they fell 2-0 down to Division Four's Avondale Rangers with Liam McIntosh and Paul Regan scoring for Rangers. East Ham recovered well however with a brace from substitutes Sofyan Khalfi and Saul Edwards to complete the comeback and book their spot in round two.
United London Reserves were another side to come through a competitive tie against a lower league outfit as they travelled to Seven Kings to face New Star Soccer in their opening round clash. Two goals from Ali Abdalla and strikes from Sam Paterson and Joabe Barbosa were enough to make safe passage into round two, cancelling out New Star goals from Jonathan Serna and Dwaine Hitchman in a 4-2 win.
Forest Green came out on top of their all-Division One clash in Leyton against Cowley Community as the promoted side came through 4-2. Ryan Thompson-Cobham and Gabriel Onireti were the Cowley scorers however their goals proved only consolation on the day.
In another of the all-Division One clashes, promoted Wapping travelled to Newbury Park to take on Singh Sabha Barking. Visitors goals from Abdulwahid Zerkouki (2) and Krasimir Kamboshev were enough for Wapping to move to a 3-1 victory on the day as they now take on Custom House or Colebrook Royals Reserves.
PREMIER DIVISION
Reigning league champions, Jolof Sports, maintained their perfect start to the season so far as they cruised to a comfortable 3-0 victory at home to co-tenants, London APSA, in the East Ham derby. Tahin Landry was on target once again with Mike Nduakulu and Abraham Gassama also finding the back of the net.
United London are not far behind the leaders and remain unbeaten themselves after securing a 6-1 win at home to West Essex Reserves on Saturday in Romford. Strike partners, Harry Chalk and Billy Teixeira, both scored twice for United with Shaun Goddard and Jeffrey Ashong scoring one apiece to complete a resounding victory.
In the division's remaining match, Colebrook Royals took a share of the spoils at the Grange with London Cranes the latest visitors to Chigwell. Timothy Langer scored for the Royals but Cranes also netted via Isma Bukemya to secure their first point of the new season in a 1-1 draw. Colebrook themselves remain unbeaten so far with a win and two draws from their opening matches.
DIVISION ONE
Docklands Albion are three points clear in Division One after a hard fought victory over Ferns Seniors on Saturday in Walthamstow. Craig Wallace found the back of the net for Ferns but a goal for each of Kris Brown and Rweal Choudhury were enough for Albion to record a third league victory in a 2-1 scoreline.
Sporting Hackney Reserves have also recorded maximum points from their opening matches of the new season and lie second on six points after a second league victory of the season on Saturday. This weekend they hosted Melbourne Sports at the Marshes and came out 3-1 winners.
DIVISION TWO
The new leaders in Division Two are Chingford Athletic Reserves who made it three wins from four games on Saturday as they beat St Francis in Wanstead. Tayo Olasanoye and Luke Primett both scored twice for Chingford with Riley Bowers and Ralph McBaiden also netting in a 6-0 victory for the boys in blue.
ACD United also moved up in the Division Two table as they secured a second league win of the new season with a 3-1 victory at Inter Plaistow on Saturday. Samuel Garrett found the back of the net with Inter's goal but saw his strike cancelled out by ACD goals from Liam Porter, George Munns and Connor Lambert to carry their side to another win.
Moving up to fourth in the table are Flyers who recorded their own second win of the season with a 2-0 victory against cup holders, Lymore Gardens, in Leyton. A goal apiece from Daniel Ezeorji and Jack Swaby were enough to see their team to an important win.
Custom House are another side to have recorded two wins from their opening three league matches of the season and their latest success came at home to Forest Green Reserves where Glenn Levy's double plus strikes from Paul Wooster and Kelvin Bartlett proved decisive to record a 4-1 win. Joshua Kibuuka was the man accredited with Green's consolation goal.
Newham United Reserves' solid opening to the season was continued as they made it two wins from three matches themselves with a closely fought victory by the odd goal against Lionside. Danny Cressey scored both of the visitor's goals but Newham strikes from Adekunle Salau, Desmond Anyanwu and Addean Gallimore were too much on the day as they scooped a 3-2 victory.
DIVISION THREE
London Caledonian Roses made it two wins from two matches in Division Three as they took on fourth placed Chingford Harriers in Hainault at the weekend. Peter Shawyer scored for Harriers but home goals from James Barlow and James Smith were enough for the Roses to home in on a 3-1 winning scoreline.
Chigwell were the biggest winners of the day as they took on winless Custom House Community in Hainault. Mark Howe scored a hat-trick with braces from each of Jonathan Lye, Modestas Dainauskas and Harry Burgess completed a resounding 9-1 win over their Newham-based opponents.
Top of the table Glendale extended their advantage with a third win in three matches but not without having to face a difficult challenge in the shape of Frenford A. Goals from Johann Grant and a Marius Oprea free-kick in the opening twenty minutes appeared to see the Dales in full control however Joel Opara's strike before the break kept things interesting. Johann Grant's lob handed him a second goal during the second period but Louie Webster's pile driver of a free kick brought Frenford back into the match but just too late to deny the hosts a 3-2 victory.
FC Baresi make it three sides with a perfect record thus far in the division as they saw off Kitroom by the odd goal in Walthamstow to net a second league win of the season. Davion Bascoe scored the only goal of the match as his strike proved decisive on the day in the 1-0 win.
Old Esthameians Reserves move up to second place in the table, bouncing back from their last defeat to record an impressive 3-2 win away at Redbridge Development. Justin Parkinson scored twice for Redbridge but Old E's goals from Chris Booker and Lee Vickers turned the tide and handed E's their second league win of the season.
DIVISION FOUR
The leadership of Division Four changed hands for the third successive weekend as Haver Town Reserves moved top of the table following a win away at Wanstead Warriors on Saturday. George Montgomery scored for the Warriors but Ronnie Coules' hat-trick and strikes from Ritchie Weeks and Zak Robinson were enough for Haver to win 5-1.
Debden Park suffered their first reverse of the season as they went down 2-1 at home to Brentwood United Reserves in Debden. Charlie Barrett and Michael Earley both found the back of the net for the visitors to record a hard fought first victory of the new season, moving up to sixth place in the table as a result.
Dagenham United Reserves also moved up the table as their home draw against Newham Royals saw them up to fourth place. Jeffrey Nketia scored both of United's two goals but saw Royals come back to snatch a point with strikes from Joseph Ogola and Nick Johannesen as the match ended in a 2-2 draw.
COUNTY CUPS
In the first of this season's county cup ties, Colebrook Royals Reserves travelled to north Essex to face Dunmow Rhodes in the opening round clash of the Essex Junior Trophy. Royals were sadly eliminated at the first hurdle, going down 3-2 to their Mid Essex League opponents.