WEEK 4 REVIEW: Round-up of Saturday's league and cup action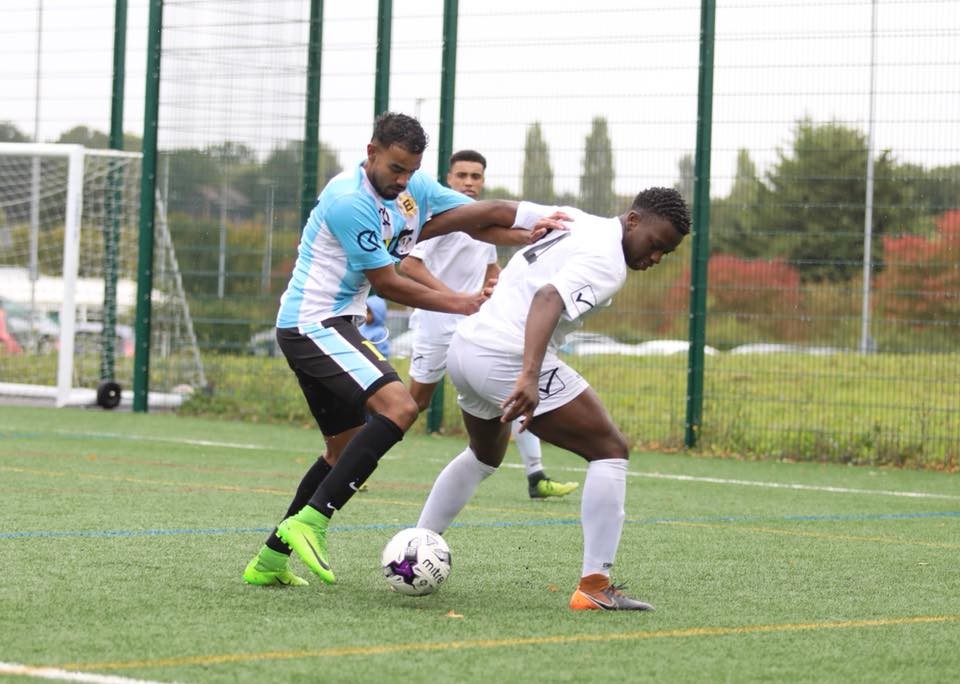 For our latest news and updates, please enter your email address
FENTON CUP
There was a shock in the Fenton Cup on Saturday as Division Three's Royal Forest, having made a perfect start in the league so far, knocked out Division Two's Old Esthameians to make the draw for the first round proper. George Coffey scored the E's goal but his efforts proved in vain as Forest completed a 3-1 victory to progress on.
Another side who almost caused a surprise were Division Four side Sungate Reserves. They were on their travels at the weekend with a trip to face an equally in-form Cowley Community side from Division Two. Sammy Mohamed got the Sungate goal but Cowley were eventually able to edge through safely to the second round with a 2-1 win.
Also booking their place safely in the second round were Frenford A who extended a solid start to their second campaign with the league with a thumping 6-2 at home to Forest Green Reserves. Hendrew Schmidt scored a hat-trick, adding to George Andrew-Court's brace and a Callum Alexander goal to render Green goals from Callum Gater and Tommy Whelan as just consolation.
Completing the Fenton Cup action on the day, there was a big win for CSM London who carried their excellent league form into the cup as they travelled to West Ham to take on Inter Plaistow. Micail Koulibaly came off the bench to score twice with James Henry, Lewis McCarthy and Mark Makeri each netting as well in a 5-1 win. Samuel Garrett grabbed the Inter goal in consolation.
SENIOR DIVISION
Back in league action, the Senior Division saw some very interesting results as all three sides at the top in the league saw their perfect starts come to an end. ACD United have moved top of the table following a draw at home to London Cranes in Chadwell Heath. Michael Wade scored the ACD goal but Cranes, themselves unbeaten, also netted in a 1-1 draw as the sides settled for a point apiece.
Second placed West Essex Reserves were on the road on Saturday as they visited East Ham to take on Jolof Sports. The previous league leaders were involved in a five-goal thriller with the hosts, Jolof, running out 3-2 winners to extend their record as the only side with a perfect record in the division. Pap Ndiaye, Stephane Lawson and Curtis Williams were the men on target with the crucial goals.
If goals are your thing then you could have done much worse than to be Noak Hill at the weekend where East Ham Inter took on rivals London Park City in a ten-goal stunner. Amalraj Kakumanu netted twice for Inter with teammates Mihail Dodow, Michael Kemp, Chiriac Vitali and Adam Bessadi getting on the scoresheet also as their side completing a hard-fought 6-4 win over London Park.
The remaining action from the day in this division saw Grove United make it two wins from their opening three matches of the season, beating off the efforts of Lopes Tavares London Reserves in West Ham. A Grove victory in a 7-1 scoreline saw them move up to fifth place in the table.
DIVISION ONE
In Division One, FC Baresi returned to the winning trail after dropping points last week as they visited Wapping on Saturday at Hackney Marshes. Shane Oakley continued a profitable start of the season in front of goal with two more for his tally with Alfie Hatch and Delano Lloyd efforts rounding off a 4-1 win to keep their side top.
Sitting second in the table after three matches are Chingford Athletic Reserves who, despite losing their opening match, have bounced back well with a pair of victories, their latest victims being a 3-2 win away at local rivals Rapid Chingford. Michael Birtalan and Florin Ivancia scored the Rapid goals but were not quite enough on the day.
Another Chingford side making a move up the table were Chingford United who saw an end to Lymore Garden's perfect start to the season by beating them 3-0 in Walthamstow. A goal apiece from Mihai Circiumaru, Alexandru Deftu and Razvan Anghel sufficient to take the points home to E4 with them.
Three Colts continued an unbeaten start to their season with an entertaining victory away at Forest Green, beating the hosts by the odd goal in seven. Ugbonna Ibeabuchi, Joshua Thompson and Joshua Kibuuka got on the Green scoresheet but their efforts were in vain as Richard Blackwell, Thomas Jakob, John Pride and David Watson efforts won Colts the game in a 4-3 result.
Shooting up to seventh in the standings were Melbourne Sports who got their winning account open for another season after sending Sporting Hackney Under 23s to a 4-0 defeat. Ryan Lincoln netted a brace with Anthony Gray and St-Clair Maclean goals completing a win for the Mels.
DIVISION TWO
It really couldn't be much tighter at the top of the Division Two standings as Chingford Athletic Development moved level at the top of the standings and trail by just a single goal. Their push to the summit was aided by a stunning 6-1 win on Saturday as they beat co-tenants Upshire Forest 6-1 at Town Mead. Mark Lawn netted for the hosts but Chingford goals in reply from Jack Yates (2), Omani Green, Patrick Clarke and Lashian Xavier-Johnson earned the win.
Making it two wins from their opening three games were Eastside who faced a difficult trip to Romford to face Flyers at the weekend. Jason Collins got himself another goal for the hosts but Eastside responded through Waj Malik, Abraham Monae and Idris Shittu efforts to run out 3-1 victors and move third in the table.
It was a big day for Puma Kings who finally opened their points account for the season after a difficult start by earning themselves a 5-3 win away at South Marsh United in a local derby. That victory moved the visitors up to eighth place in the table after their opening three matches.
In the division's remaining game, two of the mid-table outfits came face-to-face in Rainham as FC BKT made the short trip down the A13 to take on Rainham Working Mens Club. A closely fought match saw the sides secure a share of the points in a 1-1 draw. Matthew Russell scored for the visitors with Scott Meyers levelling it up for Rainham.
DIVISION THREE
Haver Town Reserves have moved to the summit of the Division Three table as they continued their great start to another season with a 5-1 win away at Glendale in Hainault on Saturday. Courtney Waller netted twice adding to goals from Bobby White, Marcus Hippolyte and Samuel Higgins to render a second half Seyi Agboola goal for the hosts as just a consolation.
Moving up the table to fifth place were Flyers Reserves who bounced back well from their first defeat last time out to record a 5-2 away at St Francis at the weekend. Joshua Gustave was the hero with a hat-trick with Rohan Francis and Sahir Ahmid also getting on the scoresheet for their side.
It was also an afternoon to remember for Custom House United who, after a difficult few weeks, managed to get off the mark with a win away at Chingford Harriers. Dockers goals from Paul Wooster, Jamie Wooster and Glenn Levy proved just enough to overcome Harriers efforts from Gerard O'Hara and Edwin Jabbari in a 3-2 result.
DIVISION FOUR
In Division Four, the Debden Park juggernaut continues on it's way as they recorded a fourth win in four on Saturday and now lead the pack by six points. They were visited on Saturday by local rivals, Chigwell Mens Club, but it was the league leaders who were victorious as goals from Jack Dainton, Mitchell Doubleday, James Scully and Sean Wyatt earned a 4-1 win, overcoming a James Collier goal for Chigwell.
Moving up to second place in the table after a Soul Youth side who have had a mixed bag of results in the opening weeks. They were away at Old Barkabbeyans Reserves on Saturday and managed to earn a 6-1 win with Nazmul Ahmed scoring twice and one each from Saddik Azizur, Tanzim Jamal, Shipon Miah and Amjad Gaber. Brandon Johnson got the only Old Barks' goal in reply on the day.
Brentwood United Reserves will be pleased as they returned to winning ways on Saturday by recording a second league win of the season, seeing off the efforts of their local rivals Gatcliffe in the Chadwell Heath derby. Abiola Opemiyan netted a brace on debut for Gatcliffe but Brentwood efforts from Anthony Wyman, Sila Misambu, Johnny Gallagher and Taylor Barrett were enough to secure a 4-2 victory.
Shooting up to seventh in the place were Loughton Lions who have managed to find themselves a bit of form following a cup win last time out. This weekend they were up against Newham Royals but it was the Lions who roared to a 4-1 win to secure their very first set of league points in their short history.
Completing the day's league action was an action packed game in Hainault where Avondale Rangers opened their account at their new home with a hard-fought draw against Dagenham United Reserves. Jeffery Nketia's brace had given Dagenham a lead but a late Matthew Englezou effort rescued a point for Avondale with Paul Regan also netting in an eventual 2-2 draw.
BBC ESSEX PREMIER CUP
It was a good day for our sides in the county cup competitions as Docklands Albion became the first side to represent the league in the Essex Premier Cup as they travelled to Chelmsford to take on Olympian Premier Division outfit, Springfield. With the game ending level after extra time at 1-1, it was Albion who stunned their lofty opponents with a 5-4 victory in the shootout to progress on to the second round away at Arlesford Colne Rangers.
LONDON JUNIOR CUP
In the London Junior Cup, Tower Hamlets Reserves made the long journey south of the river at the weekend to take on Peckham Warriors who are based in the Wimbledon & District's "Championship" division. After a stunning start to the season in the league, Hamlet carried their form into the cup, earning a great 3-1 win and booking their place in the second round.
Thank you to East Ham Inter for this weekend's cover photo