WEEK 4 REVIEW: Round-up of all the EAL football action from the weekend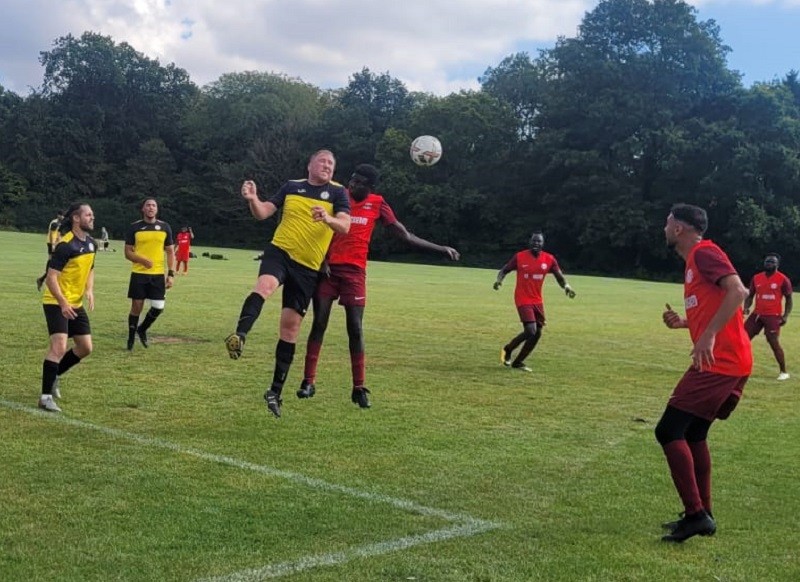 For our latest news and updates, please enter your email address
SENIOR DIVISION
It was the battle of two unbeaten sides on Friday evening as Lymore Gardens made the trip to Parkside to face Aveley Under 23s. The Millers were ahead early on and despite Garden then taking a lead, Aveley fought back to level at 2-2. But Lymore regained their lead and eventually prevailed 5-2 as Malik Donaldson struck a hat-trick, Joshua Morris and Paul Benfield scoring the others.
Three teams now head the table in the top flight with goal difference the only separator, FC Petrocub sitting top of the pile after a fourth consecutive win of the campaign, this time returning home with all three points from a 5-0 away success in east London against Priory Park Rangers to make it twelve points from twelve.
FC Baresi sit just behind on goal difference, and from one game more, but they had ensured they kept themselves near the leaders with an away trip to CSM London, taking away all three points in a 3-0 success in Beckton. Raymond Poku, Andre Graham and Lewis Jones were the men on target to take their side over the line.
Over at Wadham Lodge, Woodford East were in town to take on hosts Walthamstow Reserves, just three points between the sides heading into the game. But the Peacocks were able to extend that to six by full-time, taking the honours in a 4-2 scoreline as Luke Dimond's scoring form continued, netting a hat-trick, to go with Timothy Monsheju's effort. Mekhi Charles-Armstrong and Ezra Agyiri scored Stow's goals in reply.
Fourth placed Chadwell Heath Spartans are one of three remaining unbeaten sides in the division and they maintained that great start to their season with yet another away victory in the Senior Division this weekend, Billy Gipp and an own goal accounting for the key goals in their Lakeside derby with Rapid Chingford.
Also winning on the road impressively were Haringey Borough Under 23s who made the short trip around the North Circular to Wadham Lodge where Sporting Hackney were the hosts seeking an upturn in their early season form. The Borough earned themselves a third league win in four with a 4-1 success on the day.
Frenford Reserves made it seven away wins in the division as they kept the pressure on winless Chingford Athletic with a narrow 3-2 win in their game at Town Mead. Bilel Benyoucef and Nathan Lawrence goals looked to be getting Athletic something from the tie but three Frenford goals, including a late winner, settled the game.
And completing a quite remarkable eighth away win out of eight in the Senior Division were Bakers693 who started the day without a point and facing a Kit Out London side who were placed three spots above them heading into their game. But a 6-2 winning performance from the visitors earned their first points of the season, Barjinderpal Singh scoring both London goals in consolation.
PREMIER DIVISION EAST
There were at least five goals in every East game on the opening weekend and we begin with a nine-goal thriller as a local derby saw Belfry make the short hop to face Dagenham United. Shaquille Mathurin scored a hat-trick for United and Tejean Lewis netted the other but a Jordan Mullings hat-trick in reply plus a goal for Jamie Redington edged Belfry to a narrow 5-4 success.
Waltham Abbey A made a terrific start to their campaign and went top of the table after the first round of games after a stunning 6-0 away win against Unitey in Loughton. Alfie Bruno boxed his way to a hat-trick for his side, Dom Farmer, Tony Bosher and Liam Adams also on the scorecard to set the Abbotts on their way.
League debutants, Ongar Town, made a winning start to their season, overcoming last season's Essex Junior Cup semi-finalists, Something From Nothing, in a 5-2 scoreline at Mark Hall. A goal apiece from each of William Lockett, Scout Bown, Finlay Cook, Mason White and Billy Welch set Town on their way to an opening day success.
Also picking up three points on the day were Fairlop Rovers who continued where they had left off at the end of last season to net themselves maximum points with a win against Leyton City in east London. A Joseph Andrews hat-trick was not quite enough for City as Dylan Scutt struck a hattie of his own, Ellis Simmonds and Ben Harris adding the others in a 5-3 win.
Another league debutant, Southend City, made their competitive debut with the visit of Soul to Lakeside on the opening weekend. The experienced Tony Cookey struck twice for the hosts but Soul goals from Paul Ojo, Luke Hillier and Zachary Thomas edged the encounter by the odd goal to give the visitors a 3-2 winning start.
PREMIER DIVISION WEST
It's promoted Snaresbrook who move top of the West division after one round of games, taking their run of league wins into a new season with a 3-0 win on the road against London Park City. Daniel Gardre, Chris Huggins and Harry Prince were the men on target for 'Brook to confirm all three points on opening day.
There was opening day success for another of the promoted sides as Renegade took maximum points in their home clash with FC Baresi Reserves at the Marshes to move second in the standings. Anthony Ralenekov and Wellington Ismael struck with the goals for the home side to give them a 2-0 victory.
A seven-goal thriller was witnessed at Royal Docks as newly promoted Newham Wanderers took on league new boys Philip United in their maiden game, producing a terrific contest. Bradley Harris, Manuel Sanuo and Jean De Melo netted for Wanderers but United goals in reply from Jerome Hughes, Tamas Retyi, John Quissua and Dee Okojie turned the game as they won it 4-3.
At the Marshes, Wapping started their season in a positive fashion as they entertained an Athletic Newham A side at the weekend, the hosts edging the game by the odd goal in five in a 3-2 win. A goal apiece from Kafele Brown, Zakaria Rahal and Aaron Enahoro were the difference between the sides, Wapping taking the early season honours.
DIVISION ONE
There were plenty of goals in Division One and it was promoted Woodford East Reserves who put in a statement performance with a comprehensive 10-0 win away at Thurrock Thameside. Georgie Smith scored a hat-trick for the Peacocks with Daniel Prime, Harry Drew, Jordan French, Tolu Dina, Tom Osmond, Owen McKelvey and Stephen Bryan all on the scoresheet.
There was plenty of excitement in the clash in Newbury Park where it took a late goal for Old Esthameians to secure an opening day point, finishing level at 4-4 against league debutants, Royal Lions. Kuene Fernandes struck twice for the visitors and one apiece from Randy Adele and Kasbon Tokenge looked to be enough but E's fought back to take a share of the spoils.
Over in Dagenham, there was another eight-goal glut as Lymore Gardens Under 23s followed their first team counterparts by recording a five goal win, beating Freetown at Castle Green. Sahr Nanoh, Seun Lasile and Donald Adaakwah all scored for 'Town but two Johneli Lungikisa efforts plus one each from Tevell Peters, Artem Lukash and Alex Chuck for Gardens gave them a 5-3 win.
Also putting in a five-goal opening day winning performance were Chingford Athletic Reserves who were up against Haringey United on Saturday, making their competitive debut as a club at the Marshes. Raphael Wright bagged for Haringey but five goals in reply from the visitors meant the points headed back to E4 in a 5-1 win.
DIVISION TWO
In Division Two, the leaders after the first round of games are Royal Forest as the Loughton based side took maximum points in a 4-1 success at home against Rainham & Barking Phoenix. Joe Owers and Stanley Kweya both scored two for the Trees, Victor Kuyoro netting the Phoenix consolation effort on the day.
Sitting just behind the leaders on goal difference are promoted Dagenham United Reserves who followed up a strong pre-season showing with all three points, beating Chadwell Heath Spartans Reserves 3-1. Jack Chawner scored for the visitors but his efforts proved in vain as Cain Dash, Alexander Sodje and Charlie Landers efforts sent the points home with the hosts.
Over at South Park Drive, it was a debut in the league for Collier Row Reserves who started their campaign with a trip to Old Barkabbeyans, the two sides combining for a close game. Jay Elliott's goal for the hosts was equalled by a Nahad Shariff strike for the visitors as the two teams walked away with a point apiece in a 1-1 draw.
DIVISION THREE
Woodford Town Under 23s first outing in open age football couldn't have gone much more to plan as the young side secured a comprehensive 17-0 win at home against Newham & Havering Borough on the opening day. Ousman Bangura scored five, Raheem Fernandes, Arman Uzzaman and Tylla Addai all struck hat-tricks with Aaron Campbell, Tuerrar Johnson-Nortey and Frankie Walker goals finishing it off.
Also sitting on maximum points after the first game week are Collier Row Wheels who produced a solid showing with a 5-1 win in the Havering derby to beat Romford Flyers. Two goals from Josh Allen plus one each from Ryan Richards, Jack Stockdale and Luke Fearne were more than enough, overcoming a Sonny Davie goal for the hosts.
A topsy-turvy game in Harlow saw two league debutants go head-to-head on Saturday as Old Parkonians came from behind to take the win, beating Changing Lives 5-3 at Ladyshot Sports Ground. Billy Mason scored two, Aaron Leggett, Harry Baptist and Rilwan Kuku the others to eventually overcome host goals from Yaya Abdoulaye (2) and Abdulhalim Alhadi.
Rounding off the weekend's action, another side to come from behind to win were Glendale who slipped behind in the first half against Buckhurst Way to a Tommy Akrasi-Bonsu header. But Maryis Shamku's header on half-time was followed up by further Dales goals in the second half from Wasiu Lawal and Abdulair Ahmed to hand the visitors a 3-1 win.