WEEK 36 REVIEW: Round-up of all the league and cup action from the past week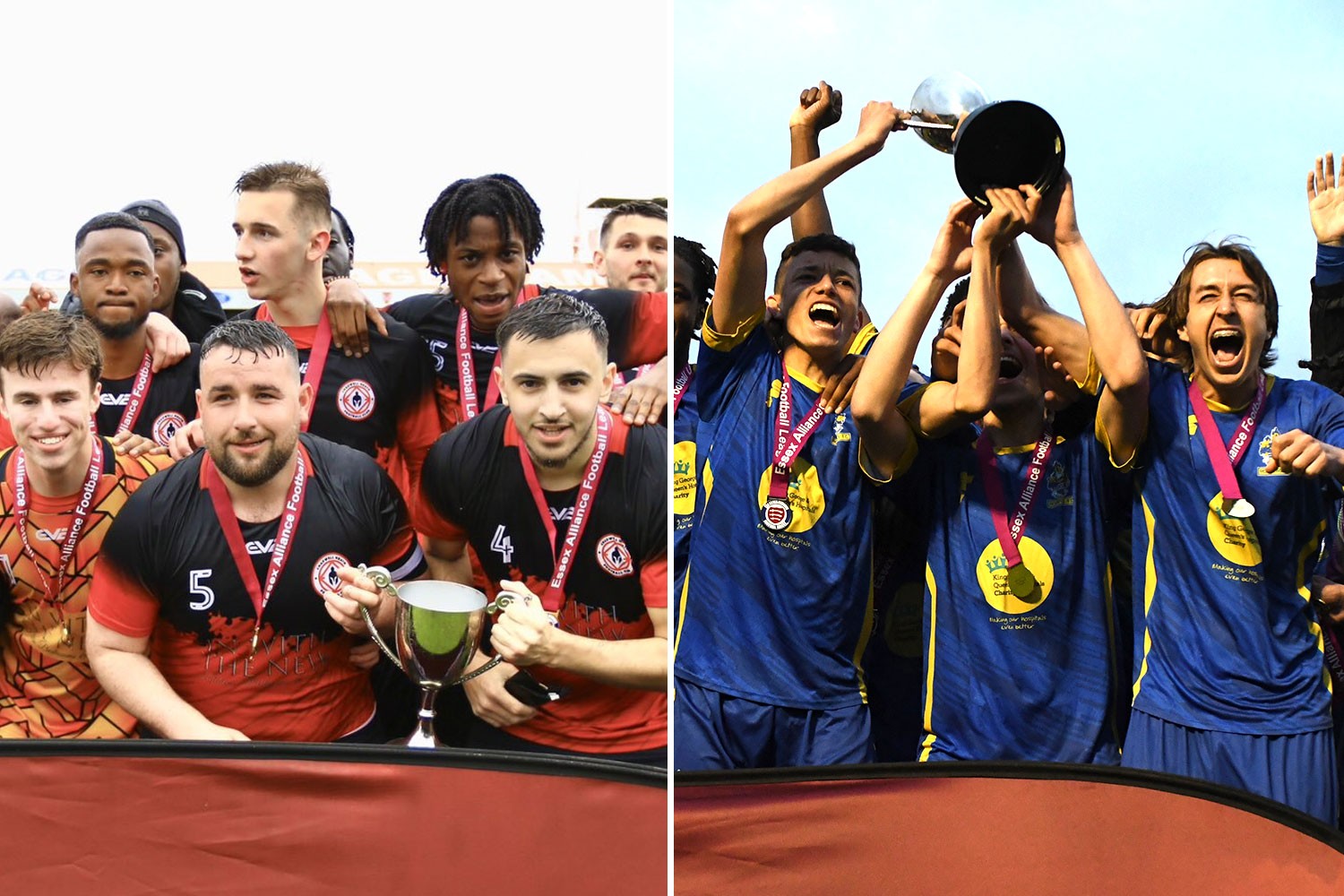 For our latest news and updates, please enter your email address
DIVISION TWO CUP FINAL
Saturday saw the start of cup finals month and, in particular, the Division Two Cup Final between Chadwell Heath Spartans Reserves and Rainham Phoenix at Dagenham & Redbridge FC. Despite the inclement weather conditions, the crowds were out in excellent number, Spartans netting early on from a set piece through Evans. But ten-man Phoenix fought back to level and then move ahead after half-time as Springall and Kain goals turned it around. But that wasn't the end of the scoring as Spartans struck once again to level before Chawner's late goal finished the game 3-2 in Spartans' favour.
DIVISION FOUR CUP FINAL
On Saturday evening, it was the turn of the Division Four Cup Final as Emerson & Upminster Reserves were in action against Romford Under 19s. Romford thought they had netted early on, only to be thwarted by the offside flag. But they netted moments later through Gardiner, getting on the end of a ball across the box. Emerson withstood until half-time, creating a couple of chances themselves. After the break, Romford upped the intensity were missed a number of chances as the game stayed tight but an Adegbie header followed moments later by a Mott strike saw Romford complete the double with a 3-0 win.
SENIOR DIVISION
There were key games in midweek, beginning with last Tuesday night's game from Mayesbrook Park where Woodford East were at home against FC Baresi, the sides still in with a shout of a runners-up finish. But it was FC Baresi who came away with things in their hands, winning 6-3 through braces from Raymond Poku and Yannick Kamanan, Junior Appiah and Ahmed Abdulla also scoring. Callum Maltese, Andrew Rowe and Luke Dimond scored the East consolation efforts.
On Wednesday evening, Rapid Chingford's late charge to avoid the drop saw them pick up three massive points away at Oakside as the visitors edged a five-goal thriller in a 3-2 result. Vlad Bucur, Darwin Orozco and Ionut Labunt goals proved vital, 'Side only able to respond with efforts from Kwabena Agyeman and Jahvid Irish.
Over at Wadham Lodge, Jolof Sports hopes of a top two finish were curtailed as they went down to a 4-0 defeat at Sporting Hackney, the Parrots late season form seeing them pushing hard for a top three finish. Percy Winter scored two, James Davies and Joel Akuwudike netting the others to give their side a big win.
Over at Robert Clack Sports Centre, another side with much to play for were Dagenham United and they were hosts to a Chadwell Heath Spartan side looking to end the season well. It was a Spartans win by full-time as two Peter Adeleye goals, and one each from Aaron Hunwicks and George Mariner were enough to overcome Dagenham goals from Diego Panessar and Arminas Gricius in a 4-2 scoreline.
On Thursday night, the action once again centred on Wadham Lodge as Walthamstow Reserves were in home action with the start of a busy final week, taking on May & Baker Reserves. Stow were in need for points desperately but saw Baker walk away with them, the visitors 3-1 winners to leave the hosts with work still to be done.
The big results on Saturday were at the bottom end or the table where Oakside confirmed their safety for another season, earning themselves an emphatic 6-0 win away at Woodford East. Jahvid Irish scored a hat-trick for 'Side with Kwabena Agyeman, Liam Foster and Kieren Huddart all netting in a result which moved them away from danger.
A similarly important result was witnessed at Noak Hill where Rapid Chingford's good form in the final few days was extended with a huge 2-1 win away at FC Petrocub. A goal apiece from Andrei Boga and Bogdan Ivancia were critical to keep Rapid in with a shout of staying up, though results around them will still dictate the finishing positions.
Dagenham United's stay in the top-flight though did come to an end as those results, plus their own defeat at home to Frenford Development saw them end their campaign in the relegation zone. Frenford Development goals from Wisley Baltazar, Kyron Chiedozie and Jhon Castillo were enough to earn the mid-table visitors their twelfth league win of the season.
The league champions, Brimsdown, completed their term with the league in style with a 4-0 win at Wormley against Kit Out London. The hosts racked up win number twenty-three in that game as they can now turn their attentions to cup football commitments in the coming weeks.
Over in Dagenham, May & Baker EC Reserves' hectic final run-in saw them at home against Lymore Gardens on Saturday, the game taking place at Robert Clack. A hard fought game went in favour of the visitors however with Lymore winning 2-1 to net a seventeenth win from their final outing of the season.
Over at Wadham Lodge, the last league of the day saw Walthamstow Reserves in home action once again, this time taking on Chadwell Heath Spartans in a key game in the relegation race. It was a good day for Stow who produced a terrific 5-1 win to keep their survival in their own hands ahead of this week's remaining two fixtures.
PREMIER DIVISION WEST
In Premier Division West, CSM London's final league game of the season saw the champions finish with an eleven-point margin at the top of the table as they took all three points from their clash with London Cranes in east London. Lewis Grantha scored a second successive hat-trick, Luke McElroy netting two also to make it a 5-2 winning performance.
DIVISION ONE
Games don't get much bigger than that witnessed in Division One on Saturday as a winner-takes-all game between Unitey and Newham Wanderers took place in Loughton, the winner being crowned league champions. And it's congratulations to Newham Wanderers who took the title with a 2-0 winning performance, Robertson Morais on target to help his side take the points they needed.
The other side who started the day with an outside chance of winning it were Something From Nothing, their fate being determined by a final game at Atholl. SFN done what they needed to do with a 3-2 victory, despite Atholl goals from Courtney Wedderburn and Fraser Ellick but that victory elsewhere secured the runners-up berth for SFN.
DIVISION TWO
There were two games in Division Two, beginning with Snaresbrook who moved top of the table and just a win away from securing the league title. They produced a 3-1 winning performance at home against Redbridge Community Reserves to take the points, Harry Prince crowning the victory with a brace and Balyele Moe-Loembe netting the other.
The day's other game came from South Park Drive where Old Barkabbeyans were the hosts to Barking Potters as they approach the end of their respective campaigns. But it was a win for Old Barks by full-time as Dre Ferlisi, Sam Thompson, Geovany Cruz, Mitchell Day and Jay Elliott all found the back of the net in a 5-2 win.
DIVISION THREE
There was just the one game in Division Three as Buckhurst Way's penultimate game of the season saw them come away with all three points against Chingford Harriers, winning 3-1 to confirm an eighth place finish. Grant Coy was on the Harriers' scoresheet but his effort proved in vain in the end as Harriers confirm a seventh placed finish.