WEEK 35 REVIEW: Round-up of all the league and cup action from the weekend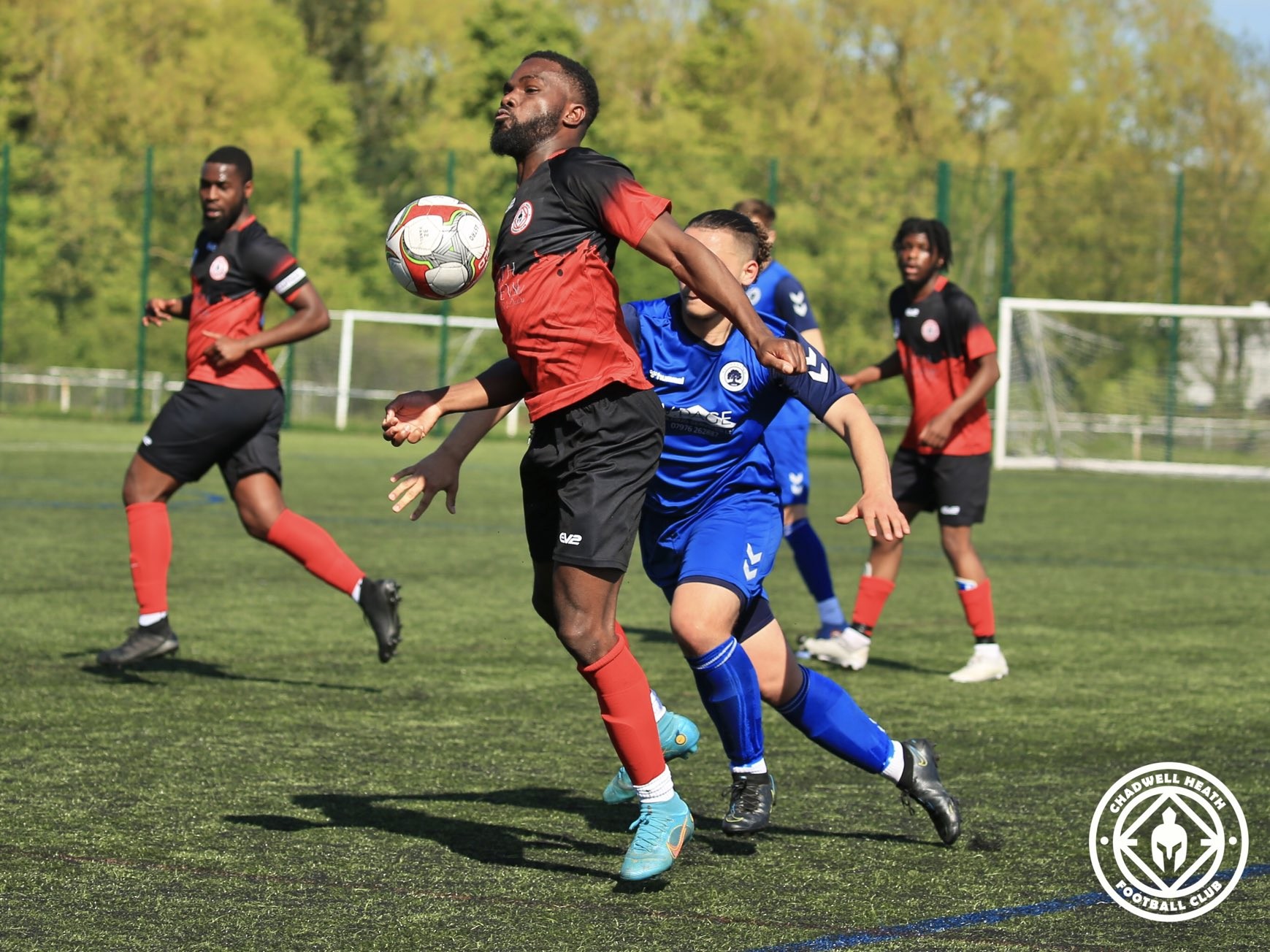 For our latest news and updates, please enter your email address
SENIOR DIVISION
Brimsdown have been confirmed as champions of the Essex Alliance League Senior Division this season as they picked up the result they needed on Saturday with others going their way. The Wormley based club were 5-0 winners at home against Dagenham United with Taylan Gul's hat-trick setting them on their way, with Hermes Gbio and Andrew White goals finishing it off to send them back in step six football next season. Many congratulations to all involved at the club for a very consistent and successful season.
The action in the top flight began back on Monday evening last week where the one remaining side capable of chasing the leaders down, Jolof Sports, were in home action with the visit of Lymore Gardens to Mayesbrook Park. But it was a single goal, in favour of Lymore, that settled the game 1-0, Dylan Roberts scoring that effort to curtail Jolof's chase for the title.
The focus on Tuesday night was on the other end of the division where Walthamstow Reserves were at home and facing an Oakside outfit a few places above Stow in the standings. By full-time, Stow will have been the happier of the two teams as they walked away with a vital three points, winning 3-1 courtesy of goals from Thomas House, George Hellen and Ryan Washington. Jahvid Irish scored the 'Side goal in response.
There were two more big games on Wednesday night where Sporting Hackney secured themselves an important 1-0 win against Dagenham United at Wadham Lodge in the context of the race at the bottom, Richard Balogun's strike for the Parrots' enough to take the points and leave the visitors hovering just above the drop zone with two games left.
Over at The Drive, Rapid Chingford were the visitors to Frenford Development with the former very much still in trouble as they seek to make up a five-point deficit with four games to go. Their cause won't have been helped as Frenford netted a 2-1 win to earn the spoils. Jhon Castillo and Kyron Chiedozie were on the target, Andrei Boga striking in reply for Rapid for their consolation.
It was a top half of the table battle to finish off the midweek action as May & Baker EC Reserves took on FC Petrocub under the lights at Castle Green, both sides looking to move up a place with a result. After a poor recent spell, FC Petrocub are back firing in front of goal as braces from Nicolai Cotruta and Valeriu Gurgurov, plus an Ion Spinu strike, rounded off a 5-1 win. Sean Kettle struck back with the Baker goal in reply.
On Saturday, it was Crookz United's influence on their fixture away at Jolof Sports that put the league title into Brimsdown's hands, the east London side taking a point in an entertaining 3-3 draw to record an important point. That scoreline keeps alive the hopes of avoiding the drop for United but they will now need to win both remaining games and hope for slip-ups around them.
Kit Out London all but assured themselves of survival in the Senior Division this season, now needing just a point to be certain following a 4-2 comprehensive win against Frenford Development on Saturday at The Drive. Rio Mudhar-Hedley, Amalraj Kakumanu, Akeem Matthews and Yasin Zougui scored for Kit Out, Kyron Chiedozie and Elidon Selmani efforts accounting for Frenford's goals.
There was plenty of entertainment at Noak Hill where a seven-goal thriller saw Woodford East come from behind to level at 3-3 through goals from Callum Maltese, Sonny Feltwell and William Akins against an in-form FC Petrocub side, only for the latter to net a last minute winner in a 4-3 scoreline and take home the points with them.
It must have felt like a case of de ja vu for Sporting Hackney on Saturday, living up to their Parrots nickname, as their home clash against visitors Oakside at Wadham Lodge saw them reproduce the exact same score and scorer in a 1-0 victory, completing a solid effort for the week. Richard Balogun was again the man on target leaving Oakside not yet certain of their fate, albeit with games in hand.
Over at Lakeside, hosts Chadwell Heath Spartans' final home match of the season saw them record yet another win, extending their sumptuous form in recent months with a 4-1 home success against Walthamstow Reserves, keeping the latter in trouble still. The goals were shared around with Harry Goodwin, Elie Fanga, Peter Adeleye and George Mariner all finding the back of the net.
PREMIER DIVISION CUP
The remaining quarter-final in this season's Premier Division Cup was completed on Saturday and it saw East defeat West as Aveley Under 23s put themselves through to the last four following a 2-0 home win against Priory Park Rangers at Parkside. Eugene Sagoe and Sorin-Sebastian Pintillie both scored for the young Millers, setting up a mouth-watering semi-final against CSM London.
PREMIER DIVISION EAST
Wednesday night's action in Premier Division East saw Chingford Athletic take the points they needed to make certain of their position as champions of the division, beating Waltham Abbey A in a 6-2 scoreline. Thomas Daltrey and Freddie Bose scored the Abbotts' goals but they proved in vain as Sebastian Gardiner and Benson Osejindu both struck twice, Dylan Scutt and Billy Happe goals rounding off the win. Congratulations to Barry and the team on a great season!
PREMIER DIVISION WEST
In the West division, CSM London's penultimate league fixture of the season saw them back in action once again against North East Lions, seeking to repeat the dose of last weekend, Lions needing a big win to finish third. But it was all about Lewis Grantham this time around, his hat-trick the difference between the sides as CSM London won it 3-0, win number sixteen this term.
DIVISION ONE
An amazing race for the title in Division One will go to the very last fixtures following an important result in the context of that race on Saturday. Something From Nothing and Redbridge Community, both in with a shout prior to kick-off, ended the day having to settle for a point apiece in a 3-3 draw. That result means SFN will need to score a lot of goals in their remaining game, and hope for a draw between the top two teams, Newham Wanderers and Unitey.
DIVISION TWO
The race for the title in Division Two will go to the final few games as Rainham Phoenix remained top following the weekend's fixtures, defeating Chadwell Heath Spartans Reserves in their dress rehearsal for next week's cup final. Phoenix were 4-0 winners with Cameron Shakes scoring two, Connor Kain and Sam Springall bagging the others to remain a point clear.
But things remain firmly in Snaresbrook hands for the league title, sitting a point back with three games in hand, aided by their most recent success, a hard fought 2-1 win at home against Lymore Gardens Reserves at Nutter Lane. Alex Gordon and Chris Huggins scored the goals, overcoming a Johneli Lungikisa goal for Garden to make it fourteen from fourteen in the league.
There was a twelve-goal thriller in the division's final match from Mayfield School as Old Barkabbeyans made the short trip across to Goodmayes to take on Redbridge Community Reserves, the visitors starting the day nineteen points and four places ahead of their opponents. That gap was widened by full-time with Old Barks running out 8-4 winners, their eighth league win of the season.
Photo Credit: Chadwell Heath Spartans FC