WEEK 35 REVIEW: Promotions confirmed for East Ham Inter and Brook City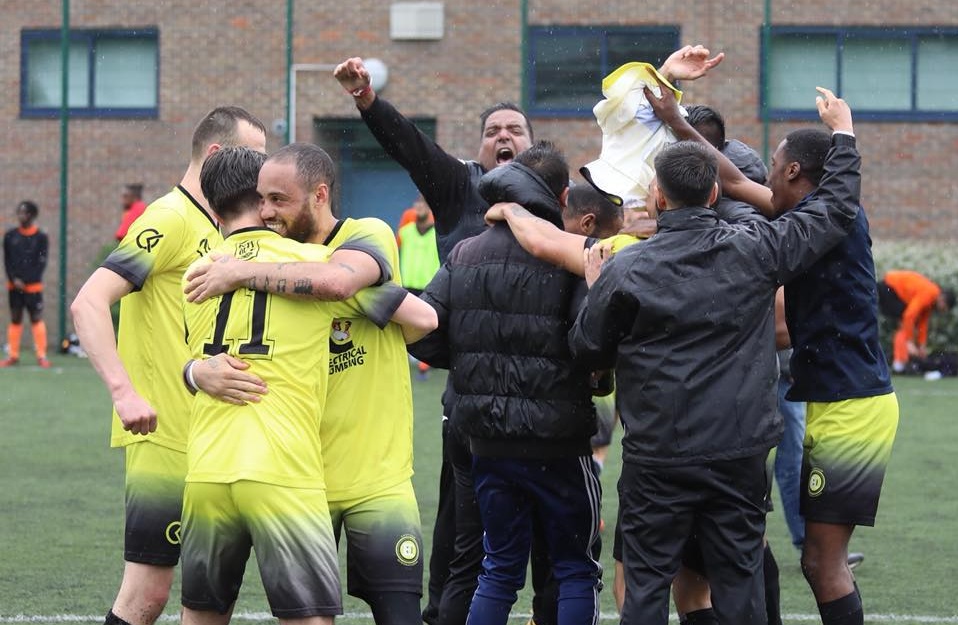 For our latest news and updates, please enter your email address
PREMIER DIVISION
There was Friday night football action this weekend which saw the newly-crowned league champions, Colebrook Royals, complete their season as they took on cup final bound West Essex Reserves. It was West Essex though who took the honours in a game of many chances as Samuel Brown and Adam Norris netted for them. Colebrook then missed one penalty and scored another late on to make it a tense finale but West Essex held on to win 2-1.
DIVISION ONE
The big match in Division One this weekend saw second take on third as East Ham Inter were visited by Singh Sabha Barking with the sides knowing that the winner would almost certainly be confirmed as runners-up. In an exciting match of seven goals, Inter confirmed their place in the Premier Division next season as they completed a 4-3 victory, taking the runners-up spot in the process. Vitali Chiriac, Matthew Hewitt, Amalraj Kakumanu and Michael Kemp all scored to send their side up.
Ryan Reserves bounced back from a big defeat last weekend to record a ninth win the season as they took on Forest Green on Saturday. Ryan were 5-2 victors in a result which sees them move up above their opponents and into fourth place in the table with still games to play.
The day's remaining league action saw Docklands Albion travel to Hackney Marshes to take on a Sporting Hackney Reserves side who could have moved up to sixth place with a victory. Albion though, as we know, are a tough side to beat and came through the clash in a 4-0 win to extend their record to fourteen victories this season in the league. Tashan Benjamin, Kamal Creary, Garrett Kelly and goalkeeper Jack Riddell all got themselves on the scoresheet for the league champions.
DIVISION TWO
In Division Two, the top two sides both won to set up what is effectively a title showdown next Saturday afternoon. ACD United beat Flyers 7-0 in Chadwell Heath with Michael Wade scoring a hat-trick, Connor Lambert a brace and single goals from Frankie Markham and Tommy Pidgeon, their seventeenth league win of the campaign.
Meanwhile, their rivals for the title, Chingford Athletic Reserves who doing just an effective job in their own match in Waltham Abbey as they saw off the threat of the cup runners-up, Lionside, in a 6-0 victory. Luke Primett scored twice with Riley Bowers, Alexander Abela, Sean Clarke and Billy Harding goals rounding off an important win.
Lymore Gardens completed another successful season for the Leyton based club with a 5-2 win over Newham United Reserves on Saturday in both sides' last matches of a long campaign. Dushane Powell scored twice with Ashley Godwin, Shaquille Jordan and Eugene Goumou also scoring in the win for Lymore to finish third in the table.
DIVISION THREE
In Division Three, the top two sides met as runners-up Chigwell took on champions FC Baresi in both sides' penultimate matches of the season. FC Baresi had to come from behind to secure victory in a quite exhilarating 6-5 win which seemingly saw plenty of attacking and much less defending! Jason Brown scored a hat-trick for Baresi with Esat Saiti, Reece Western and Ali Shikheey also getting themselves on the scoresheet.
The day's other league action saw Chingford Harriers complete their penultimate match of the season as they beat third placed Old Esthameians Reserves 2-0 to hold on to fifth place in the division. A goal from each of Andrew Moffatt and Nicholas Shawyer were enough to complete the win on the day.
DIVISION FOUR
In Division Four, there was a huge match for two clubs on Saturday as Brook City went into their final match of the season against Avondale Rangers knowing that they needed to win to earn enough points to take them up to second place and the runners-up spot in the division. Thomas Jackson-Lyall and Will Osmond got on the scoresheet for Rangers but Brook scored six goals of their own to win 6-2 and confirm their place in Division Three for next season!