WEEK 33 REVIEW: Round-up of all the league and cup action from the weekend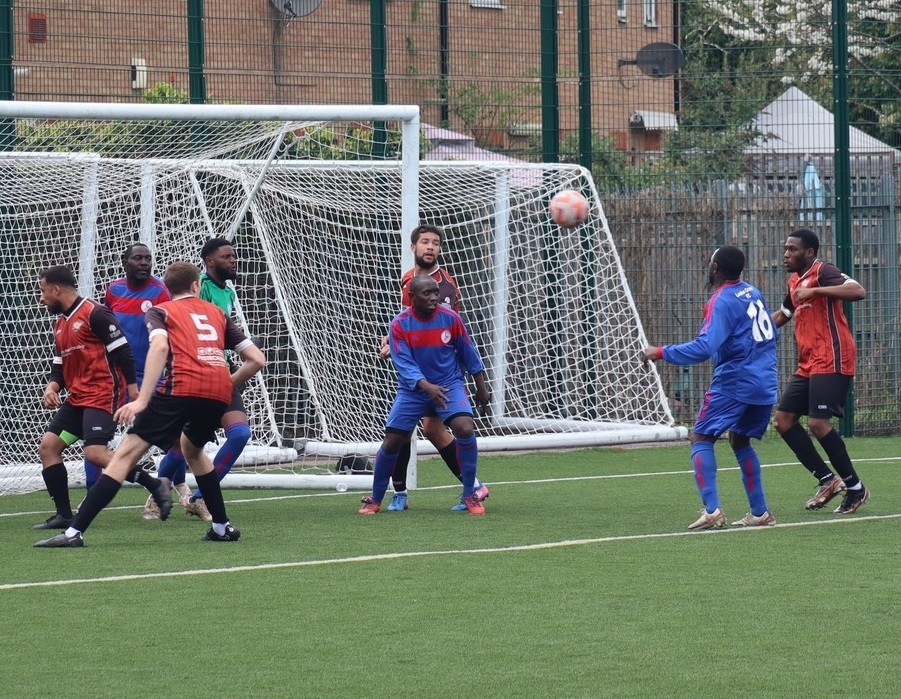 For our latest news and updates, please enter your email address
SENIOR DIVISION CUP
The first Senior Division Cup finalist of the season was determined on Tuesday evening where FC Petrocub, already with a county title under their belt, were up against Frenford Development at The Drive. Wisley Baltazar got on the hosts' scoresheet but his efforts were in vain as Valeriu Gurgurov and Ion Spinu braces set Petrocub on their way, Sergiu Demcioglo netting the other in a 5-2 success, booking their place in the final in May.
SENIOR DIVISION
The midweek action in the top flight came from Wadham Lodge where Walthamstow Reserves earned themselves a hugely important three points to overcome Lymore Gardens amidst spring showers. Mekhi Charles-Armstrong's goals gave them a half-time lead before Matthew McDowell's drive from distance doubled the lead to hand them a 2-0 victory.
On a busy Wednesday night of action, up at Wodson Park, FC Baresi's title hopes were diminished a little as visitors Sporting Hackney took a share of the spoils in an entertaining 4-4 draw. James Head led the way for the Parrots, Liam George scoring the other while George Lutaaya netted two, Yannick Kamanan and Tyreece Robertson goals for Baresi levelling it up.
Over at Mayesbrook Park, Jolof Sports kept up their chances of chasing down the present leaders, adding win number seventeen to their record for the season with a solid 2-1 home win against Dagenham United. Luke Deslandes and Hamdan Ashimi-Abdulrasheed goals proved pivotal to net the win late on, rendering Jordan Townsend-Simpson's goals as just consolation for United.
It was also a crucial night for Crookz United who ensured they stayed amongst the pack for survival, beating seventeenth placed Blue Marlin 4-1 at Peter May to earn a fifth win of the season. Silvio Marcelo scored twice, Andrew Appiah and Steven Tshiamala goals rounding off the win to move fifteenth. Ni Acquaye scored the Blue Marlin goal but their chances remain slim to beat the drop.
At Noak Hill, Chadwell Heath Spartans were in town to take on hosts Kit Out London with the former having picked up their form well in recent weeks. And this fixture proved to be no different as Jonathan Evans struck twice for Spartans, along with efforts from Elie Fanga and George Mariner to sink Kit Out in a 4-0 scoreline, their twelfth win of the season.
The weekend's action started on Friday night where Lymore Gardens' penultimate home game of the season saw them take on a Frenford Development side who were both keen to reverse the fortunes of earlier in the week. A game of five goals was eventually settle by the odd one, Lymore Gardens taking all three points in a 3-2 scoreline, despite an Isima Iguisi brace from the visitors.
On Saturday afternoon, leaders Brimsdown opened up their lead at the top to six points, with a game in hand, with a comfortable victory on the road away at Oakside, winning 4-0. Taylan Gul scored twice with Hermes Gbio and Zion Sinclair goals completing the win, their nineteenth of the season, ahead of Wednesday night's gigantic fixture.
Their opponents on Wednesday will be Woodford East, a pivotal night in the race for the title and promotion, the Peacocks warming up for that clash with a big 7-3 win away at Walthamstow Reserves to dent their survival hopes. Callum Maltese and Lucio Uare both scored twice, Billy Barr, Connor Brathwaite and Odunajo Elifosi goals rounding things off.
Jolof Sports also had a good day out in the sun on Saturday with a strong 6-3 win away against Crookz United to keep them well in the mix themselves. Mouhamed Sall scored twice with Luke Deslandes, Papa Ndiaye, Alexander Sow and Nelly Martins all scoring for the visitors to move them onto fifty-four points for the campaign.
Over in Dagenham, there was another big result impacting the top end of the table where May & Baker EC Reserves took a big point off of rivals FC Baresi, both sides having to settle on a 1-1 draw by the end of ninety minutes. Edson Lami scored for Baresi though they may rue dropped points in the last few days with a six point gap now to make up on the leaders.
The race to avoid the drop in the Senior Division continued on Saturday with a vital three points for thirteenth placed Dagenham United who took all three points home with them, defeating the London Cup winners, FC Petrocub at Barking & Dagenham College. Tejean Lewis and Arminas Gricius both got on the scoresheet for the hosts to win them the game 2-1, a fifth league success.
After finding the net four times in midweek, Chadwell Heath Spartans were able to double that does at the weekend with a comprehensive 8-0 win against Blue Marlin at Lakeside Sports Ground. Elie Fanga and Peter Adeleye were the heroes, both scoring a hat-trick while Daniel Wheeler rolled in a brace off the bench.
Kit Out London's recent form has been a little indifferent but their performance on Saturday will give them hope of beating the drop, taking all three points in a key fixture with Sporting Hackney at Noak Hill to stay twelfth. Hugo Amaral scored the game's only goal to defeat the Parrots in a 1-0 scoreline, the hosts now sitting six points above the dropzone.
PREMIER DIVISION EAST
In the Premier Division East division, there was a nine-goal thriller in Dagenham where Underscore United were in home action with a clash against fellow promotion rivals, Waltham Abbey A, at May & Baker, both knowing that nothing but a victory would suffice. An incredible game was settled by the odd goal with Underscore netting that to win the game 5-4.
PREMIER DIVISION WEST
Over in Premier Division West, it's congratulations to the new champions, CSM London, who earned the points they needed on Saturday against London Cranes to win 2-1 and take the title with three games to spare, setting them up for the silverware play-off in May. A goal apiece from Luke McElroy and Lewis Grantham proved pivotal in a close game, taking their wins tally to fourteen for the season.
A huge result towards the bottom of the table saw Athletic Newham Under 23s produce one of the performances of the season in this division, ensuring their safety at this level following a thumping 5-0 win against third placed AEK London. That was just Newham's fifth win of the season but most of those have come since the turn of the year and it's proven enough to stay up.
In Dagenham, seventh placed Soul's quest for a top half finish may now be over as they were edged out on the day, a single goal from North East Lions late on enough to take all three points and maintain their hopes of finishing in the top three. Shane Thomas scored the game's only goal to make it nine wins for the season for Lions.
DIVISION ONE
In Division One, an intriguing title race is reaching it's climax, taking another significant turn on Saturday as Unitey missed the chance to go top as the second placed side were held to a 0-0 draw by one of their big rivals for the title, Redbridge Community. Neither side could breach the opposition's defences, a result which only elevated Newham Wanderers and SFN's hopes for the last rounds of games.
There were nine goals in the day's other game in this division where Something From Nothing themselves missed the chance to make up ground on the sides above, though remain well in the mix, coming out on the wrong side of a narrow 5-4 defeat against Old Esthameians. With games in hand, the hosts do have things in their hands though will need a goal difference swing.
DIVISION TWO CUP
It was semi-final day in the other half of the Division Two Cup on Saturday and it saw the top two sides in the league meet at Harris Academy, Rainham Phoenix looking to put a stop to Snaresbrook's unbeaten record in league competitions this term. And that was a feat they achieved, edging this contest 2-1 through two Cameron Shakes goals, setting up a trip to Dagenham & Redbridge next month.
DIVISION TWO
Back into league action in Division Two, Royal Forest rounded off their campaign in fine style, their last game of the season seeing them earn a 9-1 win at home against Redbridge Community Reserves at Roding Valley. That was the Trees' tenth win in eighteen for the season as they await the results of those below them to determine their final finishing place.
Lymore Gardens Reserves also had a good day out on Saturday, moving up above their opponents, Chadwell Heath Spartans Reserves, into seventh place as they ran out 4-1 winners in their clash at Mayfield School. Stanslous Madzikanda grabbed the goal for the Spartans but his effort proved just consolation for the cup finalists who went down to defeat.
DIVISION THREE
In Division Three, Football Club of Riverside followed up their semi-final last week with another huge result in the league, overcoming Frenford A once again on Saturday to keep their hopes alive of staying in the division for another season. Emmanuel Nnadi, Zubair Hussain, Sion Daley and Fayazi Omar-Mohamed goals were all pivotal Riverside winning 4-0, needing two more wins to stay up.
One team who did ensure their survival on Saturday were Buckhurst Way who bounced back well from defeat last week to earn three points against Glendale, using their men advantage to complete a solid 3-1 win in Hainault. Maryis Shamku struck for the Dales with a terrific second half goal but the damage had already been done.
Over in Dagenham, Dagenham United Reserves have done as much as they could do on Saturday to give themselves a chance of beating the drop, taking all three points against Flyers Under 21s to sit four points clear of danger. Their final league game of the season saw Posi Ogunlowo, Abba Emejuru and Cain Dash all score, Luke Maydell grabbing the Flyers goal in consolation in a 3-1 United win.
Photo Credit: CSM London FC