WEEK 3 REVIEW: Round-up of Saturday's league and cup action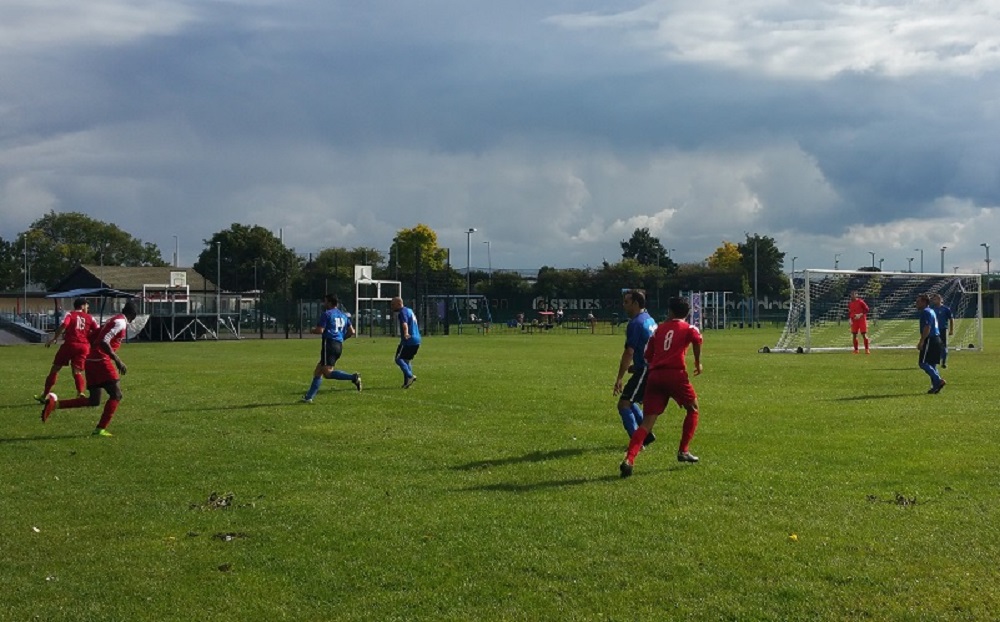 For our latest news and updates, please enter your email address
This Saturday saw the third week of football action this season with the added bonus of the Fenton Cup getting underway with a host of first round ties.
FENTON CUP
There were two cup giant killings in the opening round of the Fenton Cup on Saturday along with a number of near misses for higher division sides.
Division Three's London Caledonian Roses took on Division Two's Forest Green Reserves in Leyton and it was the lower division outfit who came through the tie in a 6-1 victory to stun their opponents. Goals from Liam Cochrane, James Barlow, James Smith, Kadeem Francis, Bradley Wyatt and David Seed saw them through to round two with Marlon Corbin netting the Green consolation goal.
Also overcoming a division difference were Division Three's Redbridge Development who travelled to Romford to face Flyers in the opening round clash. Flyers led 1-0 through a Jack Barry strike before Redbridge levelled the game to send it to a dramatic penalty shootout where the Division Three side ran out 3-1 winners to secure their safe passage.
In some of the other matches between sides from different divisions, Division Four's Haver Town Reserves gave an almighty shock to Premier Division London Cranes with the latter running out winners by the odd goal in a 3-2 victory. Johnson Akin and Ronnie Coules had both scored for Town but their goals proved not quite enough in the end as Isma Bukemya, Valentine Ngaham and Fred Kalyango goals secured the win for Cranes.
There was also an eagerly contested battle between Division Four's Brentwood United Reserves and Ryan Reserves from Division One who shared seven goals in an exciting match-up. Alfie Wiseman, Charlie Morris and Ross Thompson all scored for Brentwood in consolation as Ryan eventually progressed through.
Brook City were another side who were facing a side four divisions above them as they hosted United London in Woodford. And it was City who took the lead early on but the class of their opposition pulled through as United recorded a 9-1 victory. Harry Chalk was the hero with four goals with Billy Teixeira's double and singles from Serigne Mbengue, Shaun Goddard and Samraj Gill completing the win.
There was a first win of the season for Frenford A in their cup tie as they hosted fellow Division Three side, Chigwell, at their Ilford home. The hosts cruised to a 6-1 win despite a Harry Burgess goal for the visitors as Jack Darby's responded with a hat-trick alongside goals from Moussa Jamanca, Paul Iseghohi and George Andrew-Court to book their place in round two where they will now face ACD United.
The league champions, Jolof Sports, were in cup action for the first time this season as they faced a journey to Chadwell Heath to take on Division Two Lionside at Warren Sports Centre. Last season's Premier Division Cup runners-up were 4-0 winners thanks to goals from Abib Diop, Mody Gaye, Tahin Landry and Hervan Volney to book a second round berth at home to London Caledonian Roses.
There was an all Premier Division clash in Walthamstow where Docklands Albion Under 21s played host to Lopes Tavares London, a clash that will be repeated in the upcoming county cup competitions. An exhilarating clash saw the sides finish level after ninety minutes at 3-3 and head into a dramatic penalty shootout which was settled in favour of Docklands, 5-4.
Making it a double day of delight for Docklands Albion, their Division One side were also victorious in the Fenton Cup as they saw off fellow Division One outfit, Melbourne Sports, away in Hainault in a 3-1 result. Ryan Lincoln netted for the Mels but his goal proved not enough as Albion progress on to a tasty second round clash away at United London.
In an all-Division Two match-up, last year's Division Two Cup winners in the form of Lymore Gardens took on St Francis with the two sides eager to confirm places in the second round. Joshua Pereira-Barker was on target for the Saints but home goals from Lee Benjamin, Warren Isoka, Dushane Powell and Eugene Goumou carried Lymore through to a second round clash.
Division Four's Wanstead Warriors had a difficult day as they travelled over to Hackney Marshes to take on Sporting Hackney Reserves in their opening round clash. Ritchie Palata scored a hat-trick for the hosts with Ruben Alves, Houssam Abbani and Ricardo Balogun all netting a double each as the Parrots won 9-0.
New Premier Division outfit, London APSA, opened their new season this weekend with an emphatic 13-0 victory over Division Three side, Custom House Community, in East Ham. The reward for their win is a tie away at Inter Plaistow in the second round of the competition.
PREMIER DIVISION
There were two Premier Division matches at the weekend with Leyton Falcons moving up to second place on goal difference after a 3-0 win away at West Essex Reserves. Sebastian Gardiner, Andre Anthony and Henry Williams were the Leyton goal scorers as they continue to bounce back from an opening day defeat with two successive wins.
Colebrook Royals continued their positive start to life in the Premier Division, building on their opening day 0-0 draw with a 3-0 win away at Old Esthameians this weekend. Ben Cooper, Chris Stowe and Dan Fisher were the men on target for the Royals who move up to fourth place in the table as a result.
DIVISION ONE
In Division One, Wapping bounced back from their opening defeat as they beat Colebrook Royals Reserves in a 2-1 win at the Grange in Chigwell. Chris Walling scored for the Royals but his goal proved not quite enough as Kamrul Ahmed and Hamzah Ahmed scored for the visitors for Wapping to take home the points on the day.
Cowley Community were another side who recorded their first win of the season on Saturday as they beat saw off Singh Sabha Barking in a 3-1 result at Newbury Park. Ryan Thompson-Cobham, Kyle Cargill and Mark Farinha were the men who netted for the visitors who took the points back to Leyton.
There was a closely fought battle between East Ham Inter and Ferns Seniors as the sides resumed battle for the new season with a 2-2 draw in Seven Kings, the first points of the season for both clubs. Ferns goals from Liam Coney and Lee Niven gave their side a share of the spoils as both sides took home a point apiece.
DIVISION TWO
Rainham Working Mens Club made it three wins on the spin as the league leaders continue their perfect start to the season. The latest victory saw them beat promoted Custom House 5-2 with Tony Maynard netting a hat-trick adding to goals from Connor Kain and Dillon Anderson. Glenn Levy scored both of the Dockers goals as they hold eighth place in the table.
Two of the division's hotly fancied outfits met in Chadwell Heath as Chingford Athletic Reserves travelled down to face ACD United with both sides sporting perfect starts to their campaigns. A 1-1 draw was the outcome with Scott Perkins scoring for ACD and Michael Boahene netting for Chingford to leave both sides unbeaten still.
DIVISION THREE
Glendale are the new leaders in Division Three after they played host to previously unbeaten leaders, Kitroom, at the weekend. Two second half goals separated the sides in a high quality and keenly contested battle as Leon Sterling and Khari Pobi goals proved decisive in a 2-0 victory for the Dales who go top on goal difference.
Moving up to second in the table are Chingford Harriers who made it two wins from three games with a comfortable 4-0 victory at home to New Star Soccer at the weekend. Edwin Jabbari scored twice for the Harriers with Paul Shawyer and Luke Edmead also netting to record the victory.
DIVISION FOUR
The leadership of Division Four has also changed hands this weekend courtesy of a second league win for Debden Park who saw off local rivals, Avondale Rangers, in the Loughton/Debden derby match. Ross Densham and Mitchell Doubleday goals for Park were the difference in a close match as they saw their team to a 2-0 victory and top of the table on goal difference.
Slipping down to second place are Royal Forest who suffered their first reverse of the season as they went down 3-1 away at Dagenham United Reserves. Two goals from Jeffrey Nketia and a Chris Mascall effort paved the way for United to run out winners, the first victory of the new campaign, and moving up to fifth place in the table.