WEEK 29 REVIEW: Round-up of all the league and cup action from the weekend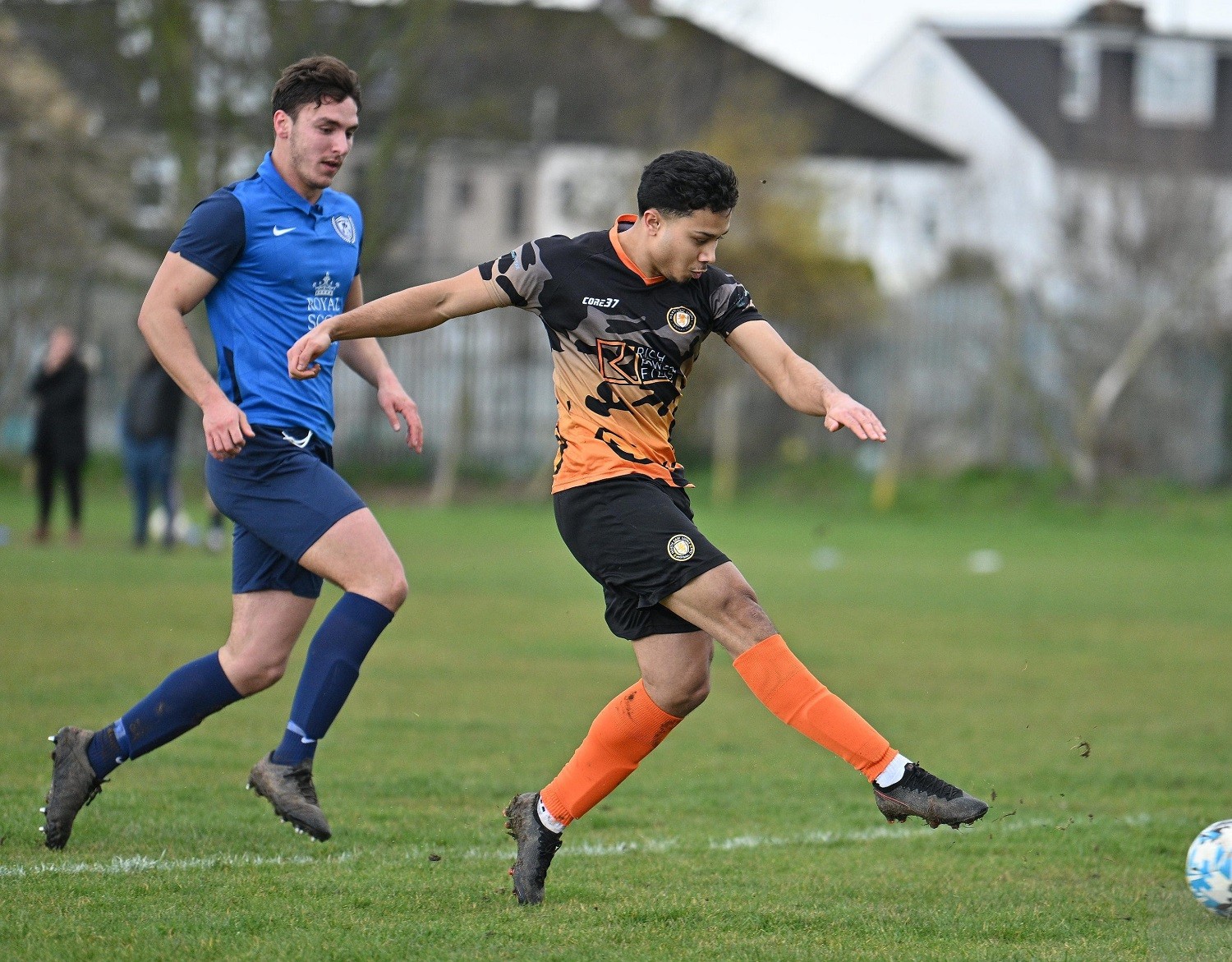 For our latest news and updates, please enter your email address
SENIOR DIVISION CUP
The semi-final line-up in the Senior Division Cup was completed on Monday evening as Sporting Hackney returned to familiar surrounds at Mayesbrook Park to take on Jolof Sports in their last eight clash. And it was the new tenants that prevailed from the tie with Ndiouga Mara scoring twice for Jolof and Serigne Samb once in a 3-1 success, Percy Winter netting Sporting's goal in reply.
SENIOR DIVISION
The top flight action began on Wednesday evening with one of the most important games of the season, title chasing sides Brimsdown and FC Baresi meeting in Wormley for the first time this season. A close game was settled by just the one goal with Zion Sinclair's effort early in the second half the difference between the sides going into the final quarter of the season.
Also on Wednesday evening, the Noak Hill derby pitted FC Petrocub as the home side against their co-tenants, Kit Out London, a vital game for the visitors to move clear of danger beneath. But it was the London Cup finalist hosts who came away victorious with Ion Spinu striking a hat-trick for his side, Gherghe Cucos netting the other in a 4-0 win.
A weather affected Saturday reduced the fixture list to just three games with Dagenham United producing a massively important performance in beating fellow relegation threatened Kit Out London. Dagenham goals from Shaquille Martin and Cain Dash proved enough for the hosts by full time as they won 2-0 to move to within a point of safety with thirteen games to go.
The Lakeside derby produced a seven-goal fixture as Rapid Chingford were up against their pitch sharers, Chadwell Heath Spartans, the latter having been in some good form in recent weeks. And this game saw Spartans extend that run, winning 7-0 as Michael Ramsay and George Mariner both scored twice, Joe Robb, Jonathan Evans and Elie Fanga netting the others.
After a strong performance in midweek, FC Petrocub were in top form once again at the weekend as they completed a comprehensive 9-1 against struggling Blue Marlin to put a dent in their survival hopes once more. Those results in the week saw Petrocub move up into the top six while Blue Marlin remain bottom needing to make up a ten point deficit before the end of the season.
PREMIER DIVISION CUP
There were semi-finalists confirmed in the Premier Division Cup on Saturday with Fairlop Rovers coming through a real humdinger against North East Lions with late goals taking them to a 4-3 victory. Lions had led 3-2 going into the later stages with Shane Thomas, Rweal Azizur and Mehdadul Kazi scoring. But Rovers braces from Jayden Francis and Jean-Pierre Alexander provided crucial.
Over at Town Mead, a local derby game saw hosts Waltham Abbey A send themselves through into the last four of the competition as they inflicted a first defeat on Chingford Athletic in league competitions this season. Abbey were 4-1 winners despite going into the clash with a twelve point deficit on their opponents, setting up a semi-final at home to Fairlop Rovers.
PREMIER DIVISION EAST
In the East division, Aveley Under 23s are up into the top three for the first time this season having now made up some of their games in hand and sit ten points off the promotion race with three games in hand on the back of a 5-0 win against RCXI. Alex Hyslop, Bobby Reeman, Sola Adebo, Kieron Miles and Aldo Vani all got on the Millers' scoresheet to keep their hopes alive.
Bottom of the table Freetown also kept their narrow hopes up of avoiding the drop this season with a vital three points in their away trip to Wapping, returning home with the points in a 4-1 win at Castle Green. Donald Adaakwah's hat-trick and a Mueez Ogunlaja goal done the damage, Sabiq Khan responding with the Wapping goal.
Fellow relegation threatened Barkingside Under 23s sit six points off of safety with seven games to go as their weekend travails saw them take a valuable point away at London Park City in Seven Kings. That saw 'Side take their points tally onto five, still with a number of games in hand on the teams above so things very much still in their hands.
PREMIER DIVISION WEST
A massive game in the West division at the weekend saw CSM London in home action against AEK London with the hosts putting in a terrific performance to secure a vital win, beating their promotion rivals 6-1 to replace them in second spot. Emre Ozuaciksoz scored two, Michael Payne, Fahad Nyanja and Michael Asabre goals rounding it off.
In the East Ham derby game, it was Athletic Newham Under 23s who will have been the happier of the sides in their clash against London Cranes, the visitors moving to within two points of safety after scooping a third win of the season despite a fourteen point deficit going into the game. That result was enough to take Newham to ten points, two adrift with two games in hand.
Over in Dagenham, it was seventh versus eighth as hosts Soul went into the game with G7 holding a two point advantage over their opponents, both sides sitting in a position of some danger heading into the last few games of the season. And by full-time, Soul had virtually assured themselves of remaining in the second tier, taking the game 3-1 to sit five points clear of their opponents.
DIVISION ONE
The big games keep coming thick and fast in Division One where it was first versus second on Saturday with Newham Wanderers the leaders going into their clash with Redbridge Community at Mayfield Sports Centre. A 4-1 success for Wanderers was the outcome with two goals from Roberton Morais and one apiece from Addae Paponette and Igor Sani extending their lead at the top.
And that result meant the Something From Nothing were able to climb into the top two for the first time this season having now caught up on their fixtures, moving three points ahead of Redbridge following a 7-3 home win against Kwanzas London Sport. With four games in hand on the leaders, and just a six point gap to make up, the race is now on to possibly snatch the title.
Another side who could yet still have a big say in the promotion race is Unitey who sit fourth and with games in hand themselves, aided by their win on Saturday, beating Old Esthameians in Newbury Park in a 4-1 scoreline to net their seventh win of the campaign. Romario Christian, Devontae Young, Matthew Pitchford and Matthew Surry were all on target in the win.
It was a big afternoon for Eagles Football who all but assured themselves of staying in the third tier for next season after securing a vital 3-1 home success against Renegade, the latter remaining in a vulnerable position with a game to go in the league despite a Wellington Ismael effort. Renegade will need to win their final game to assure themselves of survival and hope that other matters go their way.
DIVISION TWO CUP
The remaining semi-finalist for the Division Two Cup was established following the last quarter-final tie on Saturday which saw Royal Forest make the trip to Rainham Phoenix for a place in the last four. Another close game saw the Phoenix rise to the challenge, edging the tie 2-1 through goals from Cameron Shakes and Sam Springall, setting up a semi-final against Snaresbrook.
DIVISION TWO
FC Baresi Under 23s were the highest placed side in action in Division Two on Saturday and they used that to full effect to close the gap on the sides above to just goal difference, with games in hand, completing a 4-0 victory against Lymore Gardens Reserves. Debutant Hashim Hussain made a dream start with a hat-trick, Kii Jean-Baptiste coming off the bench to score the other.
Chadwell Heath Spartans Reserves almost mirrored the efforts of their first team counterparts as they moved to a strong 6-1 result against Redbridge Community Reserves. Thamindu Kahatadeniya's hat-trick led the way with Laurynas Arbaciauskas, Abaraham Ladoja and Ibrahim Sterzenbach goals rounding things off in stunning fashion for the cup semi-finalists.
DIVISION THREE CUP
It was quarter-finals day in the Division Three Cup with three games surviving the elements including a victory for bottom of the table Football Club of Riverside who made it three wins for the season with a narrow 3-2 win at home against Buckhurst Way to head into the last four. Alfred Sylmeta, Fayazi Omar-Mohamed and Marcio Lopes all scored to put their side into the hat.
Over in Chadwell Heath, it was a thriller in the game involving the league champions as Newbury East had to battle hard to edge the contest against Flyers Under 21s, coming through in a 4-3 result in the end to make the semi finals. The big three were all on target as goals from Chaka Barnett, Reda El Ghaibouz and Junior Milla were supplemented by Rafai Bentick's effort
Another close game was witnessed in the other tie from Hainault where Melbourne Sports met rivals Chingford Harriers in their quarter-final, the game eventually ending level at 2-2 as Brandon Antony and Darnell Lamothe both struck for Harriers in response to two Reece Kelly goals. That meant the dreaded shootout was needed to separate the sides and it was the Mels who won that 8-7 to progress.
DIVISION FOUR
The goals were flying in over in Loughton where the replay fixture between Avondale Rangers and Collier Row Wheels saw the visitors go goal-crazy with a 13-0 success to keep themselves in with a shout of a runners-up finish. Jack Stockdale scored an incredible eight goals, Cody Harris netted three of the bench with Max Hodgson and Tafari Miller efforts rounding it off.
The runners-up spot is still within the grasp of second placed Fairlop Rovers Reserves who will go into their final fixture with things in their hands following a 4-2 home win against Newham & Havering Borough at Fairlop Oak. Flyers Under 23s now hold the key to the silver medals destination with games against both promotion chasing sides in the next fortnight.
It was a day of celebration for newly crowned champions, Romford Under 19s, who rounded off terrific first campaign in adult football with another eight-goal victory, defeating their close rivals Flyers Under 23s in an 8-1 scoreline. That was enough to confirm a thirteenth league success of the season with further success possible in the upcoming semi-finals.
COUNTY CUP
The BBC Essex Saturday Premier Cup semi-final at the weekend produced an unbelievable game of football between two fully committed sides as Woodford East took on Wakering Sports Reserves in Great Wakering. East fell behind twice in the game but levelled it at 2-2 to take it to extra-time, scoring twice more to then lead 4-2. But Wakering struck back in extra-time then levelled with the last kick of the game to make it 4-4! A shootout was therefore needed and it was the hosts who won that 5-4 to take their place in the final next month.
Photo Credit: SniperPose