WEEK 25 REVIEW: Round-up of Saturday's league and cup action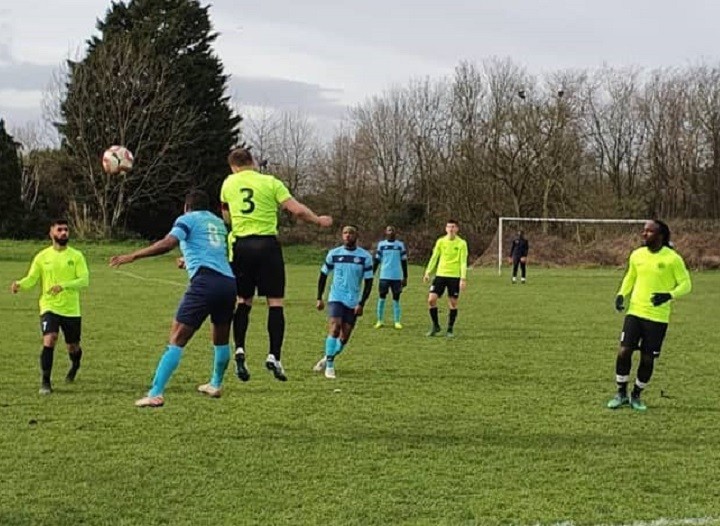 For our latest news and updates, please enter your email address
FENTON CUP
It was a big weekend of Fenton Cup action with four ties concluded on the day as we played catch up after recent poor weather. The third round stage was finally completed as Rapid Chingford took on East Ham Inter in an all-Senior Division clash. Rapid put their league position aside to run out 6-3 winners with both Cristian Burzo and Gabriel Prisecaru netting hat-tricks to see them into round four.
Division One's league leaders, Chingford Harriers, are into the hat for the quarter finals but had to overcome a spirited comeback from Division Three Glendale who had fought back from 2-0 and 3-1 down to level at 3-3 in the last fifteen minutes through Wesley Kangi, Djibril Ayofe and Voulter Correia. A late Chingford goal won it however to edge this thriller 4-3.
Goals were also the order of the day in another of the fourth round clashes where Forest Green were up against All Prospects and were seeking to put their league form aside for the day to make the quarter finals. In a game of five goals, it was Prospects who progressed through, winning 3-2.
The final Fenton Cup tie of the day saw Division Two's Unitey attempting to spring a surprise as they took on the Senior Division's FC Baresi who are no strangers to a cup run. It's certainly rare that a league game finishes goalless, and even rarer that a cup tie does, but this happened as the match finished 0-0 at ninety minutes. Baresi held their nerve from the spot to win the shootout 3-2 and progress through.
DIVISION TWO CUP
There was a cracker of a game in Saturday's Division Two Cup quarter finals where Rainham Working Mens Club were the host side to county cup finalists, Cowley Community. The match ended level at full-time with David Hornsby, Gabriel Ipanga and Sean Tormey all netting to make it 3-3. Cowley secured a win however in the shootout, winning 4-2 to make yet another semi-final in an already memorably campaign.
DIVISION FOUR CUP
The theme of goals carried over in the Division Four Cup where it was also quarter-final day for four clubs. Loughton Lions made the short trip along Forest Road to take on Fairlop Rangers in the day's first tie and put their good league form to effect in the cup too, coming through with a 6-2 win under their belts to make the last four.
And there were seven goals in the competition's other completed tie where Lymore Gardens Reserves hosted Dagenham United Reserves in Chingford. Ruben Silva and Tom Whelan each got on the scoresheet for United but their efforts were undone by braces from Emmanuel Nwaohai and Dushane Powell along with a Lee Benjamin strike as Garden won through 5-2.
SENIOR DIVISION
West Essex Reserves have moved to within a point of the summit in the Senior Division on the back of a narrow win on Saturday as they edged past Chingford Athletic Reserves in a 3-2 scoreline. Warren Isoka and Jason Nwakaeze goals kept an in-form Chingford side well in the game but West scored late on to snatch victory.
DIVISION ONE
No action
DIVISION TWO
No action
DIVISION THREE
Chadwell Heath Spartans moved a step closer to getting their hands on the Division Three silverware this season as they earned themselves a comprehensive 7-0 win against Custom House United on Saturday. Ryan Sroka, Rashid Matabaro, Mark Stanbridge, Jeffrey Nketia, Elie Fanga, Niru Hunwocks and Jordan Moore all scored one apiece to take home the points.
Over in Debden, there were just the thirteen goals scored as Debden Park and Frenford A threw caution to the wind with the latter returning home as 7-6 victors. Kyron Chiedozie, Damilola Ola and Elidon Selmani braces led the way for Frenford with Jack Darby scoring the other in a goal-fest of a game.
The other league game in the division came from Romford where Flyers Development were the hosts to a promotion chasing FC Galaxy side. Flyers will have ended the day the happier of the sides putting a real dent in the Galaxy challenge as the hosts picked up a hard fought 3-0 win on the day.
DIVISION FOUR
No action
COUNTY CUP
There was one final game played on this first weekend of Spring which saw the second Essex Saturday Junior Trophy semi-final played with Sungate Reserves taking on Hutton A in Walthamstow for the right to face Cowley Community in the final. Gate battled back from a goal down to level at 1-1 which saw the tie into an extra thirty minutes. But Hutton summonsed an extra-time winner to break Sungate hearts and send their side through to the final. Much credit must go to Sungate of course for a wonderful run in the competition this year.