WEEK 25 REVIEW: Round-up of all the league and cup action from the weekend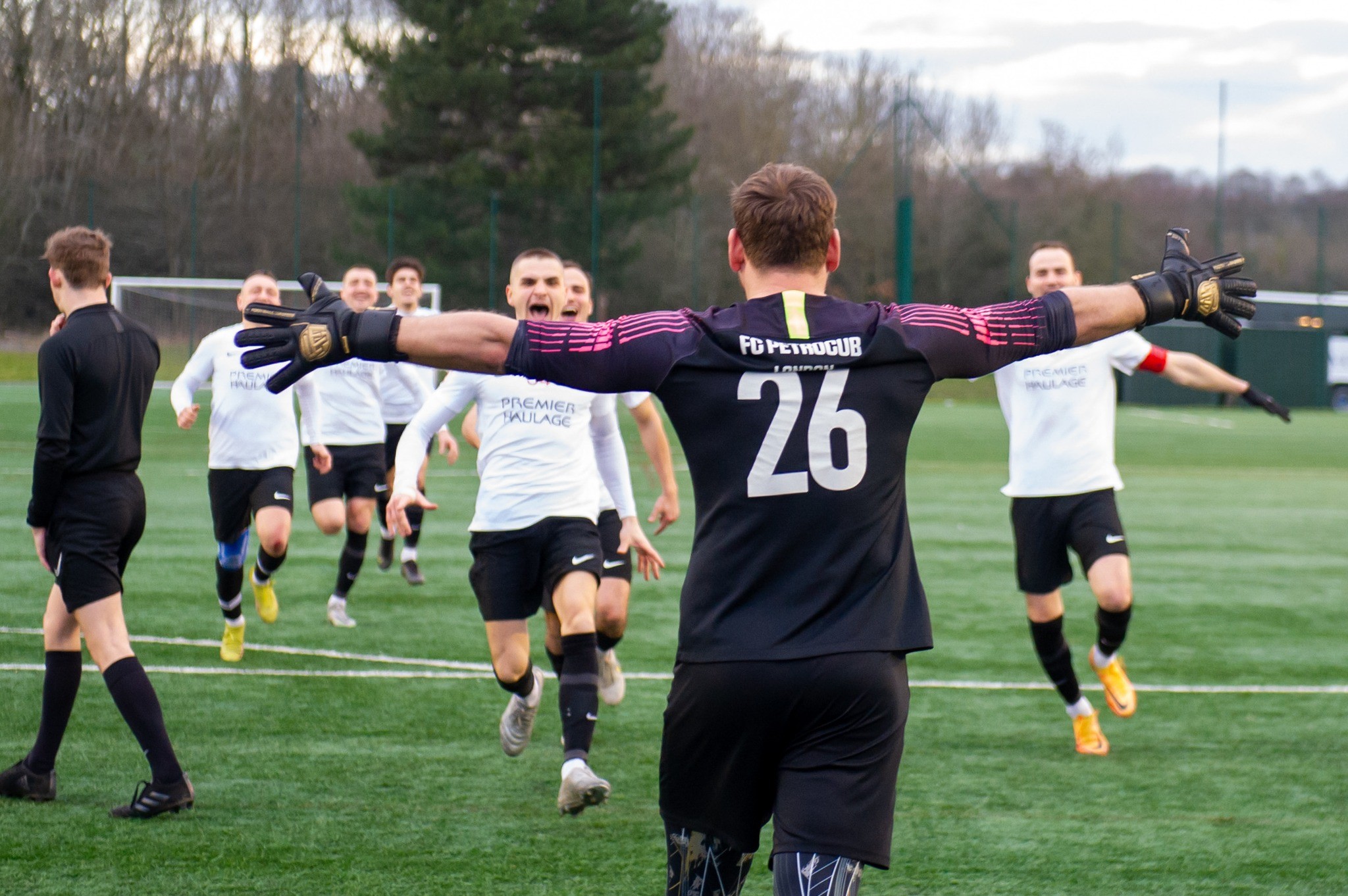 For our latest news and updates, please enter your email address
FENTON CUP
The line-up for this year's quarter-finals in the Fenton Cup was completed on Monday evening as Senior Division side Woodford East came through a tough test against Aveley Under 23s with a 4-2 win under their belts. Finlay Shipp and Kyle Brand both scored for the young Millers but a Harry Robinson hat-trick and a Harry Carter effort gave East a place in the last eight.
SENIOR DIVISION
There was midweek league action on Tuesday and Wednesday last week, Brimsdown seeing their chances of silverware increased with a comfortable winning performance, beating Blue Marlin in a 3-0 scoreline at Wormley Rovers. Taylan Gul scored twice for the hosts and Andrew White netted the other to give their side all three points.
On Tuesday evening, there was another big clash involving those in the picture at the top end of the table with Frenford Development hosting Sporting Hackney at The Drive. Frenford were ahead early through Carlos Barahona but saw Raif Howley's header level things up for the Parrots, But Joel Opara's effort followed by Wisley Baltazar's second half effort completed a 3-1 win for Frenford.
Brimsdown's lead at the top of the Senior Division moved up to five points following the weekend's action, the Wormley based side earning themselves an emphatic 5-0 home win on Saturday against Walthamstow Reserves to add to their midweek successes. That result confirmed a fourteenth success of the campaign with twelve games of the season still to go.
Moving up behind the leaders, FC Baresi returned to winning ways in their home clash at Wodson Park against an in-form Frenford Development, coming from behind to take a vital three points in their quest for the title and promotion. Kyron Chiedozie struck for Frenford but his efforts proved in vain as two Edson Lami goals made the difference for the hosts, winning 2-1.
It was a return to winning ways for Sporting Hackney who overcame their disappointment from midweek to record all three points four days later, coming through a tough local derby clash against Crookz United. The Parrots were 1-0 winners and had Karim Bukleb to thank for that effort, netting the game's only goal.
Over at Gardiners Close, Woodford East were looking to extend what had been a fruitful period despite a hectic schedule but they had a tricky May & Baker EC Reserves side ahead of them. Billy Barr and the in-form Harry Robinson both found the back of the net but it was Baker who took all three points, scoring three of their own in a massive 3-2 win.
There were a glut of goals at Lakeside as Rapid Chingford earned themselves another valuable point in an thriller against Kit Out London, the sides ending up sharing the spoils in a 4-4 draw. Andrei Boga scored twice for the hosts, Nicusor Buzatu and Ionut Labunt the others on the scoresheet. But Kit Out goals from Barjinderpal Singh, stalwart Harinder Sanghera, Amalraj Kakumanu and Felicien Bradeo ensured they took a point also.
Over at Fairlop Oak, Lymore Gardens were the visitors to Hainault to take on Oakside, the hosts starting the day still within the drop zone and looking for important points while Lymore were seeking to keep up with the side immediately above them. And it was Garden who will have left the happier of the teams, scoring both goals in a 2-0 win to take their points tally up to thirty.
PREMIER DIVISION CUP
There was second round action in the Premier Division Cup over the weekend where Aveley Under 23s inflicted a very first defeat upon Underscore United at Parkside, the young Millers bouncing back well from their midweek defeat to win this one 3-2 to head into the quarter-finals. Finlay Shipp, Airon Paul and Ben Warren all scored to see their side complete a great victory.
Also heading through into the quarters are Chingford Athletic who produced a home winning performance against Barkingside Under 23s to ensure they remained unbeaten in league competitions this season. Brandon Dillon's brace and singles from Dylan Scutt and Kane Patmore were the difference to give Chingford a 4-1 win.
CSM London produced the biggest cup win of the day, the West division side overcoming East opposition in the form of Freetown in a 7-1 scoreline at West Ham Foundation. Samuel Kuffour goal for 'Town but CSM goals from Emre Ozuacikzoz (2), Elvinas Clements, Philip Brown-Bampoe, Luke McElroy, Lewis Grantham and Michael Asabre sent the hosts through.
Last season's finalists in this competition, London Park City, put themselves to within two performances of a repeat feat, City travelling to Dagenham based Soul and completing a 2-0 win to head through. Youcef Bazine and Alexandru Gheorghe scored the City goals to put their side safely through into the last eight.
In the day's all-West match-up in the second round, North East Lions and London Cranes went to battle, just a point between the sides in the league in what was a well balanced match-up in Walthamstow. It was settled by an odd goal, Lions netting that one in a 2-1 victory, courtesy of goals from Andriano Lawson and Rweal Azizur.
PREMIER DIVISION EAST
The day's sole East division action came from Newbury Park and saw third face fourth with Fairlop Rovers the visitors to take on an RCXI side, the sides level on points before kick-off. But Rovers moved three points clear by the end, winning 6-2 with Ben Harris' hat-trick leading the way, Jayden Francis, Jean-Pierre Alexander and Harry Oliver also on the scoresheet.
PREMIER DIVISION WEST
There were goals galore in the West division where Leyton City found their scoring boots to put nine past bottom of the table Athletic Newham Under 23s, winning the game 9-3 in Newbury Park. Jahvarn Steward extended his scoring record with a four-goal haul, adding to braces from Charlie Cox and Joseph Andrews, plus a Liam Kennedy effort.
Over in east London, a five-goal thriller saw visitors AEK London need some late goals to come from behind against hosts G7 to take the points, the Hackney based side eventually prevailing in a 3-2 scoreline to keep themselves in the promotion mix. They sit seven points ahead of the nearest clubs although games in hand for their rivals mean it is largely out of their hands at present.
DIVISION ONE CUP
There was a real cupset in the quarter-finals of the Division One Cup on Saturday where Atholl produced one of their results of the season to beat an Ilford Reserves side at Parmiters, the sides finishing level at 2-2 at full-time through goals from Ralph Vincent and Mitchell Edmonds for the hosts. And it was Atholl who held their nerve in the shootout to win 5-4, heading into the semi-finals.
DIVISION ONE
In the league action, leaders Newham Wanderers came through a tough looking fixture with all three points as bottom of the table Kwanzas London Sport put in a real shift to make things difficult for the title chasers. But it was eventually a 2-1 win for Wanderers who had El Hadji Ndao and Manuel Sanuo to thank for their match winning goals on the day.
Over the Marshes, the side with crucial games in hand also had to come through a tough fixture of their own as Something From Nothing warmed up for their huge county cup semi-final next weekend with a vital three points in the league, beating Renegade in a 1-0 scoreline. That saw the visitors move up into third, just a point off the promotion places and with up to five games in hand.
DIVISION TWO
In Division Two, the game of the day came from Rainham Phoenix where the hosts saw the visit of an in-form Woodford East Reserves side with just two points between the sides going into the game. But the Phoenix rose to take all three points, Cameron Shakes scoring twice, Sean Tormey and Connor Kain netting the others to win 4-1, rendering Owen McKelvey's strike as just consolation.
The league leaders, Snaresbrook, reached the mid-way point in their league season and marked that landmark with another strong performance, beating Old Barkabbeyans 6-0. Harry Prince scored a hat-trick off the bench for the hosts, John Blount, Luke Joseph and Balyele Moe-Loembe scoring the others.
With games in hand, FC Baresi Under 23s could still impact things around them and they moved closer to the promotion places over the weekend with a 3-0 away win against Chadwell Heath Spartans Reserves at Hainault Rec. Joshua Adu was the difference between the sides, scoring all three goals in a hat-trick performance to earn his side's eighth league win of the season.
It was also a winning afternoon for Lymore Gardens Reserves who took advantage of results around them to move onto the cusp of the top half with a seventh league win of the season, beating Barking Potters in a 4-1 scoreline at the County Ground. That result saw them leap above Old Barkabbeyans and to within three points of the side above.
DIVISION THREE
With the league title having been wrapped up the previous week, Newbury East slipped to just a second league defeat of the campaign, Melbourne Sports the beneficiaries as they picked up a 4-1 success at home against the champions. Reda El Ghaibouz scored the East goal but that proved not quite enough on the day.
Jolof Sports Reserves have moved into a strong position to take the runners-up spot, beating one of the sides who could still have caught them, Flyers Under 21s. Jolof were 3-2 winners in east London on Saturday in a result which saw them regain control of that race ahead of the last four games of their season.
And that progress for Jolof was made possible as two of their promotion rivals, Frenford A and Chingford Harriers, battled to a score draw at The Drive, the match ending in a 1-1 draw to dent both clubs' chances. Elidon Selmani scored for Frenford with Brandon Anthony netting the Harriers goal in reply as they shared the spoils.
With games in hand, Glendale could still affect things in their remaining six games though it took a terrific stoppage time winner to take all three points against Romford Under 21s at Westlands, the hosts having twice come from behind to level. Josh Adeojo scored twice for the Dales, including that winner, Mouhamed Gueye scoring the other midway through the second half.
Bottom of the table Football Club of Riverside earned their fourth point of the season on Saturday as ended the game against Buckhurst Way level at 2-2 at Lakeside Sports Ground. Guilherme Jalo and Sion Daley scored those goals for the hosts though Way at least took a point by scoring twice themselves.
DIVISION FOUR
One more victory for Romford Under 19s will most likely be enough to earn them the league title next weekend, preparing for that moment this week with a comprehensive 11-0 win away at local rivals Flyers Under 23s. Alvin Smeraldi scored four, Jakub Bogacki and Stephen Toussaint a brace, plus singles from Christos Mead, Charlie Howell and Mohammed Yaqoob.
Third placed Collier Row Wheels ensured they kept their hopes alive for at least another week as they produced a solid win of their own, winning 6-0 at Forest Row against West Essex Under 23s. Jack Stockdale and Nathan Elgie both scored twice, Farhaan Korimbocus and Sean Archer goals completing victory number seven this term.
It was also a winning afternoon for cup semi-finalists, Avondale Rangers, who moved up into sixth place above their opponents from Saturday, Emerson & Upminster Reserves, following a 2-1 win in Loughton. Phillip Heinen and Jake Clarke goals made all the difference for Rangers who will seek some momentum ahead of that big cup tie.
COUNTY CUP
It's been a London Senior Trophy week with both quarter-final and semi-final action involving our clubs. Firstly, on Wednesday night, Jolof Sports made the long trip south of the river to take on step 6 side Croydon in the quarter-finals, defeated in a 3-1 with a man deficit to see their run come to an end.
Croydon's reward for that win was a length trip of their own as they faced FC Petrocub at Noak Hill on Saturday in front of a strong crowd, the game ending in a 1-1 draw after extra-time. But it was FC Petrocub who held their nerve in the shootout, winning that 4-2 to make their third successive county cup final.
The London Senior Trophy Final will see holders Tooting Bec therefore face FC Petrocub at Sporting Club Thamesmead on Tuesday 28th March, 7.45pm kick-off.
Photo Credit: FC Petrocub