WEEK 24 REVIEW: Round-up of all the league and cup action from the weekend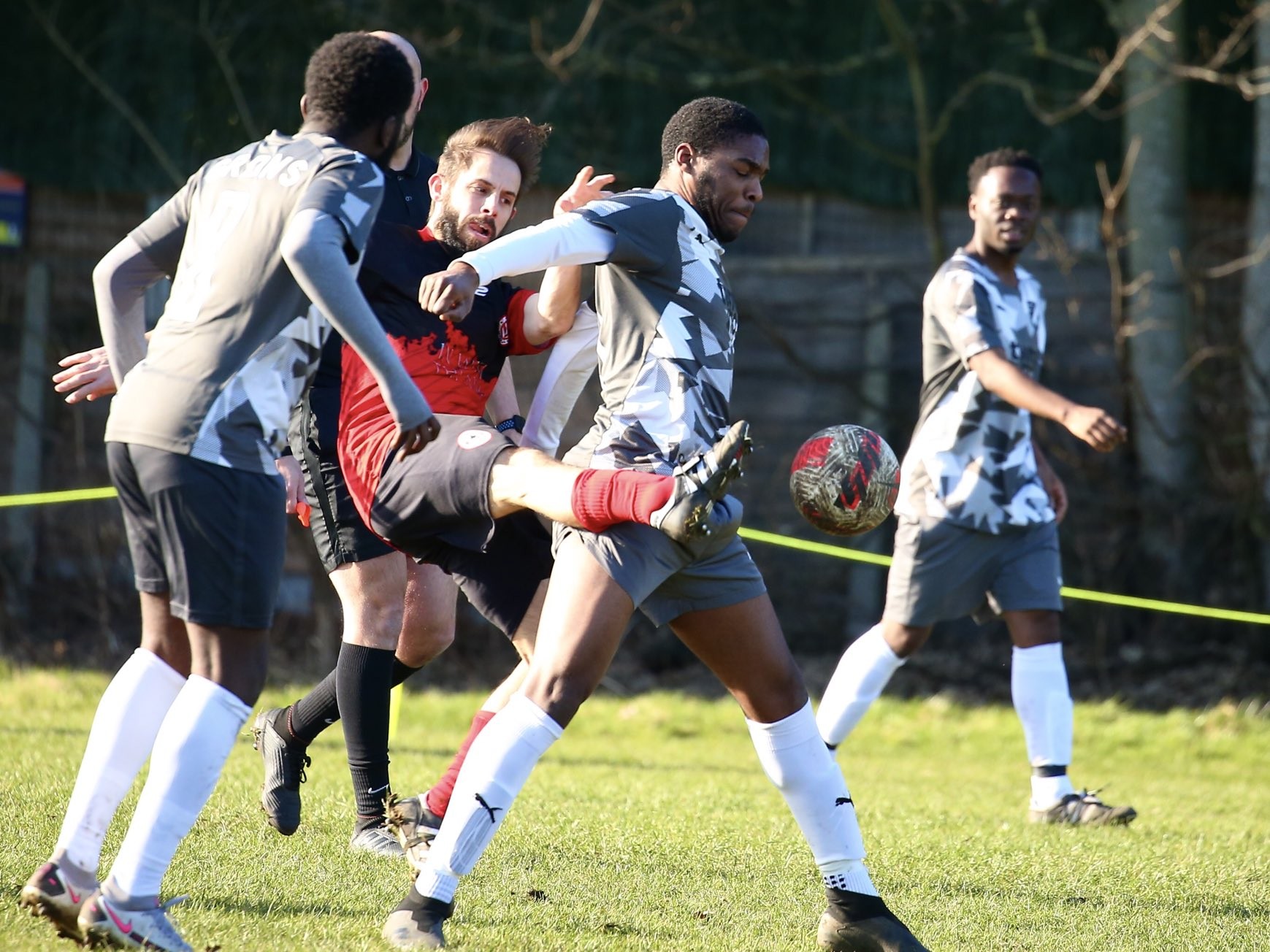 For our latest news and updates, please enter your email address
FENTON CUP
The season's quarter final line up in the Fenton Cup is now complete with Jolof Sports becoming the eighth team to qualify as they came through a tough home encounter against FC Petrocub in East Ham. The holders, Jolof, were narrow 1-0 winners to book another home game, this time against Division One high-flyers RCXI in the coming weeks.
FENTON TROPHY
The day's Fenton Trophy action saw another quarter final tie completed with two of Division Two's sides meeting at Wanstead Flats as St Francis played host to Rainham Working Mens Club. A close game saw the sides finish level at 2-2 by full-time with Nick and Sean Tormey goal for the Workies equalled by Saints goals from Bora Alici and Skye Salmon. Rainham held their nerve in a 4-2 shootout win to go through to the semi finals.
DIVISION FOUR CUP
The Division Four Cup also saw quarter final action as Newham Royals were up against Flyers Under 21s with the two sides battling for a place in the last four. But it was the Romford based Flyers side who were imperious on the day as Bradley Maycock scored twice, with Sam Maydell, Max Wellard and Jamie Randall efforts completing a 5-0 win to send their side through.
SENIOR DIVISION
Another round of close games were witnessed in the Senior Division where DTFC came through a thriller against Rapid Chingford with their bottom half opponents playing their part in a nine-goal game. Andrei Boga scored a hat-trick and Bogdan Galan also netted to give their Rapid side hope but DTFC were able to maintain their lead at the top to win it 5-4.
Second placed Chadwell Heath Spartans remain four points adrift of the leaders with a key battle between those sides still to come as they came from behind to take a win against previously third placed Lymore Gardens in Chigwell. Ryo Brown scored for Lymore but two late Harry Payne goals were the difference to win the game 2-1 in Spartans' favour.
Woodford East took advantage of that result also to shift up a place to third and with games in hand but had a tough battle of their own against an improving Chigwell Town side in Hainault, East eventually prevailing in a 3-2 scoreline. Billy Barr, Connor Brathwaite and Liam Adams all struck to render Town goals from Mark Howe and Harry Tew-Robinson as just consolation.
Completing the action from the top flight, FC Baresi were in good form on Saturday as they returned home with East Ham with all three points in a 4-1 scoreline against CSM London. Plamedi Kinkela notched for CSM but Baresi goals in reply from Raymond Pok (2), Tyreece Robertson and Abdisamad Mohamed were more than enough.
PREMIER DIVISION
There were some big results affecting the sides at the top of the Premier Division in the race to Step 7 for next season with Frenford A earning their eleventh win of the season with a 3-1 win away at North East Lions on Saturday. Callum Alexander, Keenan Gravillis and Damilola Olaiya scored for the league leaders with Andriano Lawson striking in reply for Lions with their consolation effort.
It was also second versus third with Dagenham United travelling west to take on Wapping in Hackney knowing only a win would do to stay in the race for the title. A win was what they walked away with, putting a difficult run behind them to win 4-1. Dante Vincent struck twice, Charlie Fiander and Shaquille Mathurin also netting to render a Jordon Mills-Smith effort as just consolation for the hosts.
Another of the season's promotion contenders, Oakside, had an away trip before them as they travelled down the A406 to East Ham to face London Cranes. The sides were well matched with a 1-1 draw the end result as the sides settle for a share of the spoils, that point being enough to move 'Side into the top five. Luke Caston grabbed the visitor's goal with Isa Mwebe bagging for Cranes.
DIVISION ONE
It was a busy day in Division One with all twelve sides in league action and Belfry put in their usual winning performance to remain the county's highest placed side with a perfect record. They were 6-1 winners against Forest Green with Warren James netting two and further strikes from Dan Osborne, Kieron James, Sam Paterson and Solomon Ogunwomoju completing the victory.
Cowley Community went into their clash at the weekend against Barkingside A with two huge games head of them and done the job to confirm a tenth league win prior to those clashes, winning the game 2-1. Chris Wright and Lekan Bakare were the men on target for the Newbury Park based side to pick up that win ahead to two season defining fixtures.
RCXI remain well placed to sweep up should either of the top two slip up in their remaining games and sit just one point outside of the promotion zone after a terrific 1-0 win against another of their promotion contenders, Wanstead. That was the visitor's ninth league of a sterling first campaign in the competition.
Another side in a good run of form are Ilford Reserves who made it eight wins from fourteen this season on Saturday with a big 7-2 victory against bottom of the table Francis Luke over at the Marshes. Ramar Roberts scored two goals for the hosts but Foxes efforts from Joshua Graham, Luke Newbury-Neale, Mario-Angelino Lipetz, Jack Newbury-Neale, Joseph Sulola, Serghei Scupoi and Ollie Miracco gave their side another win.
There was also an impressive victory for the boys at Kwanzas London Sport who moved up a place above their opponents, Renegade, after completing a 4-1 win at the Marshes to steer well clear of relegation worries, despite a Nana Baah goal for the hosts. That was Kwanzas' fifth league win this season which gives them an eight point lead over the sides in the relegation zone.
The Wanstead Flats derby match ends the round-up from the third tier as Something From Nothing were in home action against local rivals Newham Wanderers. The sides started just two points apart and remained that way by full-time as they settled for a point apiece in an eventual 1-1 draw which keeps both sides solidly placed in mid-table.
DIVISION TWO
In Division Two, Unitey have moved into a three point lead at the top of the table as they came through a tough game against promotion contenders, FHN Athletic, edging the contest 3-2 to scoop an eleventh league win. Matthew Pitchford, Bubintende Masadi and Ahmed Dousa all found the back of their net to help their side take maximum points.
There was an important result at the other end of the table too where Redbridge Community steered themselves clear of the imminent danger of relegation by picking up three points in a 2-1 win against Loughton Lions who are now just one point ahead of Redbridge. Dylan Broadley scored both of the goals to give his side the best chance of avoiding the drop.
DIVISION THREE
The picture at the top of the Division Three table is looking a little different after the weekend's results as Old Barkabbeyans Reserves remain a point clear at the top following a 4-1 away win against Lymore Gardens Reserves in Leyton. Michael Ryder drove in a couple of goals with efforts from Robbie Osborne and Mitchell Day completing the scoring for the leaders.
It was second versus third in the division's other big game where FC Baresi Under 23s were the visitors to take on Royal Forest Reserves in a hotly contested game at Fairlop Oak. The Trees led 2-0 early on through Will Casasola and Will Asenso but Baresi battled back and took victory with crucial strikes from Kii Jean-Baptiste, Joshua Adu and Joshua Matusa winning the game 3-2.
Melbourne Sports are up to fourth, taking advantage of results around them to close the gap on the leading clubs after picking up a solid 6-2 win from their trip to Newbury Park to take on Terin. Suheil Shekh and keeper Francis Hastings were accredited with the Terin goals but the Mels struck back with six of their own to take the points.
Sitting just inside the top half, Together United followed up their impressive win last weekend with another this time out as they defeated Glendale at Fairlop Oak in a tight game. Together led 2-0 early, capitalising on individual errors before Roland Farkas' first Glendale goal pulled them back in it. The Dales fought hard to nick an equaliser and went close but the visitor's defence hung on.
Buckhurst Way are also on the cusp of the top half once again as they responded well to their recent defeat to take all three points from their fixture against Flyers Under 23s at Bancroft Rugby Club. They were 3-1 victors in that game to sit just goal difference from a place in the top six with five games of their season left.
DIVISION FOUR
The battle for the Division Four is on a knife edge following the weekend's results which saw Fairlop Rovers Reserves move to the summit following a second win in succession against Chingford Harriers who moved down to third on the back of their 2-0 defeat. Rovers' tenth league win sees them go a point clear with three games left to go.
Sporting Pillars are lurking with intent in second with mathematics in their favour now as their ninth league success on Saturday saw them to within one point of the summit, coming away 7-1 winners against West Essex Under 23s. With two games in hand on the leaders, they can now move top if they were to win those games in hand so everything still to play for.
PHOTO CREDIT: Chadwell Heath Spartans FC / A Bridge Too Far