WEEK 24 REVIEW: Round-up of all the football action including the first league title confirmed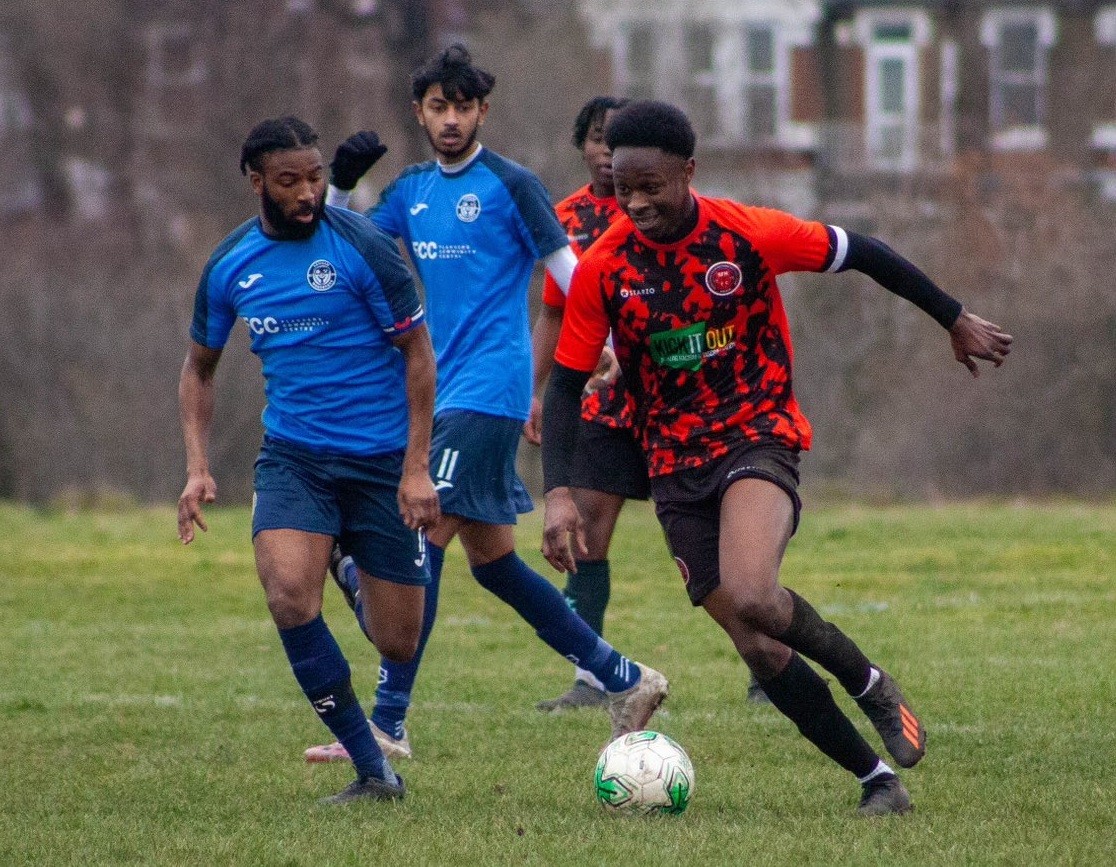 For our latest news and updates, please enter your email address
FENTON CUP
The penultimate second round tie in this season's Fenton Cup was completed over the weekend and saw an all-Senior Division match-up between Kit Out London and visitors Oakside over at Noak Hill. A incredibly close game saw the sides finish level at 3-3 at full-time, Huge Amaral, Rio Mudhar-Hedley and Amin Balit scoring the goals for Kit Out. And it was their side who held their nerve in the shootout, winning 6-5 to progress on.
FENTON TROPHY
In the Fenton Trophy competition, last year's beaten finalists, Old Esthameians, put themselves two games away from repeating that feat, edging past Division Three side Glendale by scoring the only goal of a very close game in Hainault. Despite the two division difference between the sides, a set-piece midway through the second half proved just enough for E's to progress on.
SENIOR DIVISION CUP
The first quarter-final in the Senior Division Cup took place on Wednesday evening in front of a good crowd at Mayesbrook Park and saw Woodford East continue their fine form with a strong 4-0 winning performance against local side Dagenham United. Ben Smith scored twice with Matthew Stacey and Harry Robinson netting the others to book another semi-final place.
SENIOR DIVISION
The big games come thick and fast in the Senior Division and there are now three teams top of the division on forty points, Brimsdown the latest to lead the division on goal difference. They moved top of the pile with a solid win on Saturday away at Crookz United, winning the game 4-0 in Walthamstow to maintain their good form.
After their midweek exploits, Woodford East rounded off the week with a crucial three points haul against another of their title rivals, scoring a late winner against Sporting Hackney to move level at the top on goal difference. Harry Robinson and Andrew Rowe both scored for East, rendering Karim Bukleb's effort as just a consolation in an eventual 2-1 scoreline.
Also sitting level at the top are Jolof Sports who, with a game in hand on those above, moved themselves onto forty points too as they completed a hard fought 3-1 win at home against a dangerous Frenford Development side at Mayesbrook Park. Reon Murray-Whyte scored the Frenford goal but that was not quite enough as Mouhamed Sall's brace and Ndiouga Mara's single gave Jolof the win.
Over in Hainault, FC Baresi were unable to keep their position at the top of the table as they dropped a couple of valuable points in a 2-2 draw away at Blue Marlin. Nicola Rapacchiani and Tyreece Robertson scored for Baresi but bottom of the table Marlin were able to score twice themselves through Jerrel Watkins and Nathan Desnoes to take a massive point.
There was another close game down at Lakeside where May & Baker EC Reserves were the visitors on Saturday to take on Chadwell Heath Spartans, Spartans trailing their opponents by eight points going into the game. But a 1-0 win was secured by Spartans, player-manager Aaron Hunwicks netting that vital goal to move his side up into ninth place.
And there was little between the sides in the division's final game of the day where Walthamstow Reserves were in action with the visit of Dagenham United, the teams separated by four points at the start of the game. That was how it remained by full-time, finishing level at 2-2, Dagenham goals from Arminas Gricius and Shaquille Mathurin handing them a valuable point as they moved outside of the relegation zone.
PREMIER DIVISION CUP
There was more first round action in the Premier Division Cup over the weekend at it was a scintillating display from RCXI as the east division side travelled west to take on G7 in east London, confirming their place in round two with a thumping 10-0 win. Samuel Abundant scored a hat-trick, braces came from Tayo Olasanoye, Sammy Anjorin and Stephen Duberry, with Tosin Blacky's effort finishing things off. They now face Priory Park Rangers in the last sixteen.
PREMIER DIVISION EAST
There were some big developments in Premier Division East where Underscore United dropped points for a second successive game as they were held to a 2-2 home draw against Aveley Under 23s in Dagenham. Aldo Vani and Kyle Brand goals for the visitors were enough to secure a share of the spoils and keep themselves involved with promotion matters.
That outcome meant that Chingford Athletic could cut the deficit at the top and they made no mistake, coming out on top in the Town Mead derby with a 2-0 away win against Waltham Abbey A which saw them move within six points of the top. Ben Leo and Brandon Dillon scored the Athletic goals to hand their side a vital three point haul.
London Park City ensured they remain in seventh place in the standings for the timebeing, coming away 2-1 winners against an improving Freetown side over in Walthamstow. The hosts had Ekhomalomen Pierre to thank for their goal but they couldn't quite extend their winning run to another week as City scored twice to take the points.
There was a five goal thriller in Dagenham to round off the division's action as hosts Wapping entertained their Barkingside Under 23s opposition, the game eventually settled by the odd goal in favour of the hosts, 3-2. That was despite 'Side goals from Ebenezer Gyamerah and Aaron Porter who fought hard for the points.
PREMIER DIVISION WEST
It's as you were at the top of the Premier Division West where Priory Park Rangers' run at the top continues following a hard fought victory by the odd goal against relegation threatened Wanstead. A Nathan Hill effort accounted for one of the Priory goals, his side eventually coming through in a 2-1 success to keep them ten points clear.
CSM London's victory last week against the leaders, coupled with another this week, sees them as the greatest threat still and they were 4-0 winners in the East Ham derby, returning to their old stomping ground of Flanders to beat hosts Athletic Newham Under 23s. Luke McElroy scored two with Bilal Hussain and Lewis Grantham netting the others.
Moving into the top four are North East Lions who took advantage of others around them being out of action to earn all three points against Leyton City in Newbury Park. James Codling and Romelle Pile struck for the Lions with Jahvard Steward netting the City consolation goal in reply, his side remaining eighth in the standings.
DIVISION ONE
The game of the day in Division One came from Wanstead Flats where league leaders Newham Wanderers suffered a third league defeat of the season with a derby defeat against county cup semi finalists, Something From Nothing. Two Derek Adenuga goals saw the visitors come from behind to a Robertson Morais goal to win 2-1, an important result in the context of the title race.
Ilford Reserves are quietly going about their business and climbing keeping their own name very much in the mix, adding another big win this time out with an 8-2 home success against Kwanzas London Sport. That saw the young Foxes make it seven wins in ten this season as they remain in fourth, seven points off the promotion places.
There were also plenty of goals in the game between rivals Renegade and Redbridge Community as those sides went to battle at the Marshes over the weekend and saw Redbridge come from 3-1 down to rescue a point, the match finishing 4-4 at the end of ninety minutes. Wellington Ismael's double for Renegade was supplemented by strikes from Fabio Pereira and James Pam.
The final game in the division was another close affair as Eagles Football saw their game against Atholl finish in a 1-1 score draw in Chingford to give both teams a share of the spoils. There were five points between the sides going into the game and that was how it was remained, Eduardo Gusatu scoring the Eagles goal.
DIVISION TWO
There were plenty of goals in Division Two where Woodford East Reserves moved level on points at the top of the table with a thumping 12-0 success at Redbridge Community Reserves in Hainault. Owen McKelvey put in a four-goal performance, Tom Osmond scored a hat-trick, Jordan Lema netted twice, with Jamie Prime, Asher Cochrane and Rykardo Martin also on the Peacocks' scoresheet.
Sitting just a couple of points behind the leaders, Rainham Phoenix are still in pole position for a promotion place themselves after they picked up a vital 4-2 win against fellow promotion contenders FC Baresi Under 23s at the Britannia. Cameron Shakes scored twice, Sean Tormey and Khairee Ahmad netting the others, rending Baresi goals from Joshua Adu and Hamza Hafesji as just consolation.
Over at the County Ground, there were just two points between the sides as Lymore Gardens Reserves took on their Chadwell Heath Spartans counterparts in Leyton, a close game settled by the odd goal in three. That result went in favour of Lymore, 2-1 winners, despite an Elischua Monanage-Wealthy goal for the Spartans.
DIVISION THREE
It's congratulations to Newbury East in Division Three as they wrapped up a very early league title on Saturday, results around them going in their favour, coupled with a 4-2 home victory against Football Club of Riverside. Camron Coley, Chaka Barnett, Rede El Ghaibouz and Junior Milla efforts taking them over the line, despite visitor goals from Malcolm Ennin and Fayazi Omar-Mohamed.
And that outcome was made possible after Flyers Under 21s, the last side with a mathematical chance of catching the leaders, saw their side slip to a fifth defeat of the season as they went down 2-1 against Jolof Sports Reserves over at King Georges in Romford. That result also saw Jolof move back into second place, albeit with sides below holding games in hand advantage.
There was another big result affecting matters at both ends of the table in Walthamstow where Romford Under 21s made the long journey home with all three points, beating Chingford Harriers in a 3-2 scoreline. Freddie Webb was in great form for the visitors, scoring all three of their goals, Harrier goals from Dushane Powell and Andrew Bowring therefore proving just consolation.
An in-form Buckhurst Way saw their recent run of form come to an end as Melbourne Sports returned home with all three points from Bancrofts, the Mels producing a 5-3 win in what has been an indifferent campaign for them. Joey Butcher, Jack Tyler and Dolapo Gbadamosi all struck for Way but those goals were not quite enough in the end.
DIVISION FOUR
It was a good day for Romford Under 19s who followed their Under 21 counterparts by adding a vital three point haul of their own, winning 8-2 away at Newham & Havering Borough to keep themselves ten points clear at the top of the standings. Alvin Smeraldi scored three, Stephen Toussaint twice with Bradley Mott, Mohammed Yaqoob and Jayden Huseyin also striking for their side. Shaun Lovett and Reece Victory's goals for Borough proved not quite enough.
Third placed Collier Row Wheels will certainly not give up on a push for promotion and they also earned themselves a further three points from their game at Emerson & Upminster Reserves, Tafari Miller scoring both of the Wheels goals to roll them to a 2-0 win. That places Row just a point outside of the promotion places, albeit with more games played and pending table adjustments likely to impact the race.
Photo Credit: Something From Nothing FC / Elise O'Brien