WEEK 23 REVIEW: Round-up of all the league and cup action from the weekend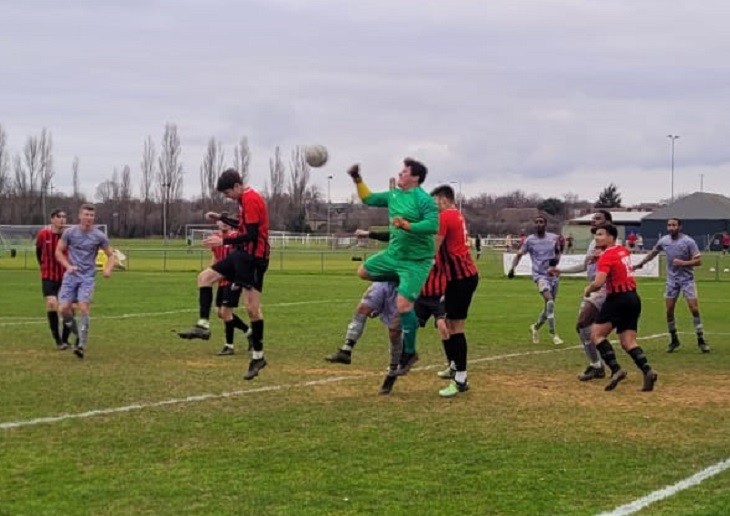 For our latest news and updates, please enter your email address
FENTON CUP
A bright and sunny Saturday welcomed the latest Fenton Cup action with the day's tie from Hainault seeing Fairlop Rovers, Trophy holders, taking on G7 at Fairlop Oak for a place in the quarter-finals. And it was Rovers who put themselves two performances away from a possible final, winning 4-1 through goals from Saul Jackson, Jayden Francis, Jean-Pierre Alexander and Lewis Evans.
SENIOR DIVISION CUP
The first round action in the Senior Division Cup finally concluded on Wednesday night where Oakside were the hosts to an in-form May & Baker EC Reserves side over in Barkingside. And despite going into the game with a fourteen-point deficit, it was hosts 'Side who put themselves into the last eight away at FC Petrocub with a terrific 2-0 win, courtesy of two Darnyl Stanley goals.
SENIOR DIVISION
As if things couldn't be much tighter already at the top of the Senior Division, just two points separates top from fifth after the weekend's action, perhaps the game of the day on paper seeing Sporting Hackney on their travels up the A10 to face Brimsdown at Wormley Playing Fields, the two sides both in good form. A predictably tight game ended in a 0-0 goalless draw to keep both sides well in the frame.
That result meant FC Baresi could return to the top of the table if they were to pick up all three points at home to Rapid Chingford in Ware, a fixture played only a couple of weeks back in the cup which saw the visitors take the spoils. But FC Baresi made no mistake this time around and secured a vital three points in a 2-0 win, Yannick Kamanan and Paul Benfield both netting crucial goals.
County cup semi-finalists, Woodford East, are up into third place having now made up their games in hand on the sides above and recorded win number twelve this season on Saturday with a 4-0 away success against Blue Marlin. Frank Glock, Harry Robinson, Ben Smith and Connor Brathwaite all found the back of the net to put them within a point of top spot.
A thrilling game over at Barking & Dagenham College pitted seventh placed Lymore Gardens against hosts Dagenham United in a game which saw both sides produce a six-goal contest, the match ending in a 3-3 draw at full-time. Liam-Taylor Aguiyi scored twice and Shaquille Mathurin netted the other for Dagenham to put them a point closer to the safety zone.
Just around the corner at May & Baker, eleventh placed Kit Out London were in town to take on a May & Baker side riding high in the table and coming off the back of some very good league results. But it was Kit Out who produced the goods, edging a very close game 3-2 by the odd goal as Diego Gavilanes netted two and Chris Micoli one. Lee Lashley struck both Baker consolation goals in reply.
Chadwell Heath Spartans went into their home game with Oakside with a three point lead over their opponents prior to kick-off, both sides lurching a little close to danger for their liking. But Spartans gave themselves a little breathing space after winning 2-1 as Jonathan Evans and the in-form Elie Fanga both scored to hand their side three points.
Over in Ilford, Frenford Development continued to rack up vital league points and, with games in hand, could still threaten to break into the picture towards the top, aided by their most recent success on Saturday, a comprehensive 5-1 win against Crookz United. Joel Opara scored two with Michael Clayman, Shanlon Thomas and Reon Murray-Whyte also on the scoresheet.
FC Petrocub also sit very comfortably in the middle of the table and their weekend's activity saw them at home against Walthamstow Reserves at Noak Hill. And the London Cup semi-finalists secured all of the points with a 3-1 success on the day, a result which places them just two points behind the sides above.
PREMIER DIVISION CUP
London Cranes are into the hat for the last sixteen of the Premier Division Cup after producing a terrific victory on Saturday to beat promotion hopefuls AEK London at Flanders. Cranes overcame an eight point deficit on their opponents to be 3-1 winners on the day, setting up a second round clash away at North East Lions in the coming weeks.
PREMIER DIVISION EAST
The long awaited clash of the top two in the East division saw top of the table Underscore United make the trip up to Town Mead on Saturday to take on fellow unbeaten Chingford Athletic. As expected, this proved to be a tight contest with little between the sides and it was defences on top in what finished as a 0-0 draw, both sides thus remaining unbeaten for the time being.
It was goals aplenty in the six-pointer at the bottom of the table where Freetown finally secured their very first victory as a club, defeating Cowley Community in a quite incredible 7-5 win. Chris Wright netted two, George Anthony and Michael Taylor scoring the others for Cowley but those proved in vain as Donald Adaakwah's four goal performance led the way for Freetown, accompanied by goals from Reece James, Ekhomalomen Pierre and Morgan Emmett.
Over at Parkside, Aveley Under 23s picked up a vital three points as they took on previously second placed RCXI to continue their late promotion assault. The young Millers had Finlay Shipp, Bobby Reeman, Aldo Vani and Ben Warren to thank for their 4-1 win, each scoring to lead the team to victory.
Seventh and eighth placed London Park City and Wapping started the day two positions and five points apart from each other as they met at Seven Kings High School. The points gap remained after ninety minutes with the teams battling to a 1-1 draw though the point was enough for Wapping to climb a place as a result.
PREMIER DIVISION WEST
Continuing the theme of top of the table games, this extended through into the West division where the leaders, Priory Park Rangers, were in action with a tough looking trip to Beckton to take on CSM London. With just a single league defeat to their name, it was CSM who picked up a crucial three points, winning 2-0 with goals from Bilal Hussain and Luke McElroy.
With other sides around them in cup action, North East Lions took the opportunity to move closer to the sides above as they earned all three points in the Walthamstow derby game against Wanstead who made the short hop across the Crooked Billet. A goal apiece from Kojo Asare and Jemel Richards were enough to take a narrow 2-1 win for the Lions.
Over in Dagenham, Soul were the biggest movers of the day in the division, climbing two places into sixth as they produced a terrific 6-1 winning performance against Leyton City. Jahvarn Steward netted his customary goal for City but his efforts proved in vain as the hosts scored six of their own in an emphatic win.
DIVISION ONE
Leaders Newham Wanderers returned to winning ways on Saturday, producing a 5-2 away winning performance at Hackney Marshes against Renegade to retain a seven point gap at the top of the table. Manuel Sanuo scored two, Addae Paponette and Lukas Ziausys netting the others while Shivaan Naido and Wellington Ismael were both on the Renegade scoresheet with consolations.
Second placed Redbridge Community are keeping up pace with the leaders and ensured they kept their strong position by winning comprehensively 7-0 at home against Kwanzas London Sport on Saturday at Mayfield School. That was with their ninth win in eleven so far this season and, with games in hand, they could move top if they can convert those to wins.
Ilford Reserves took full advantage of sides around them being out of action to move up into fourth spot in the table, coming away solid 5-1 winners from Newbury Park against Old Esthameians. That was their sixth win in just nine games played so far which presents an opportunity for further climb in the coming weeks.
The other still amongst the race for promotion are Unitey and, after their excellent performance last weekend, produced another victory this time around with a 2-0 home success against Eagles Football over in Loughton. Mohammed Abaker and Eddy Litambolo were the men on target with those crucial goals to keep their side sitting third.
DIVISION TWO
Things are starting to tighten up towards the top of Division Two where Royal Forest moved second on goal difference following the weekend's results, the Trees taking advantage of performances around them by earning a 4-2 away win at Chadwell Heath Spartans Reserves. Jeremy Da Silva and Amadu Jalloh scored the Spartan goals but those proved not quite enough in the end.
That result was made all the more important as previously second placed Woodford East Reserves missed the chance to go level on points at the top as they tasted defeat, 2-1, at home against Old Barkabbeyans at the Marshes. Simeon Peter's goal for Old Barks proved pivotal in earning them the points, despite Jordan French's goal for the hosts.
Those results were also kind to FC Baresi Under 23s who got back to winning ways and now sit just three points off the promotion places following their 6-1 win at the Britannia against bottom of the table Barking Potters. Hamza Hafesji scored a hat-trick, Joshua Adu netted twice and Junior Ouattara also scored for the hosts.
Completing the action in Division Two, the east London derby match between St Francis and Lymore Gardens Reserves produced ten goals at the Flats with Lymore benefitting from the majority of those, winning the game 7-3 to climb into seventh. Johneli Lungikisa's hat-trick, Jordan Monk's brace and singles from PJ Marcus and Warren Isoka made the difference for Lymore on the day.
DIVISION THREE
In-form Buckhurst Way continued their excellent run of form, following up their big cup win last time out with a vital victory on Saturday, beating relegation rivals Romford Under 21s in a 3-1 scoreline to move four points clear of the dropzone. Tom Rogers, Michael Bain and Dolapo Gbadamosi all struck with goals, rendering Naydan Brown's goal as just consolation for Romford.
Over in Ilford, a crucial battle between two promotion rivals saw second placed Frenford A at home against Glendale. After a goalless first half, the Dales took a lead through Maryis Shamku's penalty which was moments from being enough for three points. But a late, late leveller from Kishawn James meant the hosts took a valuable point in a 1-1 draw.
Dagenham United Reserves also took big strides in moving clear of any relegation danger with a valuable three points at home against bottom of the table Football Club of Riverside. Abba Emejuru and Luke Willson both found the back of the net for Dagenham as they held on to win 2-0 and moved four points clear of the relegation zone.
DIVISION FOUR
In Division Four, Romford Under 19s have moved ten points clear of the rest in the league after producing a important performance in beating fellow promotion contenders, Collier Row Wheels, in Dagenham. Adem Conaty struck with the Wheels goal but two Stephen Toussaint goals from the visitors handed them a vital three points in a 2-1 scoreline.
Old Esthameians Reserves' meteoric rise in the past few weeks has seen them climb up into fourth spot in the standings, aided by their most recent success over the weekend which saw them take all three points against Emerson & Upminster Reserves. Tyler Huggett was the scorer with the Emerson goal once again but E's were 2-1 winners in the game to take their wins tally to six for the season.
The biggest climbers in the division were West Essex Under 23s who put some poor form behind them to move from second bottom up to seventh following a 5-3 home victory against Avondale Rangers on Saturday. Mathew Horan's hat-trick proved pivotal, Ciaran Farrell-Christian and Freddy Todd scoring the others for West. Billy Elliott, James Whitbread and Jack Biggs goals accounted for Rangers' efforts.
COUNTY CUP
It was another big day in the Essex County cup competitions with the day's Essex Junior Cup quarter-final tie seeing Something From Nothing taking in a journey up the A12 to the rural surrounds of Silver End United. And it would have been a great journey home as they once again overcame higher division opposition, winning 4-2 to put them through to a semi-final at home to Heybridge Swifts Under 23s.
It was less good news from the other county cup tie played which saw semi-final action in Hainault between Olympian League side Manford Way Reserves and Rainham Phoenix as those sides battled for the right to take on Felsted in the final. And it will be Manford who have that honour, winning 2-0 on the day to take their place in the final.