WEEK 22 REVIEW: Round-up of all the league and cup action from the weekend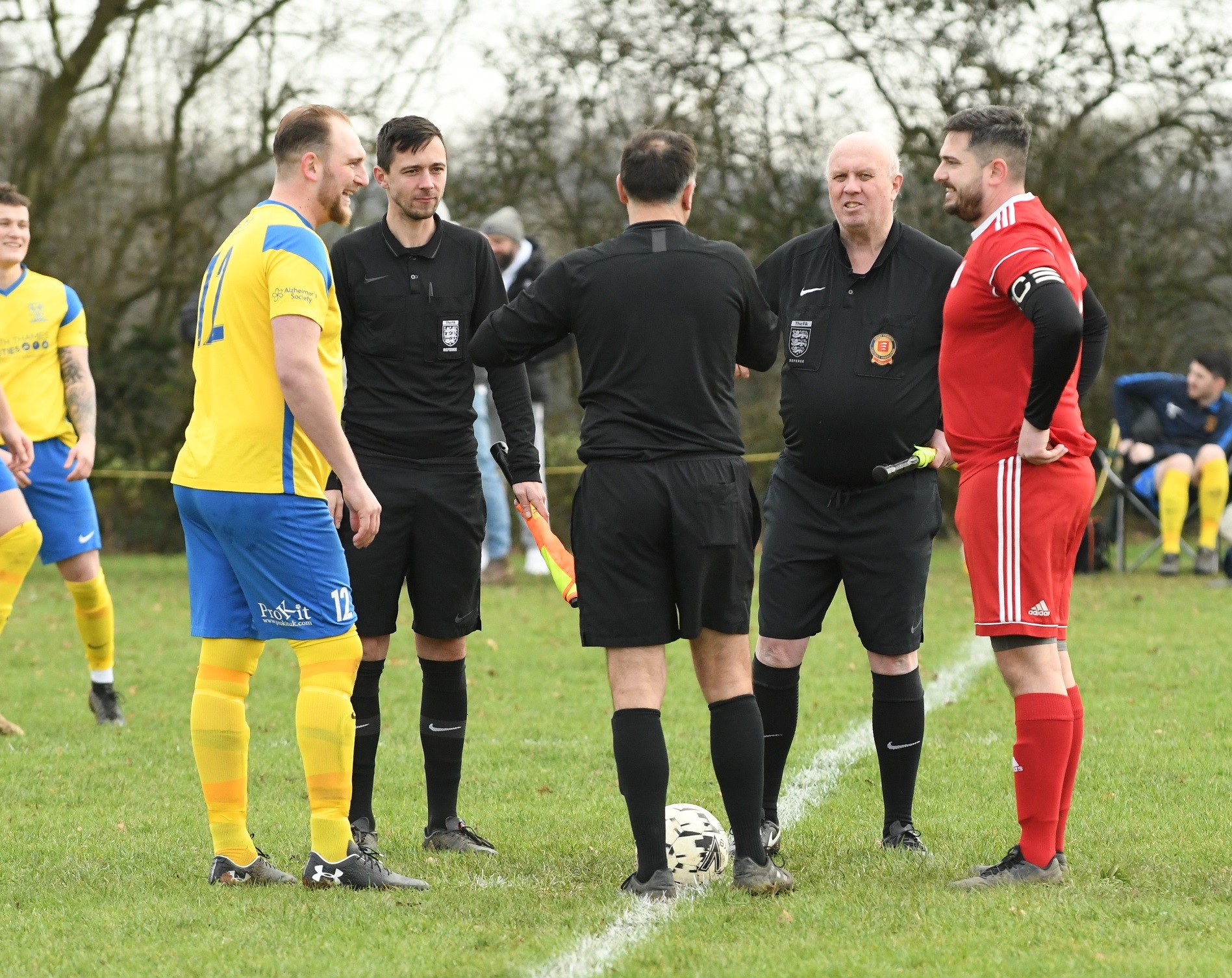 For our latest news and updates, please enter your email address
FENTON CUP
As we finally had a weekend of postponement-free fixtures, the Fenton Cup was once again on the list with three ties, beginning with an-Premier Division tie at Parkside where Aveley Under 23s reached the last sixteen with a shootout win against Wapping as the sides finished level at 1-1, Finlay Shipp the scorer for the hosts. A 2-0 shootout win proved enough for the Millers to move on where they now face Woodford East.
In the first of two last sixteen ties which took place, another penalty shootout was required in the game at Peter May where Crookz United and Lymore Gardens couldn't be separated in the all-Senior clash, the game ending goalless at ninety minutes. Despite a thirteen point deficit in the league, it was Crookz who secured their quarter-final place with a 4-3 win on spotkicks.
Over at The Drive, another quarter-finalist was confirmed as Dagenham United were the visitors to take on Frenford Development with both sides eyeing a good run in the competition. A close game was settled by the odd goal in three with Carlos Barahona and Damilola Olaiya efforts for Frenford taking them to a 2-1 victory, overcoming Shaquille Martin's effort for United.
SENIOR DIVISION
It's as you were at the top end of the Senior Division but the gap at the top is now sitting at just a point after Brimsdown earned victory from their game in hand, reaching the midway point in the season with a 2-0 win away at Kit Out London over in Noak Hill. That success confirmed an eleventh win of the campaign, now just that solitary point behind the leaders, Jolof Sports.
Just a single point behind the top two are FC Baresi who ensured they kept pace with those above after edging a close game in Hainault with a 2-1 win against Oakside. Yannick Kamanan was the scorer for both of the Baresi goals as his efforts ensured a vital three points in their push for glory this season.
It was also a great afternoon for fourth placed Sporting Hackney who still have things in their hands with games in hand on the sides above, putting one of those to great effect with a 6-0 comprehensive win at home against co-tenants Walthamstow Reserves at Wadham Lodge. Joel Akuwudike struck a hat-trick, Percival Winter netted two and Jordan Brown grabbed the other goal.
Fifth placed Woodford East continued their positive recent form with an important victory, coming from behind to beat another in-form side and fellow county cup semi-finalists, FC Petrocub, in their match at Mabley Green. East had Harry Robinson to thank for his two goals, Billy Barr grabbing the other goal to turn the game around in a 3-2 success.
Over in Dagenham, Chadwell Heath Spartans were the visitors to face a May & Baker EC Reserves side still harbouring hopes themselves of affecting matters at the top end of the table, both sides coming off the back of wins last time out. But it was Bakers who will have left the happier of the sides on Saturday, winning the game 2-0 to keep within reach of those above.
There were important matters affecting the sides at the bottom end of the table too with the bottom two sides, Rapid Chingford and Blue Marlin, facing each other in a six-pointer at Lakeside. An eight-goal thriller eventually went the way of the hosts, Rapid, who completed an important 5-3 victory through four goals from Alin Cosma and Andrei Boga's single leaving them two points away from safety.
PREMIER DIVISION EAST
It was first versus fourth on Saturday as leaders Underscore United came through for a vital three point haul in Dagenham, defeating Fairlop Rovers in a 3-2 scoreline to make it eleven wins on the bounce in the league. Jean-Pierre Alexander and Aodan Downer both scored for the Rovers but those efforts were not quite enough to take anything, remaining fourth.
In Walthamstow, it was victory in a local-ish derby game for Chingford Athletic who put themselves up into second ahead of next weekend's humdinger with the leaders, coming away 6-2 winners against Freetown. Billy Woods scored a hat-trick to lead the way for Chingford, Kane Patmore scoring twice and Ben Leo netting the other. Morgan Emmett and Reece James struck with the 'Town consolation efforts.
PREMIER DIVISION WEST
There was a massive result in the title race in Premier Division West as Priory Park Rangers moved themselves seven points clear of the rest having earned a terrific 2-1 away success against second placed AEK London. Ben Botterill and Shepherd Ndlovu netted the all important goals and could put one hand on the trophy next weekend as they take on CSM London, a side with enough games in hand still to catch Rangers.
In action towards the bottom half of the division, Leyton City are now up into sixth place following the weekend's results as they ended a short resurgence in form from Athletic Newham Under 23s to earn all three points in a 2-1 away win. Jahvarn Steward and Liam Kennedy both found the back of the net to confirm win number three this season.
Another vital battle in the race to avoid the drop took place at Wadham Lodge where hosts Wanstead were looking to turn their fortunes with a home clash against G7. And a close game it proved but the one vital moment in the game saw G7 net the fixture's only goal in a 1-0 scoreline, moving themselves four points clear of their opponents.
DIVISION ONE
A spanner was very much thrown in the works for the Division One title race on Saturday as the league leaders, Newham Wanderers saw their lead at the top cut to seven points after slipping to a big 3-0 defeat at home against Unitey. Bubintende Masadi was the hero on the day for the visitors, scoring all three goals to ensure his side stays in the mix for promotion.
And two of the other teams affected by that result were in action against each other where the young Foxes of Ilford Reserves faced a home game against second placed Redbridge Community at London Marathon, both teams still in the mix themselves. A five-goal thriller was edged by Redbridge at full-time, the visitors winning the game 3-2 to cut the gap on the leaders.
Things have also become a lot tighter at the bottom of the table where Kwanzas London Sport moved off the bottom spot after securing a first league win of the season in their game away at Eagles Football in Dagenham. Kwanzas were 2-1 winners in the game, that result moving them up to tenth and just a point from safety now.
There was another vital result affecting the sides in the lower reaches as Atholl and Renegade went to battle, just a point separating the sides going into the game in eighth and ninth respectively. But it was the hosts, Atholl, who eventually prevailed to take all three points, winning 2-1 despite a Nelson Benga goal for the visitors to bag a third league win of the season.
DIVISION TWO CUP
The penultimate first round clash in the Division Two Cup was completed over the weekend with last season's Division Three Cup finalists, Old Barkabbeyans, seeing their hopes of another run dashed as they were edged out by the odd goal in a 3-2 defeat at home against Royal Forest. Joe Meader scored twice and Frank Carver once for the Trees, rendering Michael Ryder's brace as just consolation.
DIVISION TWO
Back in the league action, with the leaders away on cup duty, Woodford East Reserves saw the chance to slash the gap at the top to just three points as they edged a close game with fellow promotion hopefuls, FC Baresi Under 23s. Maamoon Khan struck both of the Baresi goals but two Tom Osmond strikes in reply, plus a Taylor McLaughlin effort, earned the Peacocks a 3-2 success.
Ahead of their big county cup semi-final next weekend, Rainham Phoenix warmed up with a strong performance in the league as they came away comprehensive 5-0 victors from their away clash against Barking Potters in Dagenham. Josh Perry scored twice, adding to goals from Billy Broadbridge, Sam Springall and Cameron Shakes, moving their side up to third in the process.
In the battle of the reserves, hosts Lymore Gardens Reserves were up against their Redbridge Community Reserves counterparts on Saturday at the County Ground, the game producing seven goals. And it was Lymore who bagged the lions share of those goals, winning the game 5-2 to ensure themselves of three points and four points clearance from their opposition in the standings.
DIVISION THREE CUP
The Division Three Cup produced a real cupset as ninth placed Buckhurst Way pulled off a stunning victory to beat promotion chasing Jolof Sports Reserves down at Bancrofts Rugby Club. Way were 2-1 victors in the first round tie to book themselves an away quarter-final against Football Club of Riverside.
There was no such drama in the competition's other tie where Newbury East made safe passage into the last eight, producing a nine goal winning performance against Dagenham United Reserves. Reda El Ghaibouz scored four goals and Junior Milla netted a hat-trick to lead the side to the win, Samuel Reynolds and Kai Wade goals completing the 9-2 success. Jordan Murray-Bruce and Adikalie Camara scored the United goals in reply.
DIVISION THREE
There was a huge result in the promotion race at the top of Division Three where Frenford A moved into second place in the table after another big result, this time defeating Chingford Harriers in a 2-1 scoreline in Walthamstow. Edwin Ohemeng-Manu scored the Harriers goal but Frenford strikes from Olayinka Sanusi and Keenan Gravillis earned their side the vital win.
The Melbourne Sports rejuvenation continues as they completed a second win on the bounce to move up sixth in the standings, picking up all three points in their home game against Football Club of Riverside at Fairlop Oak. The Mels were 2-0 winners on the day to secure a seventh win of the season so far.
DIVISION FOUR
Romford Under 19s have moved seven points clear in their title conquest this season, making a successful trip to Loughton where they were taking on Avondale Rangers at Loughton Playing Fields. Tyler Wilson and James Whitbread both scored for Rangers but those efforts proved not quite enough as Romford won the game 4-1, their ninth league success.
Third placed Collier Row Wheels saw their hopes derailed somewhat as they could only muster a point from their trip to Harris Academy to face bottom of the table Newham & Havering Borough. Ryan Richards, Nathan Elgie and Jack Stockdale scored the Row goals with Andrew Elie and Alexander Gerada netting in reply for Borough, their fifth point of the season.
After a good run of form, Old Esthameians Reserves have given themselves a real shift up the tables and now sit sixth after they produced win number five this season, defeating Flyers Under 23s in a 3-1 scoreline in Romford. That saw E's cut the gap on their opponents to just a single point, having moved up a place on the back of that result.
It was ninth versus tenth in the day's final league game where Emerson & Upminster Reserves went into their home game against West Essex Under 23s trailing by three points. But that was slashed to nothing by full-time, Emerson moving level on points on the back of a 2-1 success, secured largely by Tyler Huggett's brace with Franky Ikoko scoring for West in consolation.
COUNTY CUP
It was a day of mixed results for our clubs in outside competitions though Jolof Sports provided the highlight of the day with another big win in the London Senior Trophy, moving into the quarter-finals of the competition following a 2-1 away success against Cockfosters Reserves. They now face step 6 side, Croydon, in the last eight.
In the Essex Junior Cup, CSM London went so close to pulling off an incredible result against Isthmian League Development side Heybridge Swifts Under 23s, leading 1-0 going into the final stages of the game. But Swifts fought back to level and then steal a winner in the dying moments to win the tie 2-1.
It was a very similar outlook up in rural north Essex where Snaresbrook were in semi-final action in the Essex Junior Trophy, taking on a Felsted side from the Mid Essex League. A game of surprising few chances saw defences very much on top, the game ending goalless to go into extra-time. And with seconds to go, Felsted headed in from a set-piece to win 1-0 and earn their final place.
In the London Junior Cup, the final representation from the league saw Soul travel across to Wood Lane in their fourth round clash which proved to be yet another close run fixture. Ultimately it was the league side who were edged out, Soul losing 2-1 to end their interest in the competition for another year.