WEEK 20 REVIEW: Round-up of all the league and cup action from the weekend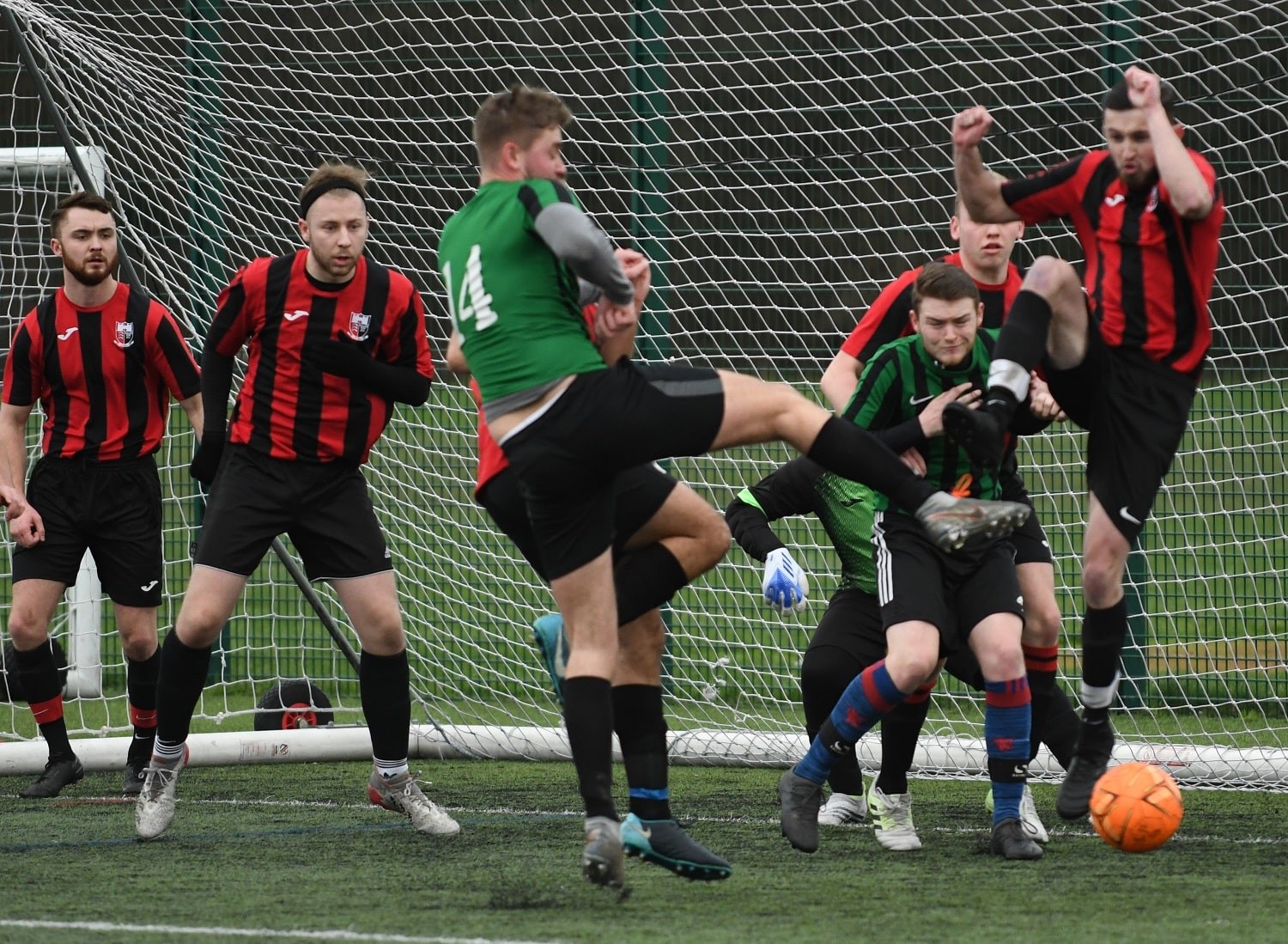 For our latest news and updates, please enter your email address
FENTON CUP
Another weather affected weekend reduced the fixture list by around half but didn't stop progress to the Fenton Cup where Oakside avoided any potential cupset with a 3-1 away success against London Park City, renewing old rivalries at Seven Kings High School to put themselves into the hat for round two.
Perhaps the tie of the day came from Mabley Green where one of the long awaited clashes between league high-flyers Brimsdown and FC Baresi saw those sides meet in the Fenton Cup over the weekend. With both sides locked very tight in the table, the game was predictably close and finished level at 0-0 before hosts Brimsdown eventually took the tie in the shootout, winning it 4-3.
In other round two action, FC Petrocub were in home action against a Walthamstow Reserves sides they had faced in the Senior Cup less than forty-eight hours prior. It was the hosts who ensured they will be in the quarter finals, coming away 6-1 winners in the tie, setting up another mouth-watering clash against Brimsdown.
SENIOR DIVISION CUP
The first two Senior Division clashes of the season began in midweek as, on Wednesday night, Jolof Sports were in home action against Kit Out London, both sides keen to make progress into the quarter finals of the competition. On a cold evening, it was hosts Jolof who ended the happier of the teams as Elhadji Faye, Ndiouga Mara and Mody Gaye all struck in a 3-1 success, Chris Micoli scoring the Kit Out consolation.
On Thursday night, Walthamstow Reserves were the home side in their first round tie as they hosted FC Petrocub for the first part of their cup duet, the teams facing off at Peter May Sports Centre. Sakiou Jatta struck for the young Stow side but his effort proved in vain as FC Petrocub scored five goals of their own in a 5-1 win.
DIVISION ONE CUP
There was Division One Cup action for the first time this campaign on Saturday and starting the ball rolling were Eagles Football and Newham Wanderers who kicked things off at Castle Green. League leaders, Wanderers, went into the clash as the bookies' favourites and met expectation with a 3-0 success putting them into the quarter finals.
SENIOR DIVISION
The league action began on Friday night and saw Lymore Gardens continue their improved form for this new year with a solid performance at Coles Park against Rapid Chingford. Andre Rashford was in fine form, scoring a hat-trick, Dylan Roberts and Daniel Muamba netting the others in a 5-2 win. Alin-Cristian Cosma and Andrei Boga scored the Rapid goals in reply.
There was a huge result for relegation threatened Crookz United on Saturday afternoon as they made the trip to Lakeside to face a Chadwell Heath Spartans side sat five points ahead of them in the table. But that gap was cut to just two points as Crookz completed a 2-0 success, Andrew Appiah and Anselmo Gomes goals doing the business.
In the top half of the table, an equally important game for different reasons saw May & Baker EC Reserves in home action with the visit of Woodford East to Dagenham. Baker went into the game knowing that games in hand could see them move ahead of their opposition but they went down 2-1 eventually with Harry Robinson netting for East and Prince Alozie for Bakers.
PREMIER DIVISION EAST
Just the one fixture survived the elements in the Premier Division East and that game came from Walthamstow where Freetown's quest for a league win goes on after they were beaten by second placed RCXI in a 7-0 scoreline. Omololu Onabolu and Tayo Olasanoye both scored twice while Tobi Adebanjo, Tosin Blacky and Daniel Williams goals completing a comprehensive victory.
PREMIER DIVISION WEST
The West division was equally affected by the British weather and it was just the game between second placed AEK London and Wanstead that managed to dodge the elements at Mabley Green. AEK took full advantage of them being the only side in action, cutting the gap at the top on the leaders to just a point with a 6-1 victory, albeit from one game more played.
DIVISION ONE
In Division One, it was 3G to the rescue once again as Unitey were the hosts to a visiting Kwanzas London Sport side, the latter fighting to get away from the bottom of the table. And despite going into the game with a fourteen point deficit, Kwanzas managed to take a point in this one as it finished 3-3, Glody Blessing, Bubintende Masadi and Michael Akeredolu striking the Unitey goals.
DIVISION TWO
Royal Forest have made their move up to second spot in the table in Division Two, taking advantage of inactivity around them and taking home all three points from their trip to Old Barkabbeyans on Saturday. Forest were 4-2 winners in Barking with Joe Owers scoring twice, Josh Trainor and Frank Carver netting the others.
Also on the move up the standings were Woodford East Reserves who were the other side in action in the division as their late shifted game saw them take on Redbridge Community Reserves at Mabley Green, producing a seven goal thriller. Tom Osmond's brace and singles from Will Osmond and Jordan Lema were the difference, edging the game by the odd goal in a 4-3 win.
DIVISION THREE
In Division Three, there was a big result affecting things in the promotion race where Frenford A put themselves well into the mix following a big home result against Jolof Sports Reserves in Ilford. Damilola Olaiya scored twice and Chad-Troy Payne once as Frenford won 3-2 on the day to move level on points with their opponents.
There was a big performance from Buckhurst Way also who picked up a vital three point haul at home as they came out winners against Dagenham United Reserves in a 3-1 scoreline to swap places in the table, moving outside of the relegation zone. A goal apiece from George Martin, Will Asenso and Dolapo Gbadamosi were the difference to give Way the points.
Over at Westlands, the final game of the division saw Romford Under 21s attempting to make a move up the table with the visit of Melbourne Sports, the teams starting two points apart at the start of the game. But the Mels were able to move that lead to five points by full-time with a 5-2 victory.
DIVISION FOUR
All four fixtures survived in Division Four with the big results coming from the top end of the division where Romford Under 19s, in pole position as thing stand, dropped vital points in their home clash against Old Esthameians Reserves. A 2-2 draw was the outcome as Romford remained four points clear at the top of the table.
Over at Robert Clack in Dagenham, it was second versus third in an exciting game between Collier Row Wheels and Fairlop Rovers Reserves. Row were ahead early but Rovers levelled before the break and looked to have won it in the second half before a stoppage time Row strike ended it 2-2, Harry Gilham and Jack Stockdale finding the back of the net for them.
Emerson & Upminster Reserves have improved their chances of avoiding a bottom two finish as they secured a third league win of the season over the weekend with a terrific home win against Avondale Rangers, despite trailing their opponents by eight points going into the game. Tyler Huggett and Eugene Nyandu-Opoku both scored twice and Zuriel Twum once while Jake Clarke and Peter Moles struck the Rangers consolation goals.
The other game affecting matters towards the bottom of the table saw West Essex Under 23s taking on Newham & Havering Borough in Walthamstow. The two teams were well matched on the day and the fixture ended in a 1-1 draw as both sides shared the spoils, Javen Cole's goal for West equalled by Andrew Elie's effort for the visitors.
COUNTY CUP
It was a great afternoon for the league in county cup competitions which saw two of our clubs move into semi-finals in the Essex Junior Trophy. Snaresbrook were up against Basildon Town A in their clash in Loughton and put in a terrific performance to come away with a 4-1 win under their belts, setting up a trip to Felsted next month.
And it was a similarly impressive afternoon for Rainham Phoenix who moved into their first county cup semi-final with an away victory against Mid Essex League based side Hutton B. Rainham secured their place in the last four with a 5-3 win and will now take on Manford Way Reserves in that battle for a spot in the final.
In the day's Essex Junior Cup competition, there was another cupset as Division One's Something From Nothing came away victorious against higher league opposition, defeating Aveley Under 23s at Parkside in blustery conditions. SFN's 2-1 win sees them confirm a place in the upcoming quarter finals and will head to Silver End in a fortnight.