WEEK 18 REVIEW: Review of Saturday's league and cup action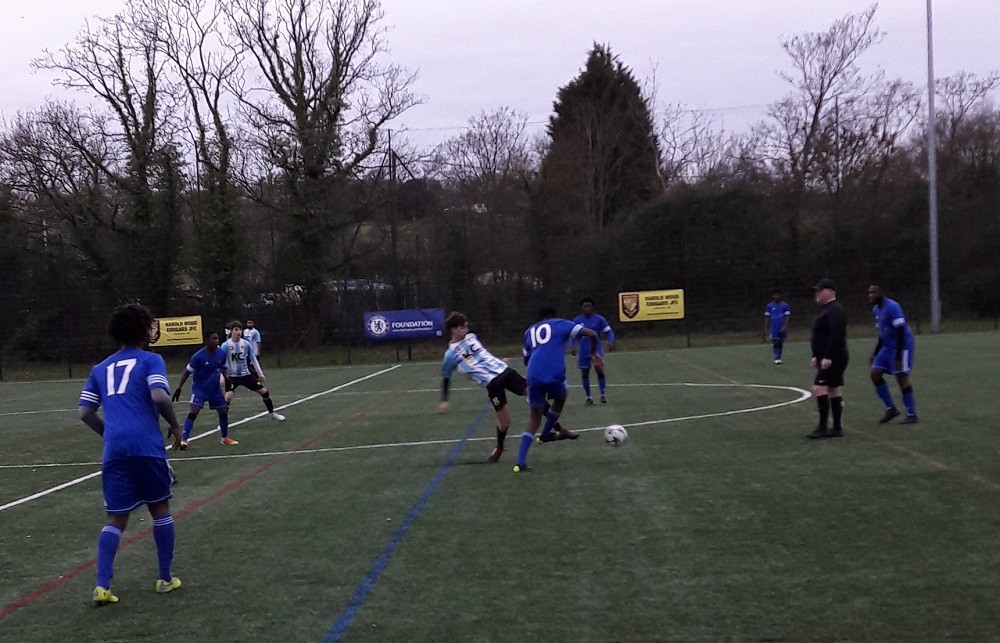 For our latest news and updates, please enter your email address
FENTON CUP
The third round of this season's Fenton Cup got underway at the weekend with ten teams searching for a place in the last sixteen of the competition. There were almost some big shocks as Tower Hamlets Reserves from Division Three led on multiple occasions against Premier Division East Ham Inter, only for top flight outfit to win it late on. Adam Bessadi scored a hat-trick for Inter with Dalbir Basi and Erik Rusnak also netting in thrilling 5-4 win.
Goals were also the order of the day in another high scoring tie between sides from different divisions as Chingford Athletic Development looked to overcome that deficit with a tie away at Forest Green from Division 1. Joshua Thompson scored twice for Green with Josh Kasongo and Kieron O'Donoghue also on target to help their side to a narrow 4-3 win.
The other side looking to overcome a division difference were Lymore Gardens from Division One who had a home tie against top flight London Cranes to look forward to. Cranes made no mistake however as they put six goals passed Garden with Abubakar Abdulahi and Mathius Sendawula both scoring twice and one each from Bruno Boris and Valengtine Ngaham completing a 6-1 victory.
Also making the draw for the last sixteen, Chigwell extended their great run of form in recent weeks with a home win as they took on fellow Division One side Rapid Chingford in Hainault. Ionut Pumnutiu got on the scoresheet with the Rapid goal but his effort proved in vain as Chigwell ran in four goals of their own in an eventual 4-1 win for the hosts.
Completing the day's Fenton Cup action, there was an all Senior Division clash which saw two cup specialist sides go head to head with Docklands Albion making the trip to Hainault to face Grove United. Albion put in a good performance, running out comfortable 4-0 winners as Samuel Daminabo scored twice with further goals coming from the boots of Kris Brown and Jack Blackburn.
DIVISION 2 CUP
There were two completed ties in the Division Two Cup competition where the league leaders, Eastside, booked their place in the quarter finals with a hard fought win by the odd goal in five against bottom of the table South Marsh United. Timor Farazi scored twice for Marsh but Eastside efforts from Jason Liu, Idris Shittu and Jonathan Odutolu won it 3-2 in favour of the visitors, setting up a mouth-watering quarter final against Chingford Athletic Development.
Over in Romford, ninth and tenth placed Upshire Forest and Flyers met, both attempting to keep their ambitions of cup glory afloat with a decent run in the competition. Jason Collins scored twice for the hosts Flyers but a Thomas Lawn brace and single strikes from Leighton Hughes-Franklin and Callum Godrey helped Upshire secure a 4-2 win and a place in the quarter finals.
DIVISION 3 CUP
Four sides were in action in the Division Three Cup competition first round with Flyers Reserves getting back to winning ways as they travelled to Walthamstow to face Chingford Harriers. Jayden Gustave scored twice with Rohan Francis and Dymon Labonne also scoring for Flyers, their efforts rendering Harrier goals from Dave Birchnall and James Morris as just consolation in the end with the match finishing up at 4-2.
Joining them in the quarter finals will be Glendale as the Dales opened 2019 with a strong first half performance, leading 4-0 at the break against Forest Green Reserves through goals from Abbas Khabbasz, Valter Correia, Zack Clark and Oluwaseyi Agboola. Green mounted a comeback through goals from Joshua Thomson and Tommy Whelan but Mouhamed Gueye's fifth for the Dales confirmed them a 5-2 win.
SENIOR DIVISION
ACD United extended their lead at the top of the Senior Division but a point but missed the chance to make that a three point gain as they dropped a couple of points in an away draw at Singh Sabha Barking on Saturday. Liam Porter got the ACD goal in that 1-1 draw to help his side to a seven point lead at the top.
With games in hand, Jolof Sports are fast closing up that deficit and moved third at the weekend as they made it seven wins in nine with a comfortable 4-1 win away at London Park City. That victory leaves them handily place with still six games in hand over the league leaders entering the second half of the campaign.
There was also a win over the weekend for Blue Marlin who moved themselves away from relegation fears with a win against seventh placed West Essex Reserves at home in Newbury Park. In a game of five goals, Marlin edged it over ninety minutes, winning 3-2 to pick up a hard earned fourth league win, moving them to within just a point of their opponents.
DIVISION ONE
Much like the Senior Division, the top of the Division One table is shaping up for a barnstorming run-in to the season with as many as five clubs having a big say in what might happen up there. Chingford Athletic Reserves moved level on points at the top and with a game in hand as they were big 6-1 winners in the Chingford derby against Chingford United. Archie Stojic scored twice with Jack Knowles, Billy Harding, Lashian Xavier-Johnson and Ralph Vincent-Joseph scoring the others.
At the other end of the table, Wapping pulled themselves out of the relegation zone as they faced fellow strugglers Melbourne Sports in a huge six pointer at Hackney Marshes. Shaiam Islam, Adel Mouaden and Mohammed Hussain scored the goals that helped Wapping to an important 3-0 victory that saw them move above their opposition.
DIVISION TWO
"Desmonds" were the order of the day in Division Two on Saturday as a pair of 2-2 draws ensued in the two league clashes. In the first of those matches, it took an almighty comeback from Cowley Community for them to rescue a point after Ricardo Teixeira and Liam Tormey goals had given Rainham Working Mens Club a 2-0 lead. But a James Allen effort helped Cowley rescue a draw in the end.
The division's other 2-2 draw was attained in the clash between FC BKT and Old Esthameians in Dagenham as the two sides locked in mid-table looked to improve on recent form and make some strides further up the table. But the sides couldn't be separated with Chris Booker and Thomas Boomsma both neeting for Old E's to take a share of the spoils.
DIVISION THREE
The Division Three leadership changed hands once again this weekend for about the umpteenth time as Custom House United resumed their pre-Christmas heights following a big win at home against St Francis. Bradley Routledge and Glenn Levy both scored twice with a Robert Wooster effort rounding off a 5-0 victory for the leaders.
Moving up to third place in the table were Frenford A who are now five points back but with a game in hand, their position aided by Saturday's 2-1 win over fifth placed Brook City in Ilford. A goal from each of Olayinka Sanusi and Adam Andrade were enough to edge this match-up, earning Frenford an eighth league win of the campaign.
Not too far away, over in Hainault, another of the promotion chasing sides, Royal Forest, were also in action as they took on an unpredictable New Star Soccer side who certainly can mix it with the best on their day. New Star goals from Lheureux Menga, Tyrese Sutherland and debutant Amod Adeyemi proved a match for Forest as the two sides had to settle for a 3-3 draw and a point apiece.
DIVISION FOUR
Sungate Reserves got back to winning ways over the weekend, taking full advantage of leaders Avondale being out of action to return to the top of the league. Brentwood United Reserves were the side to feel the backlash of that Sungate defeat last time out as Isaac Idu scored twice and one each from Darren Reid and Danny Downer completed a 4-0 win.
Taking advantage of that result also were Debden Park who returned to third place in the table, earning an important win in their local derby match against Chigwell Mens Club. Billy Barr grabbed himself the goal for Chigwell but strikes from Jordan Santos and Ross Densham were enough to see Debden over the line in a 2-1 win, their seventh of the season thus far.
As afternoon's go, it was a hugely satisfying one from a Dagenham United Reserves perspective who managed to jump from bottom to seventh with a win away at Newham Royals in Chadwell Heath. Luke Harrold and Rodang Ngesang got the goals in a 2-1 win that will surely inspire them further for their upcoming matches.
COUNTY CUP
We round off the weekend's action with news of one of our sides involvement in the London Junior Cup coming to a sad end at the quarter final stage as FC Baresi were eliminated. A single goal was all that separated them with their south London based opponents, Battersea Boys, exiting the competition with a 1-0 defeat to resume their focus on the domestic competitions.