WEEK 15 REVIEW: Round-up of Saturday's league football action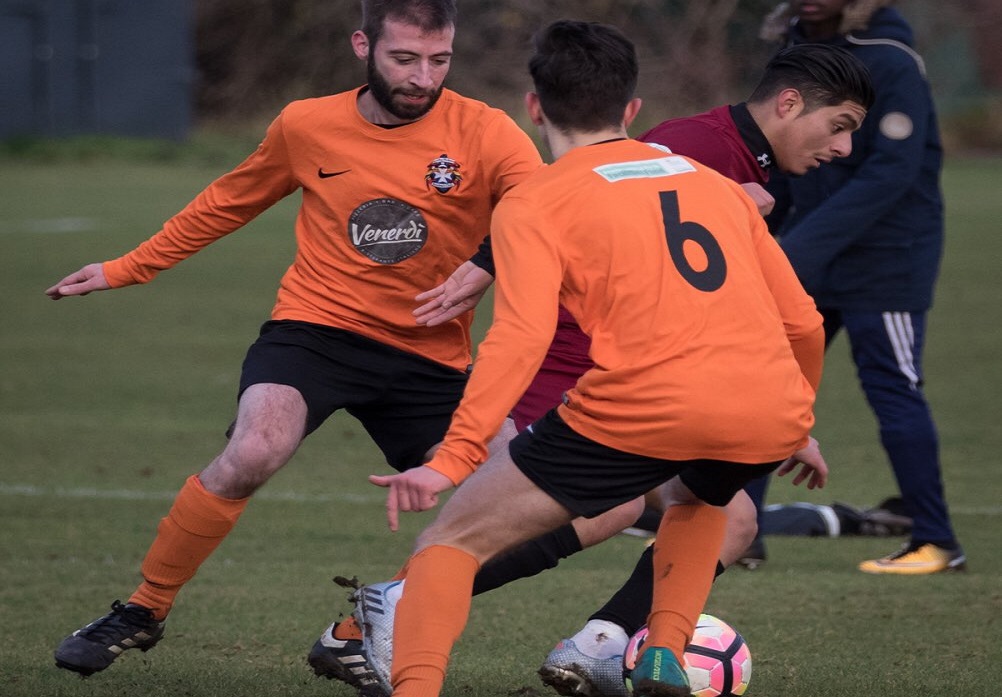 For our latest news and updates, please enter your email address
PREMIER DIVISION
It might have been the penultimate week before the festive period but there was still time for some hugely important top of the table clashes in the EAL, with Colebrook Royals' visit of Jolof Sports being the highlight of the Premier Division action. Royals went into the match as the only unbeaten side in the division but they saw their long record finally come to an end as Abib Diop and Jesus Paniagua scored the Jolof goals to record a 2-0 victory at the Grange.
There was a third league victory of the campaign on Saturday for London Cranes who have moved up a number of places to fifth in the division with their win at Docklands Albion Under 21s on Saturday in East Ham. Hakim Kolo was the man who made the difference as his two goals led Cranes to a 2-1 win.
Also scooping a third league victory and moving out of the relegation zone for the first time in a while, Blue Marlin will be much happier with their weekend's efforts as they secured a comfortable 5-0 victory over fellow strugglers, London APSA. The win moves Blue Marlin up to eighth in the table and in touch with the mid table sides just above them.
DIVISION ONE
A packed Division One schedule saw all twelve sides in league action at the weekend with the focal point of the action centring on the clash of the titans as the top two sides, both unbeaten, came face to face in Walthamstow. In a well contested clash, it was Docklands Albion who reigned supreme to end Sporting Hackney Reserves' unbeaten record in a 2-0 win as Samuel Daminabo and Wilson Diogo got the goals to ensure they'll be top of the table at Christmas.
Taking full advantage of that result were the Wapping boys who played host to Colebrook Royals Reserves in Hackney knowing that a big win would move them up to second place. Win was what they did as they cruised to a 6-0 victory as Yacine Teladjati scored twice and once apiece from Abderrahmane Teladjati, Fuad Ibrahim, Adel Mouaden and Krasimir Kamboshev pushed them above Sporting Hackney in the standings.
There was a similarly impressive result in Chingford where Cowley Community were the latest visitors to take on Ryan Reserves at Parmiters. A brace from Rodney Capemba and further goals from Ryan Thompson-Cobham, Conor Harrington and Gideon Odubayo saw Cowley to a hugely important second league win of the year, in a 5-0 scoreline.
Moving up a number of places in the table this weekend were Three Colts who made the journey to Hainault to take on the in-form Melbourne Sports. In a tightly contested battle, Tom Curtin got on the scoresheet for the Mels but his goals proved mere consolation as Colts scored twice to edge the match 2-1, moving up to sixth in the table in the process.
Singh Sabha Barking were also big movers on Saturday as they saw their side up to fifth in the table, coming from behind to beat Ferns Seniors 4-1 in Hainault. Billy Howe grabbed the Ferns goal but a stunning comeback from Singh Sabha proved too much as the Newbury Park outfit confirmed the win.
And in the division's remaining match, there was an eight-goal thriller in Seven Kings where Forest Green were the visitors, taking on East Ham Inter. And it was the home side who made use of the conditions better, putting five goals past Forest Green in a 5-3 victory, their fifth win of the season which sees them up to fourth in the table.
DIVISION TWO
The most exciting match of the day came in the Leyton derby as close neighbours, Forest Green Reserves and Lymore Gardens, came head-to-head with both sides keen to improve on recent form. Green goals from Marlon Corbin, Ramel Benjamin and Josh Kasongo proved not quite enough as an Alex Osbourne brace and supporting goals from Bradley Williams and Warren Isoka handed Lymore the edge in an eventual 4-3 win.
Rainham Working Mens Club continued their title march on Saturday with a comfortable away win on the road as they visited Lionside in Chadwell Heath. Bobby Dinnen scored twice with Matt Humphreys, Billy Maynard and Connor Kain also doing damage in a 5-1 victory for the second placed side. With games in games in hand over the other sides, their post-Christmas clashes with the other title contenders will be key you feel.
ACD United will certainly be one of those sides keeping the pressure up on the title chasing sides having been aided by a seventh league win on Saturday as they beat St Francis 4-1. Michael Wade was the side's hero once again with a hat-trick with Shaun Allen's effort rounding off the victory that moves them up to third in the table, trailing Rainham on goal difference.
And December has certainly been a rewarding month for Inter Plaistow for whom all of their Christmas' have arrived at once with a third win on the spin on Saturday. After despatching Flyers last weekend, this week it was the turn of Custom House to suffer a shock defeat as Jason O'Hare scored the only goal of the game in a narrow 1-0 win.
DIVISION THREE
In Division Three, Chigwell have extended their lead at the top to seven points following the weekend's action with their latest win seeing them beat Custom House Community 8-1 at Wanstead Flats. There was a debut hat-trick from Lindsey Marsh which, along with braces from Joel Donnelly and Harry Burgess, plus a single from Mark Howe completed the resounding win.
Remaining fifth in the table are Kitroom who made light work of their match against New Star Soccer at the weekend with a comfortable 8-1 win of their own. Justin Cummins made a significant contribution with four goals with an Omar Wilson brace and efforts from Hristo Sirakov and Lewis McCarthy rendering Samson Ogunwole's goal as mere consolation on the day.
The division's final action of the day saw a mid-table battle between Glendale and Gatcliffe in Chadwell Heath. The hosts weathered an early influx of chances for the visitors to lead with braces from both Michael Desmond and Chris Bird, adding to goals from John O'Brien and Simplice Lukuamusu. Khari Pobi was on target with both of the Dales' goals as Gatcliffe cruised to a 6-2 win.
DIVISION FOUR
Newham Royals have moved back up into third place following this weekend's Division Four action, aided by a positive performance in an 8-1 win against Wanstead Warriors in Chadwell Heath. Michael Stewart found the back of the net for the man-light Warriors who fought hard but their efforts proved in vain as Royals ran in eight goals of their own.
The day's remaining action saw Brentwood United Reserves play host to a visit of Debden Park in another Chadwell Heath clash. In a match which was eagerly contested, it was United who were able to edge it by the odd goal in three in completing a 2-1 victory. They now move up a place to seventh position and now very much in the mix with the other mid-table sides just above them.