WEEK 15 REVIEW: Round-up of Saturday's league and county cup action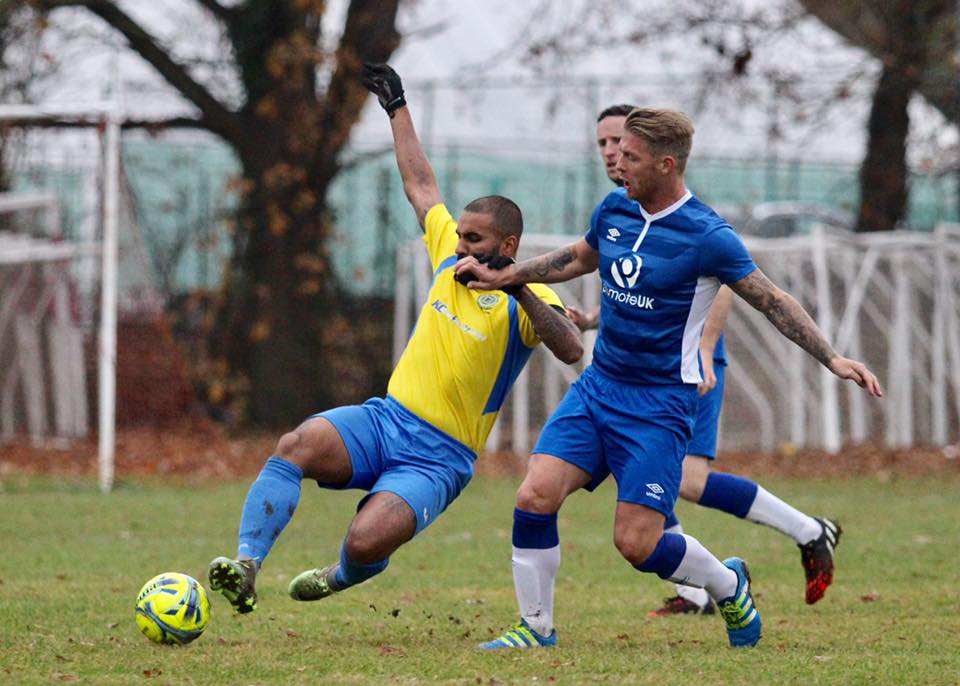 For our latest news and updates, please enter your email address
PREMIER DIVISION
Jolof Sports Club have closed the gap at the top of the Premier Division to just two points as they triumphed 5-0 against Rainham Working Mens Club on the penultimate weekend of 2017.
Dropping to third in the table are United London as their opponents Melbourne Sports rescued a late goal to wrestle a point in a 3-3 draw. Arthur Ferreira, Emmanuel Wazola and George Ketoka-Olongo all found the back of the net for United but strikes from Rene Moret, Jamel Walters and Craig Marsh for the Mels levelled things up.
Old Esthameians are fourth in the table after cruising to a 5-1 victory against London Falcons in Newbury Park. Danny Morgan moved to eighteen goals for the season with a brace adding to goals from John David-Bradley, George Leighton and Matthew Game.
Rounding off the Premier Division action, Grove United keep up the pressure in the upper echelons of the table with a 5-2 home win against Blue Marlin in Hainault, moving to within seven points of the leaders in the process.
DIVISION ONE
The two horse raise for the Division One title is hotting up with both of the leaders showing no signs of slowing up. Matthew Judge scored twice for Colebrook Royals to carry the leaders to a 3-1 win at East Ham International with Robert Davies netting the other.
Three Colts were also victorious with a 4-1 win away at Singh Sabha Barking to keep up the pace on the leaders. Callum Kennedy scored twice for Colts with Richard Blackwell and Jack Luck also scoring to round off a great 2016 for them.
St Francis made it two wins in two weeks with a 5-3 win on Saturday against St Johns Deaf in Leyton. Jerard Cabey was the difference between the sides as he netted a hat-trick with Jack Hall and Benjamin George also finding the back of the net.
In the remaining game of the day, Cowley Community rounded off 2016 with a good victory over Sporting Hackney Reserves with Lee Chambers netting the only goal of the game in a 1-0 win.
DIVISION TWO
As debuts go, you won't find many better than Lloyd Boateng's introduction to the Forest Green team on Saturday. After a tight first half against Glendale in which Ricky Hall had levelled the scores up for the Dales, it was the Boateng show thereafter as he scored all eight goals for Forest Green to lead them to an 8-1 victory!
Another side securing a big win this weekend were Lymore Gardens who cruised to a 6-1 home win over Avondale Rangers in Leyton. Goal scoring doubles from Teriq Roberts-Wright and Warren Isoka led the way with Ashley Godwin and Dylan Roberts also netting to move them up to fourth in the table.
And rounding things off were Chingford Harriers who made it consecutive victories with a 2-1 home win against Old Barkabbeyans Reserves. Andrew Hogan and Edwin Jabbari were the men on target for Harriers, cancelling out a Luke Sewell strike for Old Barks.
DIVISION THREE
Game of the day in Division Three on Saturday saw first meet second as Wapping travelled to Custom House with both sides having unbeaten records on the line. And it was Wapping who came through a tight encounter by the odd goal in five with Fuad Ibrahim (2) and Adel Mouaden both scoring. Paul Wooster and Richard Bazley were the Dockers' scorers with their consolation goals.
Upminster Reserves' sparkling recent form continued on Saturday where they narrowly saw off the efforts of Newham Royals in a 1-0 victory in Aveley. With that win, Upminster move up to third in the table and just a single point off of second placed Custom House.
Kitroom swapped places in the table with Flyers as they came away 2-1 winners over their opponents in Hainault at the weekend. Justin Cummins and Denis Karmaj were both on target for the hosts with Neil Hankin responding with the Flyers goal.