WEEK 14 REVIEW: Round-up of Saturday's league and county cup action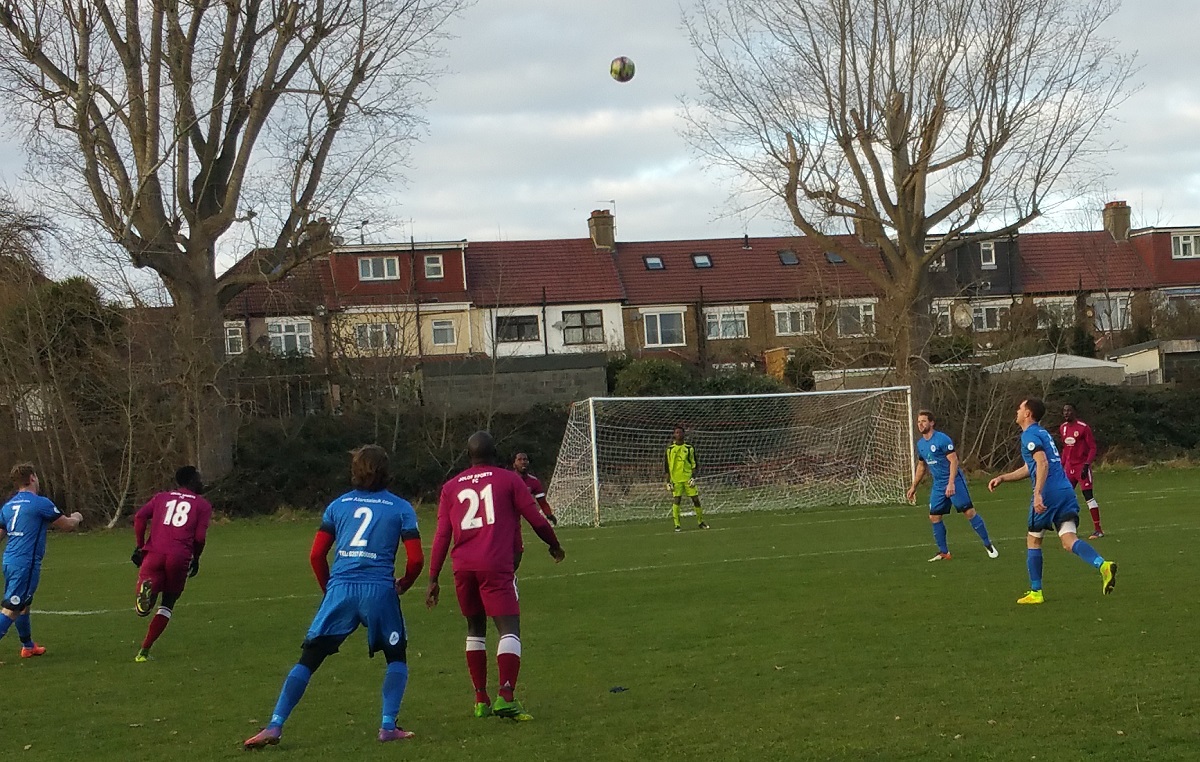 For our latest news and updates, please enter your email address
FENTON CUP
Two more sides have made it into the draw for the Fenton Cup quarter finals after securing victories on Saturday. The first of those wins came in Buckhurst Hill where Grove United saw off Division One side, East Ham International, in a 6-3 win. Daniel Aggio and Harry Chalk both scored hat-tricks to cancel out an Amal Kakumanu brace and a Ali Mohamed goal for the hosts.
The holders, Chingford Athletic, made it safely through to the quarter finals of the Fenton Cup with a 3-0 win over Rainham Working Mens Club in a re-run of last year's final. Tom Pearce scored twice for Athletic with the returning Michael Mignot adding a third to carry their side to victory.
PREMIER DIVISION
United London continued their title challenge on Saturday with a comfortable 4-1 win at home to Lopes Tavares London. A goal apiece for each of Shaiquan Maisara, Kieran Dilworth, Emmanuel Benjamin and Jason Oyemhen has pushed United up to second in the table and only four points off the leaders with a game in hand.
Pulling off one of the results of the day were Old Esthameians who's continued remarkable form sees no end. Their latest victims were Jolof Sports Club where two goals from Danny Morgan and another for Christopher Andrews were enough to edge a narrow 3-2 defeat over their title chasing opponents.
LOASS recorded a solid home win of their own on Saturday with a 4-2 win against Blue Marlin in Leyton. Goals from Simi Obileye, James Baxter and Hayden Edwards-Watson were enough to confirm maximum points and remain eighth in the table. Nathan Desnoes was the man on target with the Marlin goals.
DIVISION ONE
There were wins for both of the top two sides in Division One where Colebrook Royals secured an eighth league victory and remain unbeaten after a 3-1 win over Cowley Community. Nicky Steward scored twice with George Brislen-Hall also netting to render a Cowley goal for Izunna Ogedi-Uzokwe as a mere consolation.
Three Colts are the nearest competition for the title and they were big winners over Sporting Hackney Reserves as they ran out 5-1 winners. Patrick Waites scored twice adding to goals from Nicky Blackwell, Richard Blackwell and James Kane to stay just two points behind the leaders.
Winning their first league match of the season were St Francis who beat second bottom side Singh Sabha Barking 6-2 to move just a point off of their opponents. Jack Hall was the difference, scoring a hat-trick with goals from Robert Evans, Benjamin George and Jerard Cabey completing a resounding victory. Arjun Sangha and Emmanuel Eze-Elijah were the SS Barking scorers for their goals.
In the division's final game, it was third versus fourth with West Essex Reserves taking on Kitgum Boys in West Ham. And it was West Essex who ran out 3-0 winners to move up above their opponents into third place in the table but still eight points off of the title chasing duo.
DIVISION TWO
Continuing the theme of Colebrook Royals sides topping the tables, the reserves continued their winning ways at the weekend with a narrow 2-1 win at Chingford Athletic Reserves where Ashley Somers once again scored twice to cancel out a James Clarke goal for the hosts.
Keeping the Royals company at the top of the table are Ryan Reserves who bounced back from last week's defeat in beating Chigwell Rovers at Parmiters. Ryan confirmed a 2-0 win over one of the division's form sides to move within a point of the leaders.
Moving up to fourth in the table are Lymore Gardens who ran out 3-1 winners over Inter Plaistow in West Ham. Danny Vass found the back of the net for Inter but Lymore goals from Ashley Godwin, Michael Konis and Warren Isoka secured the win for the visitors.
Also winning 3-1 were Chingford Harriers who travelled to Hainault to face Glendale. Edwin Jabbari made the difference with his goal-scoring double with a Peter Shawyer strike finishing things off for Harriers.
In the division's final match, an exciting 3-3 draw saw Avondale Rangers and Old Barkabbeyans Reserves take home a point each. Tola Oyerokun and Timi Olaniyan both found the back of the net for Old Barks who remain in tenth position, a point below their opponents.
DIVISION THREE
Wapping maintained their five point lead at the top of Division Three with a 2-1 win over fellow title chasing side Flyers. Fuad Ibrahim and Nathaniel Foster were the scorers for the hosts with Jamie Howe responding for the visitors.
Hot on Wapping's tail are Custom House who cruised to a 5-0 victory over Wanstead Warriors in Hainault. Paul Wooster scored twice to continue his run of goals with Jack Field, Richard Bazley and Robert Wooster also finding the back of the net to take home the points.
Brentwood United Reserves are sixth following a 4-1 win over Kitroom which sees them move level on points with their opponents. Hristo Sirakov was the man on target with Kitroom's only goal which proved not quite enough.
Newham Royals got back to winning ways in Wanstead where they beat St Francis Reserves 4-0. That win keeps the Beckton-based outfit firmly in mid-table and just a few points off of the leading sides.
COUNTY CUPS
Forest Green travelled across London on Saturday to take on Old Uffingtonians in the AFA Challenge Cup second round. Despite taking a 2-0 lead at half time, they were eventually beaten 5-3 by their hosts to end their participation in this season's competition.