WEEK 14 REVIEW: Round-up of all the league and cup action from the weekend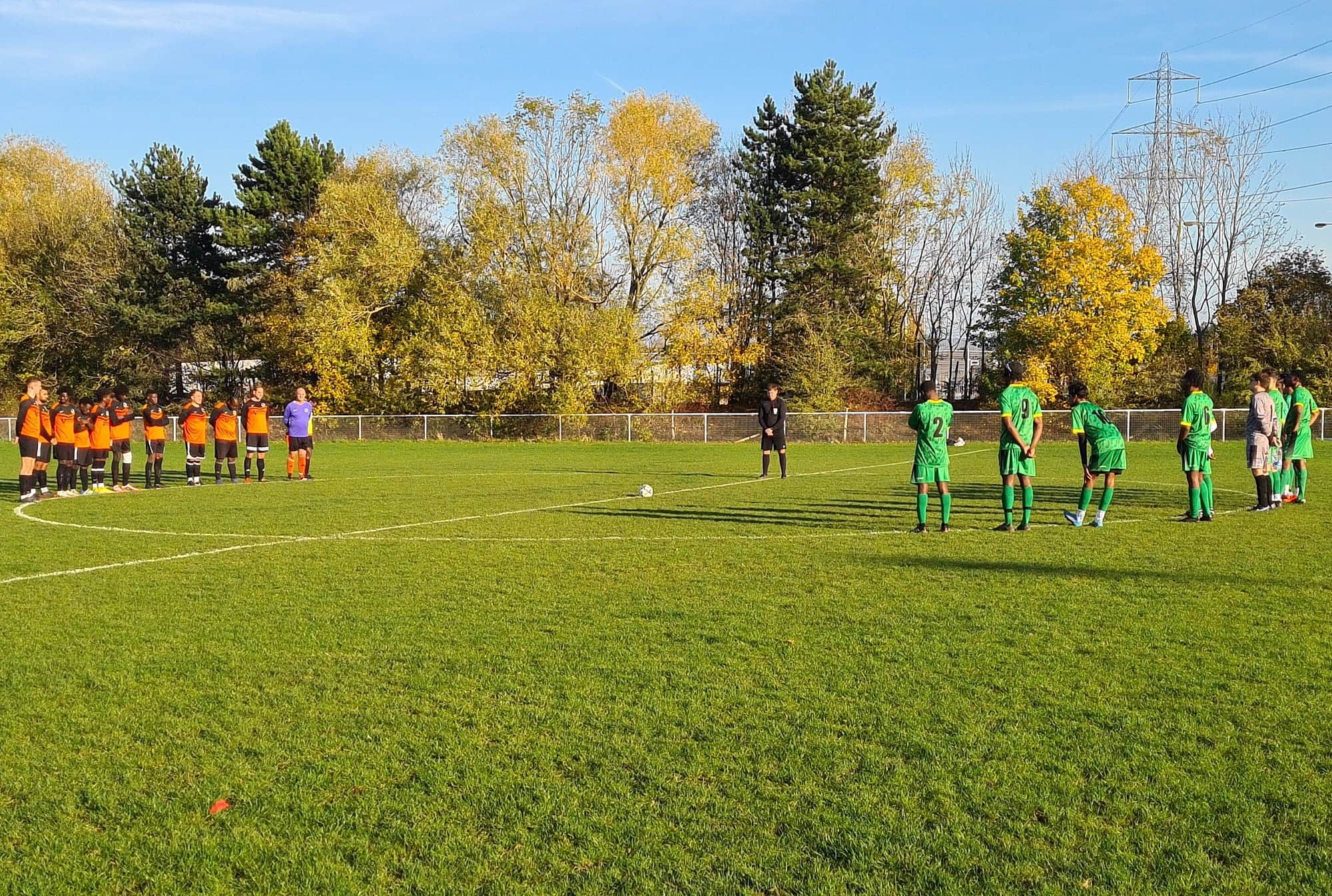 For our latest news and updates, please enter your email address
FENTON CUP
An in-form Brimsdown side have made it through into the last sixteen of the Fenton Cup, beating Jolof Sports for the second time in as many weeks to make safe passage through. They followed up a league success with a 3-1 win on Saturday in Hackney to head into a home tie against leaders FC Baresi in the second round.
FENTON TROPHY
The Fenton Trophy threw up somewhat of a shock result as Division Two's runaway leaders, Snaresbrook, faced the short trip to Newham Wanderers from Division One at the Flats. A five goal thriller was edged by the visitors for whom Ife Ogunbayo netted two and Chris Huggins one, overcoming Wanderers goals from Addae Paponette and Robertson Morais.
Redbridge Community faced a potentially tricky tie themselves with a trip to lower ranked opposition in the shape of Rainham Phoenix. But it proved a fruitful afternoon for the visitors who secured their own place in the second round with a 4-1 success, courtesy of goals from Eliseu Manessim, Frankie Francis, Akiljo Balliu and Dylan Broadley. Cameron Shakes scored the Phoenix goal in reply.
Division One's Unitey are also safely through, bouncing back well from the disappointment of league defeat last weekend to see off the threat of Division Three's Frenford A at Roding Valley. Shanlon Thomas netted for the visitors but two Devontae Young goals for the hosts, plus efforts from Eddy Litambolo, Peter Spencer, Ishwar Ravi, Ahmed Dousa and Geoffrey Diangana carried Unitey to a 7-1 win.
SENIOR DIVISION
In the top flight action from the weekend, there were a couple of big results affecting things in the lower regions of the division as Rapid Chingford and Crookz United produced a ten-goal thriller at Lakeside. But it was hosts Rapid who ended up taking the points in a 6-4 win to leapfrog their opponents, Andrei Cazacu scoring a hat-trick, Dumitru Trofim, Tita Daniel and Andrei Boga scoring the others.
Over at Fairlop Oak, bottom of the table Blue Marlin played host to an out of sorts Walthamstow Reserves side in a big game for both sides. Walthamstow were able to edge the contest by the odd goal however to pick up their first win in a while, 3-2 winners on the day as they climbed up a number of places and into tenth spot.
The Friday night football action saw Oakside make the trip to north London to face Lymore Gardens and raced out of the blocks to take an early lead in the game. But Lymore Gardens found a leveller to take a point from this close contest which finished level at 1-1, that being enough for both sides to move up a spot or two in the standings.
PREMIER DIVISION EAST
In the Premier Division East, Underscore United have moved to within a point of the two leaders following their fifth successive win on Saturday, coming away winners by the odd goal in a 3-2 win against Fairlop Rovers in Hainault to leapfrog their opponents. That saw them take their points tally to fifteen with the division's only remaining perfect record.
Fifth placed Waltham Abbey A continued to show they will have a say in things this season in matters affecting promotion after they came away 2-0 winners in their home clash against second placed RCXI. That victory was the fourth for the Abbotts this season and came courtesy of goals from Charlie Kerswell and Dom Farmer.
Sitting well poised to strike in sixth place, Aveley Under 23s are looking ominously dangerous and one of three unbeaten sides still in the second tier after they beat Wapping at Parkside on Saturday in a 7-0 scoreline. Sola Adebo scored a hat-trick, Aldo Vani netted twice off the bench with strikes from Finlay Shipp and Eugene Sagoe completing the action.
London Park City have moved themselves into the lower reaches of mid-table following a strong performance on Saturday, beating winless Freetown at Seven Kings High School in a 4-1 scoreline. Connor Minihan, Viren Chouhan, Suhayb Aftab and Daniel Croitoru scored the all important goals, rendering Samuel Kuffour's goal as just consolation for the visitors.
PREMIER DIVISION WEST
The big game in the West division once again featured Priory Park Rangers as they were in home action with the visit of league leaders and local rivals AEK London to the Marshes. A close game saw Christopher Broadley net once again for Rangers but AEK were able to score twice themselves to earn maximum points in a 2-1 success that moves them three points clear.
London Cranes took the opportunity to re-establish themselves in second place in the table, overcoming the efforts of fourth placed North East Lions at Flanders in a 2-1 home win. That was Cranes' sixth league win of the season, Rashid Nsubuga netting both goals, with Jae Smith's strike for Lions not being quite enough for his side to take anything from the game.
Fifth placed CSM London only have the one league reverse to their name and could still be effective in the promotion race, aided by their most recent success as they recorded a 3-2 home win against Leyton City in Beckton. Jahvarn Steward scored twice for City but those were not enough as Luke McElroy scored twice in reply for CSM and Conrad Doggett grabbed the other.
G7 started their contest with Wanstead trailing their opponents by four points in the table but had slashed that to just one by full-time after rolling out 5-3 victors at Victoria Park. Tyreke Prempeh-White was in fine form with a hat-trick and Javan Remy also netted too for the hosts to ensure they remain seventh in the standings.
Eighth placed Soul will be pleased with their afternoon's work as they earned themselves a solid win on Saturday at Castle Green, defeating bottom of the table Athletic Newham Under 23s in a 5-1 scoreline. That was the hosts first league win of the season and keeps them in touch with the two sides immediately above them.
DIVISION ONE
It was a good afternoon for Something From Nothing on Saturday as they ended the division's only remaining unbeaten record with a terrific 5-2 home success against Ilford Reserves at the Flats. That saw the hosts record a third league win and move level with the Foxes in fifth, trailing just by goal difference.
Tenth placed Atholl will also be very happy as they followed last weekend's cup success with their first league win of the season this time out, overcoming a six point deficit on their Old Esthameians opponents to take a 3-1 win in Newbury Park. That win for the visitors sees them close the game to safety to just a single point.
After last weekend's cup exit for Forest Green, they were the hosts to an Eagles Football side this time out who had produced a shock result last weekend themselves. But this game saw the two defences well on top and the teams couldn't be split at full time, the game ending 0-0 to see the teams take home a point each.
DIVISION TWO
With the top sides out of action in Division Two, FC Baresi Under 23s took the opportunity to close the gap on the sides above them, moving level with second place after edging a close local derby at Lymore Gardens Reserves. Abbas Osman, David Poirier and Joshua Adu scored the all important goals to edge the game 3-2, their fourth win in five this season.
Fifth placed Old Barkabbeyans sit three points further back from the promotion chase and kept themselves in the mix with a home victory against Woodford East Reserves on Saturday, winning 5-3 to secure a third league win. Michael Ryder scored a hat-trick, adding to goals from Josh Robinson and Fabio Balde, rendering Peacock goals from Owen McKelvey, Tom Osmond and Jordan Lema as consolation.
Chadwell Heath Spartans Reserves are also sitting on nine points after six games of the campaign after they came out of their home clash with Barking Potters with all three points following a 4-2 success. Peter Adeleye scored a hat-trick and Jamie Webb-Kelly netted the other to send Spartans home victorious.
There was no shortage of goal action from Redbridge Community Reserves' trip to the Flats on Saturday as they put in a comprehensive 11-1 winning performance at St Francis. Eftekhar Golam and Williams Yahaya both scored hat-tricks, Abdur Rahim scored twice and one each from Seth Mutsvanga, Opeyemi Salami and Omar Ali rounded off the win.
DIVISION THREE
In Division Three, there was a huge result at the top of the division as second placed Jolof Sports Reserves inflicted a first defeat of the season on Newbury East to move within four points of the leaders. Junior Milla, Muhammed Seif and Rafai Bentick scored the East goals but those proved not quite enough as Jolof netted four to win this thriller 4-3.
That result also meant that Chingford Harriers had the chance to close the gap on the teams above and they did just that, albeit having to overcome a tough opponent in the form of Flyers Under 21s. Gerard O'Hara and Grant Coy were both on the Harriers scoresheet as they headed back along the A12 with all three points in a 2-1 success.
Melbourne Sports got back to winning ways with a terrific home win at Fairlop Oak against eighth placed Buckhurst Way. Ricky Rose scored twice and Billy Rose once, Tyler Le Poidevin netting the other for the Mels to take all three points for their side. That win was their fourth of the season, moving them up to sixth place in the table.
Football Club of Riverside will be very pleased with their afternoon's workout, overcoming a Glendale fight back to earn a first win of the season. Sion Daley scored twice and Fayazi Mohamed once in a 3-2 victory, Muhammed Camara having scored twice for the Dales to put the sides back level midway through the second half, albeit in a losing cause.
The final game in the division saw Romford Under 21s make it two wins for the season as they returned home with all three points from their trip to Dagenham United Reserves at Castle Green in a 3-2 scoreline. Charlie Fiander and Junior Oliveira netted for Dagenham but two Romford goals from Jair Monteiro and one from Derrick Kerr ensured their side took the points.
DIVISION FOUR
Division Four was an absolute goal-fest over the weekend with forty-nine goals in just four fixtures, the highest scoring of those coming in a 12-4 winning performance from Fairlop Rovers Reserves as they defeated Old Esthameians Reserves at Fords. That saw the league leaders remain top of the table while improving their goal difference substantially.
Second placed Romford Under 19s were also in fine form and netted eight themselves in a fruitful 8-2 winning trip to east London to face West Essex Under 23s. Victor Agyemang and Alvin Smeraldi both netted two, Mohammed Yaqoob, Bradley Mott, Abel Woldergiorgis, Oskar Plusa and Charlie Howell also on the scoresheet to render West goals from Ali Sajad and Joshua Blake as just consolation.
Avondale Rangers' Jake Clarke won't have had many more productive afternoons and was in seventh heaven with a seven goal performance in his side's 9-5 victory against Flyers Under 23s at King George's. Phillip Heinen and James Whitbread provided the supporting act with a goal each as Rangers moved fifth in the table.
A nine-goal thriller wraps up the league action for another week with fourth placed Collier Row Wheels having entertained Inter London at Forest Row on Saturday in a very tight contest. Fahad Abdallah had the biggest influence on the game with a four-goal haul, alongside Nasser Salum's effort, completing a 5-4 success for the sixth placed side.
COUNTY CUP
It was BBC Essex Premier Cup day also at the weekend and saw three EAL sides make safe passage through to round three, last year's finalists Woodford East the first of those having coming out on the winning side of their trip to Dagenham United with a 3-0 win under their belts. The Peacocks now await the winners of the tie between May & Baker EC Reserves and ACD United tie which is due to be replayed.
It was also a good afternoon for Kit Out London who saw the visit of Earls Colne to Noak Hill, the Essex & Suffolk Border League side having made the long trip down the A12. It was a 2-1 winning performance from Kit Out however as they now head to Toby in the last sixteen of the competition next month.
Frenford Development saw their run in the competition come to an end as they suffered defeat at former competition winners, Harold Wood Athletic. A seven-goal thriller was eventually edged by the Olympian based hosts who came through 4-3 winners to progress on in the competition.