WEEK 14 REVIEW: Review of Saturday's league and cup action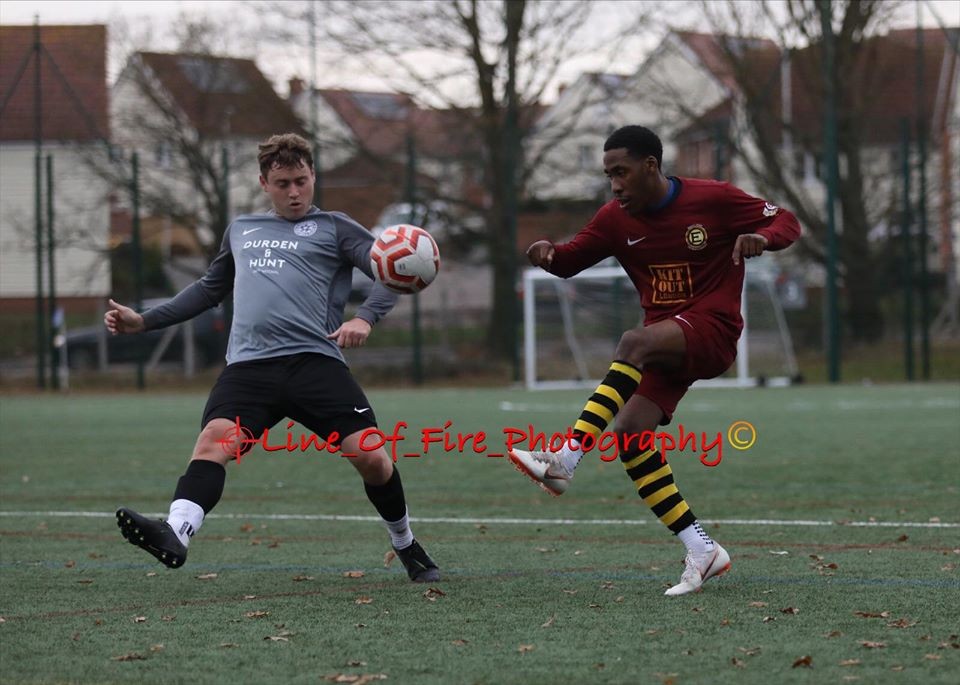 For our latest news and updates, please enter your email address
DIVISION ONE CUP
The first Division One Cup ties got underway over the weekend with the group stage kicking things off. Tower United shot to the top of group B with a thumping home win in the Hackney derby against Sporting Hackney Development. Abubakar Maxamed scored four goals, Asad Yousef netted a hat-trick with Abdimajid Abdi and Abdi Jama goals completing a 9-2 win.
The group's other game came in Chingford where an in-form Chingford United side were the hosts to visitors Eastside. An exciting game of seven goals saw Joshua Duyile, Idris Shittu and Johnathan Odutulu each net for Eastside but United goals in reply from Tamer-Andrei Bozgan, Mirel Pena, Octavian Toana and Mihail Vlad completed a 4-3 win for their side.
In Group A action, Tower Hamlets Reserves made a stunning start to their cup campaign as they cruised to an emphatic 10-0 home win against Forest Green. Leandro Alva scored a hat-trick, Cole Edwards scored twice with the remaining efforts accumulated by Arnold Mengi, Lakviraj Singh, Tiago Santos and Atlant Bogdanovic to go top of the early standings.
SENIOR DIVISION
It's all change at the top of the Senior Division where London Cranes move top once again following a win on Saturday at home to Chingford Athletic. Despite losing out in the reverse of that fixture last weekend, they made no mistake this time with a 2-0 win, seeing them return to the top on goal difference.
Trailing just by a few goals, second placed Chigwell maintained their push for honours with a closely fought victory against East Ham Inter in Noak Hill. Just a single goal could pull these well match sides apart with Chigwell the beneficiaries, securing a 1-0 win. With a game in hand, Chigwell remain in pole position but there is still plenty of action to come this season.
After a torrid few weeks, CSM London moved themselves back into the race as they put in a sterling performance away to Blue Marlin in Newbury Park. Micail Koulibaly was on fire with a four goal haul for the visitors with Keifer Cole scoring the other in a 5-1 win for their side, moving them up a place to seventh.
The top flight's remaining game came in Hainault where West Essex Reserves were the hosts to take on Lymore Gardens with five points keeping the sides apart nearing the midway point of the campaign. That difference was the same by full-time as the sides settled for a share of the spoils in a 1-1 draw, earning a point apiece.
DIVISION ONE
No action
DIVISION TWO
The only surviving game in Division Two came from Newbury Park where Old Esthameians and Upshire Forest were locked in a goal-filled battle. Upshire's league form hadn't quite matched their cup exploits but they finally put this right, earning a 5-3 victory with James Davis scoring twice and one each from Aaron Rich, Callum Godfrey and Luke Robinson rounding things off.
DIVISION THREE
There was a plethora of goals in Division Three as FC Galaxy put ten goals past Custom House United in Dagenham. Jamie Wooster scored twice and Paul Devlin but their efforts proved not quite enough on the day. Pogar Daniel replied with a hat-trick, Mihai Marenciuc and Dragos Tiganuc scored twice each with one apiece from Ion Gherghel, Eduard Bica and Alexandru Demidov completing a 10-3 scoreline.
Two further games saw eight goals each as St Francis came from behind to overcome Glendale in a mud-fest at Wanstead Flats. Maryis Shamku's early strike game Glendale a lead but Saints responded well to lead themselves before Mouhamed Gueye levelled it up again. Carl Vernage took advantage of tiring legs late on, scoring four goals, with Leon Young's brace completing a 6-2 win for the Saints.
There were another eight goals over in Romford where Flyers Development and Avondale Rangers combined for a festive thriller, just two points keeping the sides apart prior to kick off. That gap remained at full-time as the teams settled for a share of the points in a 4-4 draw that keeps both teams occupying mid-table positions.
The division's other contest came from Wanstead Flats where Debden Park were the visitors to take on second placed Newham Wanderers. In a quiet game compared to the others consisting of just three goals, Robertson Morais scored twice for Newham to give them the edge in the clash, winning the game 2-1.
DIVISION FOUR
Woodford East have extended their lead at the top of the Division Four standings and they will be top at Christmas, seeing off the efforts of a plucky Fairlop Rovers side on Saturday to win 4-2. Billy Barr's brace was added to by goals from John Gilley and James Watts as East made it eight wins from eight in the league this campaign.
Lymore Gardens Reserves have returned to second position in the standings but were made to work hard to gain the point they needed to do that by Prospect Protégé. Richard Akinyebo's form in front of goal for Prospect continued as he scored twice by Lymore were their equals and they shared the spoils at 2-2.
Newham Royals have made their way up to fifth place in the table as they picked up a fourth league win of the season in their game at home to Flyers B. The Royals were 5-1 winners on the day to go level on points with fourth placed Fairlop, trailing just by goal difference. Flyers remain rooted as they approach the halfway marker of the season but a couple of wins could see everything change in the new year.
ESSEX SATURDAY JUNIOR TROPHY
In the day's rearranged Essex Saturday Junior Trophy action, Frenford A were on the road as they travelled to Hutton A for their fourth round clash. Despite a good showing, they saw their participation come to a halt, going down 2-0 on the day to exit the competition.
LONDON JUNIOR CUP
In the London Junior Cup, it was a terrific day for Rapid Chingford who put the difficulties of their league campaign to the side to record yet another county cup victory, this time seeing off the endeavours of Active Sports at the fourth round stage in a 2-1 scoreline. They now head on to the quarter-finals of the competition in Jaunary to take on one of the leading sides in the competition, FC Hamlets.
The other fourth round tie over the weekend saw FC Baresi head south of the river to take on Groundhoppers in their clash in Sydenham. Another close game saw the sides separated by a single goal, though this one went in favour of the opposition with Groundhoppers ending as 2-1 victors to progress on.
Photo: East Ham Inter / Line of Fire Photography