WEEK 10 REVIEW: Round-up of all the league and cup action from the weekend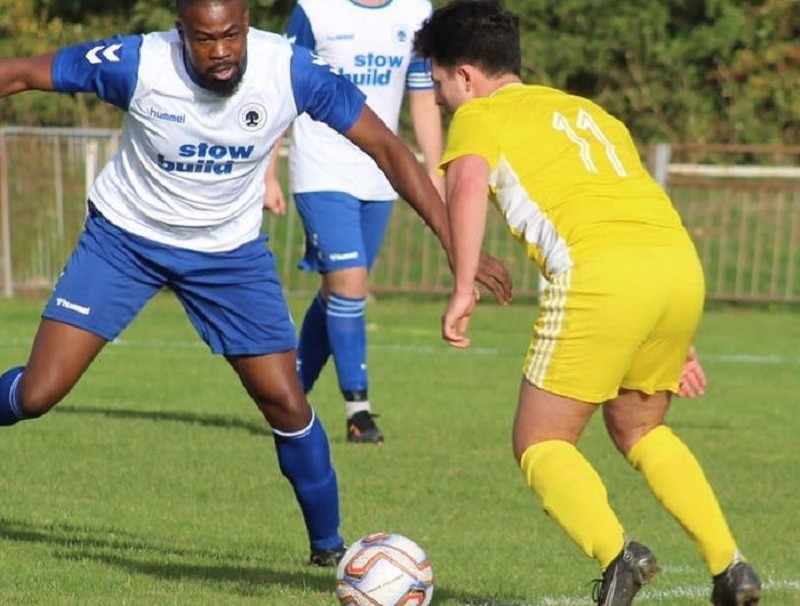 For our latest news and updates, please enter your email address
FENTON CUP
The weekend's Fenton Cup action saw Premier Division high-flyers, Priory Park Rangers, in action in the first round as they travelled to Noak Hill to take on top flight Kit Out London looking to cause a surprise. But it was the Senior side who booked their side in round two with a 6-0 success where Marios Lazaris scored a hat-trick and goals from Alex Soloman, Aorid Ismael and Diego Gavilanes completed the win.
FENTON TROPHY
In the Fenton Trophy competition, the inter-division games all went to placings with Chingford Harriers the closest to causing a shock as the Division Three promotion challengers took on Woodford East Reserves from a division higher. That game however went the way of the Peacocks with Will Osmond scoring twice and one each from Owen McKelvey and Tom Osmond paving the way for a 4-2 success. Dushane Powell and Grant Coy scored the Harriers goals in reply.
Another Division Three side pushed higher league opposition hard with Football Club of Riverside, winless so far in the league, hosting Royal Forest at Lakeside. It was Forest who ultimately took their place in the second round as Martin Cannon fired one home, Robert Evans and Stanley Kweya also on target to help their side win 3-0.
It was a similar story and outcome in the tie at Castle Green where Dagenham United Reserves put in a sterling effort against higher ranked opponents as Division One's Redbridge Community were in town to battle for a place in the next round. It was Redbridge who took that place, winning the tie 3-1 on the day to progress into the first round proper.
Rainham Phoenix kept up their solid start to the season as they added cup success to their league endeavours so far, beating St Francis at the Flats in a 12-1 scoreline. Cameron Shakes put in a five-goal performance with Connor Kain (2), Josh Perry, Nathan Thomas, Sam Springall, Sean Tormey and Jonathan Varga also on the scoresheet.
Lymore Gardens Reserves and Chadwell Heath Spartans Reserves went into their tie with little between them in the league and thus a close game was expected. It was the home side, Lymore, who ended the happier of the teams as goals from Rocky Bush, Warren Isoka and Johneli Lungikisa handed them a 3-0 win.
Completing the league cup action was a tie between Division Four's West Essex Under 23s and Division Two side Old Barkabbeyans. The higher ranked side were in good form and they were the side who made it through with Josh Robinson and Jay Elliott both scoring hat-tricks, Mitchell Day netting two and Fabio Balde grabbing the other in a 9-1 win. Freddy Todd scored the West consolation goal.
SENIOR DIVISION
It was a huge day in the Senior Division where two of the top three, unbeaten sides met at Wadham Lodge, Sporting Hackney the hosts to Lymore Gardens. It was the Parrots who will have been the happier with their efforts as Ross Murphy's hat-trick and goals from Joel Belcher and Karim Bukleb earned them an important 5-1 success to leapfrog their opponents.
Leaders, FC Baresi, remain a couple of points clear of the sides below as they recorded a seventh league win of the season on Saturday at Wodson Park, defeating May & Baker EC Reserves in a 4-2 scoreline. Sean Kettle and Darius Egualeonan scored for Baker but two Tyreece Robertson strikes in reply, plus goals from Edson Lami and Raymond Poku sent the points home with FC Baresi.
Matters above them enabled Jolof Sports to remain in close proximity with the leading sides as they came through a potentially tricky trip to Dagenham United with an important three points, winning the game 2-0 to sit fourth. Alexander Sow was on target for the Mayesbrook Park based side to make it six wins in eight this season.
Two of the in-form sides in the league met in Wormley with FC Petrocub, fresh from a win in Hertfordshire on Wednesday night, taking on a Brimsdown side positioned just below them in the table going into the game. But that position had changed by full time as the hosts edged a close game 2-1, Brimsdown moving up to fifth as a result.
Chadwell Heath Spartans have moved onto the cusp of the top half following the weekend's action, adding a league victory to their county cup success last time out to come out on top of the Lakeside derby game against Rapid Chingford. Ray Hunwicks was at the double scoring twice with Jonathan Evans and Peter Adeleye adding the others in a 4-2 success, overcoming Claudio Florea and Alin-Cristian Cosma goals.
There was a huge result towards the bottom end of the division where fourteenth met fifteenth with an in-form Crookz United side in action away at Oakside at Fairlop Oak. A five-goal thriller was eventually edged by hosts 'Side, despite United goals from Victor Mendes and Andrew Appiah, a result which saw Oakside leap above their opponents in the table to just a point from safety.
In the division's remaining game, Walthamstow Reserves made the trip down the A127 to take on Woodford East at Gardiners Close, three points separating the sides going into the game. But by the end, Woodford had extended that to six and moved sixth on the back of a 4-2 win with Callum Maltese, Frank Glock, Lucio Uare and Sonny Feltwell all netting.
PREMIER DIVISION EAST
Underscore United's debut in the competition was a successful outing as the side, largely comprising last season's double-winning Belfry contingent, produced a terrific performance to beat Freetown 9-2 at May & Baker Club. Donald Adaakwah had scored twice for the visitors but those goals were not enough on the day and they remain in the search for their first points.
In the big game affecting the top of the table, two of the sides with perfect records met in Hainault with Fairlop Rovers hosting RCXI with something having to give. A closely fought contest, as the table suggested it might be, saw the teams finish level at 1-1 and take a point each. Stephen Duberry grabbed the RCXI goal with those sides now both a point clear at the top.
That same scoreline was witnessed in the division's other game where Barkingside Under 23s opened their league account for the season with a solid home draw against Wapping, themselves putting a first point on the board after a difficult start. Those sides remain in the bottom four and will be seeking to improve their points tallies.
PREMIER DIVISION WEST
Things are really tight at the top of the West division where North East Lions have remained a couple of points clear after the weekend's results as they put another three points on the board, edging G7 in their game at Peter May. Rweal Azizur and Christopher Bell goals helped them to a 2-1 success, making it five wins from six in the league.
Second placed AEK London bounced back well from their recent disappointments to put another three points on the board with a solid home win in their game against Athletic Newham Under 23s at Mabley Green. They were 3-0 winners on the day to hand them a fourth league win and sit just two points off the pace at the top.
Over in Dagenham, Wanstead took their place in the top five of the division as they walked away with maximum points from their trip to Soul. Last season's cup finalists, came through by the odd goal in three, winning 2-1 to add a second league win to their draw, taking their points tally to seven. Soul remain ninth with just a single point thus far.
DIVISION ONE
There was a massive result affecting the top end of Division One on Saturday where Old Esthameians claimed all three points from their trip to Wanstead Flats, sending Newham Wanderers to a first defeat of the season in a 2-1 scoreline. Addae Paponette came off the bench to score the Newham consolation but Old E's held on for victory and now sit fourth following that second win.
It was a winning debut in the competition for Eagles Football who had a trip to Chingford before them in their opening game, taking on Atholl at Parmiters, both sides seeking first wins. But it was the debutants who swooped away with the points, Eagles winning 2-1 to move up above their opponents into eighth place.
There was an eight-goal thriller in the division's final game where Renegade and Forest Green met at the Marshes, two points between the sides going into the fixture. That gap demonstrated there being little between the sides and so it proved as they settled for a point apiece in a 4-4 draw. Wellington Ismael scored twice for Renegade, along with strikes from Nigel Seidu and Kinnock Kekeli.
DIVISION TWO
There was just the one game in Division Two and it saw Snaresbrook reaffirm their authority at the top of the table as they put debutants, Redbridge Community Reserves, to the sword with a 10-0 win at Hainault Rec. Daniel Tesfay was in great form with four goals, Drew Barbier scored twice and efforts from Alex Gordon, Ife Ogunbayo, Balyele Moe-Loembe and George Bacon goals put further meat on the bone.
DIVISION THREE
Newbury East are four points clear at the top of Division Three but had to come through a tough game on Saturday, edging their contest with Buckhurst Way by the odd goal in a 3-2 success at Oaks Park. Camron Coley, Junior Milla and Chaka Barnett goals paved the way for victory once again with George Martin and Dolapo Gbadamosi efforts almost earning Way something from the game.
A local derby game saw Flyers Under 21s return to winning ways, moving third on the back of a 5-1 away win against Romford Under 21s. Jerry Reynolds and Charlie Portlock both scored twice and Alfie Green grabbed the other, rendering Ryan Power's goal as just a consolation in the end as the visitors climbed up the table.
Jolof Sports Reserves sit fourth, just goal difference keeping them apart from the sides above as they ran in win number three for the season with a closely fought 2-1 win at home against Frenford A. Ronald Asante scored both of the Jolof goals to move them onto nine points and still in touch with those above.
The Hainault derby game saw an end-to-end contest between hosts Melbourne Sports and visitors Glendale who made the long journey of five yards to take on their local rivals. The Mels led twice but the Dales fought back on both occasions to be level at the break. But the hosts eventually prevailed in a 5-3 scoreline despite Muhammed Camara netting a Glendale hat-trick.
DIVISION FOUR
There were a heap of goals in Division Four with London APSA Under 23s moving top of the table after a big 5-1 away win on Saturday as they returned home with the points from their trip to Old Esthameians Reserves. Arty Benjamin and Muhammad Mikaeel scored twice each with David Gokou-Siakouri netting the other off the bench.
Over at Forest Row, Collier Row Wheels ensured they ended the day just a point off the pace with a solid home win against Flyers Under 23s, the Wheels rolling to a 5-0 success on the day. The goals were spread around with Jake Bridgeman, Harry Gilham, Farhaan Korimbocus, Jack Stockdale and Luke Woodgate all netting.
Romford Under 19s are up to third place in the table and produced their third league win of the campaign with a 6-1 victory against Newham & Havering Borough. Stephen Toussaint scored twice with Victory Agyemang, Oskar Plusa, Praise Ogbebor and Abel Woldegiorgis bagging to help their side to the win. Andrew Elie scored the Borough goal in reply.
It was a good day for Avondale Rangers who made it two wins from three in the league as they took all three points in their game against Inter London who couldn't follow up a terrific win from last weekend. Adam Friend, Joe Powell and Peter Moles all netted for Rangers who moved to sixth on the back of that performance.
The goals were flying in at Hall Lane where hosts Emerson & Upminster Reserves took on Fairlop Rovers Reserves, the sides level on points going into the fixture. Attack dominated defence in this one with Fairlop coming out of the game with a 6-3 win under their belts, moving up to fifth position, three points and four places ahead of their opponents.
COUNTY CUP
It was a good day in the Essex Junior Cup for our sides with five out of six ties producing victories for our clubs. Ilford Reserves took the honours from their tie at home to Collier Row as, despite the game finishing level at 1-1, the Foxes scored five in extra-time to win the game 6-1 to book a home tie against Shenfield Reserves next month.
There was a second giant killing of the season for Something From Nothing who, after dispatching Premier side Belfy in round one, this time took out another higher ranked side, beating Leyton City 4-2 at Wanstead Flats. They now host Great Bentley in the third round next month.
Over at Parkside, Aveley Under 23s faced lower ranked opposition in the form of Division One's Unitey and had to come through a very close game, scoring the only goal of the game in a 1-0 win. They will now head down to the seaside next month to take on Earls Hall United.
There was an impressive result for last season's beaten Trophy finalists as Cowley Community took out Olympian League opposition, defeating Leytonstone United by the odd goal in five on Saturday, winning 3-2 in Newbury Park.
Cowley's opponents in round three will be CSM London who faced EAL opposition in the form of London Cranes on Saturday, both from the West division, and came out well on top of the game, winning 5-1 at Flanders.
Chingford Athletic saw their run in the competition come to an end as they were edged out by the odd goal by Stock United, the visitors scoring the only goal of the game as they confirmed their place in round three.
Photo Credit: Woodford East FC