WEEK 10 REVIEW: Round-up of all the league and cup action from the weekend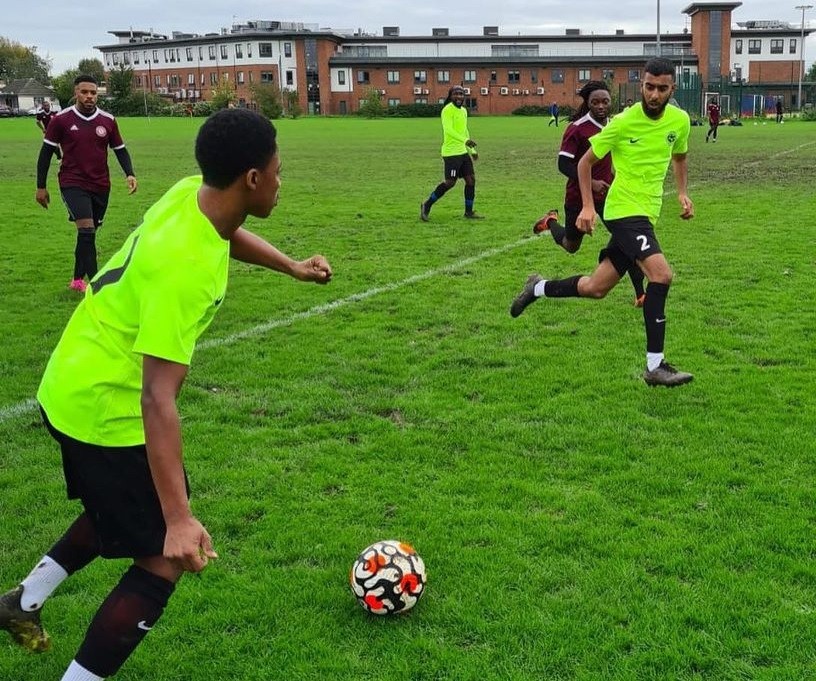 For our latest news and updates, please enter your email address
FENTON CUP
It was a busy cup weekend in the Essex Alliance League on Saturday with the Fenton Cup and Trophy taking centre stage and, although there were no big cup shocks, some near misses did occur. Unbeaten Senior Division side, Jolof Sports, almost endured a big shock as Ilford Reserves from Division One held them to a 2-2 draw through Rhys Clements and Seghei Scupoi efforts. But Jolof held their nerve in the shootout to win 3-0.
There was a similarly close game over in Hackney where Division One's Renegade were facing Senior opposition in the shape of Tower United. The game saw a five goal thriller with Tower edging through into the second round with a 3-2 win. Bashir Ali scored a hat-trick and proved the match winner on the day.
Another Division One side, Kwanzas London Sport, were also facing up to a two division deficit as they travelled to Lakeside to take on another Senior Division side in the shape of Rapid Chingford. It was the higher ranked side who prevailed from the tie, winning 5-2 to take their spot in round two of the competition.
Oakside were the highest scorers of the day as they faced fellow Premier Division side, All Prospects, over at Fairlop Oak. 'Side were in fine form in front of goal with Luke Caston striking five goals, Darnyl Stanley scored a hat-trick, Mussa Jamanca scored twice and one apiece from Jack Swaby, Demi Elegushi, Kieren Huddart and Sam Blackholly confirmed a thumping 14-0 win.
Leyton Royal were also in goal scoring form on Saturday facing up to third tier opposition in Hainault with Forest Green the visitors to Fairlop Oak seeking to cause a surprise. But Royal were too clinical on the day with Bogdan Toana and George Mirea scoring twice and singles from Florin Porceanu, Vlad Farcas, Tamer-Andrei Bogdan and Marian Nedelea completing an 8-1 victory.
Premier Division leaders, Frenford A, are into the hat for the second round themselves, extending their great start into the cup competitions with a hard fought victory at home against Wapping in Ilford. Kingsley Morris netted for Wapping but Frenford goals from Isima Iguisi and Adam Andrade were the difference for the hosts who won it 2-1.
FC Baresi were in Preliminary Round action on Saturday with a tough looking tie ahead of them against one of the Premier Division high-flyers, North East Lions, in the Crooked Billet derby match. The Senior Division side made no mistake however and were comfortable 3-0 victors on the day as Tyreece Robinson continued his form with two more goals and Abdirahman Sabriye netted also.
Also into the hat for round two are London Cranes who faced familiar opposition again, taking on Athletic Newham Under 23s for the second time in as many weeks, following up their big league win last time out with a 4-1 victory on Saturday. The experienced Mathius Sendawula struck twice with Dennis Mahadha and Muhammad Mutesasira also on target to render Luis Reinoso's effort as just consolation.
In the all Senior Division tie at the Marshes, Chigwell Town were the visitors to Woodford East, the former seeking an upturn of form after a difficult run. But East proved too strong on the day with Lucio Uare's hat-trick setting the pace while John Gilley, Frank Glock, Ben Smith and Keiran Bruns all netted also. Leon Harris and Wesley Adeyemi goals accounted for the Town strikes in reply as Woodford went through, winning 7-2.
FENTON TROPHY
In the Fenton Trophy, there were again no shocks based on league position aside from narrow victories. Division Two's Loughton Lions put themselves into the second round as they faced a tricky trip to Division Three's Old Barkabbeyans Reserves. Barks' goals from Jarode Mbungu and Robbie Osborne made the game competitive but Lions squeezed through 3-2 to continue their run.
It was a similar story for Division Four's Fairlop Rovers Reserves who went into their clash at Division Three Glendale with confidence after a strong league start but found themselves three down through Dales goals from Mouhamed Gueye, Attila Szabo and an own goal. But Rovers rallied well, scoring twice to make the ending nervous but it proved not quite enough with the game ending 3-2.
The Fairlop Rovers first team had a far more routine afternoon but didn't have everything their way, taking on Division Four's Avondale Rangers in Hainault. Two Rangers' goals from William Cloakley and one each from Johnson Santos and Jake Clarke made things interesting but a Rovers hat-trick in reply from Jack Kibblewhite, two from Sam Beaman and one each from Ellis Simmonds, Kian Millward-Burton, Harry Oliver and Dylan Scutt ended the game 10-4 in the hosts' favour.
The theme of goals continued over in Newbury Park where Old Esthameians ensured themselves of a place in the second round of the competition as they secured a big 9-3 home win over Emerson & Upminster A. Carl Holroyd's brace and a Bradlee Birch effort accounted for the Emerson goals but those efforts were not enough as E's struck regularly to win it.
It was a good day for all of the other Division Two sides also as Ryan Under 23s made safe passage through to the next round themselves, returning home from their trip to Rainham with a 7-3 win under their belts against Newham Royals. They now play host to Old E's in the last sixteen in the coming weeks.
After a difficult last couple of weeks for the club, Newbury East showed some improved form in the cup on Saturday but were eventually knocked out of the competition with defeat at home to Unitey in Newbury Park despite a Mohammed Janneh goal. Mohammed Abaker and Brandon Fulton goals for the visitors in reply edged the game 2-1 to see Unitey through safely in the end.
Division Two's Redbridge Community had to overcome lower division opposition on Saturday with the visit of Flyers Under 23s to Castle Green with Redbridge starting to show some real form this season. They were able to confirm a solid 7-2 win as Akiljo Balliu bagged a hat-trick while Tevini French scored twice and singles form Suny Jadeja and Frankie Francis completed a good showing.
There was also a really strong performance from the new Saints of St Francis who made their competitive bow this term with a home fixture against Newham & Havering Borough at the Flats and were emphatic 8-0 winners. Codey Cosgrave, Godwill Kumpana and Jaiden Belfon all scored braces with Chavez Rose-Sterling and Peter Luvualu efforts rounding off a positive performance.
The sole Preliminary Round action was an action packed affair as Together United made the short trip around the Crooked Billet roundabout to take on FC Baresi Under 23s at the Britannia. A seven goal thriller ensued with Maamoon Khan, Harrez Aliane and Ronnie Kabongo all finding the back of the net for FC Baresi but those efforts proved not quite enough as United edged it 4-3 themselves.
SENIOR DIVISION
Aside from the cup football action, there was a sprinkling of league football also with two big results in the Senior Division affecting top and bottom. CSM London picked up a hugely important win in their quest to move away from danger, winning at title chasing Lymore Gardens in a 3-1 scoreline. Goals from Ayodeji Adelekan, Munnir Saad and Chris Anele proved enough to take a second win.
And if that result wasn't exciting enough for you, the game over at Noak Hill produced a ten-goal thriller as hosts FC Petrocub were paid a visit by struggling Blue Marlin, both sides showing some improved form of late. The game ended in an incredible 5-5 draw as Lindsey Marsh struck a hat-trick for Marlin, Triston Foster and Scott Campbell netting the others to take a vital point.
PREMIER DIVISION
With others around them in cup action, Crookz United used that to their advantage, moving up a number of places in the Premier Division to fifth following a solid 4-2 win away at Eastside in familiar surroundings. That was United's second win of the season and positions them well in the race for promotion into the National League System.
DIVISION ONE
In Division One, the gap at the top is down to just goal difference once again as Cowley Community moved level with the leaders on points after scooping their fourth league win of the campaign, defeating Newham Wanderers 4-0 in Newbury Park. Chris Wright scored twice for the hosts with Aiden Gentle and Lekan Bakare also one the scoresheet.
Two of the division's in-form sides also secured important wins with RCXI just two points off the pace and sitting third after defeating Francis Luke in a close game at the Marshes. RCXI overcame two Jahvarn Steward goals for Luke with a Oluwaseun Koya brace and one apiece from Derek Feyi and Omololu Onabolu to win it 4-2.
Wanstead's impressive start shows no end anytime soon and they had Edson Lami to thank once again as he scored a hat-trick in a 5-2 win away at Something From Nothing. Zoltan Balogh also got in on the act with a brace as their side confirmed a third league win from three this season and sit in fourth, well in sight of those above.
DIVISION TWO
There were two thrillers in the fourth tier with Emerson & Upminster Reserves combined with Royal Forest for a game of nine goals, the teams beginning the day level on six points in mid-table. But by the end, Emerson had moved three points clear, confirming a third league win through goals from Ross Braybrooke, Aaron Costello, Sonny scott, Tobi Onafeko and Joshua Gibbins to edge it 5-4.
Two unbeaten sides went head to head in the division's other fixture with FHN Athletic's solid start put to the test against leaders Rainham Working Mens Club on Saturday. Another close game saw Kieran McKoy on target for FHN but that goal was not quite enough as Cameron Shakes and Sean Tormey efforts turned the match in favour of the Workies who won it 2-1 to stay top.
DIVISION THREE
The six-point club gained another member in Division Three on Saturday where Melbourne Sports were able to secure their second win of the season, defeating ASA 3-1 at the Marshes and moving above their opponents to move into eighth in the process.
DIVISION FOUR
There was just the one game in Division Four over the weekend where the leaders, Chingford Harriers, were in action with a home fixture against Sporting Pillars, both sides having made perfect starts to their seasons – something had to give. The two sides were well matched and couldn't be separated, finishing 2-2 with Darlington Ojo's brace ensuring Harriers stay top while Pillars enhanced their credentials for a title tilt.