Premier and Division Three Cups conclude at New Lodge this week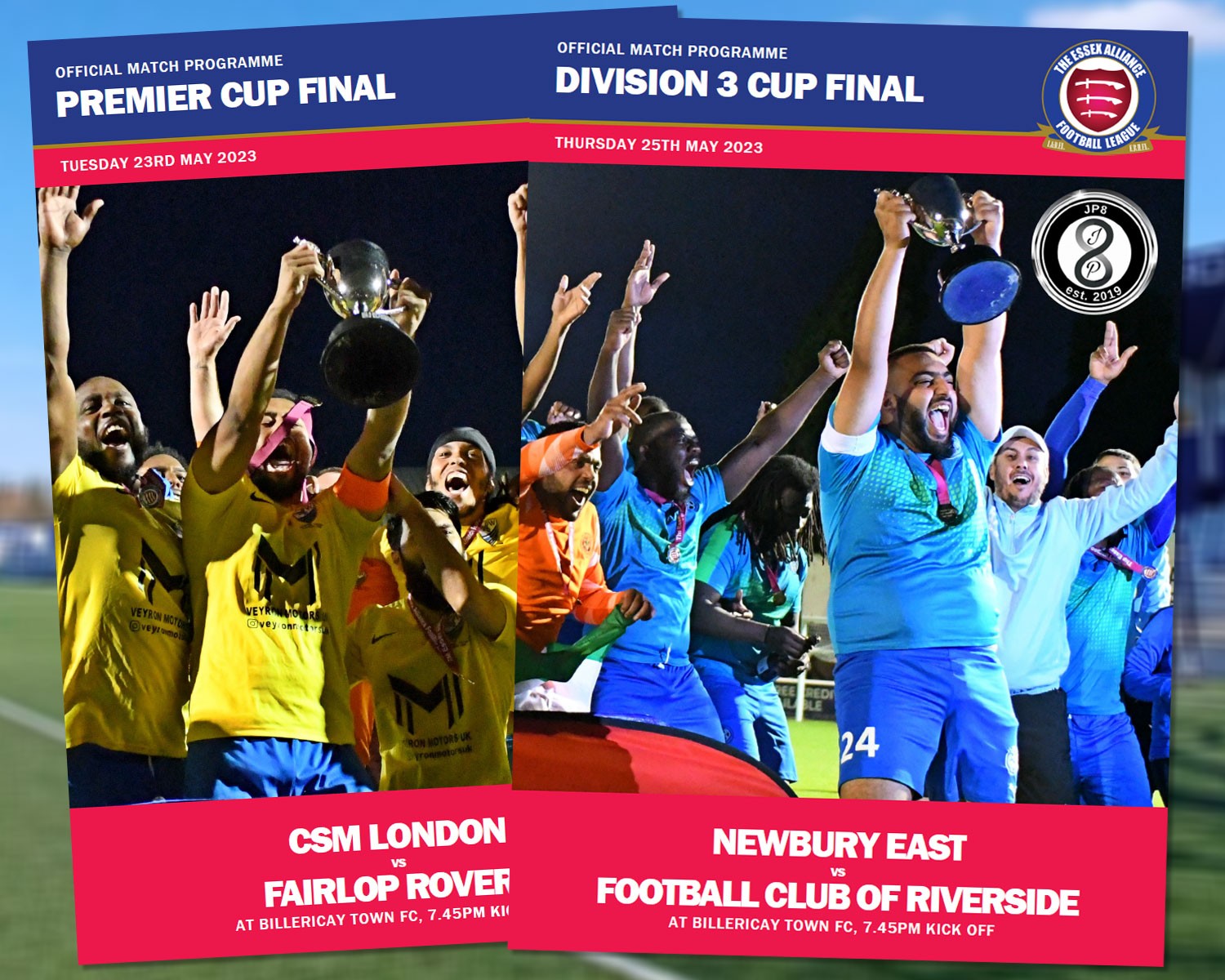 For our latest news and updates, please enter your email address
Cup finals make their return to Billericay Town's New Lodge ground this midweek with our first visit since 2021, concluding the Premier Division and Division Three Cup finals, our previews of the ties below.
TUESDAY 23RD MAY 2023, 7.45PM KO
PREMIER DIVISION CUP - CSM LONDON VS FAIRLOP ROVERS
On Tuesday evening, it's off to New Lodge to follow the conclusion of the Premier Division Cup, featuring two sides familiar to the cup final scene following victories in recent years. It's an East vs West battle with CSM London, champions of the West division, taking on East representatives, Fairlop Rovers.
For CSM London, it has been a sparkling season for Will Brobby's side, bouncing back from the disappointment of relegation from step seven last term to make an instant return, winning the league with just a single defeat to their name. Alongside that success, it's been a strong showing in the cup too with their run to the final beginning in the second round with a victory over Freetown (7-1), following that with a hard-fought 2-1 home success against London Park City in the quarter-finals (2-1). Their opponents in the semi-final were a well-regarded Aveley Under 23s side and it proved a tight contest, CSM scoring the game's only goal in a 1-0 win, securing their place in the final.
In the other dugout on Tuesday night will be Andrew Moffat's Fairlop Rovers side who remain holders of the Fenton Trophy for a few more days at least following their infamous rabona-inspired victory last year against Old Esthameians. It's been a strong showing once again for the side promoted to the Premier Division this term, sitting fifth in the league, semi finalists in the Fenton Cup and this engagement too. They were 4-1 winners in round one against Athletic Newham Under 23s, following that with a narrow 4-3 win against North East Lions in the quarters and a come-from-behind victory in front of over two-hundred fans against Waltham Abbey A, winning a shootout 4-2, after a 2-2 draw.
With no meetings between these sides this term, it is perhaps one of the tougher contests to predict though an in-form CSM London side must go in with the greater confidence given their feats this term. A recent strong showing by Rovers however against higher-ranked opposition does demonstrate they have it in them for the big occasion and will need to be at their best for this one.
THURSDAY 25TH MAY 2023, 7.45PM KO
DIVISION THREE CUP - NEWBURY EAST VS F.C. OF RIVERSIDE
On Thursday evening, it's another trip to New Lodge as we complete the divisional cup action with the conclusion of the Division Three Cup as Newbury East go in search of a league and cup double, perhaps even treble, when they take on an improving Football Club of Riverside side.
We begin our preview by taking a look at Wasim Ahmed's Newbury East outfit who, it's fair to say, have had a season to remember this term following relegation last season, taking Division Three by storm with an array of attack-orientated talent. They were the league's first champions this term, allowing them the time to then re-focus efforts on a cup run too, beginning their run in this competition with a 9-2 victory at home against Dagenham United Reserves. This was followed by a quarter-final win away at Flyers Under 21s, edging it 4-3, before completing their run with a 3-0 win against Melbourne Sports in the semi-finals to reach the main stage.
It's Yemi Awolola's Football Club of Riverside up against East on Thursday and what a turnaround they have had to their season following a real struggle in the first half of the campaign which saw them sit rock bottom with just a single victory. But an inspired turnaround saw them grasp onto their Division Three status with a great end of season run, aligned with their success in the cup. They were 3-2 winners in the quarter-final against Buckhurst Way but they saved their very best for the semi-final, defeating third placed Frenford A in Ilford in a 3-1 scoreline to book their place at New Lodge.
The bookies favourites for this one have to be Newbury East, especially given a pair of league victories in their favour earlier in the campaign. But they will be wary of an improving Riverside team who have some individuals capable of causing concern. Who will raise their game for the big occasion and lift the silverware at full-time?