LEAGUE CUP: Round-up of the opening group action in Week 1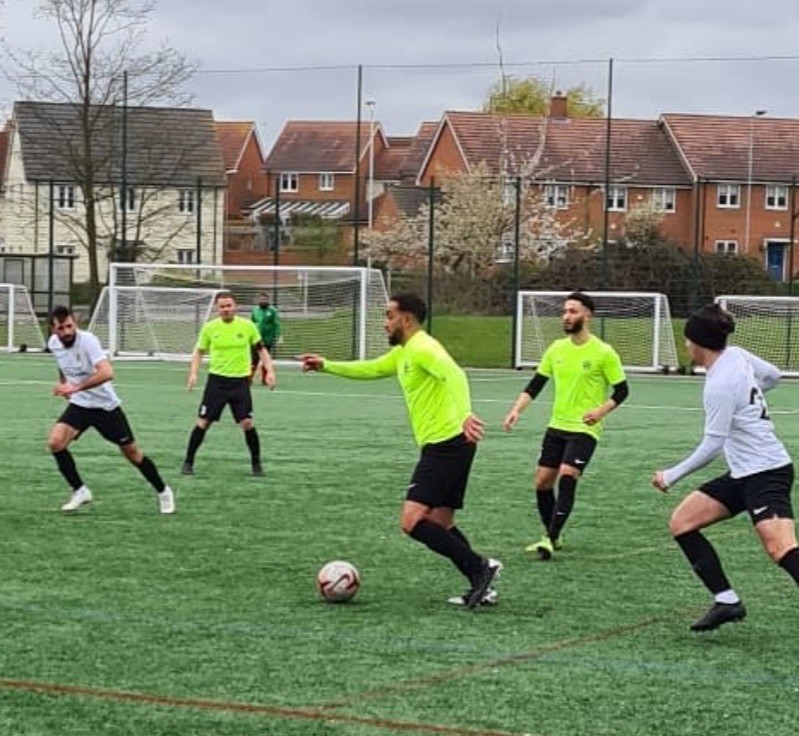 For our latest news and updates, please enter your email address
Competitive football got back underway at the weekend with the extended League Cup competition involving the majority of our clubs, all eager to get back out there on the pitch. We were also pleased to see so many of our sides take part in a minute's silence to honour HRH Prince Philip, the Duke of Edinburgh, who sadly passed away just before the weekend.
Group A
The Group A action saw FC Petrocub take an early lead at the top on goals scored as they edged a seven goal thriller against FC Baresi 4-3. Ghenadie Moisei netted twice with one apiece from Vitalii Chiriac and Nicolai Gutu were just enough, overcoming two Baresi goals from Marvin Smith and Junior Appiah's effort.
The other game from the group was also a tight affair with Lymore Gardens making a trip to Salisbury Hall to take on Rapid Chingford in the day's late game. Just a single goal pulled these well matched sides apart with Dylan Roberts the scorer for Lymore, handing his team a 1-0 and earning them second spot.
Group B
There were some shocks in Group B as both of the Division One sides overcame Senior Division outfits in 2-0 scorelines. Woodford East were the first of those as they defeated All Prospects. Billy Barr and Callum Maltese were the scorers of the East goals to send them second in the group on alphabetical order.
The side who sit top are Kit Out London, another team from Division One who had an away trip to Senior Division opposition and they returned with all three points from their tie, defeating Tower United. Kachi Yassine and Yasin Zougui grabbed the London goals to help their side to a 2-0 win and make a great start to the cup campaign.
Also joining those sides at the top end of the early standings, Chigwell Town came through a close tie at home to CSM London in Hainault. Chris Anele got on the CSM scoresheet but his efforts proved not quite enough on the day as Town won 2-1 to take maximum points.
Group C
In Group C, it's Kwanzas London Sport who lead the way in the early standings as they picked up the sole win in the group over the weekend, defeating North East Lions 1-0 in a close game. That result saw the Division One outfit move a couple of points clear of the chasing pack.
Sitting second on alphabetical order are Division Two's Belfry who stepped up a level and took home a point against Division One's London Park City in their clash in Seven Kings. The teams battled to a 2-2 draw in the game meaning they both opened their accounts with a point apiece.
And it was an identical outcome in the group's remaining game just mile or so away in Ilford where Francis Luke were the visitors to take on Frenford A at The Drive. Jordain Lee and Adam Rowe were the Luke scorers on the day to help their side earn a point in a 2-2 draw against their hosts.
Group D
In Group D, just goals separate the early leaders with Unitey holding top spot on goals scored after they picked up a 3-1 win at home against Chingford Athletic A in Loughton. Sanchez Bolessa scored for the visitors but goals from Brandon Fulton, Bubintende Masadi and David Otley secured the points.
Sitting in second place are Cowley Community after they came through a five goal thriller away at Barkingside A in a local derby. Cowley were 3-2 winners on the day to restart their campaign in some style and give them a boost for the games to come.
Completing the group action, there was another close game at Castle Green where hosts Dagenham United were looking to make a strong start in the competition against Royal Forest. Sean Kettle's goal got things simmering quite nicely for United, Charlie Fiander scoring their other to overcome Tom Jakob's effort for Forest in a 2-1 scoreline.
Group E
It's Fairlop Rovers who hold top spot in Group E as the Division Three side took the points against Division Two opposition, Old Esthameians. Rovers were 4-2 winners on the day, extending what has been a positive season for them following promotion.
Sitting second in the group are Loughton Lions who made a terrific comeback in their fixture to beat Melbourne Sports. Having trailed 2-0, the Lions got back in the game and eventually turned it on it's head to win 3-2.
Just a few yards away, Glendale make up the trio of victors in the group as they overcame the efforts of Old Barkabbeyans Reserves in a 2-1 scoreline to go third. Gideon Baffour scored from the spot just before the break with Valter Correia netting the Dales' second not long after half time. Faraz Khan pulled one back late on for Old Barks from the spot.
Group F
There were goals aplenty in Group F where Royal Forest Reserves make the early running on goal difference after they defeated Lymore Gardens Reserves 5-0 in Hainault. Thomas Alexander scored twice adding to strikes from Anayo Ukwunnah, Josh Trainor and Will Asenso to take a comfortable victory.
Also securing a big win were Chingford Harriers as Stephen Duberry's double coming off the bench helped them to a 4-1 win against Eastern Avenue at Peter May. Darnell Lamothe and Jake Kemp both also got on the scoresheet to make it a great restart effort for the Harriers.
That scoreline was reflected down in Upminster where Custom House United will have been pleased with their efforts as they returned victorious from their trip to face Emerson United Reserves. Jamie Wooster scored twice, Charlie Clarke and Liam Sullivan one each to overcome a Ross Braybrooke goal for the hosts.
Group G
The goals rained in in Group G also twenty scored in just three fixtures! Together United were the biggest winners in the group as they took three points home with them from their trip to Avondale Rangers, winning the game 5-2 to top the early group standings.
Collier Row A sit second as they recorded their first win in the group, earning that outcome on the back of a seven goal thriller against Newham Royals. Row edged the contest by the odd goal, winning 4-3 to give themselves a great boost for the competition ahead.
The remaining game came from Castle Green where the reserves of Dagenham United and Brentwood United both put in a real shift and had to settle for a share of the spoils in an entertaining 3-3 draw. Amran El-Kaouny, Dan Lane and Giovanni Morgan all for on the scoresheet for Dagenham to open their points account.
London Junior Cup
Alongside the domestic cup campaign, there was also some county cup action once again this week where Jolof Sports joined others from the league in the third round of the London Junior Cup, completing a thumping 7-0 win against Ocean Rangers.