Chingford Athletic overcome a Cranes United comeback to be crowned Fenton Cup Champions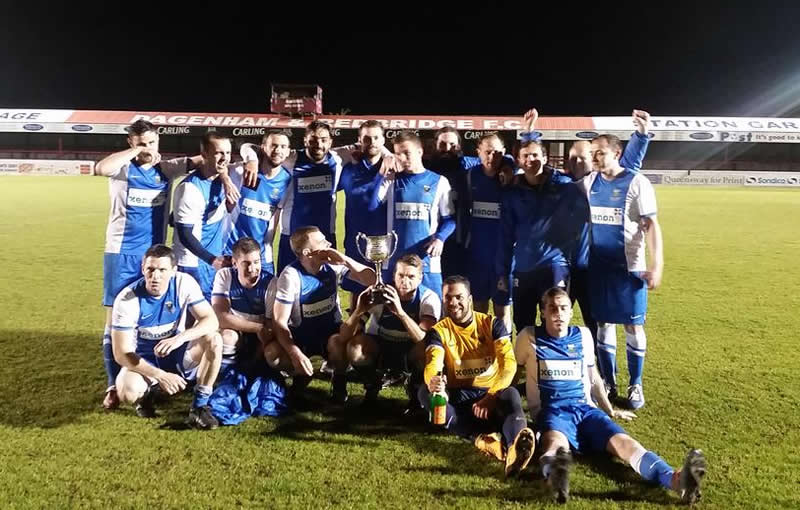 For our latest news and updates, please enter your email address
Chingford Athletic overcome a Cranes United comeback to be crowned Fenton Cup Champions for 2015 on penalties.
On a night better suited to water polo you might say, this certainly didn't dampen the quality of football on show from both sides in last night's Fenton Cup Final as Chingford Athletic and Cranes United came together to put on a show for the crowd.
Chingford Athletic were ahead early on with a goal inside 3 minutes courtesy of star man Michael Mignot as his Chingford side came flying out of the blocks. And they then doubled their lead in the 26th minute with Michael Hay unleashing a fantastic long range effort from the right hand side to beat the dive of the despairing Cranes keeper.
Cranes United reacted extremely well and created numerous chances for themselves through some excitingly attacking football and you might say were extremely unlucky not to at least be on level terms as they were constantly thwarted by the inspired Jack Francis in the Chingford goal.
At half-time therefore, you didn't feel this game was over and so it proved.
Almost immediately from the restart, Cranes United got a deserved goal to make it 2-1 with plenty of time left. With the Chingford players showing signs of fatigue as the half wore on, Cranes were becoming more and more in control of the game. Francis was once again having to be at his very best to deny the goalbound efforts of Cranes but he couldn't do anything about the stoppage time leveller from Cranes which made it 2-2 and took the game into extra time.
Chingford held stern with some good defending at the back again ably assisted by some quite unbelievable one-on-one saves by Jack Francis to keep his side in the game. With time running out, Chingford took advantage of the rolling substitutions law to re-introduce their penalty specialists, a move that proved crucial you might say.
In the dreaded shootout, Chingford were ahead early with Francis saving a kick but a miss from Chingford towards the end of the shootout looked to have sent the match to sudden death. However Cranes couldn't take advantage and missed their fifth spot kick to hand the trophy to Chingford
Congratulations and thank you to both sides who played the match in the true spirit of the game and with great respect for each other. We also thank our match officials this evening, led by Adam Storey, who also had terrific matches and contributed to a fine evening's entertainment.
A week on Sunday, we look forward to the last of this season's cup finals as we reach the climax of the Premier Division Cup with Rainham Working Mens Club facing either Cranes United or Chingford Town.