WEEK 5 REVIEW: Round-up of Saturday's league and county cup action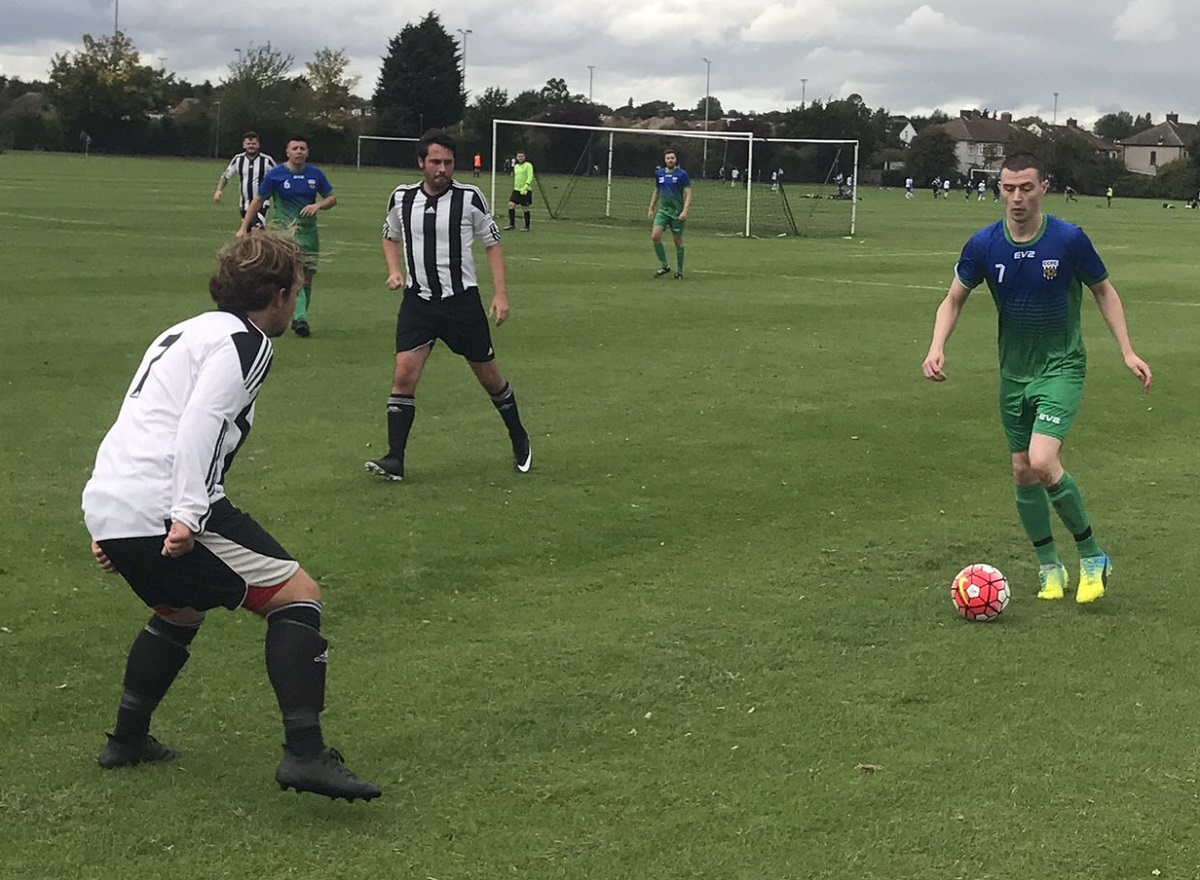 For our latest news and updates, please enter your email address
COUNTY CUPS
There were a number of county cup matches taking place this weekend as both the Essex County and London FA competitions saw first round ties completed.
In the Essex Junior Cup, there was a tremendous win for Premier Division side West Essex Reserves who hosted Olympian outfit, Old Barkabbeyans Reserves in their opening round clash in Hainault. West Essex came through with an emphatic 8-2 victory to book their place in the second round of the competition.
In the Essex Junior Trophy, Chigwell were the biggest winners of the day as they faced a tricky looking away tie at Hutton A in their own opening round clash. However, a terrific 7-1 win for the newly formed Chigwell handed them a spot in the next round.
Also scoring seven goals in their debut in the competition were Docklands Albion who had to things the hard way at Collier Row Under 21s, eventually coming from behind to see off their Olympian League opponents in a 7-3 scoreline.
Kicking off a number of all-EAL ties, there was drama at ACD United as the Division Two high flyers took on Division One's Ferns Seniors with both sides eager to progress into the next round. A tightly contested game saw the sides end 2-2 after extra time before a dramatic penalty shootout went in favour of Ferns in a 5-4 victory.
There was a cup shock in Ilford where Division Three's Frenford A were taking on Newham United Reserves from Division Two. And it was the lower league outfit who secured an impressive win as they ended Newham's participation in a 4-2 victory.
Ending their county cup campaign for the season were London Caledonian Roses who took on Leytonstone United Under 21s. After the scores finished level after ninety minutes at 1-1, it was United who prevailed after extra time as they ran out 4-1 winners.
In the London Junior Cup, Wapping were emphatic victors in their home clash against Christ Church Chislehurst as they knocked thirteen goals past their south London opponents in a 13-2 final score line for the east London side.
Sporting Hackney Reserves extended their good league form to the county cup competition as they took on JL Rovers at the Marshes. The Parrots were 2-0 winners on the day as they made safe passage into the second round of the competition.
Another side making it through to the next round were FC Baresi who also continue good form produced in their opening league encounters at home to IB Albion in the county cup on Saturday. A close game ended level after ninety minutes before Baresi came through the penalty shootout 5-3 to progress on.
The only EAL side to lose in the opening round were Lopes Tavares London who made a long journey across London to take on South Kilburn SK but saw their county cup crusade come to an end in a 3-1 defeat.
FENTON CUP
The Fenton Cup competition continued on Saturday with another side making progress into the second round of the competition. Division Three's Old Esthameians Reserves were on the road as they visited Division Four's Newham Royals in Beckton. Old E's avoided any potential slip-up as they cruised to a 7-2 win with Lee Vickers netting a hat-trick to add to goals from Chris Booker, Jack Tye, Shaun Vickers and Thomas Boomsma. Eric Hall was the Royals scorer with a consolation goal.
PREMIER DIVISION
There was a huge shock in the Premier Division on Saturday as previously winless Old Esthameians took on last season's title rivals and unbeaten, Jolof Sports, in Newbury Park. An exciting game swayed towards both sides but it was Old E's who came through as winners in a 4-2 victory. Goals from Danny Morgan, Billy O'Sullivan, Matthew Game and Jake Evans proved enough to take the points.
Following Jolof's slip-up, United London are the new Premier Division leaders as they came from behind to beat Blue Marlin in Romford. Two goals from each of Ali Abdalla and Billy Teixeira plus strikes from Harry Chalk and Emmanuel Wazola completed a resounding 6-1 win for United to go top by a point.
Docklands Albion Under 21s made it two wins from their opening two games as they came through a closely fought battle with Leyton Falcons in a 2-1 score line. Albion maintained their perfect start to the season as goals from Robin Anipa and Sam Dowridge confirmed the victory and a move up to third in the table.
In the division's remaining match, London APSA secured a first point of the season as they took on London Cranes in East Ham. A very tight match witnessed six goals with the teams taking a share of the spoils in a 3-3 draw.
DIVISION ONE
In Division One, Singh Sabha Barking have moved up to second in the table with a second win in a three matches as they took on Forest Green at home on Saturday. Singh Sabha eased to a 5-2 victory over their promoted opponents to make the move up the table.
Also on the move up the table were Ryan Reserves who, after winning Division Two last season, have made a solid start to life in Division One and move up to third following a 4-2 win at East Ham Inter on Saturday.
There was a first win of the season for Melbourne Sports over the weekend as they were visited by sixth placed Cowley Community. Thom Bryan scored for Cowley but his goal proved not enough as Scott Lincoln's brace carried the Mels to a 2-1 win on the day and maximum points.
DIVISION TWO
United London Reserves have continued their good start to the season, moving up to third in the Division Two table with a 7-2 win at the weekend over Forest Green Reserves. Gregory Cooke and Kyle Balmer both netted for Green but their efforts were in vain as United bagged their third league victory through a Sam Paterson hat-trick, Corley Ross brace and single goals from Jeffrey Ashong and Peter Mayhew.
Keeping pace with the leading pack are Custom House who join a group of four clubs within a point at the top following their 7-3 thumping win at Inter Plaistow on Saturday. Ben Nyman scored twice for Plaistow and Rakeim Blaize once but Sam Wilkinson netted a hat-trick for the Dockers with goals from Charlie Clarke, Jamie Wooster, Paul Wooster and Glenn Levy completing the win for Custom House.
Lymore Gardens scooped a second league victory of the season and moved up to seventh in the table as they won 2-0 away at Lionside in Chadwell Heath on Saturday. Ashley Godwin and Alex Osbourne netted the crucial goals for their side as Lymore took the points.
DIVISION THREE
Gatcliffe opened their Division Three points account on Saturday as they took on Custom House Community with both sides eager to get points on the board. There was a five star performance from Michael Desmond as he netted five goals for his side with Darren Potter scoring four to account for Gatcliffe's goals in a 9-2 eventual victory.
DIVISION FOUR
Division Four remains well poised with a number of sides showing title credentials in the early stages of the season. Royal Forest have returned to the top of the pile on goal difference after they beat Wanstead Warriors 9-1 on Saturday. Aaron Mayo scored the Warriors goal by a Sean Bellamy hat-trick, Luke Charge double and singles from Joe Owers, James Mahoney, Harry Killick and Martin Cannon completed a comfortable victory for Forest.
With a perfect record so far, Haver Town Reserves are showing their title credentials and cruised to a 6-1 win on Saturday against Brentwood United Reserves. Zak Robinson scored a hat-trick for Town, Ronnie Coules scored twice and Karel Calek once to bag the points.
Debden Park are the third side level on nine points at the top of the table after they saw off Brook City in Woodford on Saturday. Daniel Rule was a hat-trick hero for Park with Jack Latchford and Jack Briley rounding off the tally to complete a 5-2 win for their side.
In fourth place in the table are Avondale Rangers who made it two wins from their opening matches so far as they hosted Dagenham United Reserves at Avondale Drive. Jeffrey Nketia scored again for United but a hat-trick apiece for Paul Regan and Joseph Powell plus a Liam McIntosh strike carried Rangers to a comfortable 7-1 win.