WEEK 3 REVIEW: May Baker, Falcons and Grove maintain leads at the top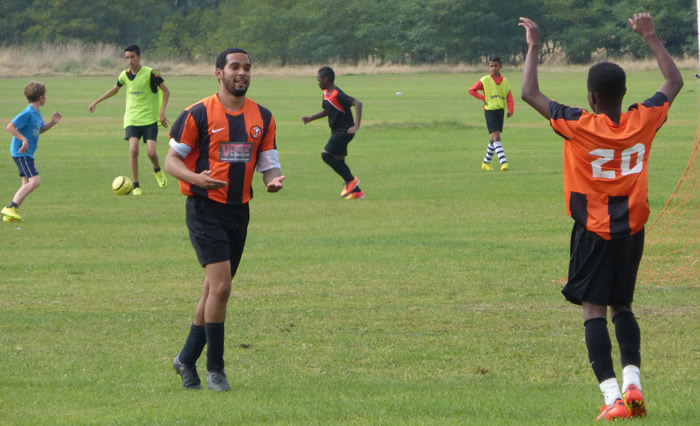 For our latest news and updates, please enter your email address
May & Baker E.C. remain top of the Premier Division following a nine-goal thriller away at Newham Res ended in a 5-4 victory. May & Baker's win maintains a 3 point gap over second placed Chingford Town who got back to winning ways with a 3-1 win at Rainham Working Mens Club. Melbourne Sports picked up their first victory of the season with a closely fought 3-2 win against Jolof Sports Club with a John Schubert brace and a single from Gary Williamson securing the points. Eastside Rangers and Chingford Harriers both secured first points of the season in a 1-1 draw with Nick Shawyer and Edwin Jabbari finding the net for Harriers.
New club Three Colts took points off Division One leaders Vittoriosa Falcons for the first time as they shared 6 goals in a 3-3 draw with Richard Blackwell, Fabian Donovan and Ross Smith striking for Colts. A thrilling 12-goal match between London Bari Res and Glendale saw the former move to within a point of top spot coming from 3-0 down to win 8-4. Jeffrey Nketia scored a hat-trick for Bari to go with goals from Jonathan Atkins, Remayne Thomas, Shayan Ghamarinezhad, Daniel Headley and Ben Shoderu. For Glendale, Jordan Malick, Ryan Mays, Carl Harris and an own goal accounted for their total. Blue Marlin move up to 3rd place with a 6-1 win at Forest Green while Northend opened up their account for the season with a 4-0 win at Chingford Town Res and immediately jump to 4th in the table. Daniel Cameron bagged a hat-trick with Ryan Leddra completing the goalscoring.
New club Grove United are making early inroads and are top of the table with maximum points following a 5-2 win at Leyton Green at the weekend. Tommy Jones scored a brace with the other goals coming from Neil Matthews, Dan Spinks and Simon Hainsworth. Andrew Overton and Ben Jones scored the Leyton goals. Custom House and West Essex Res are locked in 2nd and 3rd places respectively following a 1-1 draw with Tim Mason scoring for Custom House and Adam Norris for West Essex. Dagenham United picked up all 3 points with a 2-1 win on the road away at Canio with Jonnell Bampo and Edward Akinwale on target. Goals from Pardeep Bajwa, Jordan Hamilton and Arjun Sangha helped Singh Sabha Barking move up to 4th place after a 3-2 win against Cowley Community. Izynna Ogedi-Uzokwe bagged both goals for Cowley.
In the London Junior Cup, St Francis progressed through to round 2 with a 4-1 win against Clissold Park Rangers. Newham Royals' interest was ended with a 9-0 away defeat against FFC Haringey.