WEEK 22 REVIEW: Round-up of all the league and cup action from the weekend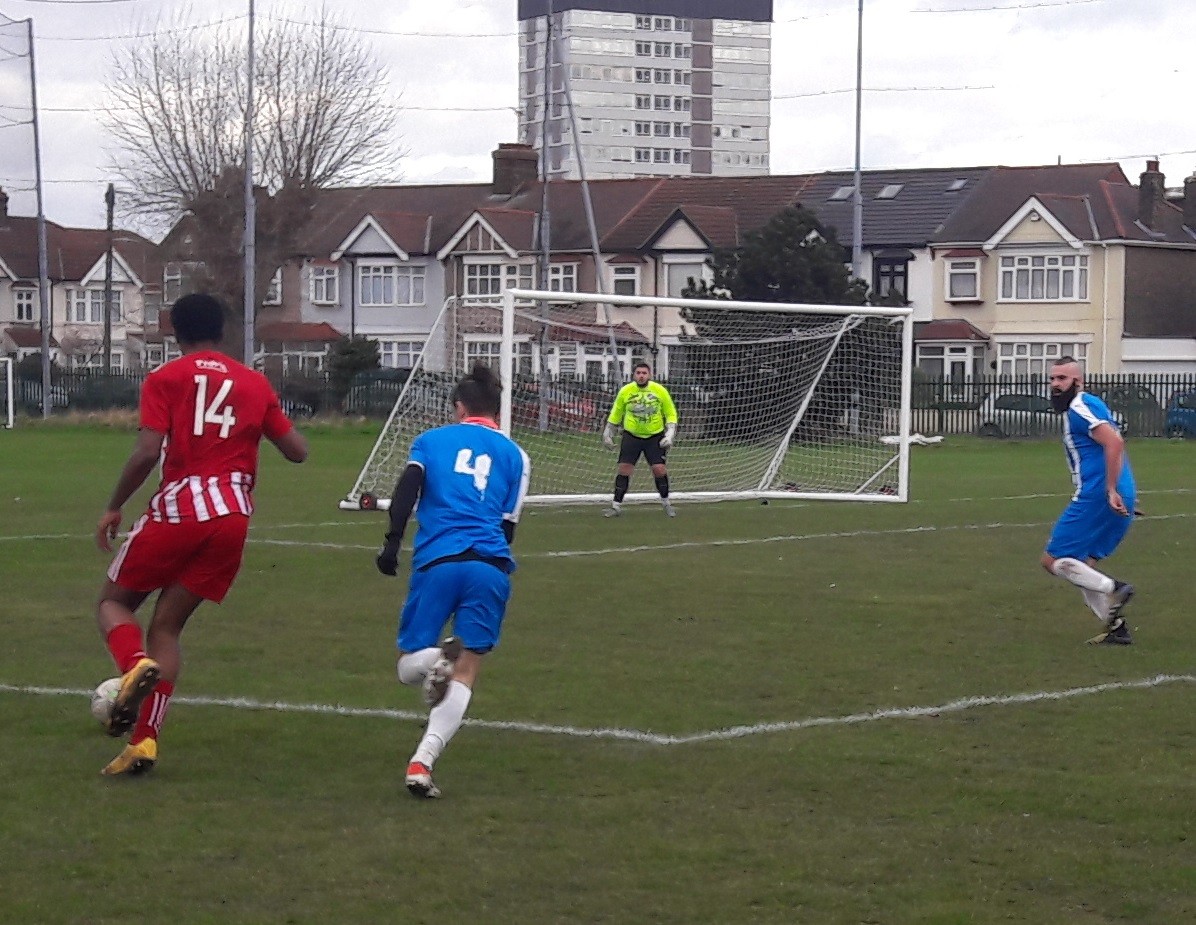 For our latest news and updates, please enter your email address
FENTON CUP
The penultimate name was placed in the hat for the quarter finals of the Fenton Cup and it saw a big derby match between two rivals as Rapid Chingford were the visitors to Hainault to take on Leyton Royal. Despite Royal holding a small advantage in the league, it was Rapid who put themselves into the last eight, winning 2-0 courtesy of goals from Darwin Romero and Andrei Boga. They will face Barkingside A in the next round in February.
FENTON TROPHY
The Fenton Trophy quarter finals also saw a game between two big rivals, just a few pitches away, as Division Two's Fairlop Rovers and Loughton Lions both produced enigmatic performances in front of a sizeable crowd. The two sides couldn't be separated in ninety minutes with the game ending 2-2. And it was Lions who pulled off a big of a shock win in the shootout, overcoming a fifteen point deficit to win it 3-2 from the spot. They head on into the semi finals of the competition.
SENIOR DIVISION CUP
In the first round of the Senior Division Cup, there was a five goal thriller in the game over at the County Ground where Lymore Gardens were hosts to a Blue Marlin side looking for improved cup form. A close game was edged by the hosts with Ryo Brown, Gracia Muhemba and Andre Rashford goals seeing their side win 3-2 to make the quarter finals.
DIVISION THREE CUP
The cup excitement extended to the day's Division Three Cup tie too as Glendale played host to Lymore Gardens Reserves at Fairlop Oak. An entertaining game saw Lymore lead three times through goals from Eugene Goumou (2), Daniel Crowie and Omani Green. But the Dales fought back on each occasion to force spotkick as Attila Szabo (2), Valter Correia and Mohammed Gueye efforts made it 4-4. Glendale prevailed in the shootout to book their place in the quarters.
SENIOR DIVISION
There were some big results at the summit of the Senior Division as Woodford East kept their hat in the ring for the league title with a key victory against DTFC at the Marshes. A goal apiece from Frank Glock and William Letchford for East ended DT's long unbeaten record with Mickey Mesmin's effort proving just consolation in a 2-1 scoreline, though they do remain top.
Jolof Sports also had an afternoon to remember with a crucial win of their own over a title rival as they defeated Chadwell Heath Spartans in a 5-1 scoreline at Flanders. Meer Ishanzadeh netted his first Spartans goal but Papa Ndiaye was in fine form for the hosts, scoring a hat-trick, to go with goals from Fode Diakhite and Yan Manzan.
There were some fine victories for the division's two bottom sides as they continued their quest to avoid the drop with Chigwell Town taking home the points against CSM London in a 4-1 win, dragging their opponents back into the dogfight. Ross Chimes scored twice with further efforts from Mark Howe and Lewis McGillicuddy taking them home. Jayden Mitchell-Brown grabbed the CSM goal in reply but his efforts proved in vain.
It was victory also for second bottom Tower United who picked up a critical third league win of the season with victory at home against mid-table Kit Out London in a 3-0 scoreline. Abdi Mohamed netted twice and Abubakar Maxamed scored the other for the Mabley Green based side as they put themselves to within four points of safety.
PREMIER DIVISION
It was the battle of the top two in the Premier Division on Saturday with Dagenham United making the trip to Ilford to take on leaders, Frenford A, in a huge game for those title chasing sides. And it will be the leaders who walked away the happier of the teams as they earned themselves a 3-0 win through goals from Joel Opara (2) and Carlos Barahona to open up a three point gap at the top.
Third placed Wapping ensured they moved to within a point of the second place after they came through a potentially tricky game against an in-form North East Lions side who sit just a couple of places below. A close game was settled by the odd goal with Wapping goals from Kamrul Ahmed and Muhammad Mikaeel overcoming Shane Thomas' goals for Lions in a 2-1 scoreline.
With games in hand over the top three, Crookz United sit just outside the promotion places presently but kept their excellent run going with a thumping 6-1 away win against London Park City at Seven Kings High School. A terrific five goal performance from Abdouaziz Jeng was the difference, Stephane Trah scoring the other to make it eight league wins for United.
Sixth placed Oakside were also in scintillating form on Saturday with a big away victory in their local derby game against co-tenants All Prospects at Fairlop Oak, putting them to the sword in a 10-0 scoreline. Luke Caston scored four for 'Side, Mohammed Hassan added two with Freddie Anderson, Jed Ofori, Andy Adomakoh and Kieren Huddart goals completing a comfortable win.
London Cranes have moved themselves into mid-table after picking up a home win on Saturday against ground neighbours, Athletic Newham Under 23s. They were 2-0 victors to make it five wins for the season with Arafat Lubega the man on target for both goals to move his side up two places in the standings to seventh.
DIVISION ONE
Belfry have returned to the top of Division One on the back of the weekend's results, scooping a big 11-2 home win against Forest Green to top the table on goal difference. Kieran James was in super form, scoring four for the hosts, Ryan O'Connell and Gabriel Ogunwomoju bagging twice each, Lewis Prainer, Luke MacDonald and Daniel Osborne finishing things off.
That change at the top also came about after second and third met in another big game at Fords where Cowley Community were looking to make up ground against RCXI who themselves have been in good form. And it was county cup semi-finalists, Cowley, who assured themselves of a another crucial victory with Michael Taylor and Chris Wright scoring for them in a 2-0 win.
There were some important wins for the mid-table sides as Newham Wanderers pushed themselves up into sixth place in the standings after edging a close game away at Barkingside A. Goals from Amir Gurji, Malam Injai and Robertson Morais were the difference for Wanderers as they won the game 3-2, 'Side remaining in the bottom two as a result.
Just a point behind Newham, Ilford Reserves put a fifth win of the season on the board at the weekend with a solid 2-0 home win against Renegade over at London Marathon. The Foxes kept themselves in the mid-table mix, taking their points tally to fifteen while Renegade stay tenth with eleven points from their fourteen games so far.
Just a couple of points further back sits Kwanzas London Sport who started the day six points behind their opponents, Something From Nothing, as those teams met at the Flats. But by full-time, Kwanzas had reduced that deficit to just three points as they beat their top-half opponents by the odd goal in a 2-1 victory, Antonio Semedo coming off the bench to score twice.
A dramatic high-scoring draw rounds off the division's action which saw Francis Luke take on high-flying Wanstead at the Marshes on Saturday. The sides combined to produce six goals as Luke took home a crucial point against their lofty opposition with Louison Kamba, Ramar Roberts and Adam Rowe all netting for them in a 3-3 scoreline.
DIVISION TWO
Old Esthameians are the new leaders on Division Two following the weekend's results as they took advantage of the situation to record a big 5-1 home win against one of the other promotion contenders, FHN Athletic. That was E's tenth league win of the campaign and puts them top on goal difference with games in hand too.
The division's only other win on the day was earned by Royal Forest who continued their journey away from relegation difficulties with an away victory against St Francis at Wanstead Flats. Forest were 5-2 winners on the day to take their wins tally to five with still nine games for them to play this term.
The other three games all ended in draws with previously top of the table Unitey being held to what looked to be an entertaining 4-4 draw against tenth placed Redbridge Community, that being a vitally important point for the relegation threatened side. Bubintende Masadi was once again in fine form, scoring a hat-trick for Unitey, though it proved not quite enough to force victory.
Two more of the top half sides were up against each other over in Upminster where Emerson & Upminster Reserves saw the visit of Rainham Working Mens Club, the sides proving well matched in the game. A Tobi Onafeko effort for Emerson was equalled by Joshua Iyen's strike for Rainham to ensure both teams walked away with a point in a 1-1 draw.
Over at Hainault Rec, there was a crucial game for hosts Newbury East who were searching for some improved league form against eighth placed Ryan Under 23s. The sides started the day twelve points apart and that was how it remained by full-time with the game ending 2-2, Abdurahman Hassan and George Montgomery both netting for East.
DIVISION THREE
Royal Forest Reserves have hit the top in Division Three as they took advantage of results around them to move clear on just goal difference, beating Melbourne Sports at Fairlop in a big game for both clubs. Luc Harpon struck for the Mels but Trees responded with efforts from Dodou Lette, Tom Alexander and Will Asenso to win the game 3-1.
Just a point behind the leaders, FC Baresi Under 23s had a battle on their hands on Saturday as they came from behind to earn a crucial win with a 4-2 victory against Together United in a local derby match. Baresi goals from Zach Aliane, Daniel Adutwum, Marco Perkola and Leo Siki eventually enabled their side to win the game and remain unbeaten as a result.
Old Barkabbeyans Reserves missed the chance to stay top of the table after they dropped points from their trip to seventh placed Buckhurst Way at Bancroft Rugby Club. Kacper Kasprzycki and Robbie Osborne both got on the Old Barks scoresheet but Liam Wallis and Tom Richardson notched for the hosts to ensure they shared the spoils in a 2-2 draw.
Over at Oaks Park High School, hosts Terin were looking to recreate their performance from their first win last week but faced the challenge of mid-table ASA. And it was the visitors who came through the game in relative comfort, winning 5-2 with Jubayed Miah scoring twice, Ramanan Selvarasa, David Rigby and Irfan Bahadur also netting. Edmund Adade and Ali Mohammed were the Terin scorers in reply.
DIVISION FOUR
There were some huge results at the top of Division Four on Saturday with Flyers Under 21s moving to within two points of the leaders as they defeated top of the table Chingford Harriers in a big 4-1 scoreline. Dave Birchnall struck for Harriers but Flyers goals for Bradley McPharlane, Sam Maydell, Jamie Randall and Paul Garrett-Hammond mean this race goes on.
Sporting Pillars were the other side to benefit from that first result as they closed the gap on the top two to just two points, with games in hand, to ensure they remain firmly in control of their destiny. They were comprehensive 8-2 winners against Dagenham United Reserves, Rayan Allam scoring four for this side along with braces from Emanuel Jacob and Daniel Gutierrez. Cain Dash scored twice in reply for the visitors.
Third placed Fairlop Rovers Reserves missed the chance to cut the gap on the promotion places themselves as they slipped to defeat against an in-form Emerson & Upminster A who built upon their recent cup success by adding a 4-3 league victory here. Tyler Huggett scored twice and Martin Gray put the gloss on the result to move their side seventh.
In the battle of the two sides at the wrong end of the table, there was a rare but important success for Newham Royals who made up one of their games in hand with victory at home against West Essex Under 23s. Matthew Horan scored for West but his goal was just consolation in the end as Royals won 2-1 to make it three wins for the season.
COUNTY CUP
Last year's London Junior Cup finalists, FC Petrocub, are just two performances away from recreating that feat as they came through a tough away day trip to south London to take on Chelsea Rovers on Saturday. But they returned home buoyed by a 3-0 winning performance to set up a last eight tie away once again versus Old Plymouthians.