WEEK 21 REVIEW: Round-up of all the league and cup action from the weekend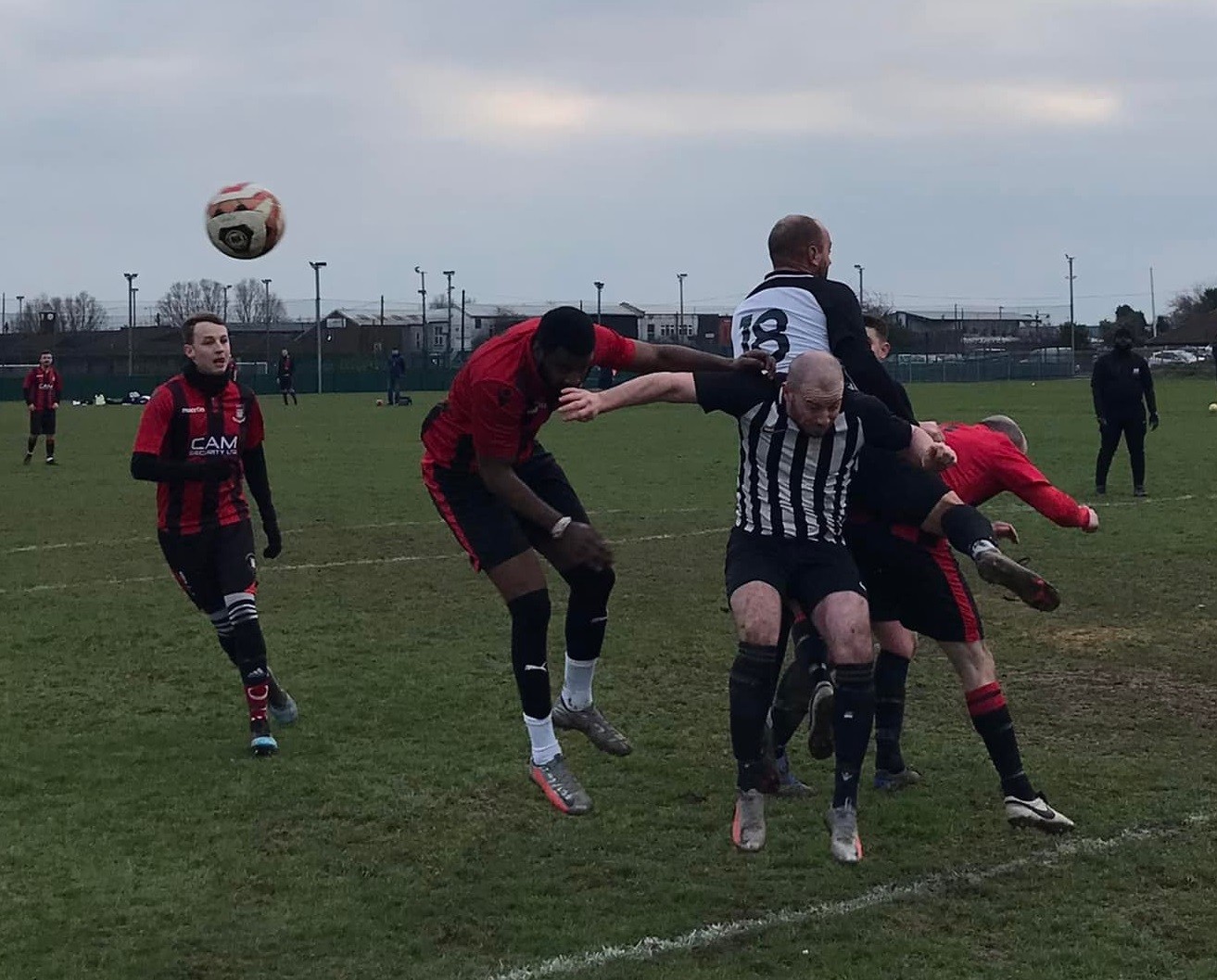 For our latest news and updates, please enter your email address
SENIOR DIVISION CUP
The Senior Division Cup got underway on Saturday with the first three ties of the competition. League leaders, DTFC, made safe passage into the quarter finals as they won 5-1 at home against Kit Out London with new signing Robbie Farrell scoring a hat-trick, alongside two from Billy Golledge. Ayoub Billouche struck the Kit Out goal in reply.
Joining the leaders in the hat for the last eight were FC Baresi who entertained Rapid Chingford in their tie at Lakeside Sports Ground. Another goal filled contest saw Baresi take the victory, winning the game 6-2 with Paul Benfield's hat-trick leading the way. Tyreece Robertson scored twice and Raymond Pok once to finish things off with Federico Ardei and Vlad Bucur netting for Rapid.
In the third game played on the day in the competition, two of the division's leading sides went head to head at the Marshes where Chadwell Heath Spartans were the visitors to take on Woodford East for a place in the last eight. A typically close game saw the just one goal settle the tie with East the beneficiaries of that key moment as they went through 1-0 winners.
PREMIER DIVISION CUP
There was a shock in the opening Premier Division Cup ties as bottom of the table London Park City secured themselves a tremendous win against an Oakside outfit who had lost just the once in the league this season, City returning home with a 1-0 win under their belts. The victors will undoubtedly like to turn this cup form into league points too but they can at least enjoy this moment.
There was somewhat of a further shock in the tie involving the sides at the top end which saw the league leaders, Frenford A, eliminated from the competition at the first hurdle as Crookz United continued their run of form of late to make the quarter finals. Luke Stewart was in fine form and scored a hat-trick for his side, Miles Mercury putting a shine on the performance with the other in a 5-0 win.
Joining those teams in the last eight will be Dagenham United and made another trip to East Ham on Saturday to as they took on Athletic Newham Under 23s. The two sides once again produced a thriller of a game which Dagenham won by the odd goal in seven, securing a 4-3 win. Shaquille Martin scored a hat-trick with Tashawn Brown's goal finishing it off.
DIVISION FOUR CUP
The Division Four Cup first round cup action continued at the weekend with Sporting Pillars putting themselves safely through into the last eight as they came away 7-2 winners from their trip to Avondale Rangers. Rayan Allam scored twice as Emanuel Jacob, Grant Lungley, Daniel Gutierrez, Rajai Millwood and Rhyss Tappenden netted the others. Jake Clarke's brace proved just consolation in the end for Rangers.
There was also one quarter final tie completed, a game which saw Emerson & Upminster A book their place in the semi finals of the competition with a bit of a shock win away at Newham & Havering Borough. Just one goal separated the teams on the day with Matt Gray scoring that effort to give Emerson a 1-0 victory and placing his side just one game away from a cup final.
SENIOR DIVISION
With sides around them in cup action, Jolof Sports were able to make up ground on the sides above, closing the gap on opponents, FC Petrocub, to just three points after coming away 4-0 winners in their game in Noak Hill. Papa Ndiaye scored a hat-trick and Ahma Seye grabbed the other to help the visitors secure victory with games in hand still placing them with an advantage on sides above.
The division's other game came from Hainault where two of the bottom three sides, Blue Marlin and Tower United, went head to head with both sides in search of crucial points to steer clear of danger. The two sides were well matched and had to share the spoils as the sides finished level at 1-1. Ni Acquaye scored for Marlin with Abdi Mohamed on the United scoresheet.
PREMIER DIVISION
With cup games in action, there was just the one game in the second tier which saw an in-form North East Lions side attempting to extend their run with a game against London Cranes who themselves were in search of crucial league points. A game of eight goals was won 5-3 by Lions for whom Charles Akingbade, Lorenc Hoxha, Adnan Miah, Shane Thomas and Kojo Asare each netted.
DIVISION ONE
There were victories for each of the promotion chasing sides in Division One with RCXI remaining three points clear at the top, edging a close game against Ilford Reserves at Belhus Park. The hosts were 3-2 winners to ensure they remain clear for the time being although sides immediately below do still have some games in hand.
One of those sides is Belfry who sit second with an impeccable record to date, extending that two eight wins from eight on Saturday with a further success against Kwanzas London Sport as they game out 3-0 winners. Gabriel Ogunwomoju, Lewis Prainer and Luyando Muhwanga all got on the scoresheet to keep their side in the driving seat.
Third placed Wanstead are only one point further back, albeit from a greater number of games, and they extended their points tally with a solid away win, returning home from the Marshes with all three points in a 2-0 win against Renegade. Edson Lami is a man who knows where the net is and it was his brace that made the difference on the day.
Also at the Marshes, there was plenty of entertainment in the game between hosts Francis Luke and their visitors Something From Nothing with the teams combining to produce a nine goal thriller. Adam Rowe scored a hat-trick and Jahvarn Steward one for Luke but their efforts proved not quite enough as SFN rattled in five of their own to edge it 5-4.
There was a crucial three points attained by Forest Green over the weekend as they moved themselves well clear of danger of relegation with an important win against eleventh placed Barkingside A. The Leyton based side were 3-1 winners to move up a number of places into eighth in the standings.
DIVISION TWO
The gap at the top of Division Two is down to just a single point as Old Esthameians moved third on the back of a 3-2 win against top of the table Unitey in Loughton. Bubintende Masadi and Ahmed Dousa both struck for the hosts but E's were in fine form themselves to continue their own promotion charge.
Sitting between those sides in the table are second placed Emerson & Upminster Reserves and their own promotion challenge continued in earnest with a big home win at the weekend against Redbridge Community as the sides met at Hall Lane. Reece Stringer was in great form, scoring four for Emerson, Harry Wilkins netting the other as their won the game 5-1.
FHN Athletic are well placed for a push with games in hand on teams above and that was further enhanced by a narrow victory on Saturday as they took all three points from their clash against bottom side Newbury East. Athletic were 2-1 winners on the day in a close game, taking their points tally to twenty four for the season.
Moving up to seventh place in the standings, Ryan Under 23s took their wins tally to four on Saturday after picking up a win against Royal Forest, leapfrogging their opponents in the process in the table. Jonathan Hick scored for the Trees but Ryan responded with three goals of their own to take a 3-1 victory home with them.
There was an equally important result for St Francis who took their points tally to six with a win against Loughton Lions, coming through a seven-goal thriller by the odd goal to win 4-3. Ross Basunda scored twice off the bench with Theo Jacobs-Aaron and Aenayat Nesari also scoring to hand Saints a big win.
DIVISION THREE
The chase for glory in Division Three continues to be a tense affair with Old Barkabbeyans Reserves still leading the way following a good patch of form, including a quite incredible 6-5 win on Saturday as they defeated Melbourne Sports in Hainault. Michael Ryder scored a hat-trick, Robbie Osborne scored twice and Kacper Kasprzycki scored the other to edge a real thriller.
Royal Forest Reserves are just two points further back and ready to pounce with games in hand, aided by a ninth league win in ten this season on Saturday as they ran out 6-1 winners at the County Ground against Lymore Gardens Reserves. Tom Alexander extended his scoring record with a hat-trick which was supplemented by further goals from Tom Briggs and James Nelson.
The division's other unbeaten side are FC Baresi Under 23s and there was certainly a whiff of de ja vu for the title challengers as they once again saw off Glendale in the two sides' second consecutive meeting. Kii Jean-Baptiste scored twice with Harrez Aliane, Joshua Adu and Hamza Hafesji also netting for the victors with Maryis Shamku scoring twice for the Dales in a 5-2 scoreline.
It was a memorable day for bottom of the table Terin who, after some spirited recent performances, finally got themselves a win on the board as a club, defeating Together United in a 5-2 win at Oaks Park. Emmanuel Adade scored twice adding to strikes from Miran Miran, Ali Mohammed and Rakin Suleiman, proving that patience really does pay off.
The division's final game saw ASA play host to fellow mid-table Buckhurst Way as the teams battled it out at the Marshes for the points. Way ended a poor run of form with a solid victory on the road, defeating ASA 1-0 to move them up to sixth in the standings, this being their sixth league success of the campaign.
DIVISION FOUR
In Division Four, Fairlop Rovers Reserves' return to some form has seen them shoot back into a promotion contention position, sitting second following their win at the weekend against West Essex Under 23s in Walthamstow. Deshaun Johnson and Javen Cole both netted for the hosts but Fairlop goals from Joseph Head (2), Sean McGilloway, Matthew Stratton, Harry Oliver and Gianluca Halil gave Rovers a 6-2 win.
It was also a productive afternoon for Flyers Under 21s who moved to third following their weekend's efforts, beating Dagenham United Reserves 2-0 to move above their opponents in the process. Sam Maydell and Charlie Portlock both scored for the Romford based side to keep things really right at the top of the table.
COUNTY CUP
It was quarter final day in the Essex Junior Trophy on Saturday and it was another fine afternoon in the county cup for Cowley Community who booked their place in the semi finals once again with a terrific 5-0 home win against Ashingdon Reserves. That result sets up another last four battle with Brentwood Athletic Reserves, the same side they beat at this stage of the competition back in 2020.
Photo Credit: Melbourne Sports FC