WEEK 20 REVIEW: Round-up of all the league and cup action from the weekend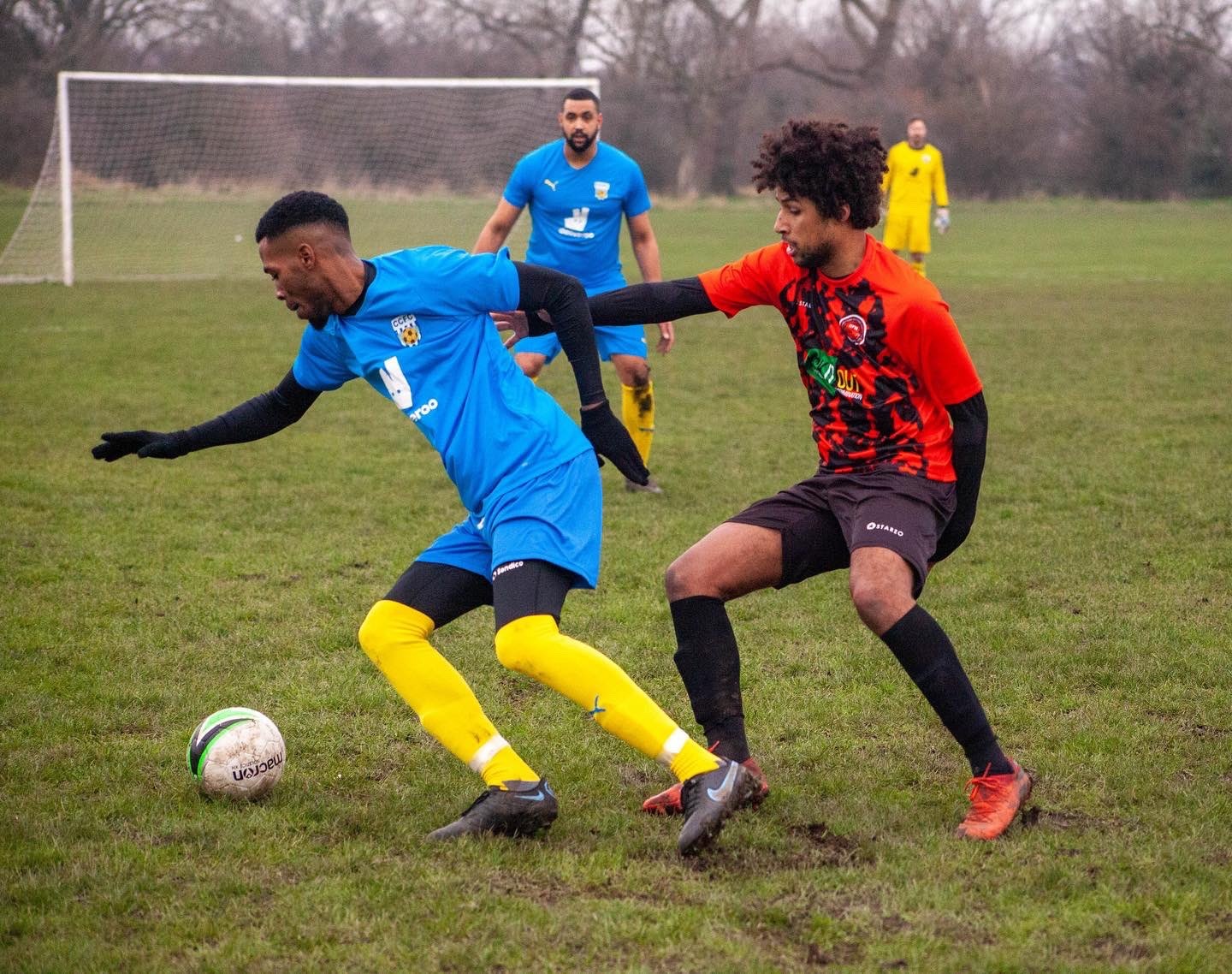 For our latest news and updates, please enter your email address
DIVISION ONE CUP
The weekend saw a continuation of the Division One Cup action with the line-up for the quarter finals now complete. Tenth placed Barkingside A are into the hat for the last eight, coming away 3-1 winners from their trip to Hackney where they faced Francis Luke. Josh Rowe scored twice and Mohamed Sheikhnor once for 'Side, Kennerly Cassius netting the Luke goal in reply.
Title favourites, Belfry, are also safely through to the quarter finals as they beat the traffic and their opponents to run out 5-1 winners away at Kwanzas London Sport over in Beckton. Kieran James has been in good form this season and he scored twice, adding to goals from Luke Macdonald, Gabriel Ogunwomoju and Ryan O'Connell.
The third of the cup ties came from Hainault where Ilford Reserves were in action at London Marathon, facing up to an eleventh placed Forest Green side, those two sides separated by three points going into the game. It proved a tight game with just one goal, scored by the Foxes' Mario-Angelino Lipetz, accounting for a 1-0 Ilford victory.
DIVISION FOUR CUP
There was just one tie completed in the Division Four Cup competition as a local derby saw Chingford Harriers make the short trip to face West Essex Under 23s. And the unbeaten league leaders were the happier side, earning a 4-2 win through goals from Gerard O'Hara, William Akins, Darlington Ojo and Edwin Jabbari. Deshaun Johnson and Javen Cole both struck for West in consolation.
SENIOR DIVISION
DTFC remain top of the Senior Division following the weekend's results, coming through a well contested game away at Leyton Royal with maximum points to secure themselves a 4-2 win. That saw the Harlow based side remain unbeaten and take their points tally to thirty-five, four clear of the chasing pack.
Moving up to second in the table, Chadwell Heath Spartans kept their hat in the mix for a title tilt, moving four points behind the leaders with a narrow 3-2 win away at CSM London. Meer Ishanzadeh and Spencer Forte both got on the CSM scoresheet but their efforts proved ultimately in vain as Harry Payne struck twice in reply and Bradley Downes also netted to take the win for their side.
FC Petroclub have moved level with fourth placed Woodford East following their seventh league success of the season on Saturday as they took their points tally to twenty five for the season with a 3-1 win at home against Tower United. Hamsa Hassan struck for Tower but his goal wasn't enough as they remain in difficulty, eight points adrift of safety.
Sixth placed Jolof Sports had a tough fixture ahead of them on Saturday with the visit of FC Baresi to East Ham in their quest for the title. They followed up their defeat last weekend with just a draw this time around as Paul Benfield netted for the visitors on an eventual 1-1 draw. Jolof now sit six points behind the sides around them with five games in hand.
Kit Out London closed the gap in the middle of the table to just a point as they saw off the threat of bottom of the table Chigwell Town at London Marathon. Amalraj Kakumanu, Marioz Lazaris, Ayoub Billouche and Keyshawn Greenaway all found the back of the net as Kit Out won the game 4-0 to move away from the relegation places.
Over at Lakeside, hosts Rapid Chingford were in action, hosting Blue Marlin with both sides still in a dangerous position near the bottom end of the table. A close game saw the points shared with the match finishing level at 1-1. Darwin Romero continued his Rapid scoring streak and Ni Acquaye grabbed the Marlin goal in reply to take something from the game.
PREMIER DIVISION
Frenford A returned to the top of the table over the weekend as they edged a close game away at bottom side London Park City, winning 1-0 in Seven Kings. Nesar Torkamani scored the only goal of a tight game to move them back to the top on goal difference, earning a ninth league win of the season in the process.
There was a shock result involving second placed Dagenham United who slipped to a 2-1 defeat in their away visit to ninth placed London Cranes, putting a dent in their title challenge. Moses Kazibwe scored twice for Cranes with Dante Vincent responding for United, giving Cranes a vital three points in their quest to avoid the drop.
Third placed Crookz United have positioned themselves ready to pounce and put in a spirited performance in defeating All Prospects 11-0 at Fairlop Oak. Abdouaziz Jeng scored four, Anselmo Gomes bagged a hat-trick, Daniel Gbadeyan a brace, with Kevin Osei and Ousama Bousba goals finishing it off convincingly.
Wapping sit just a couple of points further back in the table after the weekend's round of results as they picked up an impressive 3-0 home win against Athletic Newham Under 23s to scoop a sixth win of the season. Jordon Mills-Smith was in fine form yet again, scoring twice, with Muhammad Mikaeel striking the other goal.
North East Lions inflicted a first league defeat of the season on visitors Oakside, the Walthamstow based side finding a bit of good form in early 2022 to stay in the top half. Lorenc Hoxha and Joseph Goodall both found the back of the net in a solid 2-0 win, giving them a sixth league win of the campaign.
DIVISION ONE
There was plenty of drama in Division One where two games ended in exciting 3-3 draws involving sides at the top. Top of the table RCXI were held to such a scoreline in their home game against fourth placed Wanstead as Oluwaseun Koya, Michael Temitayo and Ayo Matthews struck for the leaders. But Wanstead took a point as Suhaib Abeid, Dan Gardner and Zoltan Balogh efforts levelled the game.
Second placed Cowley Community were also involved in a six goal thriller of their own as they faced local rivals, Something From Nothing, over at the Flats. This one also finished 3-3 as Thomas Bergmann (2) and Temi Alaka strikes for SFN were countered by Cowley goals from Elvis Sheta, Michael Taylor and, of course, Chris Wright.
There was one winning scoreline in the division and that saw somewhat of a shock as Renegade's positive spell of form was rewarded with a 2-1 win at home to Newham Wanderers, moving them up four places to eighth. Manuel Sanuo struck for Wanderers but Renegades scored twice themselves to ensure they walked away with the points.
DIVISION TWO
Unitey remain top of Division Two and they continued their good run of form in the last few weeks but securing their tenth league win of the season, defeating St Francis 4-1 to reach the thirty point mark. Bubintende Masadi and Ahmed Dousa both scored twice to extend their respective scoring records with Leo Eleftheriou scoring Saints' sole effort.
Third placed Emerson & Upminster Reserves lost a little ground in the race for promotion as they were held to a draw against sixth placed FHN Athletic in the their game in Upminster. Ross Braybrooke got on the Emerson scoresheet to ensure they took a point in a 1-1 draw, keeping them well placed.
Old Esthameians made up a little ground with the side above, closing to within a point of Emerson with two games in hand over them, courtesy of a 4-2 win at home against Rainham Working Mens Club. Joshua Iyen struck both goals for the Workies but his efforts were not enough as the Newbury Park based hosts ran out winners.
There were some crucial wins for the sides in the bottom half as Loughton Lions moved nine points clear of danger after they defeated Newbury East at Oaks Park, edging the game 2-1 to make it three wins for the season. Harrison Andrews and Jordan French scored the all important goals, Mohammed Janneh's effort accounting for East's consolation.
An equally important result was achieved by Royal Forest who went into their away game against Redbridge Community trailing their opponents by a point in the table. But a 3-2 Forest win ensured they leapfrogged their opponents into eighth. Joshua Kane, Joe Owers and Frank Carver all netted for the Trees confirming win number four.
DIVISION THREE
Old Barkabbeyans Reserves remain top of the Division Three table but they had a battle on their hands against bottom side Terin, eventually coming through to win the game 3-1 in Barking. Fahad Abdallah scored for the visitors but host goals from Fabio Balde, Geovany Cruz and Rexheinaldo Dauti ensured the points went their way.
Royal Forest Reserves have jumped into second place on goal difference following the weekend's results, coming through a comfortable win at home against Flyers Under 23s in Hainault. Tom Alexander was in great scoring form, netting a hat-trick, with Will Asenso striking the other to render Mohammad Miah's goal as just consolation.
Moving up to third, Lymore Gardens Reserves kept themselves well in the mix for the promotion race with an eighth league win of the season as they beat Buckhurst Way 5-1 at the County Ground in Leyton. That saw the hosts to twenty five points, just two off the top albeit having played more games than their rivals.
The division's second unbeaten side are FC Baresi Under 23s and they faced a trip to Glendale, flying out of the blocks to establish a 6-1 half time lead with Joshua Adu scoring a hat-trick, Zach Aliane, Hamza Hafesji and Kii Jean-Baptiste also netting. The Dales did improve as the game went on with it eventually finishing 6-3. Maryis Shamku, Valter Correia and Seyi Agboola all scoring in reply for the Dales.
The division's final game saw fifth meet seventh with Melbourne Sports the visitors to take on Together United at Peter May in Walthamstow. The two sides were well matched and ended up taking a point apiece, the game ending 2-2. With games in hand, both teams remain well in the mix for a promotion tilt in the second half of the campaign.
DIVISION FOUR
There were a shed load of goals in Division Four where Fairlop Rovers Reserves re-established their promotion challenge with a solid home victory against an in-form Flyers Under 21s. A 3-2 win for Rovers, their seventh of the season, saw them jump up four places in a really tightly contested top end of the table. Billy Ling and Sam Maydell goals accounted for the Flyers' strikes.
Goals were the order of the day over in Dagenham too where Newham & Havering Borough were facing Dagenham United Reserves once again after their success the last time out. But this time the teams couldn't be separated with the game ending 3-3 at full time, both sides dropping down the table a place or two as a result.
Saving the best for last, a nine goal thriller rounds off the action as Avondale Rangers made the trip over to Upminster to face an Emerson & Upminster A side who were locked on the same points starting the day. A terrific 5-4 win for Rangers saw them move clear with Jake Clarke (2), Phillip Heinen, Chris Harper and Blaijan Kitufueni all scoring. Philip Cresswell, Robert McKnight, Ryan Whitton and Tashan Diamond scored the Emerson goals in reply.
COUNTY CUP
There was BBC Essex Premier Cup action for Woodford East with a second trip to Braintree to complete their fourth round tie against Dunmow Town after last weekend's postponement. A real battle saw Dunmow Town eventual prevail from the tie in a 3-1 scoreline.
Photo Credit: Something From Nothing FC / Elise O'Brien