Player registrations window now open on the Whole Game System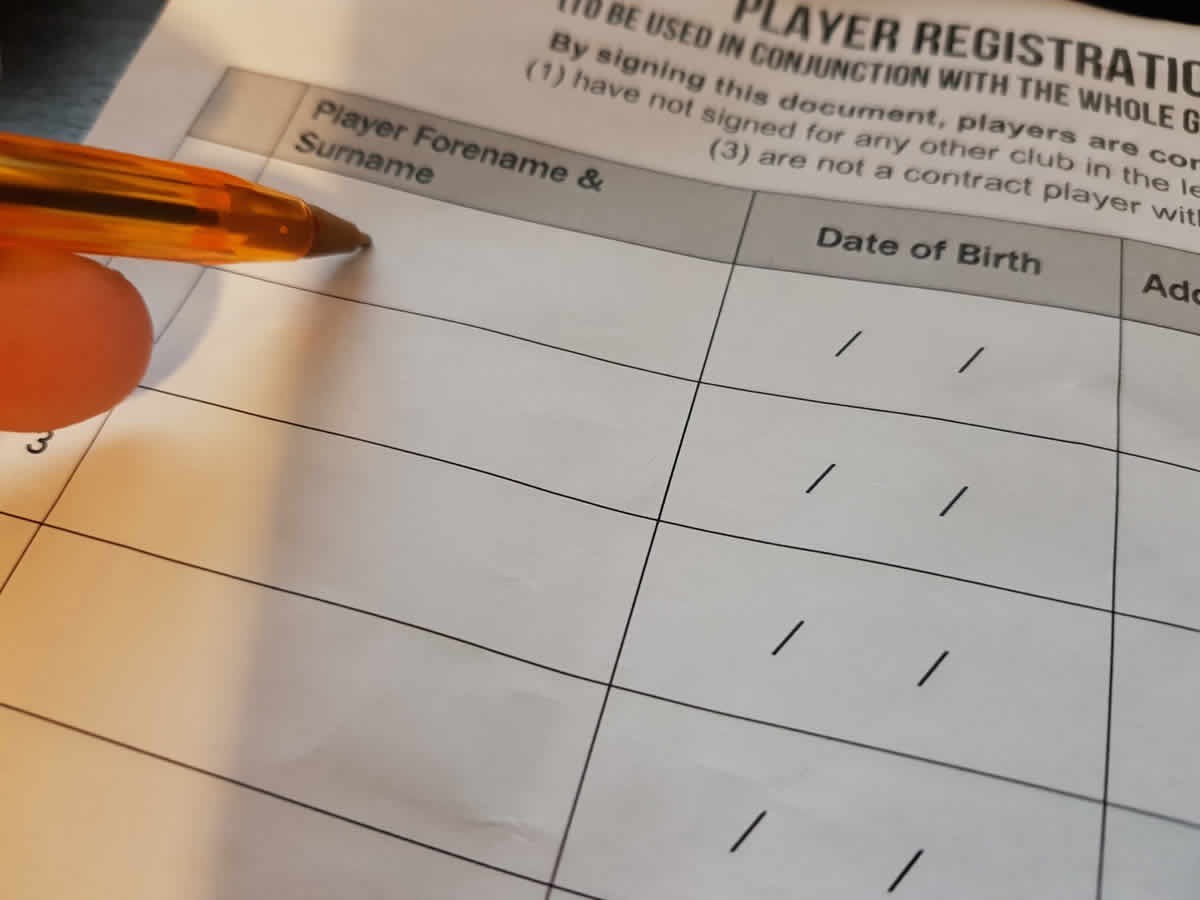 For our latest news and updates, please enter your email address
Although it may not quite feel like it, July is typically the month when the new season processes begin and this month is no exception as the Whole Game System opens to receive new player registrations once again.
There are some minor changes to way in which player registrations will be completed for this coming season based on the experiences of the 19/20 campaign and the feedback received from many clubs. The general process to follow is detailed below (as well as in our handy guide linked further down):
Clubs are responsible for collecting their players' information as per usual prior to playing and should use the specific form available from our downloads page whereever possible. Note that it is now mandatory for them to provide an e-mail address for this coming season;
This information collected (for both new and existing players) needs to then be input by the club into the WGS as with last season, and we have provided an extensive guide on how to achieve this. This paper-form should then be retained securely by the club and does NOT need to be sent in to the league (a big change for this season);
As an addition to the player registration requirements for this season, a clear and recent photo will also need to be uploaded into WGS at the point of adding a player, details of which are within our guide. This can simply be a "selfie" photo from a smartphone camera and does not need to be the old-school photobooth style image, so long as the image is obstruction free (i.e. no hats/glasses) and is recent.
A big part of the WGS registration system is obtaining consent from a player to hold his registration. This can be done by e-mail or by confiming offline consent on their behalf where they have filled in the paper registration form specified above.
The League can request the submission of any Player Registration Form at any stage in case of a query so please ensure that these are kept safe and secure;
You will need to have submitted at least 11 player registrations for your club by 1st September. Some additional flexibility will be provided if there is a further delay to a resumption due to COVID-19. Further registrations can of course be made once the season has commenced in line with the league rules;
Emergency matchday registrations remain the same for this season with you able to sign up to three players on the day of a game, provided that your opponents countersign the above registration form prior to kick-off in the fixture;
Key Documents:
As always, if you have any queries about the registrations process, please get in touch with the league using the contact form available on the website. We will cover provide further training opportunities in this area once we approach the busier registration period.
Essex County FA Virtual Club Administration Surgeries
In order to assist clubs in getting set-up for the new season, Essex County FA have arranged for five virtual club administration surgeries to take place during July. These 45-minute sessions will give club officials the opportunity to speak on a one-to-one basis with members of the Governance Team outside of usual office hours on a range of topics, including Player Registration, Club Discipline and an introduction to the Whole Game System portal for new clubs.
These will be held on the following dates, with sessions starting at 5:00pm, 5:45pm, 6:30pm, 7:15pm and 8:00pm on each day:
Thursday 9th July, Monday 13th July, Friday 24th July, Tuesday 28th July, Wednesday 29th July
Places can be booked by clicking on the following link: https://bit.ly/ClubAdmin2020. They will then send out an invite via Microsoft Teams at least 24 hours in advance of the session that has been booked.