Grove United net late winner to win the Division Two Cup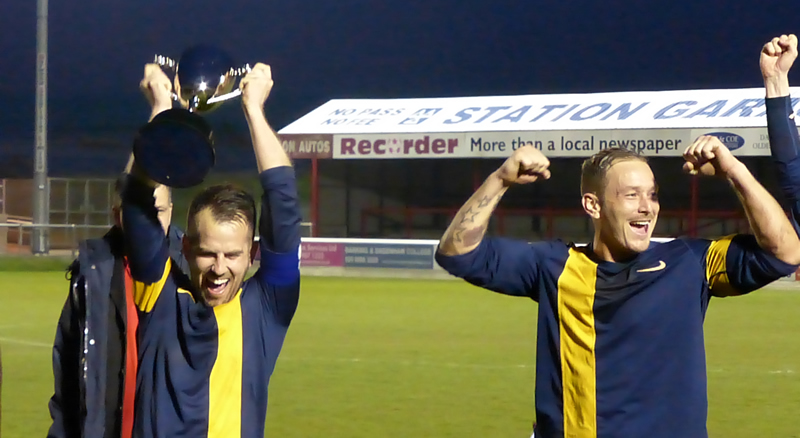 For our latest news and updates, please enter your email address
What better way to spend a Friday night then watching a fantastic cup final at a stadium like Dagenham & Redbridge FC.
Both sides were met upon arrival with the sight of a near perfect pitch at Dagenham once again which was all the better for the recent wet weather. Under the lights, a wonderful crowd of 188 came along with all manner of banners and hooters to cheer on their sides to cup glory.
What they witnessed was a terrifically tight match as both sides gave each other ultimate respect in the early stages with only a couple of half chances getting anywhere near breaching the defences. Grove went closest in the first half with Harry Chalk having a goal ruled out for offside while, at the other end, Paul Dent had to be at his best to stop a Cowley effort as he reacted well to flick a drilled effort around the post.
After the break, the half started much the same but it was Grove who struck first on the hour with a curled effort which flew into the bottom corner to give them a 1-0 lead. However, Cowley were immediately back in the game as Izzy Ogedi-Ozokwe levelled for the men in yellow to set up a fascinating ending. With just a few minutes remaining, Harry Chalk popped up with a great header to leave Krishna Yellappa stranded in the Cowley goal and that goal was enough to secure the victory for Grove United.
Congratulations and thank you to both sides who played the match in the true spirit of the game and with great respect for each other. We also thank our match officials this evening, led by Paul Shea, who also had terrific matches and contributed to a fine evening's entertainment. The players' lounge was certainly a great place to be after the match.
Next week we look forward to the climax of the Premier Division Cup and the Fenton Cup competitions. If this week's matches are anything to go by, we are very much looking forward to them.